Greetings!
Travel has changed over the last 20 years. Using a travel agent used to be the best way to plan a vacation. You personally knew and trusted your travel investment with this person.
Fast forward to the last ten years and now you can plan travel via the mega internet travel sites. Who can argue how cool it is to plan your own vacation with a few clicks of the mouse? Now you have total control over your vacation investment from the luxury of your office or home which saves you tons of time and money - or does it?
Before I get to the cost savings of using a company such as Incredible Journey Travel, lets move even further ahead to today where it is all about social media - real time reviews from past guests, tweets, blogs, YouTube videos (love them!) and the list goes on.
We have come to an age in travel planning where you, the traveler, can seek the help of many, many, different online sources to help you decide where you want to go and stay on vacation all from the luxury of your office or home. Let's face it every picture tells a story, and the internet provides a sensory emersion with each photo and each travelers comment.
However, there still is yet one more way of planning travel and that is by using an online destination specific travel agency such as Incredible Journey Travel. We operate in real time; have access to online photos (many are on our site); have comments from past guests (under specific properties), we still beat any price on the internet over 90% of the time (and if we don't we can match the price). We are travel professionals, this is all we do! Plus all of our agents specialize in specific destinations and work with tour operators who only work in specific regions - we have "been there, done that."
The new travel agency of today has added all the fabulous online features we love, but provides personalized service, and expertise no mega online site can match!
The package Incredible Journey provides our clients is value; personalized vacations; special services (such as free room upgrades, late check out, welcome gifts etc.) at no extra charge; and a huge factor for many is that we will save you time and frustration which will come from internet information overload - ultimately saving you time and money!
I highly encourage you to contact us for ALL your travel needs, at the very least we can let you know if that "deal" online is really a deal!
In this Issue
Surfing U.S.A.


So you're off to Hawaii this winter and you want to catch some humongous surf? How 'bout just watch some awesome surfers rip these gnarly waves?
Then the first thing to do is venture down to the sleepy beach town of Haleiwa.
North shore Oahu is synonymous with Big Gnarly Winter Waves. It is here near the small town of Haleiwa that you can witness world class surfing competitions like no where else in the world. Dude, during surf competitions this sleepy beach town is packed with Pro surfers who tackle 30 plus foot waves with no problem. And if you think that is crazy, did you know that in Hawaii the waves are traditionally measured from the back side? This means, if you hear the wave is 30 feet, you're talking about a 60 foot face! Totally awesome...
Now's the time to...

Have a travel question? Ask Endora!
Join Joyce Craddock and Patricia Ellington on Crystal Symphony's Nautical Norway Voyage June 4, 2013 - June 15, 2013
With air costs soaring now is the time to go to Costa Rica - it is affordable and a fabulous destination for adventure!
Christmas! Now is the time to reserve!!!
Book your expedition cruise with the Great Whales Feb. 23 to March 2, 2013, The trip is a Lindblad/National Geographic Expedition!
Start planning 2013 weddings now as private homes/condos fill up quickly. Most of the summer beachfront homes are already sold out!!!
Dear Endora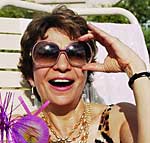 Dear Endora,
In September's newsletter one of the facts were that Alaskans were the number two consumer of Spam (the food), who is number one?
Isabel -- San Clemente

Pumpkin Souffle

We make this dessert every Thanksgiving. Not only is it super easy to make (no pie crust yippee!!) but it tastes so good! Of course, we always have apple and pumpkin pie as our traditional dessert staples, but so has this dessert. You must serve it just after it has come out of the oven and cooled just a bit - it is not a leftover dessert.
Featured Property - Makena Beach & Golf Resort


Makena means "land of abundance and plenty." The Makena-Wailea area is a world-class resort destination that is abundantly beautiful and offers plenty to see and do. The Makena Beach & Golf Resort is situated on 1800 acres at the southeastern end of Maui, where the slopes of Hawaii's largest dormant volcano meet the rocky lava shoreline and sandy beaches of the Pacific Ocean. The resort is just 19 miles (31 km) from Kahului Airport, and 37 miles from the top of the house of the sun--Mt. Haleakala. Makena Beach & Golf Resort fronts the pristine quarter-mile-long sandy Malauka Beach, rolling verdant golf greens, beautifully landscaped gardens, and a natural kiawe forest. In every direction, you are met with nature's bounty and beauty, from sea to mountain top.
Merrie Monarch Festival

"Hula is the language of the heart, and therefore the heartbeat of the Hawaiian people."
David Kalakaua,
King of Hawaii, 1874 to 1891
Most of us who travel frequently to Hawaii are enthralled with the culture, the people, the music and dance that are unique to the islands. Did you know that there is a week long annual event that commemorates the true history and culture of the ancient Hawaiians that takes place in Hilo beginning on Easter Sunday?
Read more...