Global Progress to End Child Labour

UN Forum Encourages Public Reporting on Human Rights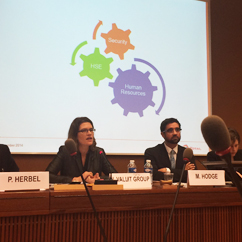 In December 2014, the ECLT Foundation attended the third annual UN Forum on Business and Human Rights.
Day two of the forum consisted of a panel of business representatives encouraging companies to publicly disclose the processes and systems they are putting in place to respect human rights, and to be open and upfront about the challenges they face in the implementation of the UN Guiding Principles on Business and Human Rights.
Key takeaways from day 2 of the forum:
The cost of integrating human rights in business systems is lower than the costs of failing to do so.

Encouraging and developing a 'speak up' culture within the company is crucial.