The Yardarm

News and Views from the Yarmouth Port Library
www.YarmouthPortLibrary.org



With any luck, we have made it through the worst of the weather. For those of us who say we like snow, no complaints allowed. The cold weather has not deterred our patrons, and we are busy with programs for all tastes and new materials for your enjoyment. Thank you for your support at our winter book and bake sale. Without your participation, we could not succeed.
I hope you were able to come to one of our February programs: between the Chelsea Garden Show and square-foot gardening, we had "food for thought," no pun intended. Coming up are a variety of programs. We have music in March: a Celtic music celebration with Denya LeVine. We have history as well: author Edie Clarke discusses those who fought in World War II but never talked about their war experiences. Later in the spring we will have nature programs presented by Long Pasture Audubon Sanctuary staff, thanks to a grant from the Mid-Cape Cultural Council. If you know of a program we should have, please let us know.
Our list of new books appears elsewhere in the Yardarm. Be aware that each month we list books we have ordered near the new book shelves, and post the most recent list of best-sellers from the NY Times, highlighting the items we own. In the media area we have a sign noting what new items have appeared or are on the way.
Thanks to donations in memory of a long-time patron, we can buy more new Large Print books. We continue to do our best to make your library experience pleasant and rewarding. Please let us know what else we can do for you. We are always happy to request a book for you if it is not on the shelf.
With "warm" wishes to you all...
Leslie Altman
From the Children's Room
Lynn Lesperance

Winter is finally drawing to a close! Bet you thought it would never end, right? I know I've had my doubts.
Lapsit Story Time has been attracting a great group of Littles and their caregivers. We've been ignoring the cold and singing, creating, and listening to stories all season. If this is the sort of thing you think you and your child m
ight enjoy, please join us Fridays at 10:30.
The first Friday of every month is Generations! Music and Movement for Children and Seniors together with Denya LeVine. This program is funded through a generous grant from the Education Foundation for Dennis and Yarmouth. If you are under 5 or over 55, join us at the Congregational Church!
When there is no school there is no story time. (You are welcome to come hang-out but we don't close off access to the Children's Room during school breaks.)
Parents: Is there a program you have been to or heard about that you would like us to bring to YPL? Nature? Music? Yoga? Programs for older children? Would you please stop in and talk to me. We're always looking for ideas.
Lego enthusiasts:
We would love to host an after-school Lego club but we need help getting the materials to get started. If you have some unused Lego building blocks lying around, would you, please consider donating them to the library? Please call or email me. I would greatly appreciate it.
Looking forward to warmer times!
President's Message
Ann Petrou

I would like to thank all of the folks who helped make the Christmas Stroll at the Yarmouth Port Library such a great event. As usual we had fantastic homemade sandwiches and desserts to feed the hungry visitors who came in out of the cold. It is always nice to hear the positive comments about our charming facility from out-of-towners who have never been to our building. People always ask about our history and we are proud to share our heritage.
This year was the first time we also hosted a fund raiser at the stroll. Many visitors purchased the wonderful hand knitted hats, mittens, ear warmers, socks and scarves that we offered for sale at ridiculously affordable prices. I want to thank the talented knitters who worked so hard to provide us with the garments to sell. We would like to continue this tradition next year so get those needles out on these cold winter evenings and make us a cozy pair of mittens or a warm hat for next year. Items can be dropped off all year and will be stored for the December 2014 Stroll. We will be expanding the sale at the Stroll-more to come on that.
February was cruel to us again this year. For the second year in a row we had to cancel the Sunday hours of our book sale because of weather related problems. This year we had no power and I can tell you that the building was frigid when I stopped by to check the status. In addition to books this year we also had homemade baked goods-tasty quick breads, fudgy brownies, golden artisan bread and many more delicious items for sale. Of course I have to thank the volunteers who baked as well as those who worked so hard to make the sale come to fruition. We are so lucky to have a corps of hard workers. Without them the Yarmouth Port Library would not exist.
We are looking forward to the warmer weather and our July Book Sale which will be on the 19th. It will involve a bigger and better plant sale and perhaps some other surprises. Look for details in upcoming issues of the Yardarm and at the Library.
Stay safe and warm!
Membership Campaign on Track to Reach Goal
Les Peat

The 2014 membership campaign had raised $37,000 toward its goal of $40,000 as of February 15th, according to Les Peat, Chairman of the Yarmouth Port Library Membership Committee. Over 300 memberships have been recorded, with some decline in the dollars contributed at the highest levels of membership largely offset by increases in support at the lower levels. The number of Individual and Family members stepping up to the $100.00 Patron level has been particularly encouraging. We also have 58 new members, more than offsetting normal attrition. "All of this is very encouraging for the long term," said Peat. "We need to have a solid base of support from large numbers of individuals, couples, and families. As grateful as we are to our major supporters - and we will always be reliant on them to some extent - it would not be healthy for us to become overly dependent on large contributions."
If you have not yet joined or have not renewed your membership, please fill out the coupon below and send it with a check payable to the Yarmouth Library Association at 297 Main Street, Yarmouth Port, MA 02675. You will be helping the Library to remain the vibrant and contemporary institution it has become.
Here is a complete list of those who have renewed their support
of the Library and all new members since February 8, 2014:
Book Group News
The Yarmouth Port Library Book Club meets on the third Wednesday of the month at 3:00 PM in the Reading Room. Books are chosen by the group and a discussion takes place for about one hour with refreshments. This is a lively group with many varied opinions and reading interests. Join us; newcomers are always welcome.
March Book Group Selection:

by Julian Barnes

The story of a man coming to terms with the mutable past, Julian Barnes's new novel is laced with precision, dexterity and insight. It is the work of one of the world's most distinguished writers.

Tony Webster and his clique first met Adrian Finn at school. Sex-hungry and book-hungry, they navigated the girl drought of gawky adolescence together, trading in affectations, in-jokes, rumor and wit.They swore to stay friends forever. Until Adrian's life took a turn into tragedy, and all of them moved on and did their best to forget.

April Book Group Selection:


by M. L. Stedman

Tom Sherbourne is a young lighthouse keeper on a remote island off Western Australia. The only inhabitants of Janus Rock, he and his wife Isabel live a quiet life, cocooned from the rest of the world.

Then one April morning a boat washes ashore carrying a dead man and a crying infant - and the path of the couple's lives hits an unthinkable crossroads.

Only years later do they discover the devastating consequences of the decision they made that day - as the baby's real story unfolds.
Love your Library

Geraldine Brooks in The Boston Globe
MAGIC OF LIBRARIES: The wonderful thing about libraries and why I'll never stop going [in spite of] the wonders of JSTOR and all the other online resources you can use now is the serendipitous encounters that can happen in the stacks of a great library. I was doing my research on Hebrew book censorship [for "People of the Book"] in Widener [library at Harvard]. . . and I found the autobiography of a 17th century Venetian rabbi that I didn't even know existed that took the narrative in a completely different direction. You couldn't have that kind of serendipitous encounter online. It's kind of magical.
Business Sponsor Appreciation
Les Peat
The Yarmouth Port Library has a number of area
business sponsors. With each issue of The Yardarm,
we profile of one of them to show our appreciation.
Mid Cape Nurseries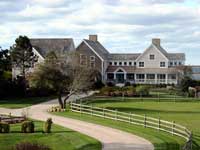 Mid Cape Nurseries, Inc., is an accomplished commercial and residential landscaping company that has provided the highest quality of services to Cape Cod and Southeastern New England for over forty years. Services offered include site preparation; aprons and edgings; walls, terraces, and patios; lawns; driveways and walkways, and residential and commercial irrigation systems. They also provide commercial snow removal services.
Although the company has long since ceased to be a nursery, they retain an expertise in horticulture, soil types, and appropriateness of plantings that serve their customers well, whether they are creating a new landscape or maintaining an existing property.
Mid Cape Nurseries pride themselves in partnering with their customers to meet and exceed expectations, making them leaders in providing landscape services to discriminating Cape Cod businesses and individual property owners.
Visit their web site at http://www.midcapenurseries.com/.
Once again, the Library has been the grateful recipient of the generosity of Seaside Gas Service. When the Library recently lost heat, Kevin Saunders responded immediately, diagnosed the problem and corrected it. To our surprise and pleasure, when his invoice arrived, it was marked 'paid'. Again, Kevin, thank you.
Events at YPL

Check the YPL News & Events page for details.
All events are at the Library except as noted.
March 22nd , 2:00 PM
Discussion with author Edie Clark
This is a book about war, what war does to anyone it touches, how the loss of the man my mother hoped to marry affected not only my mother, his family, and her own family, but also my sister and me as we grew up, aware of the loss of Tom but unable to understand it.
Based on more than 2,000 letters left to me after my parents died, What There Was Not To Tell tells the specific story of our family's loss . The book took 15 years, starting with the massive task of reading through the letters ending with an odyssey that took me to Camp Lejeune where my mother trained to be a Marine in an effort to look for Tom, to San Diego to see where she worked during the war and to Hawaii in search of Tom's grave. The journey to find Tom took me many places, physical and emotional and was ultimately redemptive.
April 12th, 2:00 PM
Discussion with author Ric Wasley
The year is 1863 and the Civil War, the "cruel war" as the poets and songwriters call
it, is raging with a fury unimagined just two short years ago. Back then, in April of 1861, when the 'Fire-eaters" of South Carolina had fired upon the Federal flag in Charleston Harbor, the prediction on both sides of the Mason/Dixon line was unanimous that the forthcoming, "gentlemen's disagreement", would be over in three months. The boys would be home by Christmas; chests festooned with medals and noble brows crowned with laurel wreaths of glory.

But as said the poet Bobby Burns; "The best laid plans of mice and men oft go astray."

Saturday, June 21, 2pm
Make Time For Reading - for parents, grandparents, baby sitters
Discussion with author Jean Fahey
Join special guest, Jean Fahey, as she discusses her recently published book,
Make Time for Reading: story guide for parents of babies and young children.
Art and story translate the science of how the brain gets wired to learn to read. The book looks like a children's book- but it's really for 'grown-ups.' The book is illustrated by the very talented children's illustrator Peter Thornton.
AROUND THE CORNER BOOKSHOP
Looking for a new title or a favorite author?
Visit the book sale nook "Around the Corner" in the Reading Room.
Many 2011-2013 hardcovers, paperbacks and trade fiction at
BARGAIN PRICES - $1.00 - $3.00
Stock up for cold, winter days or your trip South.
Support the Yarmouth Port Library!
BOOK DONATIONS = $ FOR THE LIBRARY
Please DONATE your used books to the library for our next annual July book sale and our ongoing book sale shelf. Some new titles can also go into our library collection. We accept fiction and nonfiction, children's books, cookbooks, travel guides, etc. We also resell CD's and DVD's. We can not accept textbooks, encyclopedias or videotapes. Please drop off any items in good, clean, resalable condition during regular library hours.
New Acquisitions
Click these links for a full CLAMS list or the YPL list:

Yarmouth Port Library
Library Hours
Closed Sunday and Monday
Tuesday 1 - 5 PM
Wednesday 1 - 7 PM
Thursday 1 - 5PM
Friday 10 AM - 4 PM
Saturday 10 AM - 2 PM

Librarian:
Leslie Altman



Associate Librarian Children's Services:


Lynn Lesperance
Telephone: 508-362-3717
Fax: 508-382-6739
email:
[email protected]