'Returning Dignity'
Invitation to the
23rd Annual Human Dignity and Humiliation Studies Conference
Chiang Mai, Thailand

8th - 12th March 2014
Greetings!
"Majesty in the Mountains: Traditional Culture of the Highland Peoples of Southeast Asia" Exhibition of Photos and Artifacts by Victoria Vorreiter.

We are delighted to invite you to the 23rd Annual Conference of our Human Dignity and Humiliation Studies (HumanDHS) network, entitled 'Returning Dignity,' at Chiang Mai University in Chiang Mai, Thailand, 8th - 12th March 2014.
About Human Dignity and Humiliation Studies
The HumanDHS network hosts two conferences each year: one at Columbia University in New York City and one at a different location around the globe. Since 2003 our network has gathered together in Europe (Paris, Berlin, Oslo), Costa Rica, New Zealand, China, South Africa, and other locations. These global conferences allow us to bring together a diverse community of remarkable people working for dignity in the world!
How We Co-Create Our Conferences
For those of you who have never joined us for one of our global conferences, please kindly allow us to describe our unique approach. Rather than using a traditional lecture/presentation format, we join together to co-create a program that emphasizes conversations and collaboration. Over the years, we have adapted the 'Open Space Technology' format to create a mutually dignifying experience for all involved. Open Space begins with inviting people to propose ideas for dialogue, selecting shared topics of interest, scheduling dialogue sessions, and finally sharing the important highlights of these dialogues. We invite you to bring your idea for an Open Space dialogue led by you. This collaborative format allows us to define and design the entire conference experience as a community, beginning on the first day.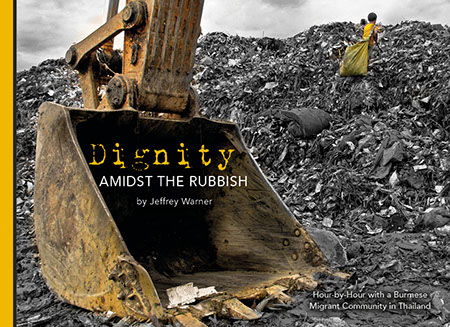 Photojournalist Jeff Warner will share:
Dignity Amidst The Rubbish
,
an hour-by-hour look at the lives of a community of refugees from Burma.
Our Conference Agenda:
8th - 9th March: Two pre-conference days on the
trail visiting tribal communities (still evolving):

Indigenous rights and land rights: Ending
land grabbing
Living on the city dumps: Ending
urban poverty

Day One, 10th March (Women's Day):
Day Two, 11th March: Dignilogue sessions
Day Three, 12th March: Dignilogue sessions
Conference Arrangements

We warmly thank Chayan Vaddhanaphutimost and Kjell Skyllstad for welcoming everyone to this remarkable event! We are also grateful to all participants for taking full responsibility for their own visa, travel, transportation, and accommodation arrangements.

Registering for the Conference

There is no registration fee for this conference. To cover our expenses, we will summarize the costs during the conference and invite participants to contribute according to their ability. This collaborative approach to financing allows us to keep the conference affordable for all. If you are interested in participating, please kindly click here to email us your introductory information.

How to Get to the Conference
Please fly to Chiang Mai in Thailand. The airport is about 15 minutes from the campus. Participants can take a taxi from the airport to the hotel or use the hotel van. From the hotel to the campus, we will arrange transportation for them to come to the conference.

Where to Stay and Where to Eat
The University of Chiang Mai has an international guest house on campus with inexpensive accommodations. For lunch during the conference, participants will have to pay. The organisers will arrange for someone to prepare lunch.

Pre and Post-Conference Experiences
Chiang Mai is surrounded by tribal communities that call on our interest and solidarity in their fight for full citizen rights. We look forward to having conference participants taking leadership by suggesting possibilities for learning more about these communities. In addition, we hope to visit the golden temple on Doi Suthep high above the city -- a once in a lifetime experience for anyone who attends!

We Warmly Invite You Join Us
Please feel free to with your colleagues or students. For the latest details about this conference, as it unfolds, please visit our conference webpage.

We would be honored and delighted to have you with us!

Kjell Skyllstad, PhD
Global Advisory Board Member of the Human Dignity and Humiliation Studies
Professor at the Faculty of Fine and Applied Arts, Chulalongkorn University, Bangkok, Thailand
Editor in Chief of the Journal of Urban Culture Research


Evelin Lindner, MD, PhD, PhD
Founding President of the Human Dignity and Humiliation Studies

Linda Hartling, PhD
Director of the Human Dignity and Humiliation Studies


P.S. Please kindly note that...