Swap experience
'Packed with wonder and delight'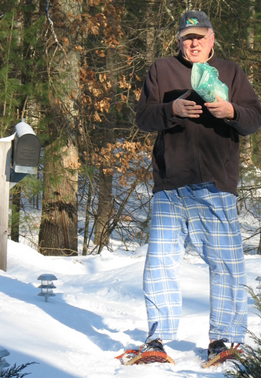 Collecting the NY Times in snow shoes, something not required in Australia!
"We have completed nine wonderful exchanges over recent years, all 110% successful.

We spent six outstanding months living in Boston on the US East Coast on one exchange. Concerts, lectures at Harvard and JFK Library, top quality church services, attending political rallies with Bill Clinton and Ted Kennedy, the picturesque coastline, shopping duty-free in New Hampshire, the beauty of The Fall, waking to big snow falls, spring bursting out all over. These all made for daily enchantment. We had another three deeply nourishing months in Boston on a following exchange and are keen to return a third time.

On our third exchange to the area, we spent three months in Potomac, Maryland, only 20 minutes' drive from Washington DC. What wonders filled our lives each day. DC is full of American national monuments, many of which are free to visit; plus the underground Metro gets you around cheaply and easily.

Each of our exchange homes and cars have been first class; each of our US exchange partners have become friends; each of our US East Coast stays have been jam packed with wonder and delight, plus the Americans amazingly generous time-and-time again. We cannot recommend home exchange to Boston and Washington DC highly enough."
Barry Fox
Barry's Melbourne home is in a bushland setting among eucalypt trees; Click here to see full details of his home swap offer

Home Swap Q&A:
when to start planning?
Q: I want to swap my London flat for similar in an Australian city in July or August. When should I start looking?

A: Many members looking for Spring and Summer 2014 swaps are joining now. Some members do arrange swaps at short notice (see our Last Minute Offers section) but it is always advisable to give yourself plenty of time to find a suitable exchange. We generally advise that you give yourself at least 4 months to find and plan your exchange. The more specific your request is (e.g. long term swaps) the more time you should allow. Contact any members whose offers are of interest and, if no immediate takers, regularly check and contact new members as they join.

Once you have a good match, spend the period in the run-up to your exchange dates corresponding regularly with your exchange partners. Allowing plenty of time for planning ensures both parties to the swap will feel confident that all aspects have been covered and that you will be comfortable leaving your homes in each other's care.
Visit Vancouver

Downtown condo with mountain and bay views,

Spanish swap

Stay in the historic town of Santes Creus.

Italian island

Apartment on beautiful Isola dei Pescatori.
Home swap blog:
top 10 posts of 2013
The following posts, published on the Travel the Home Exchange Way blog during 2013, attracted the most views (click the link to read a post):
Subscribe to the blog feed or visit Travel the Home Exchange Way often to keep up with the latest news. We welcome your comments on posts (you can also 'like' a post or share it on Facebook or Twitter) and please do send us contributions for the blog and newsletter.
Exclusive promotion to members:
join second site for free!
This exclusive promotion to all existing and new Home Base Holidays members allows you to claim a complimentary one year membership to an additional home swap site, Global Home Exchange, based in North America. To take up this offer, send us an email to info@homebase-hols.com with the subject line "Global offer" and a note of the password and any special requirements you would like set.
Happy Home Swapping!

Home Base Holidays | 7 Park Avenue | London | N13 5PG | Tel: +44 (0) 20 8886 8752