"We have been exchanging for 16 years, yet never had a swap in London, which is less than two hours from my wife's family. Thanks to Home Base Holidays, which has many members in London, we were able to find a classic home for a two week trade.
We were a five minute walk to the train station with a 13 minute ride to the center of London. It was easy to spend the morning or afternoon in the city and then return home to relax. No pressure to make the most of your day because you could always go back tomorrow. The house was near Blackheath and Greenwich, delightful places for cycling, walking, and exploring.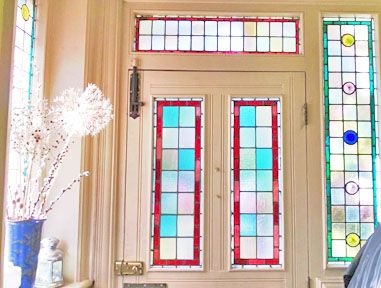 London home with period features
Some exchange homes are modern and boring. Not ours. The home (see photo) was more than a century old, with three large double bedrooms with lovely views of the neighborhood. Our hosts, Donna and Will, were artistic with a wide selection of pictures, photos, antique furniture, rugs, and everyday objects of life infused with creative design. The bed linens and towels were of the highest quality, much better than at our home. The plumbing was modern, but meant to look old, plenty of hot water. Period moldings, stained glass doors, and those two treacherous steps from our bedroom to the bathroom reminded us we were not in California.
One of the delights of home exchange is learning new ways to live. The kitchen was on the small side, the dishwasher LED readout was in German, and there was no microwave or salad spinner. They had a colossal gas stove with six burners and three ovens, so if we could learn to cook slow and plan at least an hour in advance we would eat really well (which we did). They had a vast selection of natural and organic foods which we shamelessly sampled. We picked fresh raspberries, Swiss chard, tomatoes, eggplant, zucchini, lettuce, and green beans from the garden. Most meals were taken outside, under a robust umbrella that was equally effective against sun and rain.
There was a bunny, generally low maintenance that we allowed to run in the garden. It fooled us by nipping inside, dashing behind the sofas, and avoiding our best efforts to herd it outside. It had a sturdy hutch in the garden which the local fox, who came for a visit, could not open.
"When your exchange home feels like home, and you are sorry to leave, you know it was a good swap"
Our exchange partners had us over for dinner before the swap began, Donna demonstrating complete mastery of her organic food, garden produce, and gas stove. They were as interesting as their home, and made a good impression on us and with friends in California. They picked us up in San Francisco with our car, we were sorry that our adventure was at an end. When your exchange home feels like home, and you are sorry to leave, you know it was a good swap."
John Mensinger (Modesto, California)
The pool at home in California
In contrast to their century old exchange home in London, John and Julia's own home (house and swimming pool in photo) is in a contemporary Mediterranean style with white walls, several balconies and terraces. The house, built in the late 1980s/90s, is located in Modesto in the centre of California (less than two hours to San Francisco). The couple are very experienced home swappers.