Joining Home Base Holidays: one of the best things we've ever done!
Swiss member shares their home swap experiences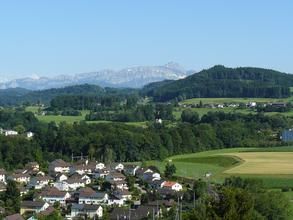 'We completed our first exchange last August and are thrilled with the whole experience. We now know where the Welsh Marches are and have explored an area we would probably never have gone to if it hadn't been for this exchange opportunity. The couple we exchanged with are the nicest people and we hope we'll remain long-term friends - in fact, our first exchange has been such a pleasure we're almost worried that we're spoilt for future exchanges!
Living in someone else's home is an amazing thing really, such a token of trust probably hugely increases the likelihood of meeting particularly open, friendly people with an interest in new places and lifestyles. We thoroughly enjoyed everyday things like meeting the neighbours, exploring the local shops for food, and finding out how mundane things like rubbish disposal work. Being able to explore the local area, visiting a wonderful range of towns and buildings, and then come home to "our" place - nonchalantly unlocking the door of our beautiful historic house while being eyed by envious tourists (we're quite sure they were envious!) - made this a really special holiday.
Our home is very modern, our exchange home was very, very old - the contrast was fascinating! This certainly won't be our last exchange; we seem to have lost interest in hotels and can't wait for our next swap! We feel that signing up with Home Base Holidays has been one of the best things we've ever done.'
Bea Fitze, Niederuzwil, St. Gallen, Switzerland
Click here to view Bea's lovely home swap offer in Switzerland...