EDITORIAL STAFF OF THE NEWSLETTER:
Chiara Marsoner
Antonio Talarico

IL CONSOLATO INFORMA:
Passaporti:
Si avvisano tutti i connazionali che dal 26 giugno 2012 tutti i bambini che viaggiano dovranno essere muniti del proprio passaporto.
Si invitano pertanto tutti i genitori che hanno i minori iscritti sul proprio passaporto di contattare il Consolato
(
[email protected]

; 617 7229223).
Cittadinanza:
Si informa che sul sito del Consolato e' disponibile il manuale pratico sulla doppia cittadinanza "To be or not to be an Italian citizen? That is the questionnaire!". Nel manuale sono disponibili tutte le informazioni utili per comprendere le modalita' di acquisto, riacquisto e la documentazione necessaria per ottenere la doppia cittadinanza.
Contatti utili:
AIRE/ELETTORALE:
617 722 9220
NOTARILE:
617 722 9205
PENSIONI:
617 722 9220
CITTADINANZA:
617 722 9303

STATO CIVILE:
[email protected]
617 722 9225
PASSAPORTI:
617 722 9223
TITOLI DI STUDIO/BUONI POSTALI:
617 722 9225
PER QUESTIONI DI CARATTERE
GENERALE: [email protected]
---
BE A LIGHT ON THE PIAZZA
on the next Newsletter!
The newsletter aims to be a container of ideas which relies on your inputs and suggestion. We are open to publish and
communicate all events related to Italian artist, productions or themes.
If you are interested please contact [email protected]; [email protected] with details of the event by the 20th of each month.
La newsletter è un contenitore aperto al contributo di ognuno nel segnalarci eventi che includano artisti, opere o contenuti Italiani. Inviateci le informazioni relative all'evento entro il 20 di ogni mese a [email protected]t;
---
Useful information and news
---
The Italian Home is a residential and day treatment facility for emotionally and behaviorally challenged children between the ages of 4 and 13. With state of the art therapies and around the clock nurturing, we help them to rebuilt their lives. Our goal is to reintegrate the children back into their schools, families, and comunities by giving them the tools to cope with their emotional scars. To learn more about Italian Home for Children visit www.italianhome.org or contact Dee Mullen at [email protected]
NEW IN BOSTON
Piccola Italia Preschool
Piccola Italia Preschool (PIP) è un asilo nido di famiglia situato a Newton, MA. PIP è speciale grazie all'enfasi sulla cultura e lingua italiana. Gli insegnanti utilizzano l'approccio di "immersione" dove l'italiano è il metodo d'istruzione. PIP accetta iscrizioni per bambini da 2.9 a 5 anni con opzioni di due, tre, e cinque giorni alla settimana.
Cari Amici dell'Italia,
la programmazione di marzo vedra' quattro importanti appuntamenti legati all'Anno della Cultura. Innazitutto la serie di COLLOQUI DI DACIA MARAINI presso la University of Rhode Island. Poi, l'8 marzo terremo un OMAGGIO A RITA LEVI MONTALCINI, donna e scienziata, in occasione della Giornata Internazionale della Donna. L'11 marzo e' la volta della RAPPRESENTAZIONE DI PINOCCHIO DA PARTE DI MASSIMILIANO FINAZZER FLORY, che sta compiendo una torunee in tutti gli Stati Uniti. Il 21 marzo, infine, un CONVEGNO DEDICATO ALLA RICOSTRUZIONE DE L'AQUILA si terra' al MIT, in occasione della mostra fotografica "L'Aquila 2010" di Michele Nastasi.
Anticipandovi la programmazione di aprile dell'Anno della Cultura, vi segnalo che il 9 al MIT vi sara' un CONVEGNO DEDICATO ALLA GRANDE FIGURA DI FRANCO MODIGLIANI e che aprira' il 21 aprile al Museum of Fine Arts la mostra di disegni "MICHELANGELO: SACRED AND PROFANE: MASTER DRAWINGS FROM THE CASA BUONARROTI". Non perdete poi le performances della COMPAGNIA DI BALLETTO ITALIANA SPELLBOUND che sara' allo Shubert Theatre il 5 e 6 aprile.
Per chi non ha avuto ancora occasione, ricordo che sino al 1 maggio sara' in esposizione al Museum of Fine Arts il BRUTO CAPITOLINO, uno straordinario prestito dai Musei Capitolini di Roma.
A chi ama il cinema, segnalo il 13 marzo "IO SONO LI" di Antonio Segre e "CESARE DEVE MORIRE" dei Fratelli Taviani che sara' proiettato il 18 marzo - in prima assoluta in Massachusetts - nell'ambito del Belmont World Film Festival.
Vi ricordo la nascita della Onlus "AMICI DEL CENTRO ITALIANO DI CULTURA DI BOSTON", che ha l'obiettivo di creare un Centro italiano di Cultura a Boston per promuovere la nostra lingua e cultura e contribuire alla preservazione del retaggio italiano della citta'. Per maggiori informazioni visitate il sito www.ficcb.it.
Seguiteci su FACEBOOK e su TWITTER e buona lettura a Tutti!
Giuseppe Pastorelli
* * * *
Dear Friends of Italy:
There are four important events for the Year of Italian Culture in the month of March. First, there will be a SERIES OF TALKS OF DACIA MARAINI at the University of Rhode Island. On March 8th, we pay TRIBUTE TO RITA LEVI MONTALCINI, the Italian Nobel Laureate, in celebration of the International Day of Women. On March 11th, MASSIMILIANO FINAZZER FLORY WILL PRESENT PINOCCHIO as part of his tour in the United States. Finally, on March 21st there will be a CONFERENCE DEDICATED TO THE RECONSTRUCTION OF L'AQUILA at MIT, featuring also the photography exhibit "L'Aquila 2010" by Michele Nastasi.
Previewing the events scheduled for April, on the 9th at MIT, there will be an INTERNATIONAL ECONOMIC CONFERENCE DEDICATED TO FRANCO MODIGLIANI. On April 21st, the exhibit "MICHELANGELO: SACRED AND PROFANE: MASTER DRAWINGS FROM THE CASA BUONARROTI" will open at the MFA. You won't want to miss the performances of the ITALIAN CONTEMPORARY BALLET SPELLBOUND at Shubert Theatre on April 5th and 6th.
For those of you who have not yet had the opportunity, I remind you that the MFA will have CAPITOLINE BRUTUS on display until May 1st. This is an extraordinary loan from the Capitoline Museums in Rome.
For film lovers, as part of the Belmont World Film Festival, Antonio Segre's "Io Sono Li" will be shown on March 13th and - for the first time ever in Massachusetts - Fratelli Taviani's "CESAR MUST DIE" will be shown on March 18th.
I also remind you that the public charity "FRIENDS OF THE ITALIAN CULTURAL CENTER OF BOSTON" has been formed. The objective of this foundation is to create a Center of Italian Culture in Boston to promote our language and culture and to contribute to the preservation of the Italian heritage in the City. For more information, visit www.ficcb.it.
Follow us on FACEBOOK and TWITTER and happy reading to all!
Giuseppe Pastorelli
Monday, March 4, 5:00 PM | Boylston Hall 403, Harvard University, Cambridge MA

Armando Massarenti (Il Sole 24 Ore)

A conversation on the "Domenica," cultural supplement of "Il Sole 24 Ore."
IN ITALIAN
Facilitator: Dalila Colucci
Tuesday, March 5, 5:00 PM | Visual Resources Room, Loeb Design Library, Gund Hall | Harvard University, Cambridge, MA
A conversation on "Digital_Humanities"
Jeffrey Schnapp, Urs Gasser, Jesse Shapins, Kara Oehler, Matthew Battles, Yanni Loukissas, Kyle Parry, Robert Gerard Pietrusko
Discussion in english
Facilitator: Gernot Valdner
Harvard University, Department of Romance Languages and Literatures, De Bosis
Colloquium in Italian Studies - Open to the public
Friday March 8 6:00pm American Academy of Arts and Sciences |136 Irving Street, Cambridge MA
Rita Levi Montalcini: The Woman, The Scientist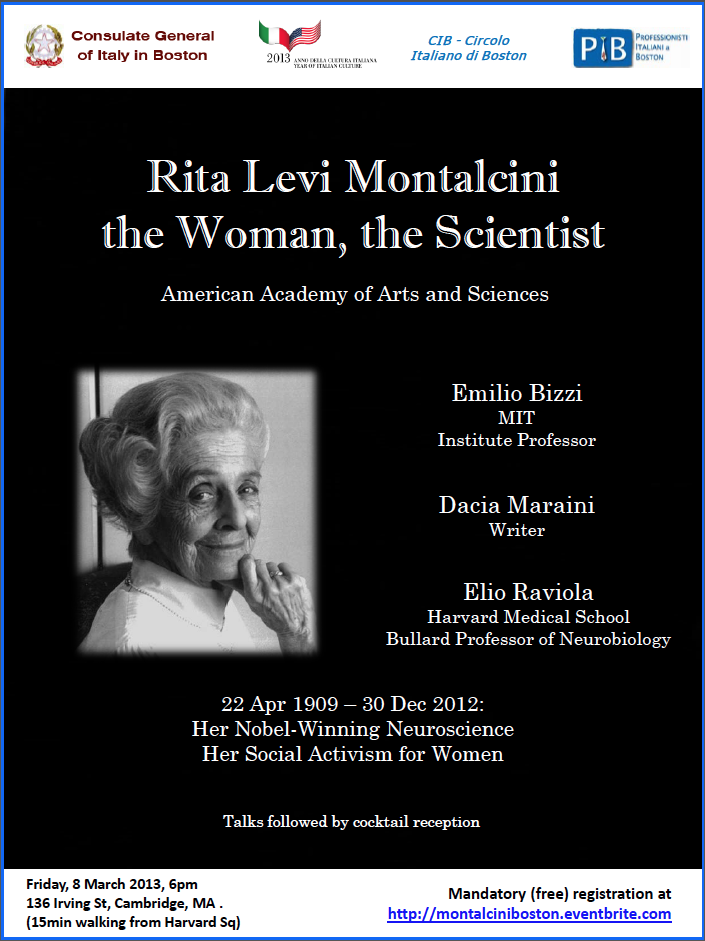 Saturday March 9 12:00PM |
Salem Film Festival, Salem MA
The missing piece: the truth about the man that stole the Mona Lisa
For detailed information please follow this
link
Sunday, March 10 at 1pm,

Northwest Bldg, 52

Oxford Street, RB-103 Cambridge
Io sono Li - Andrea Segre
Film and Q&A with Film Director Andrea Segre.
Shun Li works in a textile factory in the outskirts of Rome in order to get her papers and enable her eight-year-old son to come to Italy. She is suddenly transferred to Chioggia, a small city-island in the Veneto lagoon, to work as a bartender in a pub. Bepi, a Slavic fisherman, nicknamed "the Poet" by his friends, has been a regular at that little pub for years. Their encounter is a poetic escape from solitude, a silent dialogue between cultures that are different, yet not more distant. It is an odyssey into the deep heart of a lagoon, which can be both the mother and cradle of identities, which never keep still. B
ut the friendship between Shun Li and Bepi upsets both the Chinese and local communities, who interfere with this new voyage, which they are perhaps simply too afraid of.
Italian with English Subtitles.
Free and open to the public.
Monday March 11, 7:00PM Dante Alighieri Society | 41 Hampshire Street, Cambridge, MA
Pinocchio: The story of a puppet
Tuesday March 12 5:30pm |Herter 301 Umass | Boston, MA
An Audiovisual conversation with international award winning director Andrea Segre
Saturday, March 16, 8pm | Sunday, March 17, 3pm First Baptist Church, Newton Centre
Respighi by the New Philharmonia Orchestra
Classics Series II: Memories of Italy - The sights and sounds of Respighi.
The New Philharmonia Orchestra presents a Respighi program featuring violinist
James Buswell.
The program will include Respighi's The Birds -
Concerto Gregoriano -
Pines of Rome.
Monday, March 18 7:30pm Studio Cinema | 376 Trapelo Road, Belmont, MA
Cesare deve morire (Caesar must die)
Thursday, March 21 6:00pm-7:00pm |MIT, 77 Massachusetts Avenue, Bush Room, Building 10-105 Cambridge, MA
Suspended City: Rebuilding L'Aquila After the Earthquake of 2009
March 21 at 8:00pm, March 22 at 1:30pm, March 23 at 8:00pm, March 26 at 8:00pm at Boston Symphony Hall
All Wagner Program, Conducted by Daniele Gatti
Conductor Daniele Gatti, mezzo-soprano Michelle DeYoung, and the BSO celebrate the bicentennial of Wagner's birth with selections from five of the composer's operas, encompassing the themes of love, identity, and redemption that pervade his works. The program includes orchestral excerpts from Götterdämmerung (Twilight of the Gods), the final opera of Wagner's gargantuan Ring cycle; the powerful overture to Tannhäuser, one of his great early successes; Kundry's narrative ("Ich sah das Kind") from Act II of Wagner's moving final opera, Parsifal, whose title character attains spiritual transcendence as a Knight of the Holy Grail; the ethereal Prelude to Act I of Lohengrin, music embodying a vision of the Holy Grail itself; and the Prelude and Liebestod from Tristan und Isolde, a twenty-minute distillation of Wagner's four-hour paean to love.

Matteo Casini -
Suffolk University, History
Jodi Cranston - Boston University, Art History
Anne-Marie Eze - Isabella Stewart Gardner Museum, Collections
Moderated by Prof. James Johnson - Boston University, History
Three local scholars will share their personal and professional reasons for choosing to study and support Venice. Intended primarily to acquaint students, young professionals, and others unfamiliar with Save Venice to the mission of our organization and to the splendors of Venice, this event is free and open to the public.
Contact: Prof. J. Johnson, [email protected], 617-353-2554 or Click here for more information
Save Venice Inc, Boston Chapter

Honorary Chair: Consul General Giuseppe Pastorelli
Chairman: Frederick Ilchman
Treasurer:Donald C. Freeman
Secretary:Susan Angelastro
Projects Chair
: Susan Angelastro
Lecture Series Chair: Christopher Carlsmith
Events Co-Chairs: Richard Baiano, Lucille Spagnuolo
Young Friends Chair: Anne-Marie Eze
SAVE THE DATE:
Friday June 7, italianissimo! Serata di Gala | Boston Public Library
italianissimo! Serata di gala
SAVE THE DATE:Tuesday June 11 | Berklee College of Music, Boston
TOP ITALIAN JAZZ - Enrico Rava Tribe feat. Gianluca Petrella
January 18 until the end of April - Museum of Fine Arts Boston | 465 Huntington Avenue Boston, MA
Image from Musei Capitolini
Capitoline Brutus is coming to the United States for the first time, borrowed from the Capitoline Museums in Rome to the Museum of Fine Arts in Boston. The loan falls within the framework of the
Dream of Rome project,
which has brought masterpieces such as Bernini's Medusa to San Francisco, the Capitoline Venus to Washington, DC, and the Lion attacking a horse to Los Angeles.
FICCB
The Public Charity "Friends of the Italian Cultural Center of Boston/FICCB" was founded in December 2012 with the aim of creating a Center of Italian Culture in Boston and, further, to ensure its management and operation. The non-profit organization is registered in The Commonwealth of Massachusetts and has the objective of promoting Italian language and culture as well as preserving Italian heritage in Boston.
Memory Traces: A Collection of Italian Memories of Boston
To commemorate the 150th anniversary of the Unification of Italy, the Consulate General of Italy in Boston and the MIT Mobile Experience Lab, in partnership with COMITES (Committee of Italians Abroad) of Boston, has developed Memory Traces: A Collection of Italian Memories of Boston. Boston's Italian community dates back to 1860, when the first immigrants came to the United States seeking better conditions than those of their homeland. For the past 150 years, Italian-Americans have played a prominent role in the city of Boston, having distinguished themselves in various disciplines including business, government, medicine, technology, humanities, and academia. Through geo-located video interviews, the Memory Traces project explores the Italian experience in Boston. These recollections from selected representatives of fi rst generation and American born Italians help preserve their heritage for future generations. The use of new media has enabled this interactive documentary. The Memory Traces project website features the stories overlaid on a map of the city. Stories can be fi ltered by person, time period, and a selection of themes that capture the
http://locast.mit.edu/memorytraces/ messages of the stories. A mobile application provides the opportunity for others to follow these memory trails through the city of Boston.
Consulate General of Italy in Boston
Tel. 617-722-9201
Fax 617-722-9407