EDITORIAL STAFF OF THE NEWSLETTER:
Chiara Marsoner
Antonio Talarico

IL CONSOLATO INFORMA:
Passaporti:
Si avvisano tutti i connazionali che, in base ad una nuova regola europea (http://europa.eu/travel/doc/index_it.htm), dal 26 giugno 2012 tutti i bambini che viaggiano dovranno essere muniti del proprio passaporto.
Si invitano pertanto tutti i genitori che hanno i minori iscritti sul proprio passaporto di contattare il Consolato
(
[email protected]

; 617 7229223).
Cittadinanza:
Si informa che sul sito del Consolato e' disponibile il manuale pratico sulla doppia cittadinanza "To be or not to be an Italian citizen? That is the questionnaire!". Nel manuale sono disponibili tutte le informazioni utili per comprendere le modalita' di acquisto, riacquisto e la documentazione necessaria per ottenere la doppia cittadinanza.
Contatti utili:
AIRE/ELETTORALE:
617 722 9220
NOTARILE:
617 722 9205
PENSIONI/BUONI POSTALI
617 722 9220
CIVILE/CITTADINANZA
617 722 9303
ATTI DI STATO CIVILE
617 722 9303
PASSAPORTI:
617 722 9223
TITOLI DI STUDIO:
617 722 9225
PER QUESTIONI DI CARATTERE
GENERALE: [email protected]
---
BE A LIGHT ON THE PIAZZA
on the next Newsletter!
The newsletter aims to be a container of ideas which relies on your inputs and suggestion. We are open to publish and
communicate all events related to Italian artist, productions or themes.
If you are interested please contact [email protected]; [email protected] with details of the event by the 20th of each month.
La newsletter è un contenitore aperto al contributo di ognuno nel segnalarci eventi che includano artisti, opere o contenuti Italiani. Inviateci le informazioni relative all'evento entro il 20 di ogni mese a [email protected]t;
---
Useful information and news
---
NEW IN BOSTON
Piccola Italia Preschool
Piccola Italia Preschool (PIP) è un asilo nido di famiglia situato a Newton, MA. PIP è speciale grazie all'enfasi sulla cultura e lingua italiana. Gli insegnanti utilizzano l'approccio di "immersione" dove l'italiano è il metodo d'istruzione. PIP accetta iscrizioni per bambini da 2.9 a 5 anni con opzioni di due, tre, e cinque giorni alla settimana.
innanzitutto formulo a Voi e ai Vostri cari i piu' fervidi auguri di Buon Natale e Buon Anno, da parte mia e della mia famiglia.
Il 2013 sara' l'
ANNO DELLA CULTURA ITALIANA NEGLI STATI UNITI
. Un lungo viaggio attraverso le eccellenze del nostro Paese, dall'arte alla scienza, dalla musica alla letteratura, che Vi coinvolgera' ed entusiasmera'. Il 12 dicembre sara' lanciato il sito ufficiale www.ITALYinUS2013.org che Vi suggerisco di consultare periodicamente per rimanere aggiornati sugli eventi che si terranno a Boston ed in tutti gli Stati Uniti.
Tornando a dicembre, come vedete la musica e' protagonista. Vi invito tutti calorosamente al primo
CONCERTO DI NATALE
che il Consolato e il Boston Conservatory organizzano il 4 dicembre, alle 18:30, alla Chiesa del Sacro Cuore, a North Square, nel North End.
Un'altra novita', che potrebbe essere di interesse di molti. Da alcune settimane ha aperto la
PICCOLA ITALIA PREESCHOOL
, un asilo nido di famiglia a Newton per bambini dai 2,9 ai 5 anni.
Non dimenticate infine, per coloro di Voi che sono iscritti all'AIRE, che entro il 31 dicembre 2012 e' possibile esercitare il
DIRITTO DI OPZIONE PER VOTARE IN ITALIA ALLE PROSSIME ELEZIONI POLITICHE
, compilando l'apposito modulo da inviare al Consolato. Per maggiori indicazioni, visitare il sito www.consboston.esteri.it
Auguri a Tutti e buona lettura!
Dear Friends of Italy:

First I would like to extend to you and your loved ones the warmest wishes for a Merry Christmas and a Happy New Year on behalf of my family and myself.

2013 will be the YEAR OF ITALIAN CULTURE IN THE UNITED STATES. A long journey that will reveal Italy's brilliance and excellence, from art to science, from music to literature. A year-long journey that will engage and enthuse you. December 12th will mark the launch of the official web site www.ITALYinUS2013.org which I suggest you to visit periodically to remain informed about all the events that will take place in Boston and throughout the United States.

Music will be an important part of the month of December. I warmly invite all of you to the very first Christmas concert, which the Italian Consulate and the Boston Conservatory have organized for December 4th, at 6:30 pm, at the Sacred Heart Church, in North Square, North End.

New in Boston is the PICCOLA ITALIA PRESCHOOL, which might interest many of you. Opened just a few weeks ago, it is a family-run preschool in Newton for children ranging from 2.9 to 5 years old.

Lastly, for all of you registered in AIRE I inform you that December 31st is the deadline to EXERCISE THE RIGHT OF OPTION TO VOTE IN ITALY FOR NEXT YEAR GENERAL ELECTIONS. For further information, visit: www.consboston.esteri.it.
Best wishes and happy reading!
Giuseppe Pastorelli
Tuesday, December 11 at 8pm at the Ryles Jazz Club | 212 Hampshire Street Cambridge, MA 02139
Marco Pignataro Jazzet - 2012 PIB Winter Concert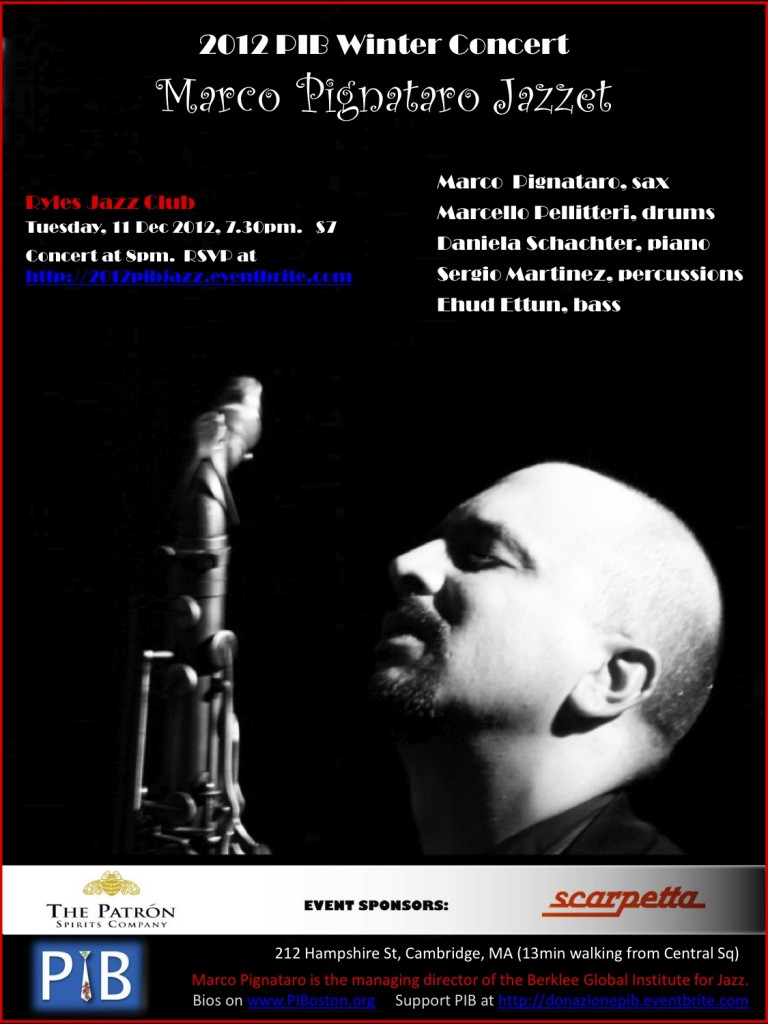 Click to enlarge
Marco Pignataro, sax
Marcello Pellitteri, drums
Daniela Schachter, piano
Sergio Martinez, percussions
Ehud Ettun, bass
Marco Pignataro is the managing director of the Berklee Global Institute for Jazz. Bios on www.PIBoston.org
Support PIB at http://donazionepib.eventbrite.com
Tickets are $7. RSVP at http://2012pibjazz.eventbrite.com
Friday, December 14, 2012 at 8pm at the YMCA Theatre|820 Massachusetts Avenue, Cambridge
Newpoli Christmas CD
Join Newpoli, Boston's own Italian Folk Music ensemble, for the release concert of their Christmas CD MUSICA DI NATALE: A Traditional Italian Christmas at the YMCA Theatre.
Newpoli presents the Christmas Story as told through the folk music of Southern Italy, from shepherd songs of the Appenini Mountains to music from the courts and piazzas of Naples. Two singers and eight instrumentalists bring an Italian Christmas celebration to life in dramatic fashion using original dialects and traditional instruments. The repertoire will include traditional folk prayers, artful polyphonic songs dating back to the Renaissance, and captivating tarantellas that will make you want to dance. Joining the group on stage will be renowned multi-instrumentalist John La Barbera, as well as members of the 7 Hills Renaissance Wind Band, performing on historical instruments and bringing the audience back to a Naples of centuries
ago. Christmas readings in Italian and in the dialects of Southern Italy will enhance and complement the music, adding to the magic of the evening (English translations will be provided).
Tuesday, December 18 at noon at the MIT Chapel (W15) |50 Massachusetts Avenue Cambridge, MA 02139
Meridian Singers Holiday Concert
Free and open to the public.
Tod Beckham, Director
Italian Early a Cappella coral music.
Works by Landini, Willaert, Gesualdo and Monteverdi.
SAVE THE DATE:
January 17-18-19 at 8pm at Boston Symphony Hall|301 Massachusetts Avenue Boston, MA 02115
VERDI'S REQUIEM - GATTI CONDUCTING
Boston Symphony Orchestra
Tanglewood Festival Chorus
To mark the bicentennial of Verdi's birth in 1813, Italian conductor Daniele Gatti, music director of the Orchestre National de France, leads the BSO in three performances of the composer's Requiem with the Tanglewood Festival Chorus and four vocal soloists all making their BSO debuts. One of the greatest of all works for orchestra, soloists, and chorus, Verdi's massive, theatrical Requiem was completed in 1874, dedicated to the memory of the great Italian poet and novelist Alessandro Manzoni-a personal hero of Verdi's-and premiered on the first anniversary of Manzoni's death.
Tickets start st $30.
SAVE THE DATE:
Sunday, January 20 at 3pm at Sanders Theatre at Harvard University | 45 Quincy Street, Cambridge MA


VERDI RIGOLETTO - FEDERICO CORTESE CONDUCTING
MUSIC BY GIUSEPPE VERDI - LIBRETTO BY FRANCESCO MARIA PIAVE
Boston Youth Symphony Orchestras' (BYSO)
6th Annual Semi-Staged Opera
Boston Youth Symphony
Federico Cortese, Conductor
Doug Fitch, Stage Director and Designer
ONE PERFORMANCE ONLY! Tickets $30-$40. Click here to order your tickets online or call 617.496.2222
Memory Traces: A Collection of Italian Memories of Boston
To commemorate the 150th anniversary of the Unification of Italy, the Consulate General of Italy in Boston and the MIT Mobile Experience Lab, in partnership with COMITES (Committee of Italians Abroad) of Boston, has developed Memory Traces: A Collection of Italian Memories of Boston. Boston's Italian community dates back to 1860, when the first immigrants came to the United States seeking better conditions than those of their homeland. For the past 150 years, Italian-Americans have played a prominent role in the city of Boston, having distinguished themselves in various disciplines including business, government, medicine, technology, humanities, and academia. Through geo-located video interviews, the Memory Traces project explores the Italian experience in Boston. These recollections from selected representatives of fi rst generation and American born Italians help preserve their heritage for future generations. The use of new media has enabled this interactive documentary. The Memory Traces project website features the stories overlaid on a map of the city. Stories can be fi ltered by person, time period, and a selection of themes that capture the
http://locast.mit.edu/memorytraces/ messages of the stories. A mobile application provides the opportunity for others to follow these memory trails through the city of Boston.
Consulate General of Italy in Boston
Tel. 617-722-9201
Fax 617-722-9407