Ohio River Valley Women's Business Council
Welcome
New Members!
ORV~WBC would like to welcome our newest members! Congratulations to everyone!
ACF Enterprises, LLC
G & L Oil Company
Kage Steel, LLC
Cindy Murphy, LLC

Select Stone
Company, LLC
Southern Metal Products Co., Inc.
Baker Creative, Ltd.
WBE of the Month
Kristen Lindy
Green Mountain Group
Kristen Lindy of Green Mountain Group, a facilities services company, has serviced businesses over 10 years with their janitorial needs. Ms. Lindy stated that " being a leader in the janitorial industry has enabled her company to form strategic relationships with clients. This has allowed us to diversify into providing maintenance, repair and grounds care. We have a pulse on customer expectations and continue to recognize that businesses are moving towards a single source provider."
Despite her demanding schedule, Kristen also managed to serve on the CTW 2013 Volunteer Committee.
Volunteer of the Month
Trenise Stowers
SBA
for supporting the Vice President as well as managing client workshops.
In her spare time the mother of two
enjoys
speaking,writing and exercising.
Award Recipients
Rea Waldon Ph.D.,
ORV~WBC
Executive Director
Ohio Diversity Council
Glass Ceiling
Dennis Robb
UC Health
Sandhya Merchan
Meditech Global
The Ohio International Market Access Grant for Exporters
Pamela Brailsford
Cintas
South Central Ohio Healthcare Individual 2013 for Supplier Diversity Efforts.
Congratulations to You All!
Certification Update
As of May 2013
New: 11
Re-certified: 78
Join us on
JOIN our group
Director's Corner
This time of year is filled with life events - weddings, graduations, national holidays and for some of us national conferences. What is the commonality here and how do we leverage the time? The commonality is connection. We connect with friends, family and colleagues in a collapsed time span. Some of us are tasked with planning these events, some of us are merely attendees. Regardless of our "event status" the strain of back to back events can be stressful, tiring and expensive. So how do we leverage our time and attendance for professional and personal growth?
This may seem like a leap but take a look at your strengths. Draw energy from your primary strengths during the process and you might find that you are enjoying yourself, making strategic connections and reconnecting with your family. For example: Activators will get a charge out of getting things accomplished and celebrating accomplishment, Includer's will enjoy bringing disconnected families together and so forth. Those in the strategic quadrant will make strategic connections and enjoy the results.
Approach the season with awareness of your strengths and consider how to leverage them to keep you motivated, energized and positive. We will see you in Minnieapolis June 25 - 27th!
Good Networking!
Margye Solomon
Program Director
WBENC National Conference & Business Fair
Register today to attend the14th Annual National Conference & Business Fair in Minneapolis, MN, June 25-27 at the Minneapolis Convention Center. Connect your business with more than 3,000 certified WBEs, WE-Connect WBEs, and Corporate and Government members, and fortune 500 companies. For more information and to register click on the links below.
Free Lunch & Learn Workshop - June 17th
Social Media & Why You Tube is the Place to Be!
Where do you house your organization's branded messages, testimonials, product information and sales nuggets?
Branding of your YouTube Channel

What's important: Titles, Description MetaTags, Category, and more

Features to use: Thumbnail choice, Captioning, Editing and more

How to embed your web address in your videos

How to utilize your broadcast and sharing options

Useful Advanced Setting applications
Join Kristen Getsy, founder and CEO of Life's Eyes Media and Josh Flowers, for this social media "Hot Topic" on June 17, 2013, 11:30 am - 1pm, for an engaging and thought provoking presentation.
Thanks to a generous donation from Nationwide Insurance this workshop is

Free for Certified WBEs and

$35.00 for the General

Public.

Lunch will be provided.
50 Attendee Capacity Limit
Location
1717 Dixie Hwy, Suite 150
Fort Wright Kentucky, 41011
We enjoyed seeing everyone at the "Spring Fling
Social 2013." A great time was had by all! A very special thanks to the Horseshoe Casino for co-sponsoring the event and to Cincinnati GM, Kevin Klein, for making a special appearance
. If you missed this event be sure to visit the events page at www.orvwbc.org for future engagements.
WBE Lunch Meetings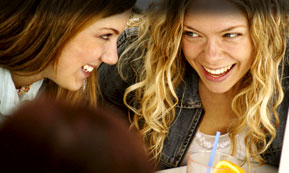 Stay in-the-know and engage for an hour of power at a WBE
monthly meeting in your area. Take advantage of this great opportunity to build relationships, learn, and get involved.
Columbus
Join host and CEO of MediaScript, LLC., Angela Horne, on Monday, June 10, 2013 at Cap City Diner in Gahanna (1301 Stoneridge Dr., Gahanna, Ohio 43230).
RSVP to angela@mediascriptllc.com by Friday, June 7, 2013.
Cleveland - Spring/Summer Break
The next meeting will take place September 18, 2013.
*Stay tuned for upcoming meeting dates in Dayton and Cincinnati. If you would like to learn more about hosting monthly meetings in your area contact msolomon@orvwbc.org for more information.
Women's Presidents Organization
Sharing News - What You Should Know
KY, OH, IL companies are among the 50 fastest growing women-owned businesses in North America read more
About ORV~WBC
The Ohio River Valley~Women's Business Council is an organization for women business owners interested in promoting, developing and maintaining business relationships with other women business owners, major corporations and governmental agencies. ORV~WBC is a regional partner organization of the Women's Business Enterprise National Council (WBENC), and
provides certification to women-owned businesses in the states of Ohio, Kentucky, and West Virginia.
The ORV~WBC operates under the Urban League of Greater Cincinnati's
Business Development and Entrepreneurship
through a collaborative effort with WBENC.
Call or Click on these links to get more information: