Congratulations to the LWV of Nassau County which just received a grant of $10,000 to educate and inform the public about redistricting in Nassau County. The money will be used for mailings, for meetings on redistricting with the public, and to get the League's website more available and accessible on this and other areas of interest .
The Broome/Tioga Counties League held several Voter Registration and Naturalization ceremonies between July and October. They had over 135 individual contacts with the public, registered 25 new voters, distributed 11 absentee ballot applications, and recruited two new LWV members. The League also participated in two ceremonies at which 76 new citizens were naturalized.
The Chemung League registered 10 new voters and gave out several voter registration applications at their voter registration drive on Sept.22. Tompkins County League registered over 500 new voters this past summer - the most ever! In an effort to get out the vote, the White Plains League ran a continuous advertisement on all 15 digital signs at the city-owned parking facilities from October 15 through November 6th. Saratoga County League registered over 300 people in Saratoga County.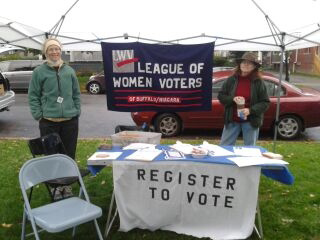 In western NY, the League of Buffalo-Niagara held 21 voter registration drives with over 40 volunteers participating. The LWVBN attended citizenship ceremonies in September and October at which approximately 55-60 new citizens took the oath of allegiance to our country at each of the ceremonies. Members of the Wayne County (MAL) attended the first Naturalization Ceremony in Wayne County in over 50 years.

LWVBN members served as organizers, moderators and time keepers for four candidate forums and the Channels 17 and 2 debates between Kathy Hochul and Chris Collins, candidates for the 27th congressional district. These events offered voters a close look at candidates in their communities.
The LWV of East Nassau, the LWV of Central Nassau, and the Cultural Program of Nassau Community College co-sponsored a Candidates Forum for candidates for the new 4th Congressional District. The Saratoga League held a Meet the Candidates event for the candidates in the 4th Judicial District. LWV of Rye/Rye Brook/Port Chester organized candidate forums for the races of US Congress, NYS Senate and NYS Assembly.
The Voter Services group of Schenectady LWV was very active this fall. They registered 115 voters, and provided approximately 100 additional voter registration forms to be filled out by voters and mailed in, as well as several absentee ballot applications. At least 30 League members staffed registration tables at the voter registration drives.
Syracuse LWV will be held a meeting on the Great Lakes Ecosystem Concurrence in November at the CNY Philanthropy Center. Rochester Metro Area League held their forum at Brighton Town Hall and guest speaker Professor Joseph Makarewicz of SUNY Brockport spoke on the impact this position would have on the Great Lakes system
The Rivertowns League and the Hamptons League each participated in the LWVUS Voter Registration Day Tuesday, September 25. The Hamptons League set up 15 voter registration tables, while the Rivertowns League passed out registration forms at train stations.
The LWV of the Hamptons discussed NYS Campaign Finance Reform (CFR) at their general membership meeting in November. The Scarsdale League also held their forum on NYS Campaign Finance Reform and Sally Robinson, LWVNYS President spoke at the forum. The Tompkins League held their Campaign Finance Reform Forum at which LWVNYS Legislative Director Barbara Bartoletti presented the state League's educational program. LWV of New Castle also held an educational forum using the state League's campaign finance reform materials. LWV of NYC is co-sponsoring an educational forum on CFR with the Brennan Center of NYU Law School and Demos on December 12; a panel of speakers including Barbara Bartoletti will discuss this important issue. Carol Mellor, LWVNYS Board Member, presented the CFR program for the LWV Utica/Rome; attendance at this forum was one of the highest for any of their programs.
The Bedford Lewisboro and North Salem League held a viewing of the film "Patriocracy" at the White Plains Public. A post-film discussion was led by Evelyn Stock, former President of LWVNY.
In October, LWV of Geneva held a movie night featuring the recent Bill Moyers documentary entitled: "The United States of ALEC". ALEC is the American Legislative Exchange Council comprised of corporations and conservative legislators from every state in the US who are wined, dined and advised by ALEC's corporate members.
LWV of Plattsburgh also held a movie night at which Gasland was shown. An award winning documentary, GASLAND, depicts problems with high volume hydrofracturing in the extraction of natural gas. Gary Henry, geologist and associate professor at Clinton Community College lead a question and answer program immediately following the film.
The Chemung League held a forum entitled What Happens Now? - Post Elections. The forum composed of Democratic local committee chair and Elmira Mayor Sue Skidmore and Republican local committee chair and Deputy County Executive Mike Krusen along with one other member of their respective committees shared their views on what the consequences of the election results may be for all of us.
Skidmore Professor Ronald Seyb will discuss the new congressional composition at the LWV of Albany County's annual holiday luncheon. At LWV of Cortland's annual holiday lunch, legislative priorities will be discussed.
LWV of Chautauqua held a luncheon with the program "How Many Kinds of Courts Goes New York State Need?" LWV of Tompkins County also held a meeting to discuss court simplification.