We love reading books or watching movies involving one-room schoolhouses. In fact, The Old Schoolhouse® Magazine branding was birthed out of the concept of that bygone era of communities of parents who worked together or independently to teach their own children in a Godly way.
That peaceful idea of home learning was what I was looking forward to when I started my own one-room, home schoolhouse. I quickly found out that sometimes it looked more like a three-ring circus! In fact, I am overseeing more than three things at the same time all day long. I am the ring leader, the lion tamer, the teacher, the organizer, the janitor, and the refreshment coordinator!
Isn't this homeschooling life tiring? Definitely. Worth it? Always. Does my house get cleaned and decorated according to the perfect, dreamy visions in my head? Nope. We have interruptions galore, training sessions often, but we press on.
The beauty of homeschooling allows, and almost requires, flexibility in your routine. We must not be disappointed in interruptions, for learning happens wherever you go and whatever you do, for you are always an educator no matter what is happening around you.
YOU are teaching YOUR children like no one else on earth can. Take each day as it comes and thank God your children are home with you and that you are home with your children. And for those days when your strength is exhausted from giving and giving and giving again, to all those little clowns in your circus, remember that your Good Shepherd wants to lead you by still waters and refresh your soul. The only requirement is that you come to Him. Multiple grades in one house can mean multiple challenges. Find peace in your little schoolhouse by going to the Prince of Peace all together. Hang onto Him and you will not lack any good thing.
And take a good, long Christmas break! Rest easy on academics and hug the kids closely a little longer. Peek into their hearts and listen to their stories. Pray together every day this week. Worship the Lord together. Hold hands and give God the glory due His name. Read His Word together every day! Coming to Him like this is where your soul will find the rest it craves.
May the Prince of Peace rule our hearts and homes,
~Deborah
dwuehler@thehomeschoolmagazine.com
P.S. Here is a gift for you of an audio/video presentation about Keeping a Christ-centered Christmas.
Did you know? Every class is INCLUDED for members! No limits!

Don't miss our Buy-One-Get-One December membership special. Buy one year of SchoolhouseTeachers.com and receive a free one-year membership to bless a friend or loved one with! Plus, you'll receive a FREE copy of the 2014 Print Issue when it is released (US only) and access to the Schoolhouse Library. Click here to take advantage of this incredible sale!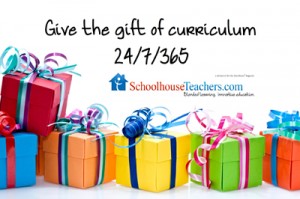 SchoolhouseTeachers.com is ending 2013 with over 70 courses and launching a great new year of material in 2014. Not only have we debuted 12 Days of Christmas encouragement articles (available to both members and non-members), we have great gifts for you on our Schoolhouse Dailies tab including:
Plus . . .
The EZTales.com animated book contest deadline is December 31st! Don't miss your chance to see your 5-10-year-old's work brought to life. Visit our Contest page for details.
Coming in January: Family Fitness, Public Speaking (taught for teens by homeschool graduate Rebekah Bell), Charlotte Mason Preschooling, and much more!
The Familyman
I don't mean to be a stinker, but why are you reading this email right now? You need to be doing family stuff, because it's almost CHRISTMAS!! You need to shut down your computer, say goodbye to your Facebook "friends" and fa la la la la!!
The coming weeks are the best days in the one-room schoolhouse . . . better known as your HOME, but don't waste them doing school or Facebook or in busyness.
I gotta go and fa la la la la . . .
Be real,
Todd
PS. It's still not too late to get your husband his 2014 You 'da Dad Daily Calendar, but it's getting close.
Order right now
!!
Specializing in Apologia-based live-feed
, online recorded, DVD, flash drive, and E-Notebook science courses. According to Dr. Jay L. Wile, "This program is run by the most gifted teacher with whom I have ever worked." Provided are 32 video lessons and over 500 web site links to extended course information.
www.redwagontutorials.com
Raising Real Men
The One-room Schoolhouse? Is anybody out there thinking about school this week? My head is all full of Christmas baking and decorating, cleaning the house for company, getting the last few presents, and shipping Christmas orders. The One-home Madhouse is more like it!
Our struggle this week, like many of you, probably, is to remember this season is about the birth of the Savior, not a huge list of expectations and a billion things to do. So let's stop a few minutes, maybe brew a cup of tea, and think about what's really important this week.
Remember stress is like water, it finds every crack in our character. That means it's easy to be rude to one another or lose our tempers. We can't skip devotions this week! We've got to let the stress make us more Christ-like by dealing with our sin when it gets exposed.
We've got to be patient with our children and show delight in them, even when we're strung out. Our little one totally lost it tonight because she's decided all she wants for Christmas is a jar of marshmallow fluff and she is sure no one will get her one. Wow. Don't even know where that one came from, much less the tears over it. It's hard to be patient when our children aren't even making sense, but sometimes they just need our attention and reassurance. (She's back to being her sweet angelic self after some serious mommy hugs, by the way.) Remember stress (good and bad) brings out the struggles of our children, too.
The good can crowd out the best, if we aren't careful. It's more important we sing the real Christmas carols with our children, the ancient ones that are full of God's Word, than it is that we go to yet another Christmas pageant that waters down the gospel--like the municipal tree lighting we went to where the local school sang, "Winter Lights, Night Lights" (If Christmas doesn't exist, why were they singing?) or the church musical we attended in another city last year that made Jesus sound like a self-help guru. It was gorgeous, but truth is better than pageantry.
This season of wonderful truths, pungent scents, delightful tastes, and lovely sights is a perfect time to build life-long memories for our children. Let's slow down and take care to share all the really important stories and moments with the sweet blessings God has placed in our home. They'll be grown up before we know it.
Merry Christmas, friends!
Hal & Melanie
P.S. Only one more day to shop for Character-Building (and FUN) Gifts in our Merry Christmas Shop. Run over there now by clicking here! We've got everything from Rubberband Machine Guns to great Children's Classic Audiobooks!
Check out our blog series on teaching the carols. Click here. Or download our book, Christ-Centered Christmas for loads of great ideas to make the season mean more. Click here.
Announcement
TOS Christmas Photo Contest
Dec. 16-20, 2013
The Old Schoolhouse® Magazine is hosting a Christmas Photo Contest! It is open to everyone* who wants to have some Christmas fun and a chance to win a prize daily, with a GRAND PRIZE
at the end of the week! The prizes are all from
Hal & Melanie Young, Award-winning authors of Raising Real Men. Go here for more details.
* ( US only, and TOS Staff and Crew are not eligible.)
A
nnouncement
And what is it that gives Christmas memories
such a permanent place in our hearts?
in the latest issue of
The Old Schoolhouse
®
Magazine.
Purchase a full-year membership to SchoolhouseTeachers.com, and receive:

Brand-new TOS 2014 Annual Print Book
AND a one-year membership for a friend
Both you and your friend will have a full year of fantastic resources for all your kids from preschoolers to high schoolers. You will enjoy the flexible teaching options for reading, writing, history, and math AND all the exciting electives, like videomaking, foreign language, music, and more with your one-year membership, and you'll stay organized with the free planners and Applecore tracking system.


But that's not all, we're excited to give you our brand new 2014 Annual Print Book issue! This beautiful, large annual issue of the magazine will encourage you throughout 2014 and will be mailed to you directly from the printer as soon as it releases next year.


And finally, we're including our vast Schoolhouse E-library with over 175 titles of the best in home education information. You can see the complete booklist here.
Advertisement
Do you want to know more about

using apps in your homeschool? This
month's Spotlight on Five can help you out!

Announcement
Now you can be a TOS affiliate and earn some extra cash!


Would you like to earn 20% commission on TOS items that family and friends purchase through an affiliate website? It's easy, check out
this page
for more information. Once you are signed up, you simply share your unique affiliate link with family and friends. If anyone purchases anything from the TOS website using your affiliate link, you receive a 20% commission. There are even buttons available to help you promote your affiliate link on your website or blog.
Announcement
Creation Revolution
"If you believe one of the latest reports from a group of researchers, Adam and Eve could not be real people and the Genesis account of creation is nothing more than a religious myth."
Read more from the article
Contest Corner
For the month of December, 2013
Philosophy Adventure from Home School Adventure Co.
In Philosophy Adventure, Stacy Farrell helps us explore the history of ideas. When I first received the textbook and student workbook to review, I was a little nervous. Philosophy? The word brings to mind dusty bookshelves, deep theological texts, and eyes struggling to stay open under the weight of heavy eyelids. I couldn't have been more wonderfully surprised.
The book skillfully takes us through the lives of eight philosophers, but the text does far more than simply recount historical facts. In the introduction, author Stacy Farrell shares, "What we learned when we delved deeply into the study of the history of philosophy is too significant to sleep through. In fact, the future of freedom may depend upon how many of us wake up to the world of ideas and seek to discern and defend truth."
Why is understanding the history of philosophy so important? Do any of these questions sound relevant to today's life?
Where did the universe originate?
Was the universe created or has it always existed?
What happens to a person when they die?
Is there more to life than the physical body?
Is the spirit reincarnated into other living creatures?
How does the character of a group's leader impact his followers?
Could there be one omniscient, omnipotent, and omnipresent God?
Who or what can solve the mysteries of life?
Can truth be known or is all of life an endless string of confusing contradictions?
What happens when you try to blend science and myth?
Is it possible to know God exists?
In addition to exploring the historical foundations of ideas that continue to shape modern thought, author Stacy Farrell also introduces us to a world of logical fallacies, teaching us how to identify them and think critically about the "facts" that are presented to us. (Click here to read the rest of the review!)
You can WIN this set!
TO ENTER: Email Heather with your name, mailing address, and phone number for contact purposes, with the subject line, "Philosophy Adventure" for a chance to win* this amazing homeschool resource for your family!
Read
in the latest issue of
The Old
Schoolhouse
®
Get a library of homeschool encouragement with
over 175 E-Books or
audio books for just $25.
Click on the image below
to order.
has MORE for you!


Check out these resources:
Who We Are:
"I am amazed at the number of times I open The Homeschool Minute newsletter and have the opportunity to read EXACTLY what I need that day! Thank you so much for putting a real face on homeschooling."
--Michelle Sager

Liberty Twp, OH
"I really enjoy reading all the THM articles. I learn a lot from Todd Wilson's column. [He's a] funny guy who speaks the simple truth! Thank you very much!"
--Charlene
Brandon, FL
"I look forward to THM every Wednesday. I really enjoy Deborah's articles. For some reason, it must be God, she always writes about what I am needing to hear. Her ability to put scripture and God in the middle of all her articles keeps me coming back. I recently have been enjoying the Youngs' [articles] because I have a young man (10) in my house. The encouragement of the Youngs is fabulous. I thank God for parents like them that pave the way for parents like myself and my husband."
--Racheal Fowler
Glen Burnie, Maryland
"
So love reading TOS on my iPad from cover to cover every month!!!"
--Leigh Anne McGrady, Dunwoody, GA
"I love the new TOS app! So convenient. So quick. All the encouragement I need at my fingertips . . . any place at any time."
--SpunkyHomeschool
"Thanks ever so much. I love the encouraging articles! I really loved the list of 25 all in one place. Nice to have this little bit of "free" encouragement in my mail. I don't have funds to subscribe or purchase frills and with also working more than half time I don't have time to search it out. May God bless you exceedingly."
--Teresa, rural Kansas
"I absolutely love Todd's column. He always seems to put things in the proper perspective, and it keeps me from getting all stressed and anxious. Thanks Todd, and thanks TOS!!"
--Johnne Orelchikov
East Texas