Letter from the President
Dear Friends and Colleagues,
These last few weeks have given us a hint of what we can expect in 2016: tremendous giving and generosity, greater collaboration across the USM, and a heightened sense of connectedness to Maryland's business community. On that note, Chancellor Caret recently spoke to 300 leaders in the region at a

BWI Business Partnership breakfast

, where he emphasized the importance of looking at the University System of Maryland as a business that needs investment from the state. For every dollar the state invests, the system will return $6 through its various research incubators, start-ups, and job creation. Business partnerships are high on Chancellor Caret's list of priorities because they will be essential to the system's success going forward.
Speaking of leaders, the USM is happy to welcome Towson's new president, Kim E. Schatzel, Ph.D., who will take office in January 2016.

I was honored to serve on the search committee for this position, and I can attest

that Dr. Schatzel's business and corporate backgrounds tie in beautifully with the system's commitment to partnerships. Dr. Schatzel will be a wonderful addition to the USM to Towson University. More details can be found in the article below.

I also want to take a moment to express my appreciation of Dr. Tim Chandler's capable service as interim president of Towson after then-President Maravene Loeschke became ill. Towson was in good hands during that emotionally tough time for the university, and I want to thank Dr. Chandler for his leadership and a job well done.


Congratulations to three of our board members who have made the news recently: The White House has just announced that Bob Fischell will receive the National Medal of Science and National Medal of Technology and Innovation (see board news.) In addition, Fran Soistman received an honorary doctorate from his alma mater, Towson University, this December at commencement (see board news). And finally, Bruce Richards made a generous $1 million gift to the University of Maryland, College Park to fund scholarships for veterans. Bruce also established a $1 million matching challenge grant to raise additional funds for veterans (see article below). We are proud of the caliber of our volunteer board members and their warm generosity.


As we head into the holidays and the approaching new year, I would like to wish you all a very wonderful holiday season with your loved ones, and express my gratitude for all you do on behalf of the USM. As always, please contact me at

raley@usmd.edu

or 301-445-1941 with any questions or comments.
October 2015 Investment Office Update
Global equity markets rallied in October, erasing most of their third quarter losses. The MSCI World Index gained 7.9%,
driven by the double-digit returns of European and Japanese equity markets. Emerging markets also partially recovered
from previous losses, returning 7.1% with all major regions participating in the rally. Expectations increased for a
December rate hike by the Fed following the Federal Open Market Committee's October statement, causing the U.S.
Dollar Index to gain 60 basis points for the month and volatility to increase across fixed income markets. The yield on the
two-year treasury rose 10 basis points while the five-year and 10-year treasury yields jumped 16 basis points and 11
basis points, respectively. In Europe, the sovereign bond spreads of some of the lesser economically developed countries
tightened on comments from European Central Bank President Mario Draghi that the ECB's asset purchase program will
be a topic during the Governing Council's December meeting. Commodity markets continued their volatile trends and
did not fully participate in October's rally as surplus production weighed on the prices of natural gas and industrial
metals.
With his wife, Avis, USM Foundation Board Director Bruce Richards has made a $1 million gift to support veteran students at the University of Maryland, College Park. The
University of Maryland Avis and Bruce Richards Veterans Scholarship
is intended to bridge the funding gap not covered by the G.I. Bill and/or other available financial awards, in order for University of Maryland veterans to continue their undergraduate educations without financial constraints. The Richards Veterans Scholarship will support tuition, room, board and other related and allowable living expenses veterans incur as they work to complete their undergraduate degrees at Maryland. To date, this is the largest gift in support of student veterans at the university. The gift was announced by President Wallace Loh at a reception held for veterans in November.
In addition, in November, the Richards announced the
Veterans Education $1 Million Matching Challenge
. Their goal is to raise $1 million from Veterans Day 2015 through Veterans Day 2016 (November 11, 2016) to send veterans to college and they will match every donation, dollar for dollar, up to $1 million. Over $90,000 has been raised to date, totaling over $180,000 with match. The following is his message, with links where you can make a donation to support the challenge:
I am delighted to announce the Veterans Education Challenge.
Please donate
and provide our United States Military veterans with a college scholarship? Every dollar donated up to $1 million, I will match your commitment -- 100% goes toward veteran scholarships.
Together, we are indebted to the servicemen/women of our military, the dedicated troops who protects our freedom and safety. Veterans make up 4% of the undergraduate college population. They enter college at 25 years of age on average and 50% attend college married/or with children, making continued education a financial burden. With your help, we will provide these fine young men and women the same opportunity we enjoy. The G.I. Bill, adopted post-9/11 pays for much of this cost, but it doesn't cover the full freight.
Every $10 donation (the cost of a single movie ticket) brings us closer to our goal.
Please share this message with your network of friends.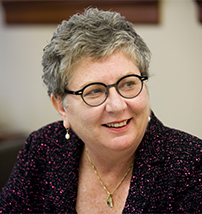 After a state of transition with interim president Timothy J.L. Chandler, Ph.D. at the helm, Towson University has appointed a new president. Kim E. Schatzel, Ph.D. currently serves as interim president, provost, and executive vice president of academic and student affairs at
Eastern Michigan University
and will bring more than 20 years of corporate, new venture, and start-up experience to Towson University. Dr. Schatzel earned her doctoral degree in business administration (with a major concentration in marketing) from Michigan State University and a bachelor's degree in economics and biology from Washington University in St. Louis
Her appointment will be effective starting January 25, 2016.
The nation's first honors pro

gram in cybersecurity, Advanced Cybersecurity Experience for Students (ACES), was launched in 2012 with support from the Northrop Grumman Foundation to address cybersecurity needs. Since its inception, the program has offered 65 percent more credits than initially intended and has served 50 percent more students than anticipated. The surge has indicated a tremendous interest by the student body, and thanks to the renewed commitment from the Northrop Grumman Foundation, ACES will be able to expand to accommodate more students academically and financially.
Former USM Regent Tom McMillen Honored by the American Council of Trustees and Alumni
The American Council of Trustees and Alumni (ACTA) announced on December 22nd that former U.S. congressman and University System of Maryland regent Tom McMillen is the winner of its inaugural Jerry L. Martin Prize for Excellence in College Trusteeship. Mr. McMillen is current president of the Division 1A Athletic Directors' Association.

As regent, Mr. McMillen made the university system a pioneer in athletic oversight, creating its first Workgroup on Intercollegiate Athletics. This oversight entity, unique in higher education governance, is responsible for examining athletic programs and policies as well as the board's oversight and accountability processes. The Workgroup provides the board of regents with information such as athletic-department budget projections and athletes' graduation rates, all of which are vital for board decisions on resources.

McMillen has consistently underscored a trustee's obligation to produce value for students, their families, and taxpayers. McMillen has also been a national spokesman for active trusteeship.

ACTA is a nonprofit organization devoted to empowering college and university trustees on behalf of academic freedom, academic excellence and accountability in higher education.The Martin Prize is named after ACTA's first president and former University of Colorado professor, Dr. Jerry L. Martin, and is presented to acknowledge exemplary efforts by college and university trustees on behalf of the public interest.

December 2015
Vol. 8, Iss. 12
Student Activism across the USM
Takeovers and protests are becoming more and more common at campuses across the nation as students push for change, indicating an era where students and administration are working in tandem to achieve greater diversity and a better racial climate.
Towson University recently made the headlines when a student group launched a "takeover" of the president's office. When presented with a list of demands, Interim President Timothy J.L. Chandler worked with students to find tangible and measurable solutions for their requests.
UMCP saw the

recent renaming

of the Harry C. "Curley" Byrd Stadium to Maryland Stadium, a move that will also include a five-year moratorium on future renamings and a campus-wide focus on diversity and inclusion meant to move the university from symbolic change to real improvements in the campus climate.
Other campuses have seen demonstrations as well - all peaceful and respectful.
Trends in Philanthropy

The Chronicle of Philanthropy has created a new data dashboard about current developments in online fundraising. The dashboard is a great tool to find insights about donors in the region or like-minded giving, and is updated weekly, making it a great resource. The data is compiled from millions of online donations made through Network for Good and highlights trends in philanthropy in real-time.
On December 22nd,


the White House announced the latest recipients of the National Medal of Science and National Medal of Technology and Innovation-our Nation's highest honors for achievement and leadership in advancing the fields of science and technology. USM Honorary Board Member Robert Fischell is among those who will be awarded the medal. The new awardees will receive their medals at a White House ceremony early next year.

"Science and technology are fundamental to solving some of our Nation's biggest challenges," President Obama said. "The knowledge produced by these Americans today will carry our country's legacy of innovation forward and continue to help countless others around the world. Their work is a testament to American ingenuity."

Francis "Fran" Soistman '79 received an honorary doctor of human letters degree during the
College of Business and Economics
'
winter commencement ceremony
on Dec. 17. Soistman earned his bachelor's degree in accounting and finance from Towson and later graduated from The Stanford University Executive Program. He credits both programs as the foundation for his success.
Jess Gill has left our team to pursue a new role at the Bloomberg School of Public Health at Johns Hopkins University. She joined the USM in July 2012 and played a significant role in revamping the USM Foundation's communication strategies, especially the website. This is Jess' last edition of LeaderNotes
as editor.
Congratulations, Jess, and best of luck!