Letter from the President
Dear Friends and Colleagues,
School is back in session and we're looking forward to another successful academic year at our USM institutions! Here at the USM Foundation office, we have been working closely with our institutions to anticipate their needs and make it easier to understand what we do. Our new
website
has played a significant role in helping us achieve that goal, and if you haven't yet already visited the website, please do so. In less than two months, we've had over 18,000 visits!
We recently sponsored a well-attended and very successful one-day seminar on social media for our development, communications, and alumni relations colleagues across the System. The day offered discussions on best practices throughout the USM, including using social media for fundraising and legal issues that have arisen from using new technology. We will continue offering programs like this for our System-wide colleagues and would certainly welcome any ideas or suggestions.
Our campuses have seen a number of partnerships develop and strengthen this summer, especially when it comes to scholarship programs and creating pathways for students to reach college. Please read more about them below; it's a very exciting time to be in higher education, with new ideas being introduced every day on how to help our students achieve their academic goals.
I hope you all had a relaxing summer and are ready to get back into the swing of things with the fall semester underway.
As always, please contact me at
raley@usmd.edu
with any questions or comments.
Sincerely,
Leonard R. Raley
Investment Performance Through 7/31/13
| | | | | |
| --- | --- | --- | --- | --- |
| | Endowment | S&P 500 | Composite Benchmark | 80/20 |
| July 2013 | 1.6% | 5.1% | 2.6% | 4.1% |
| FYTD 2014 | 1.6% | 5.1% | 2.6% | 4.1% |
| CYTD 2013 | 5.0% | 19.6% | 5.4% | 15.0% |
| 3 Yr AACR | 8.8% | 17.7% | 7.8% | 14.9% |
| 5 Yr AACR | 1.2% | 8.3% | 0.2% | 8.0% |
New Towson University Venue Officially Named SECU Arena
SECU, the Linthicum-based credit union, will pay $4.75 million over the next 10 years to name Towson's newly constructed athletics and entertainment venue. In addition to naming rights, SECU has deployed a fully-engaged partnership with Towson to include a SECU Welcome Center at the arena, a SECU Information Center, and ATMs. Additionally, the partnership ties directly with Towson and SECU's ongoing work with young adults on the subject of financial literacy.
SECU was founded in Baltimore in 1951 and is the largest state-chartered financial cooperative in Maryland, with over 225,000 members. SECU has spent much of the last few years creating partnerships with the University System of Maryland, including a scholarship for 10 students transferring from community colleges to USM institutions.
We look forward to sharing news about the recipients of our first ever SECU-USM Scholarship in our next edition of Leadernotes.
UMCES Scientists Develop a Completely Vegetarian Diet for Fish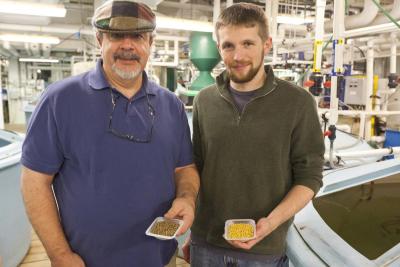 To help offset the growing demand for seafood, three scientists at UMCES were able to develop a completely vegetarian diet for cobia and gilt-head bream, both of which are marine fish often raised in tanks or ponds. The research could potentially turn aquaculture into a more profitable enterprise, ease the pressure on catching wild fish, and also provide a cleaner diet with exposure to chemicals significantly reduced through the vegetarian diet. Over the course of a four-year study, they dabbled with mixtures of plant-based proteins, fatty acids and a powerful amino acid-like substance found in energy drinks until they came up with a combination that proved favorable.
News of the successful vegetarian diet made headlines around the world, and more regionally, in the Washington Post.
Salisbury University Receives $1 Million Gift from the Ratcliffe Foundation for Innovative Entrepreneurial Program
The Baltimore-based Ratcliffe Foundation made a large gift commitment to the
Franklin P. Perdue School of Business at Salisbury for grants and loan guarantees to start new businesses. Over a five-year period, the Philip E. and Carole R. Ratcliffe Foundation will offer as much as $200,000 annually to entrepreneurs looking to create startups. One of the Foundation's goals is to have new businesses opening within six months with the potential of employing five or more people within a year. Successful applicants to the program will be partnered with a mentor who will help consult throughout the startup process.
UMUC and Blewitt Foundation Partner on Pillars of Strength Scholarship
The Blewitt Foundation has recently joined forces with the Yellow Ribbon Fund and the University of Maryland University College to better serve the Pillars of Strength scholarship program. The scholarship program will honor the exceptional sacrifices of family and non-family volunteer caregivers of injured service members. Because caregivers often delay their personal pursuits to support these injured soldiers, the fund was established to assist them in achieving their educational goals. The Blewitt Foundation has partnered with UMUC in the past to help provide the Destination R&R program for military families.
UMES' decision to purchase hand-held dry-erase boards that can double as bulletproof shields has brought the university world-wide media attention. The boards will be made available to faculty and was purchased using money from its private foundation. In addition to making the classrooms safer, the investment has the potential to be used as a teaching tool for future teachers and law enforcement professionals.
University of Maryland, College Park Forms Partnership with KIPP Charter Schools Network
The University of Maryland, College Park has entered a formal
agreement with the national Knowledge is Power Program (KIPP) charter-school network. The agreement will allow UMCP to actively recruit qualified alumni from KIPP's Baltimore and Washington programs and provide them with academic, financial, and social support. UMCP is the 39th higher education institution (and the first in Maryland) in partnering with KIPP.
September 2013
Vol. 7, Iss. 4
Frostburg State University Class Gets a Look at Leadership in Latin America
FSU students, alumni, and faculty visited Peru earlier this summer to meet local community and government leaders, provide community service, and study Peru's culture and history in the context of leadership discussions. The course combined online coursework and blogging on
Tumblr
, and helped move Frostburg's agenda on globalizing its curriculum forward.
The USM Foundation is holding its second annual art contest, with a cash prize of $599 to be awarded to the grand prize winner. This year's contest is built around the Steve Jobs' quote, "I want to put a ding in the universe." Artwork will be judged on: clarity of communicating the theme to the viewer; artistic merit; and creative expression representative of USMF's vision, mission, and values, in addition to a clear interpretation of the quote. The contest is open to all USM faculty, students and staff and ends on September 27th.
Please encourage anyone you know within the USM to participate!
Trends in Philanthropy

New Study Examines Millennial Giving Trends
Millennials
are highly selective about which organizations to follow on social media and value the intrinsic benefits of volunteering such as networking and gaining professional expertise. The 2013 Millennial Impact Report details what millennials are looking for when it comes to giving, of both their money and time.
According to a Google research study, nonprofits might be waiting too long to start their year-end fundraising efforts. In 2012, the number of donation-related searches on the company's site was 30% higher in September than it was in August. Google also provides insight to other surprising trends they found in compelling donors to donate.
USM Foundation Board Member Linda Gooden has joined the Millennium Corporation Board of Advisors. Linda is the retired Executive Vice President of the Lockheed Martin Information Systems and Global Solutions business sector, and her expertise will make her a wonderful addition to the Millennium Corporation.
Staff Member News
Kate Koyfman, our Investments Staff Accountant, is officially a Certified Public Accountant. She successfully passed all her exams earlier this summer, and we are thrilled for Kate and her significant accomplishment.
Our Communications Manager, Jess Gill, has been named co-chair for the Marketing and Communications track at the 2014 CASE District II Conference. The conference will be held in Baltimore in February. Congratulations, Jess!