Letter from the President
Dear Friends and Colleagues,
It was wonderful to see so many familiar faces (and some new ones!) at our board meeting last month. I especially want to thank UMBC President Freeman Hrabowski for hosting us and starting off our last meeting of 2012 with his usual energy and inspirational words.
It has been a busy few weeks here at the Foundation: we distributed our annual report, held professional development programs, welcomed aboard new presidents and vice presidents, and more. I was afforded the opportunity to facilitate a retreat for the Towson University Foundation, which was a wonderful experience that got us all thinking about the future of philanthropy and charitable giving.
I know many of you share my concerns about the proposed cut to the charitable deduction. While it is my hope that the new tax ratifications keep the charitable deduction in, I encourage you to voice your concerns to your elected officials as philanthropy thrives on charitable donations, often made possible by the deduction. You can also take action through the USM's Legislative Alert Center.
At the institutional level, we are lucky to have Mortimer H. Neufville bringing his wisdom and expertise as interim president to Coppin State University. Rosemary Thomas has officially stepped into her role as Vice President for University Advancement at Frostburg State University, and we added a new Vice President for Advancement and External Affairs to our ranks with T. Greg Prince, who arrived at Salisbury University on December 3rd.
Finally, I am thrilled that we are about to complete the USM Federated Capital Campaign at the end of the month. This is an undertaking that has been years in the making, and it is beyond wonderful that our institutions have surpassed $2 billion, almost $300 million more than we initially targeted when the campaign first started. As the campaign concludes at the end of the month, we will have a final report for you at our next board meeting at the UMUC campus in Largo on February 21st. I hope to see you all there.
I hope that this holiday season brings you warmth and joy and time spent with your loved ones. I know I will be welcoming my two daughters home for Christmas and am counting down the days. As always, please contact me at raley@usmd.edu with any questions or comments.
Sincerely,
Leonard R. Raley
Capital Campaigns at UMB and UMCP Exceed Goals!
The USM Federated Capital Campaign will reach its exciting conclusion at the end of this month, but the University of Maryland, Baltimore (UMB) and the University of Maryland, College Park (UMCP) have both announced their successful completion beyond their intended goals.
UMCP launched their $1 billion Great Expectations campaign in 2006 and announced on December 12, 2012 that they had achieved their landmark goal. The $1 billion includes over $250 million in scholarship and financial aid for students, $129 million to recruit, retain, and advance faculty, $171 million in support of innovation, and over $303 million for building and renovation projects across the campus.
UMB launched their Making an Impact World-Wide campaign in FY2005, and discovered a new generation of giving. Campaign highlights include the new Southern Management Corporation Campus Center and the newly named Francis King Carey School of Law. Students will benefit from new construction, innovative tools in the classroom, greater funding for scholarships, and even more phenomenal faculty.
These campuses alone put the USM Federated Capital Campaign's original goal of $1.7 billion in striking distance. A more detailed review of the completed capital campaign results will be available in our February edition of LeaderNotes.
Investment Performance Through 10/31/12
| | | | | |
| --- | --- | --- | --- | --- |
| | Endowment % | S&P 500 % | Composite Benchmark % | 80/20 % |
| Latest Month | 0.5 | -1.9 | 0.1 | -0.5 |
| CYTD 2012 | 8.4 | 14.3 | 7.8 | 10.7 |
| FYTD 2013 | 2.5 | 4.4 | 3.0 | 5.3 |
| 3 Yr AACR | 8.9 | 13.2 | 5.4 | 7.5 |
| 5 Yr AACR | -0.4 | 0.4 | -3.7 | -0.5 |
Mortimer H. Neufville Appointed as Interim President of Coppin State University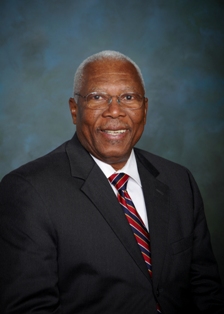 Starting January 23, 2013, Mortimer H. Neufville will be the interim president of Coppin State University. Neufville is a former executive vice president with the Association of Public and Land-grant Universities (APLU) and he is currently an APLU consultant. His appointment by Chancellor Kirwan comes a few months off the heels of his previous service as interim president of the University of Maryland Eastern Shore (UMES), where he served from August 2011-June 2012.
Neufville's commitment to higher education has been reinforced throughout his professional career. From 1983 through 1996, he held several positions at UMES, including vice president for academic affairs and dean of agricultural sciences and research director. As the search for a new president gets underway, his ability to provide leadership for the University is much aligned with Coppin's needs, as he looks forward to identifying key priorities for the future and designing appropriate strategies to ensure continued success at the University.
To read more about Neufville's appointment, please click here.
T. Greg Prince Named New VP for Advancement and External Affairs at Salisbury University
T. Greg Prince has been appointed vice president of advancement and external affairs at Salisbury University and executive director of the Salisbury University Foundation, Inc. Prince has 20 years of professional experience in advancement at some of the most well-regarded campuses on the east coast. He comes to Salisbury University from East Carolina University, where he oversaw development in the Medical & Health Sciences Foundation's division of health sciences.
At Salisbury, he will lead a division that includes development, alumni relations, marketing, public relations, sports information, publications, web, copy center, and government relations. Prince also will oversee the Salisbury Foundation.
To learn more about T. Greg Prince, please visit the following page.
USM Board of Regents Approve Center for Innovation and Excellence in Learning and Teaching (CIELT)
The new Center for Innovation and Excellence in Learning and Teaching will highlight the USM's role as a national leader in implementing and developing new teaching models for the benefit of its students. Much of the Center's focus will be on incorporating technology and new learning methods into academic courses.
By recognizing the impact of new approaches to teaching and learning and evolving technologies, the USM has been able to identify current and future best practices in higher education. Some of the USM's accomplishments thus far include higher enrollment in redesigned courses, improved results in student learning, and substantial savings achieved by redistribution of faculty time and delivery of course material at a reduced expense.
To read more about the Center and its goals, please visit the following page.
University of Maryland, Baltimore County (UMBC) Among Recipients of a Grant from the Bill & Melinda Gates Foundation
UMBC is one of five recipients of a three-year, $2.6 million grant from the Bill & Melinda Gates Foundation to improve the transfer student transition experience. The Community College of Baltimore County, Howard Community College, Anne Arundel Community College, and Montgomery College will collaborate with UMBC as a continued result of the grant. The schools have been tasked with creating a national model to improve success rates among community college transfer students in science, technology, math, and engineering (STEM) degrees by addressing the transition process, which can often present a stumbling block to transfer students.
The program, called the "STEM Transfer Student Success Initiative," strives to address workforce demand within Maryland's STEM industry. With a growing number of students beginning their college education at community colleges, it is important to allow students to begin work in STEM degrees which can be completed at a four-year university with as few difficulties as possible during the transition period. Part of the initiative calls for the schools to align curriculum to enable students to feel as though they are just continuing their program of study, albeit at a different school.
Click here to learn more about the grant and its intended goals.
Maryland Terrapins Join the Big Ten!
The University of Maryland, College Park (UMCP) is moving from the Atlantic Coast Conference to the Big Ten in 2014, a move that will help ensure the financial vitality of
Maryland Athletics and make UMCP part of
one of the broadest and deepest academic partnerships in the country. The move came as a surprise to many, but the financial benefits and potential opportunities for student athletes were strong selling points to UMCP President Wallace Loh.
Additionally, the move will allow UMCP to join the Committee on Institutional Cooperation (CIC), whose members are Big Ten schools and the University of Chicago, and is recognized as a leader in institutional collaborations. The CIC promotes cross-campus ventures in various areas such as purchasing equipment, digitizing library collections, and hosting scholars. Maryland's access to the CIC and the Big Ten Conference will enhance the benefits for student-athletes, student scholars, faculty, and more.
To read more, please click here.
December 19, 2012
Vol. 6, Iss. 6
Rosemary M. Thomas has stepped up as Vice President for University Advancement at Frostburg State University. Rosemary formerly served as the Vice President for Advancement at Salisbury University. Rosemary rejoined the USM on December 5th.
USM and Ithaka S+R Partner to Examine New Technologies' Impact on Student Performance
The USM is partnering with Ithaka S+R, a nationally known higher education research and consulting group, to measure the success of online learning platforms. The partnership hopes to accelerate the use of new learning technologies across higher education, using the USM's resources to experiment with online or hybrid courses in a range of subjects at campuses throughout the System. The initiative aligns with the System's search to identify ways in which to improve student learning and graduation rates while lowering costs.
Salisbury University Teaming Up with Estonian Universities on Cybersecurity
The collaboration will enable Salisbury students who are working on bachelors' degrees in computer science, mathematics, or information systems to finish their senior year in Estonia. Students will also be able to earn a master's degree in cybersecurity or software engineering at the schools in Estonia.
UMUC Takes Second Place in Global Competition
The Cyber Padawans, a team of cybersecurity students and staff at the University of Maryland University College, took second place at the Global CyberLympics. The team won first place in the North American CyberLympics finals and beat six teams in the final round of the global competition to win second place.
Governor O'Malley Thanks Deployed UMUC Students for Service
Using Google chat, the Maryland State Governor thanked service members currently taking a speech and writing class with the University of Maryland University College at Bagram Air Field. He commended them on continuing their education while deployed.
USM Regent Francis X. Kelly Named Chairman of the University of Maryland St. Joseph Medical Center
Following the acquisition of St. Joseph's Medical Center by the University of Maryland Medical System, Regent Francis X. Kelly has been named Chairman. The collaboration is slated to be completed in three years, and Kelly hopes to make the hospital where 10 of his grandchildren were born even better. The hospital will build on St. Joseph's current strengths in cardiac and cancer care, while taking advantage of the hospital's location to attract patients and strong doctors.
Trends in Philanthropy
Overcoming Myths about Women's Philanthropy
Using research to debunk several persistent myths about women's philanthropy, a CASE faculty member encourages educational institutions to proactively develop effective strategies to reach female donors. Click here to read more.
Wealthier Donors Favor Restricted Gifts
The wealthier the donor, the less likely he or she is to make unrestricted gifts, according to the results of a recent survey of individuals with assets of $1 million or more. The survey revealed almost 70% of donors would prefer to give unrestricted gifts compared with about 45% of donors with $50 million or more who said they would prefer to make unrestricted gifts.
Social Media Tips, Case Studies and Best Practices Shared on CASE Blog
CASE has launched a blog that includes posts on a variety of social media topics in alumni relations, communications, marketing, and fundraising. They examine best practices, lessons learned, and what is being done with social media at the institutional level. For ideas and tips about how to implement social media at your institution, please visit the blog.
Does Philanthropy in America Have Limits?
The role of charity and philanthropic giving plays a significant role in times of crisis. Yet, as a whole, charitable giving remains small relative to potential need and significantly less than what the government provides annually. The charitable deduction remains a crucial topic of conversation among non-profit organizations and donors, as proposals to balance the United States budget continue to be evaluated.