Greetings!
We are delighted to present you with the current issue of Iran Update, a publication of International Solidarity for Democratic Change in Iran (ISDCI). You can see ISDCI's latest events on our website at: International Conferences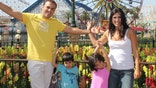 Christian Pastor Held in Iran Now Missing from Jail

Fox News
Iranian jailers turned away the family of an American pastor on trial in Iran saying he is not in the prison where he's been held for several months. Read On...
Release human rights lawyer


Amnesty International
An Iranian human rights lawyer was returned to prison unexpectedly curtailing a three-day temporary release, which was expected to be extended. Read On...
UN human rights condemns execution of Iranian juvenile

United Nations News Center
UN human rights office strongly condemned execution of Ali Naderi, 21, who was sentenced to death for crime he committed when he was 17. Read On...
Hand amputation of a man in Shiraz in public


NCRI
The mullahs' regime amputated the hand of a 29-year-old man in public in Shiraz on Thursday. Read On..
Iranian regime nuclear threat is getting closer, French FM warns


NCRI
French FM said the international community is tired of procrastinations of Iran on its nuclear program and warned that a "deadline" is on the way. Read On...
Please see links below for some more media coverage of Ashraf situation:
Thank you for your reading Iran Update. We welcome your comments.
Sincerely,
ISDCI News Group