Greetings!
We are delighted to present you with the current issue of Iran Update, a publication of International Solidarity for Democratic Change in Iran (ISDCI). You can see ISDCI's latest events on our website at: International Conferences Ahmadinejad on Western sanctions: "To hell with you"

CBS News
Iran's president on Tuesday claimed his country can create 10 times more wealth from inventions than from oil. Read On...
Egypt Katatni Denies Meeting Iran Larijani in Khartoum

Stop Fundamentalism

Saad Katani of the Egyptian Muslim Brotherhood Party denied meeting the Iranian parliament Speaker Ali Larijani in Khartoum. Read On...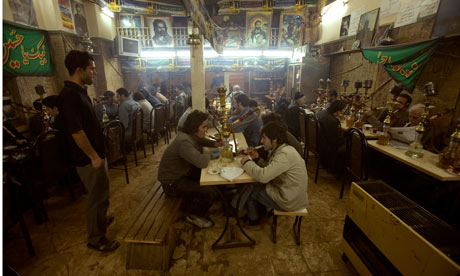 Iran's morality police crack down on coffee shops

The Guardian
As the June presidential election in Iran draws near, authorities have stepped up political surveillance ordering coffee shops to install cameras. Read On...
Iran Currency Falls Further on Concerns Over Bank

Iran's currency, weakened by Western sanctions and economic mismanagement, has fallen further in value over the past few days. Read On...
Iran Regime is fearful of use of satellite in villages


NCRI
A provincial official of the Iranian regime expressed his concern about expanded use of satellite receivers in Iranian villages. Read On...
Spain stops airing Iranian regime's TV Channels


NCRI
The Spanish company says the decision is in line with EU's sanctions against the head of the Iranian regime's broadcasting (IRIB). Read On...
Please see links below for some more media coverage of Ashraf situation:
Thank you for your reading Iran Update. We welcome your comments.
Sincerely,
ISDCI News Group