Director's Letter
| | |
| --- | --- |
| | |
There's been a lot of talk about what's in the DIA's storage and, as I've said before, although there are a number of pieces that would be on view if we had more gallery space, and we have a slew of secondary objects that are used to fill in for a work that's gone on loan, most of the rest is light sensitive or of so little value that it's hardly worth the staff time (curators, registrars, technicians, outside experts) to go through the process required by professional standards to remove them from the collection. For example, to see how Christie's evaluation was going I went to the storeroom where Christie's pre-Columbian specialist was carrying out her evaluation. "Is there anything you've seen that really should be on view?" I asked. "Yes," she replied, "there's an exquisite bird feather headdress." Well, it had been on view for a number of months but, being light sensitive, is now "resting," its place taken by a different textile. When I inquired about fifty or so drab-looking Peruvian ceramics spread out on a table, I learned that they were of little aesthetic quality--essentially upper category airport art--each valued in hundreds of dollars rather than the hundreds of millions being thrown about in the media.
There are prints and drawings of considerable value in storage. but these are outnumbered by an overwhelming amount of culturally--and therefore monetarily--insignificant works. There are also artworks of quality that, for various reasons, do not command high prices. A few years ago, we exhibited more than 100 prints by artists working under the rubric of the WPA, given to the DIA during World War II for safekeeping. While hardly the most adventuresome efforts, it was in the context of these mainly regionalist scenes that Jackson Pollock and Willem de Kooning got their start. The collection offered a fascinating glimpse into attitudes and aspirations of the Great Depression.
In November, I visited the Toledo Museum of Art to see the exhibition Fresh Impressions, a collection of 350 early-twentieth-century Japanese prints given to the museum in the 1930s. Less well known than the archetypal Ukiah-e woodblock prints of the two preceding centuries, these Shin-Hanga pieces represented the effort of Japanese artists to combine traditional Japanese printmaking with modern trends coming from Europe and the United States. Having something of the qualities of American Arts and Crafts visual art, especially the landscapes, they were particularly popular here and were collected extensively in the first two decades of the last century. But as Japan's politics developed in the 1930s and tensions with the United States grew, Shin-Hanga fell from favor. After the war, in the context of a victorious United States--politically, militarily, and artistically--these prints were almost impossible even to look at and were given short shrift. Until recently. With the passage of time, they can be seen again from an entirely fresh perspective and, because they've been properly stored for the eighty years since their earlier exhibition, they are in absolutely superb condition. That's what museums do: they safeguard a community's heritage for generations to come.

Graham W. J. Beal
Back to top
Exhibitions
Let Me Show You What I Saw: American Views on City and Country, 1912-1963
Schwartz Galleries
Through June 29
| | |
| --- | --- |
| | |
| Martin Lewis, American; Glow of the City, 1929; drypoint. Gift of Mr. Robert M. Katzman and Mrs. Lisa Katzman in honor of Sidney and Betty Katzman and their children, Ellen and Laura, from the collection assembled by Patricia Lewis | |
Drawings, watercolors, and prints by more than thirty artists are represented in this exhibition but none in greater numbers than those by Martin Lewis. His enigmatic night scenes of New York stir the imagination and provoke contemplation of the rapidly changing urban horizons of the late 1920s and '30s. The meaning behind his classic Glow of the City can be understood according to any viewer's temperament. Is the female figure seen resting on a fire escape admiring the wonders of the newly constructed Chanin Building? Does she see a promising vision of the future or is she a tenement dweller on the edges of the "new" New York and perhaps feeling isolated and overwhelmed by the big city? We know how Lewis felt. He left a sharp comment about another print that illustrates the rise of a huge residential complex called Tudor City. Lewis titled this visually beautiful image Building a Babylon to suggest associations found in the Bible about the ancient city as a place of wickedness and corruption. Lewis saw high-rises like Tudor City as crowded beehives and wrote, "without doubt, the future city dweller will take on the insect character more or less determined by the structural limitations of his dwelling place."
In contrast to Lewis's negativity, John Marin's slightly earlier representations of new skyscrapers, such as his Woolworth Building, appear to sing the praises of modernism. His buildings seem to sway with the beat of a dynamic and joyous place. The countryside is depicted with equal vigor in colorful works by Marin, Milton Avery, and Charles Burchfield, whose watercolors were the inspiration for the exhibition.
This exhibition, organized by the Detroit Institute of Arts, is free with museum admission.
Back to top
Foto Europa, 1850 to the Present
Albert and Peggy de Salle Gallery of Photography
Through April 27
| | |
| --- | --- |
| | |
| Theodore Roszak, American (born Poland); Untitled, 1937-41; gelatin silver print. Museum Purchase, Endowment Fund for Polish Art | |
In the early part of the twentieth century, photography's reputation as a medium that could mirror reality was firmly in place. But as artists in general began to question the nature of reality, progressive individuals from creative communities throughout Europe looked beyond traditional representation as subject matter for their art. Photography was no exception. Artists who embraced the medium as one of creative expression fostered the discovery of a new type of image making grounded in abstraction and experimentation with line, shape, texture, and the manipulation of light. László Moholy-Nagy described the technique as embodying "the unique nature of the photographic process."
Images representing this era of experimentation and related groundbreaking aesthetic traditions, including rare examples made without a camera, can be found in a special section of this exhibition. Moholy-Nagy was among the first advocates of cameraless photographic techniques in the early 1920s. He used unidentifiable objects and manipulated light sources to create purely light-based images on photographic paper. Marta Hoepffner drew musical forms and lines, inspired by composer Manuel de Falla, onto a glass plate by hand to create a negative for a photograph print. Theodore Roszak placed bits of screen and coiled objects directly on photographic paper to create a photogram (above left). These resulting photographs are shadowy, enigmatic images that often present a compelling mystery to the viewer.
This exhibition, organized by the Detroit Institute of Arts, is free with museum admission.
Back to top
Balance of Power: A Throne for an African Prince
Walter Gibbs Gallery, Wayne and Joan Webber Education Wing
Through March 16
| | |
| --- | --- |
| | |
| Olówè of Isè, Yoruba, Nigeria; Chief's Throne, early 20th century; wood, pigments. Museum Purchase, Ernest and Rosemarie Kanzler Foundation Fund, and with funds from Robert B. Jacobs | |
Renowned sculptor Olówè of Isè's brilliance lay in his ability to walk the fine line between cooperating with British colonizers and holding on to the traditions and beliefs of the Yoruba people. This delicate balance can be found in the rich visual vocabulary he used to decorate this throne--various symbols and placements of decoration imparted different meanings to Yoruba and Western viewers. But the very form of the throne blends the traditional and the foreign.
Yoruba thrones are traditionally cylindrical stools with no backs, much like the seat and base of the DIA example. To a Yoruba visitor, the stool shape symbolized a leader's sacred right to rule. The arms and the backrest, however, are strictly European in origin. Traditional Western thrones with backs and armrests were, in the eyes of Africans, exotic European-style furniture that enhanced a ruler's prestige.
This exhibition is organized by the Detroit Institute of Arts. Support has been provided by the Walter Gibbs Endowment Fund.
Back to top
Guest of Honor
Through January 13
Only two weeks remain to see two early paintings by Caravaggio hanging side by side in our Italian gallery before the latest guest of honor, Saint Francis of Assisi in Ecstasy, returns to its home in Connecticut. While the Saint Francis is one of the artist's first, if not the first, religious painting, the DIA's Martha and Mary Magdalene is one of his first known religious works dramatically staged in an interior.
The Saint Francis, latest in a series of masterpieces lent to the DIA by museums worldwide, is one of the few times that Caravaggio depicted a nightscape, showing his celebrated command of the use of light. In the dark background sky, he uses yellow and orange strips as mysterious manifestations of divine power. In the foreground, the light comes down from above and to the left, bathing the two figures with a warm illumination that underscores Francis's ecstatic peacefulness and the loving gesture of the angel.
Above: Michelangelo Merisi da Caravaggio, Italian; Saint Francis of Assisi in Ecstasy, ca. 1595-96; oil on canvas. Wadsworth Atheneum Museum of Art, Hartford, Connecticut. The Ella Gallup Sumner and Mary Catlin Sumner Collection Fund.
Back to top
Detroit Film Theatre
Celebrate forty years of the DFT with a jam-packed weekend of ten classic films specially priced at 1974 levels--$2. All the films playing January 10, 11, and 12 have been shown during the DFT's first four decades.
The anniversary bash starts off with the first film shown at the DFT--the now-classic 1971 French-Canadian film Mon Oncle Antoine--on Friday, January 10 at 7 p.m. Other films presented over the course of the weekend include Wong Kar-wai's 2000 romantic classic In the Mood for Love; the 1931 Spanish version of Dracula; In One Breath: Alexander Sokurov's Russian Ark (left), a visually staggering 2002 history of Russia, filmed in a single ninety-one-minute shot in Saint Petersburg's Hermitage Museum; Luis Buñuel's brilliantly dark, erotic 1970 comedy Tristana, and others.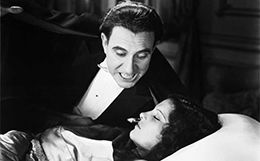 A highlight of the weekend is a special benefit for the DFT's auxiliary, Friends of Detroit Film Theatre, on Saturday, January 11. The evening includes a cocktail reception and strolling dinner featuring special guests and surprises, as well as admission to the 9:30 p.m. showing of The Spanish Dracula (left). Tax-deductible tickets benefit the Friends, which supports DFT activities, special travel events, and essential upgrades to the theater and equipment. For information, click here or call the ticket office at 313.833.4005.
For Martin Luther King Day this year, the DFT features two screenings of the fully restored, three-hour version of Richard Kaplan's cinematic portrait of the civil rights leader, King: A Filmed Record...Montgomery to Memphis (left). A matinee showing is on the day itself, January 20, with another presentation the night before.
The winter schedule wouldn't be complete without the enormously popular presentation of Academy Award® Nominated Short Films in the live action, animated, and documentary categories, starting Friday, January 31 and playing weekends and select Wednesdays and Thursdays through Thursday, February 20. Advance ticket purchase is recommended.
Saturday, February 1 is the showing of the first in a series of Alfred Hitchcock's rarely seen silent films. Blackmail, his final silent film, reveals fully the detail, clarity, and masterful craft of one of the filmmakers early thrillers. Hitchcock called silent film "the purest form of cinema."
For a complete schedule or to purchase tickets, click here.
The DFT is presented by Buddy's Pizza.

Back to top
All Things Samurai
| | |
| --- | --- |
| | |
| Unknown artist, Japan; Dog-chasing Contest, detail, 1624/1643; colored ink and gold on paper. Founders Society Purchase, Robert H. Tannahill Foundation Fund, Stoddard Fund for Asian Art, Michigan National Corporation, Mr. and Mrs. George M. Endicott, John W. Shenefield Memorial Fund, and funds from Mr. and Mrs. Jack N. Berkman. | |
Tickets are now on sale for the DIA's next special exhibition: Samurai: Beyond the Sword, opening March 9 and running through June 1, 2014. The exhibition looks at how Japan's legendary warrior class sought balance between military and cultural pursuits. Tickets are $16 for adults and $8 for youth ages 6 to 17. Members see the exhibition free. A $3.50 handling charge applies to all nonmember tickets not purchased at the DIA box office. To buy tickets, click here.
Samurai-Inspired Design
Win the chance to create a fashion statement inspired by the DIA's Samurai: Beyond the Sword exhibition through a competition sponsored by the museum in partnership with the nonprofit Detroit Garment Group Guild (DG3). Metro Detroit fashion designers of all ages and skill levels are invited to submit an electronic portfolio for consideration to fill ten slots in the Beyond the Armor contest.
The DIA and DG3 will select the finalists, who will be invited to tour the Samurai exhibition this spring and create a complete outfit inspired by what they see. The cost of materials will be provided and DG3 will oversee the designers as they turn their inspirations into reality.
Interested designers should submit an electronic portfolio of their work (at least ten designs) to Karen Buscemi, president of the DG3, at detroitgarmentgroup@gmail.com by January 31. Preference will be given to designers from the tri-county area and to those with a demonstrated history of high-quality work.
Back to top
Complimentary Membership
In appreciation of all the support from Macomb, Oakland, and Wayne County communities, the DIA is offering a limited-time, complimentary six-month Detroit Institute of Arts Tri-County Companion Membership to residents.
With the tri-county membership, visitors receive discounts at the Museum Shop, Kresge Court, Café DIA, and Detroit Film Theatre, a free audio tour of the museum's permanent collection, a new member tour and reception, a quarterly calendar, and other members' only benefits.
Extend your membership for a full year for $29 and receive all the above benefits, plus two free member tickets to the next special exhibition Samurai: Beyond the Sword (a $40 value). Upgrade to Family Plus membership for a full year for $39 and receive four member tickets to the Samurai exhibition ($80 value).
With DFT tickets now costing $8.50, a membership is a better bargain than ever. Member tickets remain $6.50 each.
Some restrictions apply. Proof of residency in Wayne, Oakland, or Macomb counties is required with only one membership per street address. Current DIA members can receive a $40 voucher to apply to their next renewal. Complimentary memberships are available only in the museum.
Back to top
News and Notes
Open MLK Day
The DIA is open Monday, January 20, in celebration of Martin Luther King Day with tours of the African American galleries, a drop-in workshop, and a screening of a documentary on the late civil rights leader not seen since the 1970s. The museum is open from 9 a.m. to 4 p.m. The drop-in workshop runs from 11 a.m. to 3 p.m. and the tours are at 1 p.m.; both are free with museum admission. The fully restored, three-hour version of Richard Kaplan's King: A Filmed Record...Montgomery to Memphis plays at 2 p.m. Regular DFT ticket prices apply.
In the Museum Shop
The Mitten State is calling you. Come out of the cold this January to check out the Museum Shop's inspired selection of Michigan-themed gift items. Locally made ceramics, including ones from Pewabic Pottery and Motawi Tileworks, hand-crafted jewelry, Harveys Seatbelt Bags, and books are among the many items to choose from.
Back to top
Detroit Institute of Arts
5200 Woodward Avenue
Detroit, Michigan 48202
www.dia.org
313.833.7900

Comments or questions about the newsletter? Please contact us: comments@dia.org

ADMISSION
$8 adults, $6 seniors, $4 children
The museum is free for members and residents of Wayne, Oakland, and Macomb Counties
Contact the Membership HelpLine at
313.833.7971 or membership@dia.org

For group sales (15 or more) contact 313.833.1292 or dia.org/grouptours

HOURS
Museum
Mon CLOSED
Tue, Wed, Thur 9 a.m.-4 p.m.
Fri 9 a.m.-10 p.m.
Sat, Sun 10 a.m.-5 p.m.

PARKING
Valet parking is $10 per car and available during museum hours.
Farnsworth Entrance Tue.-Sun.
Woodward Entrance Fri, Sat., Sun.

Lighted, secure self-parking is available in the Cultural Center parking lot, between John R and Brush, behind the museum.

CaféDIA
313.833.7966
Tue, Wed, Thur 11:30 a.m.-2:30 p.m.
Fri 11 a.m.-2:30 p.m., 4-9 p.m.
Sat, Sun 11 a.m.-3 p.m.

Kresge Court
Tue, Wed, Thur 9 a.m.-3:30 p.m.
Fri 9 a.m.-9:30 p.m.
Sat., Sun 10 a.m.-4:30 p.m.

Museum Shop
313.833.7944 or museumshop@dia.org
Open during museum hours or online at diashop.org
Connect with us!
Keep up-to-date with text messages about upcoming DIA events! Sign-up here.