Director's Letter
"Will the DIA have to sell its art?"
It seems to have become the story that just will not die, covered by news agencies as far apart as Hong Kong and Warsaw, as well as radio stations from London to Los Angeles. We have no intention of breaching the most fundamental tenet of the art museum world: that art in the collection can only be sold to acquire more (and better) art. What the emergency manager's office will do or attempt to do with respect to the operating agreement between the DIA and the city or with respect to the art remains to be seen. Given that such an action would threaten the millage proceeds upon which we now rely to operate this remarkable museum, selling any art would be tantamount to closing the museum, hardly an outcome in keeping with the EM's mission of putting Detroit back on the road to prosperity.
DIA staff and senior volunteers have had very little contact with the EM's office itself, and most of what we learn has come from reading the newspaper--like everyone else!--or from Christie's, the auction house that has agreed to put dollar values on the DIA's works of art that carry the credit line City of Detroit Purchase: about 3,300 pieces, most of which were purchased between 1922 and 1931. Even here, though, the situation is clouded by the fact that patrons such as Ralph Harmon Booth personally contributed to a City of Detroit art purchase fund or lent money to enable "City purchases" that seems never to have been repaid. I've also learned that the purchase of our wonderful ceiling painting by Tintoretto, apparently using city funds, was only permitted by the Italian government of the time, on condition that it never leave the DIA building. You may have read in the Detroit Free Press that an expert valued the painting at $100 million. This came as a surprise to us as, a couple of years ago, for insurance purposes, a different expert assessed the painting at $2 to $3 million.
I've repeatedly been asked about what the DIA is doing and, while I cannot go into any details, a good deal of time and energy has gone into laying out various strategies, depending on what happens next. Of course, we hope that nothing will happen. Michigan Attorney General Bill Schuette has issued an opinion that the museum's entire collection is held in a charitable trust, which protects the collection for the benefit of the people, and that Michigan law prohibits the sale of the DIA's collection to pay the city's creditors and, as I understand things, the EM is subject to Michigan law. Still it's a complex and confusing situation, with very little in the way of precedent to guide us.
It's supremely ironic that the DIA should be subjected to threats to the integrity of its collection immediately after achieving financial stability, thanks to the generosity of the voters of Macomb, Oakland, and Wayne counties, but the business of the museum continues with much increased visitor numbers over last year. It is truly gratifying to see the galleries and other public spaces buzzing with activity.

Graham W. J. Beal
Back to top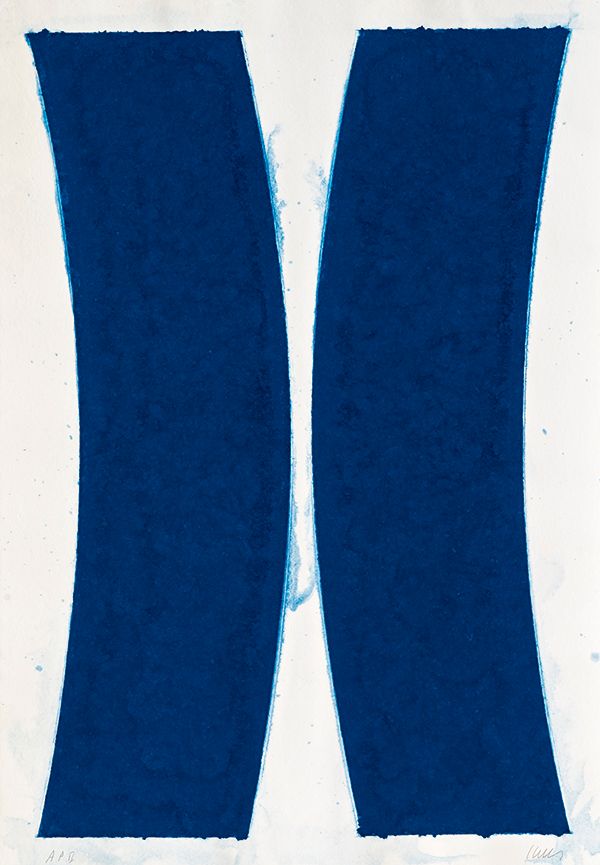 Exhibitions
Ellsworth Kelly Prints
Through September 8
Schwartz Galleries of Prints and Drawings and Special Exhibition Galleries: Central
Only a week remains to see this two-part retrospective of prints by ninety-year-old Ellsworth Kelly, a 2013 recipient of the National Medal of Arts. When awarding the medal, President Barack Obama commended Kelly as "a careful observer of form, color, and the natural world," who "has shaped more than half a century of abstraction and remains a vital influence in American art." At the DIA, Kelly's iconic color abstract prints, created from the mid-1960s through to the present, are on view in the first-floor Schwartz Galleries. Upstairs, in the Special Exhibition Galleries off Rivera Court, are his black-and-white prints that continue the same explorations of highly refined geometric shapes but also reveal his broader interest in botanical subjects.
Above: Ellsworth Kelly, American; Colored Paper Image V (Blue Curves),1976; colored and pressed paper pulp. © Ellsworth Kelly, all rights reserved.
Ellsworth Kelly Prints is drawn entirely from the collections of Jordan D. Schnitzer and the Jordan Schnitzer Family Foundation in Portland, Oregon. Support for this exhibition is provided by Jordan D. Schnitzer and the Jordan Schnitzer Family Foundation, Portland, Oregon, with additional support in Detroit provided by Dede and Oscar Feldman, Marjorie and Maxwell Jospey Foundation, Lisa and Robert Katzman, Marianne and Alan Schwartz, Marc Schwartz, Lori and J. Patrick Stillwagon, Ileane and Bruce Thal, and the City of Detroit. The exhibition was organized by the Los Angeles County Museum of Art.
Back to top
Watch Me Move: The Animation Show
October 6, 2013-January 5, 2014
Special Exhibition Galleries: South
| | |
| --- | --- |
| | |
| Bob Sabiston, Snack and Drink, 2000; rotoshop, color, sound. 4 min. | |
The early viewer catches the discount when buying tickets for this special exhibition. Tickets purchased for use in the first six weeks of Watch Me Move, the most extensive animation show ever mounted, are $14 for adults and $8 for ages 6-17, a reduction of $6 and $2 respectively from the regular price. The last day for discount admission is Sunday, November 17. Members see the exhibition free but must reserve timed tickets, available beginning September 9. There is no handling or service fee when ordering members' tickets. For the general public, tickets are available beginning September 16 at the DIA Box Office, online at www.dia.org, or by calling 313.833.4005.
This exhibition has been organized by Barbican Centre, London. The Barbican Centre is provided by the City of London Corporation as part of its contribution to the cultural life in London and the nation. In Detroit, generous support has been provided by the GM Foundation and Honigman. Additional support has been provided by Quicken Loans and Rock Ventures, LLC.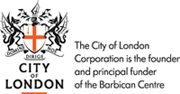 Back to top
New On View
Robin Hood and his band of Merry Men, along with Maid Marian perched on a horse, make up the latest installation of puppets in the cases outside the Lecture Hall. The earliest English ballads about a cunning outlaw who lived in Sherwood Forest can be traced as far back as the thirteenth century, but the best known stories come from late-nineteenth-century literature and twentieth-century films.
Tony Sarg's elaborate marionettes depict an archery tournament in which Robin, bow in hand, disguises himself as a beggar so he can compete for the prize without being recognized by the sheriff of Nottingham. Sarg, an American artist, illustrator, and puppeteer, was well known during the 1920s for his finely carved marionettes that were carefully joined and weighted to perform graceful movements. Click here to see a ten-minute, 1929 film of Sarg's marionettes in action.
Folk and Fairy Tale Marionettes from the Paul McPharlin Puppetry Collection goes on view September 17.
Back to top
Detroit Film Theatre
The fall 2013 DFT season opens with several new films and new technology. The season opens the weekend of Sepetember 6, 7, and 8 with the recent award-winning biopic Hannah Arendt (left), featuring actress Barbara Sukowa as the influential German-Jewish philosopher and political theorist. Also showing that weekend is Evocateur: The Morton Downey Jr. Movie, a look at the controversial 1980s' talk-show host who turned debate of current issues into a gladiator pit. The Wall, a tale of survival set in a spectacular Austrian mountain landscape, and Good Ol' Freda, a firsthand account of the unfolding of musical history as told by Freda Kelly, the Beatles' friend and secretary, round out the new releases.
| | |
| --- | --- |
| | |
The classics haven't been forgotten: D. W. Griffith's 1916 epic Intolerance (left) plays the weekend of September 27, 28, and 29. The film uses the theme of intolerance through the ages to unite four tales in an increasingly sophisticated--and ultimately frenzied--example of early film editing. Receiving mixed reviews when it first opened, Intolerance is now considered a pioneer in cinematic techniques that still seem fresh when viewed today.
On the technology front, there's a new DFT iPhone app and a digital projection system that can accommodate the latest in studio releases. The app features the DFT schedule, Crystal Gallery café menu, and information about past movies. Users can purchase tickets and add movies to their calendars. The app also links to the DIA's mobile website.
This year marks the end of an era in a significant way; major film studios will, beginning in 2014, distribute movies only in digital form, rather than the 35mm film-based format that has been the standard for cinema's first century. Through the generosity of donors and the Friends of Detroit Film Theatre auxiliary, the DFT purchased a new projection system to ensure that forthcoming motion pictures, whatever the format, can be seen exactly as their makers envisioned. To that same end, the new equipment supplements our existing 35mm equipment, allowing rare, classic, and archival films to be screened as originally intended. By expanding our projection capabilities in this way, we can respect both the future of cinema and its past, which is what the Detroit Film Theatre's mission has always been.
For a complete schedule or to purchase tickets, click here.
The DFT is presented by Buddy's Pizza.

Back to top
Lawn Party
We're taking advantage of the nice fall weather in September to squeeze in two weekend Lawn Parties that turn the DIA's South Lawn into an outdoor stage for music and family performances, with food trucks arrayed on the Woodward Circle Friday nights.
Joan Soriano (left) and La Familia, three of Soriano's fifteen siblings, perform bachata, a music genre that originated in the Dominican Republic, Friday, September 13 at 7 & 8:30 p.m. The family performance on Sunday, September 15, at 2 p.m., features Robert B. Jones, who uses music and storytelling to explore the relationship between America's folk music and the country's historic and social changes.
The following weekend, Stephane Wrembel and his band perform the album Bistro Fada, named after Wrembel's theme song written for Woody Allen's film Midnight in Paris, in its entirety on Friday, September 20, at 7 p.m. Before and after the set, the Open Eye Theater's Two-Wheel Parade of Oddities kicks off the DIA's salute to the Tour de Troit with puppet shows on a tiny stage pulled by a bicycle. The oddities parade appears at various locations around the city on Saturday, September 21, from noon to 4 p.m., and returns to the DIA's South Lawn Sunday, September 22, between 2 and 3 p.m.
Back to top
Bicycles
The DIA salutes the Tour de Troit with bicycle-themed events both the Friday before and the Sunday after the Saturday, September 21, citywide ride that explores some of Detroit's historic areas and most breathtaking sights. During the Friday Night Live Lawn Party, September 20, catch the Open Eye Theater's Two-Wheel Tour of Oddities's impromptu vignettes, featuring small trick marionettes, bells, and recorded sound, presented on a tiny stage (left) pulled by a shiny tandem bicycle before and after Stephane Wrembel and his band at 7 p.m. Plus, we're giving away two spoke lights, courtesy of Detroit's Shinola Company, to anyone who shows up with a bicycle or other wheeled vehicle bigger than a skateboard but smaller than a car.
Stick around for the 9:30 p.m. DFT's free showing of The Triplets of Belleville (left), a story of a kidnapped young Tour de France rider rescued by his grandmother with the help of the Belleville Sisters-an aged song-and--dance team from the days of Fred Astaire. The late Roger Ebert said he could not do justice to the feature-length animated film, other than to say, "there is not even a way I can tell you what the film is 'like,' because I can't think of another film 'like' it."
On Sunday, September 22, the DIA's Inside|Out project has organized a bike ride around Belle Isle and the nearby Village neighborhoods to see the fourteen reproductions of museum masterpieces installed throughout the area. The tour begins at 9 a.m. at the Detroit Boat Club with stops along the way featuring spoken-word poetry and docent talks. The tour has proved very popular and filled up quickly, but additional spots will be made available the week before the ride. Click here to check for ride openings. Back at the DIA, the Open Eye Theater returns for an encore performances at 2 p.m. (They'll also be traveling around the city Saturday, September 21, between noon and 4 p.m.)
Back to top
News and Notes
Arts, Beats, and Eats
Stopping by Arts, Beats, and Eats over the Labor Day weekend? Check out the DIA's Inside|Out display of high quality reproductions of artistic masterpieces that have appeared across the metropolitan area over the past few years. Or catch an outdoor screening of the internationally acclaimed animated film A Cat In Paris, courtesy of the Detroit Film Theatre. Featuring a cat that lives a double life as a little girl's lovable pet by day and a sly "cat" burglar by night, the film is appropriate for kids and cinema buffs alike. This is the DIA's first appearance at the popular festival.
Museum Shop
Want to get a jump on the coming holidays and New Year? The DIA Museum Shop has got that covered with the arrival of 2014 calendars and other seasonal items. Get organized with an art-themed perpetual, daily, or monthly calendar for your wall or desk. See the assortment along with many other new items by shopping anytime at diashop.org or during regular museum hours.
Testimony for Detroit
Art critic and blogger Tyler Green is devoting his entire September 6 podcast to stories about the DIA's importance to Detroit's present and future. Last month on his Modern Art Notes blog, Green highlighted DIA masterpieces to raise awareness of the problems facing the city and the museum. According to our count, more than eight million people saw the tweeted and blogged responses to his call to action. Now, Green is asking for stories about how the DIA has affected people's lives, why it's important to children and families, and the other ways in which it enhances lives. He'll pick the best to include in his podcast. For more information on submitting a story, click here.
Back to top
Detroit Institute of Arts
5200 Woodward Avenue
Detroit, Michigan 48202
www.dia.org
313.833.7900

Comments or questions about the newsletter? Please contact us: [email protected]

ADMISSION
$8 adults, $6 seniors, $4 children
The museum is free for members and residents of Wayne, Oakland, and Macomb Counties
Contact the Membership HelpLine at
313.833.7971 or [email protected]

For group sales (15 or more) contact 313.833.1292 or dia.org/grouptours

HOURS
Museum
Mon CLOSED
Tue, Wed, Thur 9 a.m.-4 p.m.
Fri 9 a.m.-10 p.m.
Sat, Sun 10 a.m.-5 p.m.

PARKING
Valet parking is available at the Farnsworth entrance on Fridays, Saturdays, and Sundays, during regular museum hours. Beginning Tues., Dec. 4, valet parking is available all open hours. The price per car is $10.

Lighted, secure self-parking is available in the Cultural Center parking lot, between John R and Brush, behind the museum.

Ford Second Sundays are generously supported by the Ford Motor Company Fund. Next Ford Second Sunday, September 8.

CaféDIA
313.833.7966
Tue, Wed, Thur 11:30 a.m.-2:30 p.m.
Fri 11 a.m.-2:30 p.m., 4-9 p.m.
Sat, Sun 11 a.m.-3 p.m.

Kresge Court Coffee Stop
Tue, Wed, Thur 9 a.m.-3:30 p.m.
Fri 9 a.m.-9:30 p.m.
Sat., Sun 10 a.m.-4:30 p.m.

Museum Shop
313.833.7944 or [email protected]
Open during museum hours or online at diashop.org
Connect with us!
Keep up-to-date with text messages about upcoming DIA events! Sign-up here.