Museum Closed, Thursday, July 4
Director's Letter
| | |
| --- | --- |
| | |
When I entered this country (and this line of business) in 1973, abstract art pretty much ruled the roost, and it was taken for granted that New York City was the center of the contemporary art world. To be sure, there were plenty of other movements going on, but for many the first duty of art was to be abstract. Like many young English immigrants, I was much taken with the weather and lifestyle of Los Angeles and had, in fact, organized an exhibition in England called Made in California, which featured Ken Price, Bob Graham, Ed Ruscha, Larry Bell, Billy Al Bengston, and Joe Goode, among others. For a few years, I continued to look in that direction, but when I moved to the Walker Art Center in Minneapolis to work with my great mentor, Martin Friedman, I was told that I wouldn't be taken seriously as a curator if I wasn't engaged with the New York scene. My first foray into what was considered the "serious" side of contemporary art was a mid-career retrospective with George Segal, a lovely man who still had his studio in the chicken coops that had been his main source of income before he became famous as part of the pop art movement. When he talked about his art, at least in our recorded sessions, George very much stressed the formal qualities of his works: the stark white of his plaster figures against the colored components. (In the case of the DIA's piece, it was the strong diagonals and warm wood tones of the scaffolding.)
Another giant of the New York scene at that time was--and I suppose still is--Ellsworth Kelly, whose work was unmistakably abstract. One or two, sometimes three, colors on a large canvas epitomized the minimalist aesthetic that thrilled the aficionados and thoroughly baffled most of the population. My father-in-law, an engineer, used to look at art at the Walker and say, "I could've made that." To which I always responded, "but you didn't." To artists such as Donald Judd, Robert Morris, and Sol LeWitt, art was very much about the process of making it, something invariably done by skilled technicians. You can even make the argument--as some indeed have--that the artist's work was done once the piece had been conceived, hence the origin of the name "conceptual art." The goal for these artists was to make an object that existed on its own terms. Not a likeness of a person or a place, but an object that is just what you see. Frank Stella is said to have summed it up as WYSIWYG, a term borrowed from computing meaning "what you see is what you get."
Much as Ellsworth Kelly's art seems to fall firmly in this category, his is a different kind of abstraction that came about through intense observation. His works are distillations of objects in the world around him, such as plants and architectural fragments; visual phenomena are reduced to simple shapes and colors. "Simple" is not really the right word for such a rigorous vision and fastidious sense of color; his works are marvels of pure form. You can experience this for yourself in the exhibition Ellsworth Kelly Prints, on view through September 8. The exhibition also features some elegant line drawings of plants that should convince most skeptics of this kind of art (and there remain many) that "a child of six could not have done it."
To go back to my Walker days, after a couple of years of dealing with my unhelpful response to his assertion, my father-in-law came up to me at an exhibition preview and said, "I get it. You're saying that if I had done that, I'd be an artist." "Yes," I replied, and we never had that exchange again.

Graham W. J. Beal
Back to top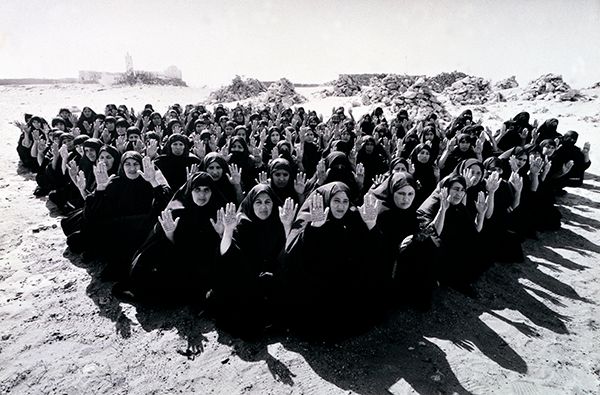 Exhibitions
Shirin Neshat
Through July 7
Special Exhibition Galleries: South
Only one week remains to see this mid-career retrospective of Iranian-born artist Shirin Neshat's photography and video installations, an exhibition the Detroit News says is "worth dropping everything to catch." Her exceptional photography, films, and video, which the News called "both dazzling and deeply moving," explore issues of gender, politics, and identity.
The exhibition is accompanied by a fully illustrated catalogue, available in the museum shop, or online. Click to access the museum's first exhibition app for iPad and Android devices.
This exhibition is organized by the Detroit Institute of Arts. Generous support has been provided by the MetLife Foundation, the Andy Warhol Foundation for the Visual Arts, the National Endowment for the Arts, the Robert Mapplethorpe Foundation, and the Marjorie and Maxwell Jospey Foundation. Additional support has been provided by the City of Detroit.

Above: Shirin Neshat, American, b. Iran; Rapture, 1999, production still,, © Shirin Neshat, Courtesy of the artist and Gladstone Gallery, New York and Brussels
Back to top
Ellsworth Kelly Prints
Through September 8
Schwartz Galleries of Prints and Drawings and Special Exhibition Galleries: Central
| | |
| --- | --- |
| | |
| Ellsworth Kelly, American; Rivers--The Mississippi, 2005; lithograph. Edition of 50.© Ellsworth Kelly and Gemini G.E.L., Los Angeles | |
Ellsworth Kelly often works in series, and his States of the River, comprising eight individual prints plus two monumental multi-panel versions on this theme, have been called the great summation of his printmaking career. Completed in 2005, the series encapsulates all his major concerns in working in a large format, remaining open-minded about variations within a form, and always relating an image to a stimulus in the real world. It also reflects the artist's embrace of chance as a factor in creating art.
The dramatic, mottled compositions were based on portions of an earlier work. After completing this new series, Kelly was reminded of how the Rhine River looked as light played along the water's rippling surface on a visit to Basel, Switzerland. It was then that he decided to name each of the individual prints after one of the world's great rivers, including the Mississippi, the Amazon, and the Yangtze.
The largest of the River images came about by chance as well. Several very small reproductions of the single prints were pinned tightly together on Kelly's studio wall. From that, Kelly rearranged a combination of the individual prints to form the eight-panel, seven-by-nine foot River II.
Related books are available in the museum shop or online.
Ellsworth Kelly Prints is drawn entirely from the collections of Jordan D. Schnitzer and the Jordan Schnitzer Family Foundation in Portland, Oregon. Support for this exhibition is provided by Jordan D. Schnitzer and the Jordan Schnitzer Family Foundation, Portland, Oregon, with additional support in Detroit provided by Dede and Oscar Feldman, Marjorie and Maxwell Jospey Foundation, Lisa and Robert Katzman, Marianne and Alan Schwartz, Marc Schwartz, Lori and J. Patrick Stillwagon, Ileane and Bruce Thal, and the City of Detroit. The exhibition was organized by the Los Angeles County Museum of Art.
Back to top
Detroit Film Theatre
If you weren't able to get in to the sold-out showings of Louder Than Love when it played last year, you've got another chance this month courtesy of the DFT and the Concert of Colors. An encore screening is set for Friday, July 5, at 9:30 p.m. The film documents the creative and revolutionary frenzy of Detroit's rock 'n roll scene in the late 1960s at the Grande Ballroom with rare archival footage and interviews of surviving musicians. Wayne Kramer (above) of the MC5, the Grande's "house band"; Howard Kramer, the Rock and Roll Hall of Fame's curatorial director; and film director Tony D'Annunzio discuss the movie following the screening. The film is free to the public on a first-come, first-seated basis.
| | |
| --- | --- |
| | |
The Saturday Animation Club continues with four family-oriented features: My Neighbor Totoro on July 6; A Cat in Paris (left), July 13; KiKi's Delivery Service, July 20; and Sita Sings the Blues, July 27. All films are in English and begin at 3 p.m. Cat in Paris and Sita Sings are recommended for children ages eight and older; the others are for all ages. These films are not just for kids; adults appreciate them as well.
For a complete schedule or to purchase tickets, click here.
The DFT is presented by Buddy's Pizza.

Back to top
Cultural Living Room Part II
With the successful launch of the newly revitalized Kresge Court last month, the DIA now turns its attention to part two of the Cultural Living Room project: the development of the South Lawn as a community-gathering space. The lawn becomes a venue for innovative seasonal events, including concerts, new community-based programs, local food trucks, and other outdoor activities, from lawn games to drum circles.
A new, monthly weekend program--Lawn Party!--makes its debut on the South Lawn Friday, July 5, with two Concert of Colors performances: the multicultural jazz/funk October Babies at 5 p.m. and the Cajun-infused music of Feufollet at 7 p.m. People are encouraged to bring their own blankets and chairs for seating. On Sunday, July 7, come back for family yoga (for ages 5-11 with an adult) on the lawn at 2 p.m. Don't forget to bring a beach towel or mat for each family member.
If you haven't checked out Kresge Court (above) since its reopening, then Sundays, July 14 and July 28, are good times to stop by and catch live acoustic music by jazz pianists Scott Gwinell and Mick Dobday, respectively, from 1 to 4 p.m. And on Friday nights, there is a special evening menu featuring a variety of tapas dishes and a full bar with specialty drinks. There is always a selection of salads and sandwiches available and, of course, coffee and tea.
Both the new Kresge Court and South Lawn spaces are funded by a $268,500 grant from ArtPlace America, a collaboration of leading national and regional foundations, banks, and federal agencies committed to accelerating creative place-making across the United States.
Back to top
Conservation Notes
Gracehoper
| | |
| --- | --- |
| | |
| Inside the Gracehoper, 2011. | |
Years of sitting on the DIA lawn in snow, rain, heat of day and gloom of night have taken a toll on Tony Smith's iconic Gracehoper, causing the paint to fade and crack and the steel to rust. The work is getting a new coat of paint this summer to prevent further deterioration and to restore the sculpture to the artist's original specifications.
While the main structure of Gracehoper remains stable, the coat of paint has begun to wear in certain areas, and the underlying steel has begun to corrode. The degradation of the paint has compromised Smith's intention of a completely uniform surface in a dull, semi-gloss black color.
The conservation and repainting, in the color and texture of the original 1972 paint, is expected to last six to eight weeks. The sculpture will be covered by a tent to protect the fresh paint from wind and rain until it dries. Look for updates on the project's progress on the museum's website or come see the conservators in action from the viewing station near Kirby St.
The Gracehoper conservation project is funded by Friends of Modern and Contemporary Art, the Ellsworth Kelly Foundation, the Barnett and Annalee Newman Foundation, the Dedalus Foundation, and the Marjorie and Maxwell Jospey Foundation.
| | |
| --- | --- |
| | |
| Diego M. Rivera, Mexican; Vaccination, 1932; charcoal with red pigment over light charcoal. Gift of the artist | |
From Paper to Painting: Examining Diego Rivera's Drawings for the DIA's Murals
Thirteen full-scale charcoal-and-colored-chalk drawings for parts of Diego Rivera's Detroit Industry frescoes are undergoing rigorous technical analysis this summer, and we are using modern technologies that make it possible to examine and record works of art as never before. The drawings, known as cartoons (from the Italian word cartones for study drawings made in preparation for fresco paintings) were last seen in the 1986 exhibition Diego Rivera: A Retrospective.
The scrutiny will determine if any preservation issues have arisen over the last quarter century. The cartoons are also being digitally photographed so they can be viewed intimately on a computer screen anywhere in the world. Five or more of these works will be included in a planned exhibition about Rivera and his wife Frida Kahlo, tentatively scheduled for 2015.
The research project is made possible by a generous grant from the Bank of America.
Back to top
Museum Shop
During July, receive free shipping on all purchases made online at diashop.org (with the exception of oversized items) to destinations within the continental United States. Take advantage of this special offer to send gifts or stock up on essentials. Click on the links to see what's new and what's on sale.
Back to top
Detroit Institute of Arts
5200 Woodward Avenue
Detroit, Michigan 48202
www.dia.org
313.833.7900

Comments or questions about the newsletter? Please contact us: comments@dia.org

ADMISSION
$8 adults, $6 seniors, $4 children
The museum is free for members and residents of Wayne, Oakland, and Macomb Counties
Contact the Membership HelpLine at
313.833.7971 or membership@dia.org

For group sales (15 or more) contact 313.833.1292 or dia.org/grouptours

HOURS
Museum
Mon CLOSED
Tue, Wed, Thur 9 a.m.-4 p.m.
Fri 9 a.m.-10 p.m.
Sat, Sun 10 a.m.-5 p.m.

PARKING
Valet parking is available at the Farnsworth entrance on Fridays, Saturdays, and Sundays, during regular museum hours. Beginning Tues., Dec. 4, valet parking is available all open hours. The price per car is $10.

Lighted, secure self-parking is available in the Cultural Center parking lot, between John R and Brush, behind the museum.

Ford Second Sundays are generously supported by the Ford Motor Company Fund. Next Ford Second Sunday, July 13.

CaféDIA
313.833.7966
Tue, Wed, Thu 9 a.m.-3 p.m.
Fri 9 a.m.-3 p.m., 4-9 p.m.
Sat, Sun 10 a.m.-3 p.m.

Kresge Court Coffee Stop
Tue, Wed, Thu 11 a.m.-3 p.m.
Fri 11 a.m.-9 p.m..
Sat., Sun 11 a.m.-4 p.m.

Museum Shop
313.833.7944 or museumshop@dia.org
Open during museum hours or online at diashop.org
Connect with us!
Keep up-to-date with text messages about upcoming DIA events! Sign-up here.