Director's Letter
When, early in my tenure at the DIA, word began to spread that Kresge Court was going to cease to be the main food service facility and become something else as yet undefined, my office became the focus of a write-in campaign. I'd recently seen the new Richelieu Sculpture Court at the Louvre and remarked in a staff gathering that perhaps we could do something similar with Kresge. The resulting mail urged me to keep the much-loved facility as a gathering space and to avoid, as one letter put it, turning one of America's finest interior spaces into "mere art galleries." (One lamented that the writer would never again be able to watch the sun go down while seated in Kresge Court but, if you think about it, there was never much I could do about that!)
| | |
| --- | --- |
| | |
Based loosely on the Bargello in Florence, Kresge Court was originally an interior garden courtyard, open to the sky (left). Covered by a skylight in 1960, it became the museum's public cafeteria and, in fact, it was never my intention to remove the informal public-use component from this lovely space--rather the opposite. I hoped that, by shifting the cafeteria elsewhere (thereby also ameliorating any number of logistical issues invariably involved in food delivery), the court would naturally become a gathering place where visitors could relax without the noise and smells associated with a busy food service area. It never happened.
Soon after the "New DIA" opened in 2007, hard economic facts forced a radical reduction of the museum's operating budget. To compensate to at least a small degree, we made the decision to try to maximize revenue deriving from special events held for third parties. We knew that the effort would entail regular disruptions of significant public spaces for the general visitor, but in such difficult financial times, we felt that extra measures were at least worth trying. Under this new approach, Kresge Court became a popular venue for receptions and dinners, which in turn meant that the space was in a constant state of change as furniture was moved and replaced depending on what circumstances required.
This situation changed dramatically with the passage of the millage. Now, thanks to the levy, approximately 80 percent of our visitors have free admission to the museum, and it seemed right to create a "village square" that would always be available for individual, family, and group use. We secured a sizeable grant from ArtPlace America to prepare and furnish the court elegantly and effectively. I personally think of it as a cross between a coffee house and an upscale airport lounge. There will be a number of discrete areas designed for different but overlapping activities, such as reading and study, computer use, dining, meetings, and conversation.
In planning the changes, my colleagues and I have been painfully aware that we are modifying a space that has few equals in the country and have made sure that the original fabric of the court is untouched. When it reopens to the public on June 14, the visitor will see a welcoming room, carefully furnished with the respect due to such a lovely space. Of course, anyone can disagree with the exact choice of fittings and furnishings (de gustibus non est disputandem), but it is our hope that Kresge Court will finally become a year-round gathering space for all visitors to the DIA.

Graham W. J. Beal
Back to top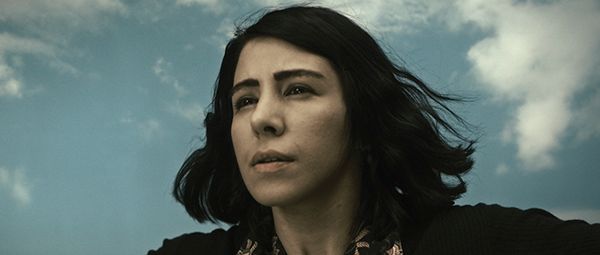 Exhibitions
Shirin Neshat
Through July 7
Special Exhibition Galleries: South
Shirin Neshat addresses gender, identity, and spheres of power in her videos and photography, which are often rooted in her feelings of being caught between her American life and her Iranian heritage. As Detroit Free Press writer Mark Stryker points out, she is not creating journalism or documentaries, "she is making art."
The work is not "purely sociological information," the artist told Stryker. "The work is fiction but inspired by reality and issues that I have experienced...It has a footing in realism and a footing in poetry and allegory. That's the identity of the Iranian people." But her work is not just about Iran and Islamic culture, Neshat adds, it is art made by an Iranian artist that "goes back to common human experience."
The exhibition is accompanied by a fully illustrated catalogue, available in the museum shop, or online. Click to access the museum's first exhibition app for iPad and Android devices.
This exhibition is organized by the Detroit Institute of Arts. Generous support has been provided by the MetLife Foundation, the Andy Warhol Foundation for the Visual Arts, the National Endowment for the Arts, the Robert Mapplethorpe Foundation, and the Marjorie and Maxwell Jospey Foundation. Additional support has been provided by the City of Detroit.

Above: Shirin Neshat, American, b. Iran; Munis from Women Without Men, 2009; video still, © Shirin Neshat, Courtesy of the artist and Gladstone Gallery, New York and Brussels
Back to top
Ellsworth Kelly Prints
May 24-September 8
Schwartz Galleries of Prints and Drawings and Special Exhibition Galleries: Central
| | |
| --- | --- |
| | |
| Ellsworth Kelly, American; Blue and Yellow and Red-Orange (Bleu et Jaune et Rouge-Orange), 1964-65; lithograph. © Ellsworth Kelly, all rights reserved. EK AX.17 | |
Ellsworth Kelly, a major figure in the development of abstract art, has created more than 330 editions, primarily in lithography, since he began making prints in the mid-1960s. This exhibition surveys his long and storied career though more than 100 works from the collection of Jordan D. Schnitzer and the Jordan Schnitzer Family Foundation in Portland, Oregon.
Most of the prints come from twenty different series that address a specific compositional issue Kelly wished to explore. His first concern is shape, to which he systematically adds color, usually according to a tight, preconceived plan. While Kelly is best known for the clean, colorful abstract images, most of his prints are black and white and more than eighty are botanical subjects; his recent project is Rivers.
All Kelly's work is inspired by something in nature that he then refines into recognizable or abstract forms. These triggering sights range broadly from the curve of a bowl to the color of a wall or shape of a shadow, to plants and the play of light on rippling water. A meticulous artist, Kelly leaves no detail of a print unconsidered. Sketches or collages are usually modified more than once to create the final images. Paper weight, color, and texture are central to each composition, as is the relationship of the shape to the blank portion of the paper. There is no limitation to the tone of any color (even blacks) that Kelly does not explore.
The exhibition is divided into two parts: color work is in the Schwartz Galleries and all the black-and-white subjects in the Special Exhibition Galleries: Central, near Rivera Court. Related books are available in the museum shop or online.
Ellsworth Kelly Prints is drawn entirely from the collections of Jordan D. Schnitzer and the Jordan Schnitzer Family Foundation in Portland, Oregon. Support for this exhibition is provided by Jordan D. Schnitzer and the Jordan Schnitzer Family Foundation, Portland, Oregon, with additional support in Detroit provided by Dede and Oscar Feldman, Marjorie and Maxwell Jospey Foundation, Lisa and Robert Katzman, Marianne and Alan Schwartz, Marc Schwartz, Lori and J. Patrick Stillwagon, Ileane and Bruce Thal, and the City of Detroit. The exhibition was organized by the Los Angeles County Museum of Art.
Back to top
Motor City Muse
Detroit Photographs, Then and Now
Through June 16
Albert and Peggy de Salle Gallery of Photography
| | |
| --- | --- |
| | |
| Bill Rauhauser, American; Stone Burlesk, Woodward Ave., Detroit, ca. 1960s (printed 2012); pigment print. Gift of the artist, in memory of Doris Rauhauser | |
Drawn to Detroit's storefronts, shoppers, and changing neighborhoods, Bill Rauhauser spent more than three decades photographing the city, compiling an archive of nearly 10,000 negatives. His most successful images, many in this exhibition, are the result of what he called the "three iron laws of photography: being there, being ready, being lucky."
One series Rauhauser developed over the years was made along downtown Woodward Avenue and surrounding streets, where he captured the levity in a moment outside Detroit's Stone Burlesque club, quickly snapping a nun and her companion chatting beneath a sign for "World's Hottest Strippers." He could evoke the essence of a particular era with a single image: a young woman sporting an upswept bee-hive hairdo selling "French Frys" at the Michigan State Fair in the 1960s or, from the 1970s, a shoe salesman, standing in front of his store, sporting a suit coat with wide lapels, an equally wide tie, and sideburns.
In addition to his large and impressive body of Detroit images, Rauhauser was an influential educator as a professor of photography at the College of Creative Studies and an early proponent of the medium as a fine art. At age ninety-three, he is still active, photographing and supporting the Detroit arts community.
An exhibition catalogue is available in the museum shop and online.
This exhibition has been organized by the Detroit Institute of Arts. Support has been provided by the Chrysler brand and Rock Ventures. Additional support has been provided by the City of Detroit.

Back to top
Detroit Public Schools Student Exhibition
Through June 2
Walter Gibbs Learning Center, Wayne and Joan Webber Education Wing
| | |
| --- | --- |
| | |
| Peacock, watercolor. Oxvaldo Martinez, Grade 1, Earhart Elementary/Middle School | |
More than 400 imaginative works of art created by Detroit Public School students are on view in and around the Gibbs Center gallery for the Seventy-sixth Annual Detroit Public Schools Student Exhibition. Students in kindergarten through high school, from twenty-six schools, submitted paintings, prints, drawings, photography, ceramics, videos, jewelry, and other work to a jury of local artists, school officials, and a DIA representative to determine which works to exhibit.
The 76th Detroit Public Schools Student Exhibition was organized by the Detroit Institute of Arts and the Detroit Public Schools and is made possible with support from the Ruth T. T. Cattell Education Endowment Fund. Additional support was provided by the City of Detroit.
Back to top
Guest of Honor
Van Gogh's Bedroom in Arles
Through May 28, 2013
Dutch Galleries
| | |
| --- | --- |
| | |
| Vincent van Gogh, Dutch; The Bedroom in Arles, 1889; oil on canvas. Musée d'Orsay, Paris. Photo: Hervé Lewandowski. © RMN-Grand Palais/Art Resource, NY | |
There's only a month left to see this rarely loaned painting by Vincent van Gogh before it returns to the Musée d'Orsay in Paris. Bedroom in Arles hangs in the third-floor Dutch galleries alongside three other museum works by the artist--The Diggers, Portrait of the Postman Roulin, and Self-Portrait--through May 28.
Van Gogh's three versions of this composition are the only record he made of the interior of what came to be known as the Yellow House, which he rented while working in Arles in the south of France. The house, which was destroyed during World War II, has been described as a modest two-story building with a front studio, back kitchen, and a few rooms upstairs. He had hoped to make the house a "Studio of the South," a place where painters could live and work together creating art. But only Paul Gauguin came for a tempestuous nine-week visit in late 1988.
Supported by Talmer Bank and Trust
Back to top
Summer Camp at the DIA
The DIA is offering innovative studio art summer camps for kids ages five to twelve during July and August. Camp Art in Action, for youth ages five through eight, and Camp Art Exploration, for those between nine and twelve, run from 9 a.m. to noon, July 15 to July 19, and again the week of July 29 through August 2. Campers participate in five art-making sessions exploring the infinite possibilities of working with clay, paint, ink on paper, wood, and other media. Kids also explore the museum's galleries. On the last day of camp, there is an art show for family and friends. Camp sizes are limited and early registration is encouraged. The cost is $180 for members, $225 for nonmembers, and preregistration and prepayment are necessary. Register online or call 313.833.4005
Back to top
News and Notes
Special Preview
It's Double Discount days at the Museum Shop--both in the building and online--from Friday, May 3, through Sunday, May 12. Members receive 20 percent off purchases, including all exhibition-related publications and unique gifts for Mother's Day
Café Hours
With Kresge Court under renovation in preparation for the opening of the Cultural Living room next month, CaféDIA is extending its hours to pick up the slack. On Tuesday, Wednesday, Thursday, and Friday mornings, the café opens at 9 a.m. with coffee, tea, and limited light fare. On the weekends, the café opens at 10 a.m.
Back to top
Detroit Institute of Arts
5200 Woodward Avenue
Detroit, Michigan 48202
www.dia.org
313.833.7900

Comments or questions about the newsletter? Please contact us: comments@dia.org

ADMISSION
$8 adults, $6 seniors, $4 children
The museum is free for members and residents of Wayne, Oakland, and Macomb Counties
Contact the Membership HelpLine at
313.833.7971 or membership@dia.org

For group sales (15 or more) contact 313.833.1292 or dia.org/grouptours

HOURS
Museum
Mon CLOSED
Tue, Wed, Thur 9 a.m.-4 p.m.
Fri 9 a.m.-10 p.m.
Sat, Sun 10 a.m.-5 p.m.

PARKING
Valet parking is available at the Farnsworth entrance on Fridays, Saturdays, and Sundays, during regular museum hours. Beginning Tues., Dec. 4, valet parking is available all open hours. The price per car is $10.

Lighted, secure self-parking is available in the Cultural Center parking lot, between John R and Brush, behind the museum.

Ford Second Sundays are generously supported by the Ford Motor Company Fund. Next Ford Second Sunday, May 12.

CaféDIA
313.833.7966
Tue, Wed, Thur 11:30 a.m.-2:30 p.m.
Fri 11:30 a.m.-2:30 p.m., 5-9 p.m.
Sat, Sun 11:30 a.m.-3 p.m.

Kresge Court Coffee Stop
Tue, Wed, Thur 9 a.m.-3 p.m.
Fri-Sun 10 a.m.-4 p.m.

Museum Shop
313.833.7944 or museumshop@dia.org
Open during museum hours or online at diashop.org
Connect with us!
Keep up-to-date with text messages about upcoming DIA events! Sign-up here.