Director's Letter
My colleagues and I are deep in what has turned out to be an unusually lengthy process of long-range planning as we balance the new, millage-engendered obligations to Wayne, Oakland, and Macomb counties; the mundane realities of maintaining a large facility; the ongoing desire to develop new, stimulating programs alongside successful existing ones; and the need to divert a large part of fundraising efforts toward raising a sizeable unrestricted operating endowment to give the DIA long-term financial stability. I will outline the issues surrounding these efforts in a subsequent letter, but for now I'd like to report on one of our most successful outreach programs--one that seems to have taken on a life of its own.
The DIA's Inside|Out program began life (at least it did in my mind) as a "one-off" surprise. An idea "borrowed" from London's National Gallery, the first venture in 2010 involved placing forty high-quality reproductions of DIA masterpieces in unexpected locations around the region. Although a number of property owners readily embraced the concept, on occasion my colleagues found themselves having to explain why it might be a good idea to drill holes in a building's wall just to hang a large reproduction for a few months. But such was the success of the project that, the next year, we expanded it to eighty works of art, divided into ten groups that were, over the spring and summer, exhibited in twenty locations. We learned that there was a clear desire to have the images accompanied by a fact or two that would facilitate interpretation. Local connections made the year before led to working groups that helped install the mini-exhibitions as well as plan programming independent of anything provided by the DIA--although we did that, too. DTE Energy Foundation generously sponsored the 2011 version, and the 2012 and 2013 installations were funded by the John S. and James L. Knight Foundation though their Random Acts of Culture program, an unprecedented application of funds hitherto used for the performing arts.
| | |
| --- | --- |
| | |
In a way, Inside|Out is emblematic of changes driven and facilitated by technology. Not too many years ago, I would have been deeply suspicious of the idea of placing reproductions hither and yon. Reproductions--however good--could not come close to conveying the essential visual and tactile qualities of the originals. But, while there is still a gap between the two, it has narrowed to an extraordinary degree that can have paradoxical results. When I was looking at a reproduction of our Modigliani Head of a Woman, on view in the park around Farmington Hills city hall (left), I was struck by how the very accuracy of the photographic image of the raw canvas peeking through the paint made it seem even more desirable to see the physical reality of the original painting, something, I hope, also felt by others.
Inside|Out has now taken eighty-six works of art into seventy-four communities and been the focus of a variety of activities that, we hope, highlights the place and value of art in daily life but also increases appreciation of the original art and of the institution that harbors it. The program has received considerable media attention nationwide, and a number of U.S. museums have called to ask permission to copy the idea (more than we did for the National Gallery across the pond!). Similar projects have occurred in Cincinnati and Baltimore, with additional interest from cities as close as Grand Rapids and as far as Omaha, Little Rock, and Kansas City. We look forward to building on this successful program at least for this year and the next.
Plans are currently under way for the 2013 installations; look for them in April.

Graham W. J. Beal
Back to top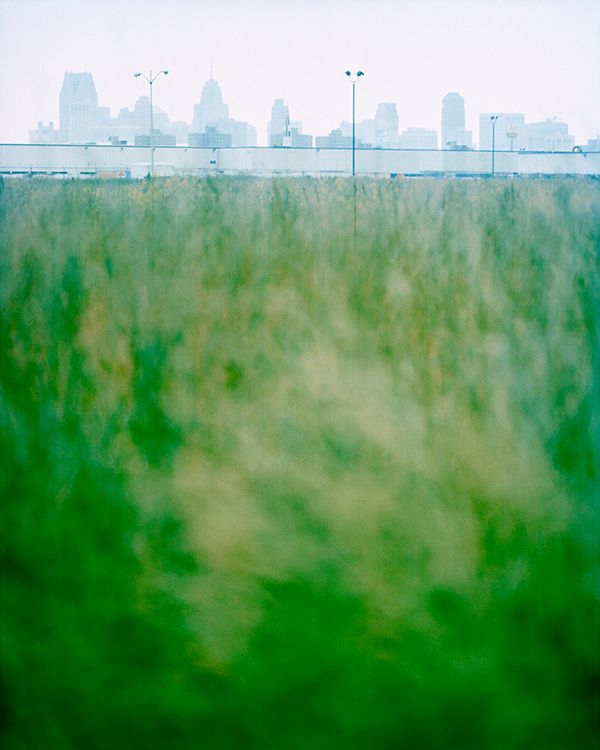 Exhibitions
Motor City Muse
Detroit Photographs, Then and Now
Through June 16
Albert and Peggy de Salle Gallery of Photography
European perspectives can act as a mirror of the people, places, and day-to-day social interactions found in American culture, revealing unique and often enlightening characteristics of ordinary experiences that we, as Americans, rarely see or take the time to appreciate. Motor City Muse: Detroit Photographs, Then and Now includes rare work by three European photographers who were so curious about Detroit that they traveled to the city to capture the metropolis and its many complex social and historical issues.
In 1947, renowned French photojournalist Henri Cartier-Bresson arrived in the city to investigate a culture that he saw as a "phénomène américain"--an American phenomenon--of working-class individuals in factories, drive-in diners, parades, and city parks striving for a piece of the American dream. Swiss-born Robert Frank came to Detroit to capture images for his groundbreaking series The Americans in 1955. He photographed the gritty factory assembly lines at the Ford Motor Company Rouge Plant, lunched at a local drug store, and cruised around Belle Isle observing the local pastimes of people in one of Detroit's biggest city parks. By 2010, German artist Karin Jobst, finding more than abandoned buildings and vacated neighborhoods, produced an extensive series called For John, Mary Lou, and Mr. Duke, a dedication to her relatives who had moved to the suburbs and rarely returned to enjoy the city's recent revitalization. Her installation includes a myriad of colorful architectural vignettes, film stills, and abstract studies that allude to Detroit's long and illustrious history as a once powerful industrial urban mecca.
A panel discussion about the work of Europeans who photographed Detroit, featuring Jobst, University of Michigan-Dearborn professor Nadja Rottner, Wayne State University professor Jerry Herron, and Nancy Barr, curator of the exhibition, takes place March 29 at 7 p.m. Motor City Muse artists sign copies of the exhibition catalogue following the discussion.
Above: Karen Jobst, German, Detroit for John, Mary Lou, and Mr. Duke, 2011 (printed 2012); pigment print. Museum Purchase, Albert and Peggy de Salle Charitable Trust© Karin Jobst, 2012.
The panel discussion is sponsored by the Forum for Prints, Drawings, and Photographs and Amerisure.
This exhibition has been organized by the Detroit Institute of Arts. Support has been provided by the Chrysler brand and Rock Ventures. Additional support has been provided by the City of Detroit.

Back to top
Shirin Neshat
April 7-July 7
Special Exhibition Galleries: South
| | |
| --- | --- |
| | |
| Secret Ballot | |
| | |
| Persepolis | |
| | |
| Shirin Neshat in her studio | |
In anticipation of the exhibition of work by Iranian-born artist Shirin Neshat, the DIA is launching a series of films and lectures exploring the cultural, social, and political issues of her homeland.
An Iranian cinema series at the DFT begins March 7 with Persepolis, Marjane Satrapi's adaptation of her engaging graphic novels about life as a rebellious young Iranian woman before and after Khomeini's rule into a magical, daringly honest animated film. In Secret Ballot, on March 14, an Iranian soldier is unhappy to discover that he's obliged to obey the orders of a young female election agent charged with collecting votes in a remote region. Tickets for the Iranian films are $5 and free for members.
The lecture series Global Imaginaries/Individual Realities provides a a platform for artists, including Neshat, to participate in conversations about socially engaged art. On March 25, Neshat talks about her work, which oscillates between the personal and universal, transcending preconceptions of culture, nationality, ethnicity, and gender. The series begins March 21 with New York University anthropologist Arjun Appadurai discussing art and artists working to raise social awareness by focusing on issues of identity and cultural production. Lectures are free, but registration is highly recommended. To register, go to www.fmca-dia.org and click on the individual lecture.
Global Imaginaries is sponsored by the DIA auxiliary Friends of Modern and Contemporary Art and the Center for the Study of Citizenship at Wayne State University.
This exhibition is organized by the Detroit Institute of Arts. Generous support has been provided by the MetLife Foundation, the Andy Warhol Foundation for the Visual Arts, the National Endowment for the Arts, the Robert Mapplethorpe Foundation, and the Marjorie and Maxwell Jospey Foundation. Additional support has been provided by the City of Detroit.

Back to top
Guest of Honor
Van Gogh's Bedroom in Arles
Through May 28, 2013
Dutch Galleries
| | |
| --- | --- |
| | |
| Vincent van Gogh, Dutch; The Bedroom in Arles, 1889; oil on canvas. Musée d'Orsay, Paris. Photo: Hervé Lewandowski. © RMN-Grand Palais/Art Resource, NY | |
There is something so compelling about Van Gogh's The Bedroom in Arles, currently on view, that people want to see it again (and again). "I've seen it in Paris, but I'll come gaze again!" said one poster on the museum's Facebook page. "It is amazing in person. You can feel the brush strokes with your eyes," said another, while a third added "I saw this in Paris! Would love to see it in the D!"
Many relished the chance to see the painting here in Detroit, others were envious of the opportunity, and still other praised the DIA for bringing such a masterpiece to the city. "I spent many hours in this museum and I wish I could go there now and see this magnificent painting. WOW! You guys sure are lucky down there in the Detroit area." And from another post, "I love the painting, but it has always felt a bit forlorn to me. I will make sure to see it. Maybe in person, my experience of it will change. Listen to me--talking about seeing the real thing, so wonderful."
Supported by Talmer Bank and Trust
Back to top
Detroit Film Theatre
Does composer Richard Einhorn's ambitious oratorio Voices of Light accompany the 1928 silent film classic The Passion of Joan of Arc or is it the other way around? Judge for yourself in a collaboration between the DFT and the Rackham Symphony Choir on Friday, March 22 (dress rehearsal) and Saturday, March 23 (performance).
The Rackham Symphony Choir performs Einhorn's powerful eighty-minute oratorio for soloists, choir, and orchestra at the showing of Danish director Carl Theodor Dreyer's film, considered by most critics to be among the greatest films ever made, with a mysterious history of its own. Months after it premiered, the negative was destroyed in a fire. A copy of the original version of the film was later discovered in a closet in an asylum in Norway and restored in 1985.
Brooklyn Castle is a new documentary that tells the stories of five members of the chess team at an inner-city junior high school that has won more national championships than any other in the country. See the film, playing Saturday, March 2, and Sunday, March 3, then come back on a Friday to watch Detroit's own championship Detroit City Chess Club in action. They can be found in Prentis Court from 4 to 8 p.m., when play is open to visitors, and for those wanting to learn the game, lessons are available from 4 to 6 p.m.
For the complete schedule or to purchase tickets, click here.
The Passion of Joan of Arc is presented through the collaboration of Rackham Symphony Choir and the DIA Friends of Detroit Film Theatre.
The DFT is presented by Buddy's Pizza.

Back to top
Keno Brothers
Tickets are still available to hear the Keno Brothers--Leigh and Leslie--of Antiques Roadshow fame share stories about important discoveries and give a behind-the-scenes peek at their work. For sixteen years, the brothers have captivated PBS viewers with their insights on what makes American furniture so special.
Currently, Leigh Keno directs Keno Auctions in New York City. During his more than thirty-five years in the auction business and as a dealer, he has helped build some of the top institutional and private collections of paintings, furniture, and decorative arts. Leslie Keno is a senior specialist and director of American furniture and decorative arts at Sotheby's, where he has led that department since 1983.
Tickets are $15 for the lecture only and $125 for a cocktail reception and a sit-down dinner with the Kenos. To purchase tickets call 313.833.4005, visit the DIA box office, or go online at www.tickets.dia.org.
The program is sponsored by the DIA auxiliary Associates of the American Wing and supported by the Ida and Conrad H. Smith Fund, which was established by the Raymond C. Smith Foundation Fund of the Community Foundation for Southeast Michigan.
Back to top
Mobile Website
In response to increasing traffic from mobile users on the DIA's website, we've launched a mobile site to offer smartphone and tablet users a condensed version of the original that can be accessed by mobile devices with internet capabilities.
Key features include an easy-to-read design for small smartphone screens and a "Today at the DIA!" button on the home page directing users to daily museum events. The menu on the home page offers options to access general information, current exhibitions, the DFT schedule, the online art collection, purchase tickets, and obtain a membership.
In 2012, 19 percent of website visitors were mobile users, which is more than double the amount the previous year.
Back to top
Detroit Institute of Arts
5200 Woodward Avenue
Detroit, Michigan 48202
www.dia.org
313.833.7900

Comments or questions about the newsletter? Please contact us: comments@dia.org

ADMISSION
$8 adults, $6 seniors, $4 children
The museum is free for members and residents of Wayne, Oakland, and Macomb Counties
Contact the Membership HelpLine at
313.833.7971 or membership@dia.org

For group sales (15 or more) contact 313.833.1292 or dia.org/grouptours

HOURS
Museum
Mon CLOSED
Tue, Wed, Thur 9 a.m.-4 p.m.
Fri 9 a.m.-10 p.m.
Sat, Sun 10 a.m.-5 p.m.

PARKING
Valet parking is available at the Farnsworth entrance during regular museum hours. The price per car is $10.

Lighted, secure self-parking is available in the Cultural Center parking lot, between John R and Brush, behind the museum.

Ford Second Sundays are generously supported by the Ford Motor Company Fund. Next Ford Second Sunday, March 10.

CaféDIA
313.833.7966
Tue, Wed, Thur 11:30 a.m.-2:30 p.m.
Fri 11:30 a.m.-2:30 p.m., 5-9 p.m.
Sat, Sun 11:30 a.m.-3 p.m.

Kresge Court Coffee Stop
Tue, Wed, Thur 9 a.m.-3 p.m.
Fri-Sun 10 a.m.-4 p.m.

Museum Shop
313.833.7944 or museumshop@dia.org
Open during museum hours or online at diashop.org
Connect with us!

Keep up-to-date with text messages about upcoming DIA events! Sign-up here.