Director's Letter
| | |
| --- | --- |
| | |
A few days before we hit the holiday season, we officially received the very welcome news that the DIA had been reaccredited by the American Alliance of Museums (AAM, formerly the American Association of Museums). As we were last accredited in 1998 and the accreditation period is for ten years, our next review would have been due in 2008. The actual review is preceded by an exhaustive self-assessment that, until very recently, essentially repeated the initial accreditation process, including such things as copies of the original incorporation documents and updated policies covering all aspects of the museum's operations. Given that, in 2007, when the self-study was due, the DIA was wholly engaged with the November grand opening, I asked the AAM for a postponement on the basis that it would take a year or two to iron out any kinks in the "New DIA." This was granted but, before we knew it, we were in the middle of the painful process of drastically cutting costs to avert an impending financial crisis at the same time as we tried to maintain the new, spectacularly successful museum, while seeking a long-term solution to the DIA's ongoing financial instability. The solution--a millage that would allow us to build a significant operating endowment--required approval by the state legislature which, when it was given in December 2010, stipulated that any prospective recipient be "accredited."
As the accreditation process normally takes about two years, we were in something of a race, and I am extremely grateful for AAM staff, the members of the AAM Accreditation Commission, and, most particularly, the members of the Visiting Committee for expediting the process. The committee's visit occurred in July-before the August election-and the chair reasonably decided that the final report would be contingent on the outcome of the vote. Financial uncertainty aside, the executive summary of the committee's report asserted:
Quite simply [the DIA] is one of the nation's greatest museums, a global resource for cultural and visual-arts education. The DIA is extremely well-run, with high morale among staff members....Certainly the Visiting Committee witnessed nervous anticipation [about the millage vote] but never a flagging of commitment to the museum's mission.
What the Visiting Committee observed was a staff inordinately committed to the institution: a board in step with the director and the staff in forwarding their shared vision of a stable and prosperous museum even when faced with the toughest of times; and volunteers, supporters, patrons, and audience whose pride in the museum is palpable. Across the board we found first-rate, compelling even, programming; unanimous agreement on goals; superior collection stewardship; a cogent plan with clear direction based on sound museological practice and philosophy; displays and exhibitions worthy of a first-rank museum; and policies and procedures...carefully considered and germane to the particular instance of the DIA.
So, the pieces are in place for our next challenge, perhaps one of the greatest since the DIA's founding: raising the unrestricted operating endowment that will give us true, ongoing, financial stability, securing the museum for posterity to ensure that, whatever else is happening, it will always be, in the words of the conclusion to the committee's report, "Absolutely essential as an oasis of aesthetic delight and a center for life-long learning."

Graham W. J. Beal
Back to top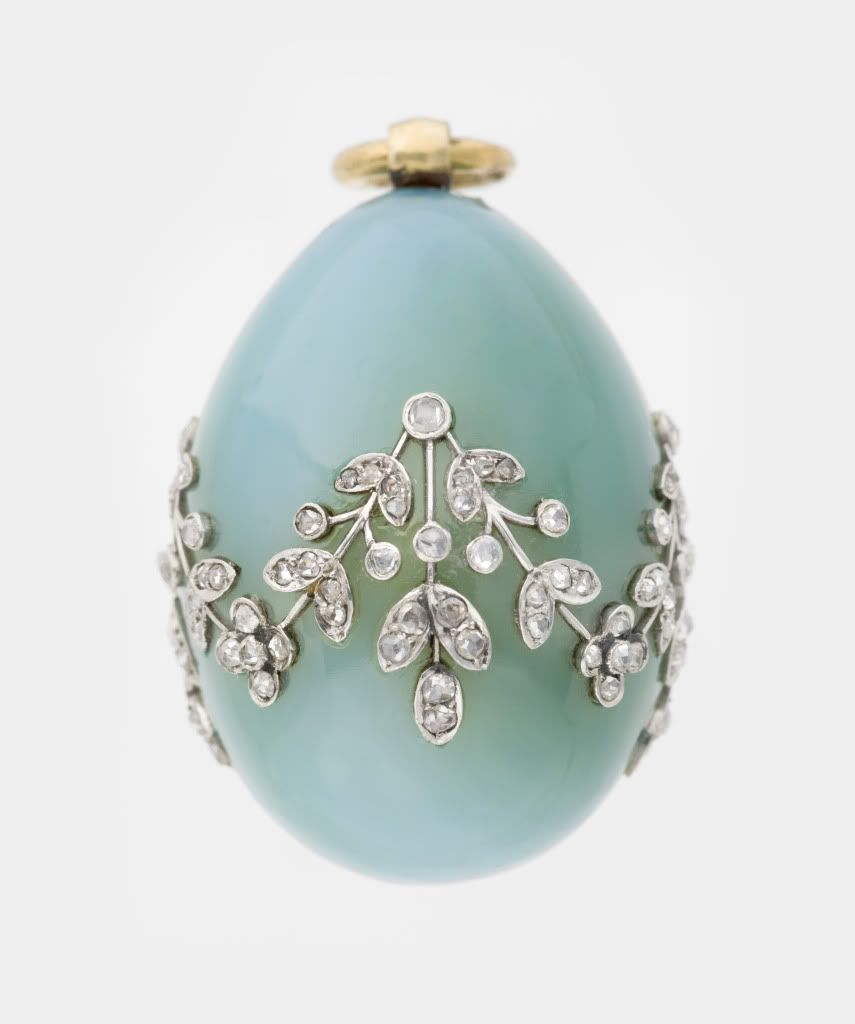 Exhibitions
Fabergé: The Rise and Fall,
The Collection of the Virginia Museum of Fine Arts
Through January 21, 2013
Special Exhibitions South
There are only a few weeks left to see this popular exhibition featuring more than 200 precious objects, including six imperial Easter eggs, jewel-encrusted parasol and cane handles, an array of enameled frames, and animals carved from semi-precious stones. The exhibition ends on Monday, Jan. 21, Martin Luther King Day.
Tickets will be in high demand during the closing weeks. Some weekend time slots have already sold out, so advance reservations are highly recommended. The exhibition is the least crowded first thing in the morning, when the museum opens at 9 a.m. Weekday afternoons are also a good time to visit. Complimentary reserved, timed tickets are available for members at the DIA Box Office, online, or by calling 313.833.4005. Remember, there is no handling or service fee when ordering members' tickets. For more information, call the Membership HelpLine at 313.833.7971. Tickets for the general public, adults $15, children ages 6-17 $8, available by the same means as above.
Above: House of Fabergé, Mikhail Perkhin, workmaster, Russian; Miniature Easter Egg Pendant, undated; chalcedony, gold, diamond. Virginia Museum of Fine Arts, Richmond. Bequest of Lillian Thomas Pratt (photo: Travis Fullerton. © Virginia Museum of Fine Arts)
The exhibition is organized by the Virginia Museum of Fine Arts, in collaboration with the Detroit Institute of Arts. In Detroit, the exhibition is supported by the City of Detroit. Educational programming is provided by the GM Foundation.

Back to top
Motor City Muse
Detroit Photographs, Then and Now
Through June 16
Albert and Peggy de Salle Gallery of Photography
| | |
| --- | --- |
| | |
| Bill Rauhauser, American; Kresge Court, Detroit Institute of Arts, 1960s (printed 2012); pigment print. Gift of the artist in memory of Doris Rauhauser | |
How has Detroit inspired photographers? In recent years, their preoccupation with the city's decline has left little room for any true assessment of a broader photographic history. In actuality, for more than seventy-five years, a serious and divers photographic practice has been present and continues to grow in Detroit. But the field of research on this subject has, thus far, been sparse, and few exhibitions have explored its history. But as the work of various artists is unearthed and known pictures re-evaluated, an emerging photographic history reveals an enlightening and immensely expressive, diverse art form. Detroit, its people, familiar places, and industry, is pictured within a disparate network of stylistic approaches and genres. Motor City Muse considers this work and the artists and photographers who have represented, and still do, the complex and unique culture of Detroit, a city with a distinct past and present.
Finding inspiration for their work from the people, city streets, and automobile culture of Detroit, this exhibition includes photographs of select artists who have captured subjects specific to the city's changing landscape, architecture, and auto industry. Included are more than 100 images made by Henri Cartier-Bresson, Robert Frank, Dave Jordano, and Karin Jobst, along with the works of Detroiters Nicola Kuperus, Russ Marshall, and Bill Rauhauser. Detroit's love affair with the automobile is evident in photographers by Walter Farynk, Vern Hammarlund, Mickey McGuire, Jimmy Northmore, and John Winstanley, all considered to be part of the Detroit Automotive School of Photography.
This exhibition has been organized by the Detroit Institute of Arts. Support has been provided by Comerica Bank. Additional support has been provided by the City of Detroit.

Back to top
Hidden Treasures
An Experiment
Through March 3, 2013
Walter Gibbs Learning Center in the Wayne and Joan Webber Education Wing
Check out this exhibition in the Gibbs Gallery before and after February 4 to participate in and see the results of an experiment on what stories visitors would like to see on labels. Eight works that had been tucked away in storage for years are on view without explanatory labels hanging beside them. But a few feet away are two stories about each work. Viewers are asked to choose which of the stories is the most meaningful. When the votes are tallied, the exhibition will close February 4 and reopen the next day as a more traditional exhibition with labels featuring the winning stories.
This exhibition is organized by the Detroit Institute of Arts. Support has been provided by the National Endowment for the Arts and Walter Gibbs Endowment Fund. Additional support has been provided by the City of Detroit.

Back to top
Puppets
January 12-June 30
Avant-garde American puppets take over the first-floor puppet cases on January 12 with marionettes and rod puppets from the museum's Paul McPharlin Puppetry Collection. McPharlin, a puppeteer and collector, demonstrated the ability of marionettes to express serious themes by performing Maurice Bouchor's symbolist play Noel (The Mystery of the Nativity). Among the rod and shadow puppets from the production is The Angel Gabriel, which was constructed with wings made of bird feathers.
Characters from a production of Maurice Maeterlinck's The Death of Tintagiles (left), staged by Marjorie Batchelder, feature a unique technique of combining rod and hand puppet controls, later adopted by Jim Henson when he created the Muppets. Also on view are experimental British puppets modeled on Bronze Age statuary.
On Saturday, January 19, try your hand at creating a marionette. Get behind-the-scenes information on a guided tour of the new puppet exhibition, then head back to the studio where your imagination is the only limit to your creativity as you make a simple puppet with strings attached. Preregistration and prepayment required. Ages: 5 and older. Children ages 5-8 must be accompanied by an adult.
Back to top
New on View in the American Galleries
Two major periods in U.S. history--the Revolutionary War and the Civil War--are highlighted in recent reinstallations in the American art galleries. The DIA's holdings of early American silver, dating from the seventeenth-century settlement period to the Revolutionary War era and the early nineteenth century, go on view this month
| | |
| --- | --- |
| | |
| Paul Revere II, American; Teapot, 1790-95; silver, ebony. Founders Society Purchase, Gibbs-Williams Fund | |
The silver, appropriately enough, can be found opposite Whitby Hall, a country house built outside Philadelphia in 1754, and other galleries containing late eighteenth-century paintings, furniture, and ceramics. Among the recently reinstalled objects is a teapot by Paul Revere, a master silversmith better known for his midnight ride to warn colonists of the approaching British.
Click here for information on a lecture on the role of silver in American life. The reinstallation of the DIA's early American silver was made possible by grants from the Americana Foundation.
| | |
| --- | --- |
| | |
| Augustus Saint-Gaudens, American; Abraham Lincoln, The Man (Standing Lincoln), 1887; bronze. Gift of Mrs. Walter O. Briggs | |
Elsewhere in the American galleries, paintings and a sculpture exploring Civil War themes have been grouped together in commemoration of the 150th anniversary of the Emancipation Proclamation, which abolished slavery. Included in the new installation are Abraham Lincoln, The Man, a reduced version of Augustus Saint-Gaudens' monumental sculpture in Chicago's Lincoln Park, and The Boyhood of Lincoln, a historic portrait by Eastman Johnson on loan from the University of Michigan Museum of Art.
Back to top
Detroit Film Theatre
The 2013 Detroit Film Theatre season opens Friday, January 11, with a single, 7 p.m. showing of I Was Born, But..., a Japanese silent film that paints a cheerfully jaunty yet bittersweet portrait of the financial and psychological trials of one family as told from the mischievous point of view of a pair of stubborn little boys. Frank Pahl and Little Bang Theory provide live musical accompaniment and Ichiro Kataoka (a traditional Japanese benshi, or silent film narrator) supplies the commentary.
Beauty Is Embarrassing is director Neil Berkeley's charming portrait of the strange and disarming world of designer Wayne White, best known as the creator of the off-kilter physical world of the Emmy award-winning TV series Pee Wee's Playhouse. A Thursday evening showing, January 17 at 7 p.m., has been added to the weekend time slots, Friday and Saturday at 9:30 p.m. and Sunday at 4:30 p.m.
A special evening honoring filmmaker Julie Dash, director of the acclaimed The Rosa Parks Story (which premiered at the DFT in 2002), takes place Thursday, January 24. During the evening, which is organized in cooperation with the Wayne State University Department of Communication, Dash introduces her 1991 classic Daughters of the Dust, a portrait of the Gullah culture of the islands off the coast of South Carolina and Georgia. She discusses both the film and her career with the audience following the screening.
For a complete schedule with dates, times, and other information for all films, visit the DIA website at www.dia.org/dft.
The DFT is presented by Buddy's Pizza.

Back to top
Lectures
There are many forms of decorative arts and as many ways to consider them. Catch lectures this month that explore two distinct approaches.
Reworking Fabergé: In Conversation with Alexander Caldwell
Alexander Caldwell has spent the past twenty-five years studying Fabergé and his methods to become a master at replicating Carl Fabergé intricate eggs, as evidenced by the Coronation Egg seen in the 2004 movie Ocean's Twelve. Caldwell reflects on his artistic responses to the work of the Russian jeweler in a talk at the DIA on Saturday, January 12, at 2 p.m. A showing of Ocean's Twelve follows. The lecture and movie are free with museum admission.
Sponsored by the Bernard J. Reilly Fund
The program is in conjunction with the exhibition Fabergé: The Rise and Fall, The Collection of the Virginia Museum of Fine Arts
A Handsome Cupboard of Plate: The Role of Silver in American Art and Life
Gerald Ward, the Katharine Lane Weems Senior Curator Emeritus of American Decorative Arts and Sculpture at the Museum of Fine Arts, Boston, looks at decorative arts from another time and place on Wednesday, January 16, at 6:30 p.m. This exploration of the ways Americans have used silver objects in social, and cultural, religious rituals celebrates the reinstallation of the DIA's collection of early American silver.
Sponsored by Associates of the American Wing and supported by the Ida and Conrad H. Smith Fund, which was established by the Raymond C. Smith Foundation Fund of the Community Foundation for Southeast Michigan
Coming February 1
Detroit: Living Inside the Forgetting Machine
Jerry Herron, professor of English and American Studies at Wayne State University, discusses Detroit and its relevance and meaning to history, public memory. and Americans' own sense of their past in conjunction with. the exhibition Motor City Muse: Detroit Photographs, Then and Now. The lecture takes place on Friday, February 1, at 7 p.m.
Sponsored by Forum for Prints, Drawings, and Photographs
Back to top
New Curator
The DIA welcomes Birgitta Augustin as the new associate curator of Asian art, beginning this month. A specialist in Chinese and East Asian art, Augustin was a research associate in the Asian art department at the Metropolitan Museum of Art in New York from 2005 to 2010. While there, she was a key member of the team that developed several major exhibitions, including The World of Khubilai Khan: Chinese Art in the Yuan Dynasty (2010) and Silk and Bamboo: Music and Art of China (2009). Prior to her position at the Metropolitan Museum, she served at the National Palace Museum in Taiwan and assisted in the preparation of an exhibition on Ming dynasty painter Hongren at the Museum of East Asian Art in Berlin.
Augustin studied Sinology; East Asian, Islamic, and European art history; as well as Chinese language and literature in Berlin, Munich, Taipei, Shanghai, and New York. She holds a Master of Arts degree from the Freie Universität, Berlin, and is completing her Ph.D. dissertation on Yuan Dynasty (1271-1368) painting and calligraphy at the Institute of Fine Arts, New York University.
Back to top
Detroit Institute of Arts
5200 Woodward Avenue
Detroit, Michigan 48202
www.dia.org
313.833.7900

Comments or questions about the newsletter? Please contact us: comments@dia.org

ADMISSION
$8 adults, $6 seniors, $4 children
The museum is free for members and residents of Wayne, Oakland, and Macomb Counties
Contact the Membership HelpLine at
313.833.7971 or membership@dia.org

For group sales (15 or more) contact 313.833.1292 or dia.org/grouptours

HOURS
Museum
Mon CLOSED
Tue, Wed, Thur 9 a.m.-4 p.m.
Fri 9 a.m.-10 p.m.
Sat, Sun 10 a.m.-5 p.m.

PARKING
Valet parking is available at the Farnsworth entrance during all open hours. The price per car is $10.

Lighted, secure self-parking is available in the Cultural Center parking lot, between John R and Brush, behind the museum.

Ford Second Sundays are generously supported by the Ford Motor Company Fund. Next Ford Second Sunday, January 13.

CaféDIA
313.833.7966
Tue, Wed, Thur 11:30 a.m.-2:30 p.m.
Fri 11:30 a.m.-2:30 p.m., 5-9 p.m.
Sat, Sun 11:30 a.m.-3 p.m.

Kresge Court Coffee Stop
Tue, Wed, Thur 9 a.m.-3 p.m.
Fri-Sun 10 a.m.-4 p.m.

Museum Shop
313.833.7944 or museumshop@dia.org
Open during museum hours or online at diashop.org
Connect with us!

Keep up-to-date with text messages about upcoming DIA events! Sign-up here.