Director's Letter
The City of Detroit and its environs seem to be a source of endless fascination for photographers. Earlier this year, we presented Detroit Revealed: Photographs, 2000-2010, an exhibition drawn from the DIA's permanent collection that featured artists who, although occasionally portraying the urban decay that Detroit has come to epitomize in the eyes of many, also stressed the continuity, the creativity, and even the quirkiness that is found in abundance.
Motor City Muse, opening on December 14, also takes a look at Detroit, again with images taken almost exclusively from our collection, but this time, over many decades and through the eyes of several generations of artists who represent very different approaches, attitudes, and goals. Where French photographer Henri Cartier-Bresson captures the ordinary moments of Detroit's working class as a phénomène américaine, Swiss-born Robert Frank took photographs in Detroit's most famous factory and turned a critical eye on the city's streets for his groundbreaking book, The Americans. Detroit's very own Bill Rauhauser has captured the essence of the people and places of Detroit for more than forty years, while Karin Jobst, a German here between 2010 and 2012, sees her work in a historical context and specifically relates it to that of fellow European Robert Frank. Dave Jordano created new photographs of sites he had photographed nearly forty years ago, not only to portray loss and decay, but to convey a city still full of life. Similarly, over two-plus decades, Russ Marshall photographed the city's workers, even as the fabric of their livelihood began to unravel. Photographs from Detroit's school of automotive photography illustrate the enormous care and thought that went into creating images that would compel people to want to buy cars. Nicola Kuperus uses her background in commercial auto photography to create baffling and ambiguous images not intended, she says, so much to parody the industry, as to convey her sense of the general absurdity of daily life.
The exhibition Fabergé: The Rise and Fall has been drawing good attendance, and I advise anyone who wants to see it not to wait until the last minute (the show closes on January 21). Even though we limit the number of visitors per hour more strictly than many museums and plan the installation with the viewing experience in mind, when an exhibition sells out, it's not as easy to see and linger around particular works. If possible, it's a good idea to visit special exhibitions mid-week and mid-afternoon when traffic is slightly lighter.

Graham W. J. Beal
Back to top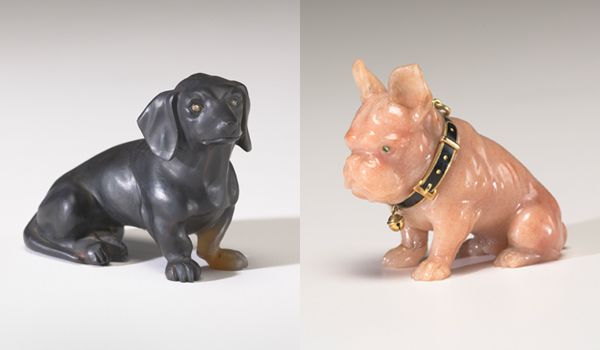 Exhibitions
Fabergé: The Rise and Fall,
The Collection of the Virginia Museum of Fine Arts
Through January 21, 2013
Special Exhibitions South
IS IT THE REAL FABERGE OR ONLY THE FAUXBERGE?
During his lifetime, Carl Fabergé was the envy of jewelers in Europe, who emulated and forged his luxury objects. His greatest competitor for the imperial Russian market was the Parisian Alfred Cartier, who began selling small animals carved in semi-precious stone to cash in on the popularity of figurines crafted by Fabergé. But the Frenchman's menagerie couldn't match the naturalistic details and lifelike quality of the Russian animals. Or, as Detroit Free Press critic Mark Stryker commented, he could have sworn that Fabergé's smooth-coated black dachshund carved from agate was about to start barking.
After the demise of the House of Fabergé during the Russian Revolution, the market was inundated with fakes and forged objects, to the point that Géza von Habsburg, leading Fabergé expert, says of any ten pieces sent to him for review, "more than nine are forgeries." He refers to these inauthentic pieces as Fauxbergé. As the consulting curator of the exhibition at the Museum of Fine Arts, Richmond, Von Habsburg and his research team scoured European archives for new clues about the origins of works on view, verifying their provenance.
Only six weeks remain to see the dazzling objects in this timed, ticketed exhibition, and advanced reservations are highly recommended. The week between Christmas and New Years will be extremely busy, as will the closing weeks of the exhibition. Complimentary reserved, timed tickets are available for members at the DIA Box Office, online at www.dia.org, or by calling 313.833.4005. Remember, there is no handling or service fee when ordering members' tickets. For more information, call the Membership HelpLine at 313.833.7971. Tickets for the general public are $15 for adults and $8 for children ages 6-17, available by the same means as above. Seniors receive $5 off admission on Tuesdays through December 18. See News and Notes below for discount coupon information
Above left: House of Fabergé, Russian; Dachshund, undated; smoky agate, ruby. Virginia Museum of Fine Arts, Richmond. Bequest of Lillian Thomas Pratt (photo: Katherine Wetzel. © Virginia Museum of Fine Arts)
Above right: Attributed to Cartier, French; French Bulldog, undated; aventurine quartz, gold, enamel, emerald. Virginia Museum of Fine Arts, Richmond. Bequest of Lillian Thomas Pratt (photo: Katherine Wetzel. © Virginia Museum of Fine Arts)
The exhibition is organized by the Virginia Museum of Fine Arts, in collaboration with the Detroit Institute of Arts. In Detroit, the exhibition is supported by the City of Detroit. Educational programming is provided by the GM Foundation.

Back to top
Motor City Muse
Detroit Photographs, Then and Now
December 14, 2012-June 16, 2013
Albert and Peggy de Salle Gallery of Photography
| | |
| --- | --- |
| | |
| Dave Jordano, American; Waiting Room, Michigan Central Station, Detroit, (top) 1973, and (bottom) 2010, Detroit Re-Photography Survey; pigment prints. Museum Purchase with funds from Nora Maroun. © Dave Jordano, 2012 | |
This exhibition presents work by photographers inspired by vintage automobiles, working men and women, and the neighborhoods, streets, and architecture of the city of Detroit. The images examine the complex and disparate nature of the city's history, diverse population, and culture as seen through the personal perceptions of individual artists. It is an eclectic mix of styles and subject matter unique to Detroit, represented by black-and-white as well as color photography.
Included in the "then" section are rare photographs of everyday city life: images by French photographer Henri Cartier-Bresson, who passed through Detroit in 1947; Swiss-born Robert Frank's images inspired by the city's factories, drive-ins, and diners from 1955; and Detroiter Bill Rauhauser's street photographs that capture the city and citizens from 1950 to 1980. The transformation of the city is represented by Dave Jordano, who photographed it in 1973 and then returned to re-shoot the same sites in 2010. Detroit's legendary love affair with the automobile is evident in early work of commercial photography innovators Jimmy Northmore and Mickey McGuire, among others. More than a generation later, Nicola Kuperus plays with these commercial classics by juxtaposing beautiful cars and models in questionable scenarios. German artist Karin Jobst rounds out the "now" section of the exhibition with impressionistic studies of familiar Detroit architecture and other sites around the city.
This exhibition has been organized by the Detroit Institute of Arts. Support has been provided by the Chrysler brand and Rock Ventures. Additional support has been provided by the City of Detroit

Back to top
Picasso and Matisse
The DIA's Prints and Drawings
Through January 6, 2013
Schwartz Galleries of Prints and Drawings
| | |
| --- | --- |
| | |
| Henri Matisse, French; Circus, Jazz, Plate III, 1943; pochoir. Gift of John S. Newberry. © 2012 Succession H. Matisse/Artists Rights Society (ARS), New York | |
Only a month remains to see this exhibition tracing the work of two modern masters known for their pioneering spirit, prolific production, and tireless inquisitiveness over their long careers. But the exhibition is as much about the small number of collectors who were catalysts in shaping the museum's collection as it is about the work of two pillars of modern art.
By outright gifts, the establishment of endowed art acquisition funds, and by significant bequests, three collectors--Dr. and Mrs. George Kamperman, John S. Newberry Jr., and Robert H. Tannahill--were directly responsible for the majority of the museum's works on paper by Picasso and Matisse. Among the masterworks that entered the collection through their generosity are Matisse's Jazz portfolio and 1919 drawing The Plumed Hat and Picasso's gouache Bather by the Sea and lithograph Composition with Vase of Flowers.
This exhibition has been organized by the Detroit Institute of Arts. Support has been provided by Comerica Bank. Additional support has been provided by the City of Detroit.

Back to top
Hidden Treasures
An Experiment
Through March 3, 2013
Walter Gibbs Learning Center in the Wayne and Joan Webber Education Wing
Check out this exhibition in the Gibbs Gallery before and after February 4 to participate in and see the results of an experiment on what stories visitors would like to see on labels. Eight works that had been tucked away in storage for years are on view without explanatory labels hanging beside them. But a few feet away are two stories about each work. Viewers are asked to choose which of the stories is the most meaningful. When the votes are tallied, the exhibition will close February 4 and reopen the next day as a more traditional exhibition with labels featuring the winning stories.
This exhibition is organized by the Detroit Institute of Arts. Support has been provided by the National Endowment for the Arts and Walter Gibbs Endowment Fund. Additional support has been provided by the City of Detroit.

Back to top
Detroit Film Theatre
The Detroit Film Theatre winds up the 2012 season with screenings of the documentary Kumaré, about a modern-day false prophet, and Neighboring Sounds, a story about life on a single block of the Brazilian city Recife.
Sri Kumaré is a guru from the East who has come to America to spread his teachings, finding a group of devoted students in Arizona who embrace him as a true spiritual force. But he plans to reveal a secret to his disciples: he is, in fact, not real, but a filmmaker from New Jersey named Vikram Gandhi who wanted to see if he could pull this deception off. The film plays Saturday, December 1 at 9:45 p.m., and Sunday, December 2 at 4:45 p.m.
Neighboring Sounds (left) peers into the lives of a group of middle-class families residing on a quiet street in a seaside area of Recife, unofficially ruled by an aging patriarch and his sons, and located not far from a low-income neighborhood. A private security firm is hired to police the street after some petty thefts, but the firm's presence soon becomes the catalyst that unleashes the neighbors' anxieties. Showings are Saturday, December 1 at 7 p.m., and Sunday, December 2 at 2 p.m.
The 2013 season begins Friday, January 18. For a complete schedule with dates, times, and other information on all screenings, visit the DIA website at www.dia.org/dft.
The DFT is presented by Buddy's Pizza.

Back to top
Holiday Cheer
The holiday season gets under way this year with the fortieth annual Noel Night on Saturday, December 1, a time when more than sixty Midtown venues, including the DIA, open their doors to the public free of charge for an evening of music and merriment. Festivities begin at 5 p.m. and run through 9 p.m., followed by the traditional Salvation Army band sing along on Woodward Avenue in front of the museum. Activities inside include a drop-in workshop featuring gingerbread puppets and seasonal music performed by the Festival Singers, Motor City Brass Quintet, Rhythm Society Orchestra, and the Mosaic Youth Theater. For more information on DIA events and parking tips, click here. Area-wide activities are available here.
Please note: the Fabergé exhibition is closed during Noel Night hours and there is no valet parking available throughout the day.
The spirits of the season are captured in three storytelling performances that touch on Hanukkah, Christmas, and Kwanzaa traditions. On Sunday, December 2, storyteller Judy Sima lights up the holidays with stories of miracles, menorahs, and magic dreidels. On Sunday, December 9, enjoy jolly interactive stories for children and cozy tales for adults from the European Christmas tradition performed by award-winning storyteller Yvonne Healy. And on December 16, join acclaimed storyteller LaRon Williams for folk tales exploring Kwanzaa themes. All performances are at 2 p.m. and free with museum admission.
| | |
| --- | --- |
| | |
For family entertainment during the week between Christmas and New Year's, catch special puppet performances or participate in a drop-in workshops. A Real Elephant, a microScope Toy Theater production (left) of a puppet play based on a Russian children's novel, tells the tale of Nadia, a little girl who has lost her passion for life, until one day she is inspired by a dream and makes a wish for a real elephant to visit her. This show for children ages four and older plays Wednesday and Thursday, December 26 and 27, at 2 and 4 p.m.
Migration, performed Friday and Saturday, December 28 and 29, at 2 and 4 p.m., and Sunday, December 30, at 2 p.m., explores the wonders of animal migration through the story of a Mexican girl named Beatriz and her own migration to the United States.
Children and their grown-ups can make a different puppet everyday in the drop-in workshops scheduled for the holiday week. Use tongue depressors, pencils, fabric, markers, gloves, and socks to create characters limited only by your own imagination. Workshops run from 11 a.m. to 6 p.m. Wednesday, Thursday, and Saturday, December 26, 27, and 29; noon to four p.m. on Friday, Sunday, and Monday, December 28, 30, and 31.
Special holiday hours are Wednesday and Thursday. December 26 and 27, 9 a.m. to 7 p.m.; Friday, December 28, 9 a.m. to 10 p.m.; Saturday and Sunday, December 29 and 30, 10 a.m. to 7 p.m.; and Monday, December 31, 9 a.m. to 4 p.m.
Back to top
Dining With the Tsars
House of Fabergé, Workmaster Henrik Wigström; Cup, 1908-17, nephrite, silver gilt, ruby, sapphire. Virginia Museum of Fine Arts, Richmond. Bequest of Lillian Thomas Pratt (photo: Katherine Wetzel. © Virginia Museum of Fine Arts)
Learn about the imperial Russian obsession with all things French in this talk about the tsars' taste in high cuisine and then sample typical fare at the reception following. Darra Goldstein, Francis Christopher Oakley Third-Century Professor of Russian, at Williams College, Williamstown, Mass., and founding editor and editor-in-chief of Gastronomica: The Journal of Food and Culture, discusses two hundred years of Russian haute cuisine from the introduction of European dishes in the 1700s by Peter the Great to its demise in the early 1900s, when the Russian Revolution brought an end to gastronomic glory.
The lecture, given in conjunction with the exhibition Fabergé: The Rise and Fall, is followed by an imperial Russian tea reception featuring loose-leaf black tea and a selection of sweet and savory Russian treats. Goldstein will sign copies of the thirtieth- anniversary edition of her cookbook A Taste of Russia, widely hailed as the "definitive modern cookbook on Russian cuisine."
The Saturday, December 8, lecture is free with museum admission; tickets for the following tea and reception are $15 for DIA members and $20 for nonmembers and can be purchased online at tickets.dia.org.
Sponsored by the Bernard J. Reilly Fund
Back to top
News and Notes
Coupons
Take advantage of coupons for discounted admission to the Fabergé exhibition, a free fountain drink at CaféDIA or Kresge Court, 20 percent off purchases at the Museum Shop, and a reduced price on new family plus memberships. Receive $5 off exhibition tickets purchased between Tuesday, December 11, and Friday, December 21. Tickets can be purchased for use on a later date (some restrictions apply), but must be bought during the specified time span. For more information on all coupons click here.
Mosaic Turns Twenty
Mosaic Youth Theatre celebrates its twentieth anniversary with a show that takes you on a journey through the company's repertoire. The singers and dancers present scenes and joyous songs from Now That I Can Dance, Crossing 8 Mile, Everybody's Talking, Magnificat, What Fools These Mortals Be, and other favorites. Only the Best runs December 14 to 16 at the DFT auditorium. For more information or to purchase tickets, click here.
Detroit Industry App
The multimedia tour of Diego Rivera's Detroit Industry murals is now available as a free downloadable app for iPad users. Just go to your app store and search for Detroit Industry or the Detroit Institute of Arts to download. Visitors may borrow an iPad to view the tour while in Rivera Court. The iPads are available at the Rivera Court information desk. It's also accessible through the DIA website.
Valet Parking
As of Tuesday, December 4, valet parking is available at the Farnsworth entrance during all museum hours, Tuesday, Wednesday, Thursday, 9 a.m.-4 p.m.; Friday, 9 a.m.-10 p.m., and Saturday-Sunday, 10 a.m.-5 p.m. The cost is $10.
And a reminder, there is no valet parking Saturday, December 1, before and during the annual Noel Night festivities.
Back to top
Year-End Contributions
As you may know, the recently approved millage is just the first step toward a financially stable DIA. We must now work to build our endowment. As you make your year-end charitable giving decisions, please remember that the millage is a temporary solution. We will continue to rely on the generous support of our friends through contributions to the Annual Fund and membership support in the years ahead.
Contributions to the Annual Fund keep the DIA operating while the museum awaits the first of the millage revenue sometime next year. Tribute and memorial gifts can be made at any time of the year, for any reason. A beautiful card is sent on your behalf to the individual or family being honored or remembered.
Art has the power to transform lives in both small and large ways, and your contribution in any amount does make a difference.
Back to top
Detroit Institute of Arts
5200 Woodward Avenue
Detroit, Michigan 48202
www.dia.org
313.833.7900

Comments or questions about the newsletter? Please contact us: comments@dia.org

ADMISSION
$8 adults, $6 seniors, $4 children
The museum is free for members and residents of Wayne, Oakland, and Macomb Counties
Contact the Membership HelpLine at
313.833.7971 or membership@dia.org

For group sales (15 or more) contact 313.833.1292 or dia.org/grouptours

CATERING & RENTALS
Call 313.833.1925 or
catering@dia.org

HOURS
Museum
Mon CLOSED
Tue, Wed, Thur 9 a.m.-4 p.m.
Fri 9 a.m.-10 p.m.
Sat, Sun 10 a.m.-5 p.m.

PARKING
Valet parking is available at the Farnsworth entrance on Fridays, Saturdays, and Sundays, during regular museum hours. Beginning Tues., Dec. 4, valet parking is available all open hours. The price per car is $10.

Lighted, secure self-parking is available in the Cultural Center parking lot, between John R and Brush, behind the museum.

Ford Second Sundays are generously supported by the Ford Motor Company Fund. Next Ford Second Sunday, December 9.

CaféDIA
313.833.7966
Tue, Wed, Thur 11:30 a.m.-2:30 p.m.
Fri 11:30 a.m.-2:30 p.m., 5-9 p.m.
Sat, Sun 11:30 a.m.-3 p.m.

Kresge Court Coffee Stop
Tue, Wed, Thur 9 a.m.-3 p.m.
Fri-Sun 10 a.m.-4 p.m.

Museum Shop
313.833.7944 or museumshop@dia.org
Open during museum hours or online at diashop.org
Connect with us!

Keep up-to-date with text messages about upcoming DIA events! Sign-up here.