Director's Letter
Since deep cuts in state support were put into effect in 1991, the DIA has been closed two days a week: Monday and Tuesday. It thrills me to say that because of the successful millage campaign, the DIA will, for the first time in more than twenty years, be open six days a week--just like almost all other U.S. art museums. We've opted to add Tuesday to our open days. We are also extending our hours, opening at 9 a.m., Tuesday through Friday. Although this was stimulated by the need to serve more school groups, it was pretty obvious that we may as well be open for everyone. We will continue to stay open until 10 p.m. on Fridays, and our hours on Saturday and Sunday remain 10 a.m. to 5 p.m.
It was tremendously satisfying to see the huge influx of visitors after the August election, most of them coming to see what--as one "no" voter put it to a colleague--his "tax dollars were buying" him. Of course, we all hope he liked what he saw and that he'll come back often now that there is no admission charge for residents of Wayne, Oakland, and Macomb counties. I grew up with free public museums, and this fact had a profound effect on my life. Obviously, I don't remotely expect the experience of a free DIA to cause radical changes on a wide scale, but I do hope that the easy availability of our galleries will help make the DIA seem a more natural part of daily life.
All of us at the DIA are grateful to those of you who supported our efforts to restore public support and give us financial stability for the foreseeable future. We are gratified that the new DIA was deemed to merit such support and, as we embark upon the daunting challenge of raising an adequate operating endowment, we hope to count on not only our friends, but also those who, on the grounds that all museums should be self-supporting, opposed our tax initiative. Along with Supreme Court Justice Oliver Wendell Holmes, I happen to believe that taxes are how we purchase civilization. I also believe that, in the United States today, the less cultural institutions rely on public funds--and, therefore, less subject to political winds--the better off we are. Achieving a self-sustaining funding model is our next big goal and, as with the millage initiative, we're going to need a lot of help.

Graham W. J. Beal
Back to top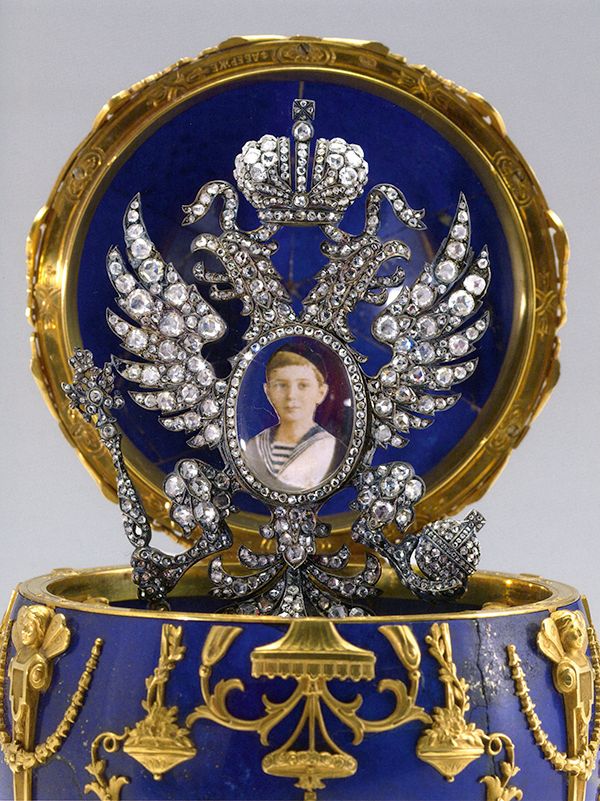 Exhibitions
Fabergé: The Rise and Fall,
The Collection of the Virginia Museum of Fine Arts
Through January 21, 2013
Special Exhibition Galleries: South
| | |
| --- | --- |
| | |
| House of Fabergé, Henrik Wigström, workmaster, Imperial Tsesarevich Easter Egg, 1912, egg: lapis lazuli, gold, diamond; frame: diamond, gold, platinum or silver, lapis lazuli, watercolor, ivory. Virginia Museum of Fine Arts, Richmond. Bequest of Lillian Thomas Pratt (photo: Katherine Wetzel. © Virginia Museum of Fine Arts) | |
Over the course of three decades, the House of Fabergé created fifty imperial Easter eggs for the tsars of Russia to give to the most important women in their lives. Of the forty-two known to have survived, five are part of this exhibition of more than 200 precious objects representative of the work of Carl Fabergé.
No two eggs are the same, and Fabergé had free rein in designing them as long as they included a surprise, featured a new theme each year, and would bring delight to the recipient. For the surprise to pop up when the egg was opened, Fabergé jewelers devised a spring mechanism so that when the lid is lifted, a lever and chain system elevates the platform holding a miniature statue. The platform lowers as the lid is closed.
It took Fabergé three years to make an ornate egg for Tsarina Alexandra containing a diamond-encrusted miniature portrait of her only son, Alexei, as the surprise. The watercolor portrait is painted on both sides of the pop-up ivory.
Advanced reservations are highly recommended for this exhibition. Complimentary reserved, timed tickets are available for members at the DIA Box Office, online at www.dia.org, or by calling 313.833.4005. Remember, there is no handling or service fee when ordering members' tickets. A special members only evening is scheduled for November 29, 5 to 9 p.m. For more information, call the Membership HelpLine at 313.833.7971. Tickets for the general public, adults $15, children ages 6-17 $8, are available the same way.
The exhibition is organized by the Virginia Museum of Fine Arts, in collaboration with the Detroit Institute of Arts. In Detroit, the exhibition is supported by the City of Detroit. Educational programming is provided by the GM Foundation.

Back to top
Picasso and Matisse
The DIA's Prints and Drawings
Through January 6, 2013
Schwartz Galleries of Prints and Drawings
| | |
| --- | --- |
| | |
| Henri Matisse, French; Yellow Dress with Black Ribbon, 1922; lithograph. Founders Society Purchase, Dr. and Mrs. George Kamperman Fund | |
Some of Picasso's earliest prints were the forays of a young artist and tentative printmaker preoccupied with circus performers, street people, the destitute, and the forlorn as his subjects. The DIA's examples are among the gifts and bequests of Dr. and Mrs. George Kamperman, who, along with donors John S. Newberry and Robert H. Tannahill, are responsible for the acquisition of 82 of the 110 objects in this exhibition.
The Kampermans' involvement with the museum spanned more than thirty-five years and included George Kamperman's service as president of the Founders Society from 1955 to 1956. Their first gift of five drypoints by Picasso in 1946 was part of a larger donation of more than eighty prints by artists of all schools and time periods. That initial gift was followed by another four prints by Picasso in 1964, made by Abigail Kamperman, known as Gonnie, in memory of her husband. Her bequest in 1972 included her last four drypoints, all of the same subject and time period as the earlier donations.
In addition to the early Picasso drypoints in the exhibition, two of Matisse's lithographs--the untitled depiction of a seated ballerina and another image of a woman seated in an interior, known as the Yellow Dress with a Black Ribbon, both from the 1920s--were acquired as a result of the Kampermans' largess.
This exhibition has been organized by the Detroit Institute of Arts. Support has been provided by Comerica Bank. Additional support has been provided by the City of Detroit.

Back to top
Hidden Treasures
An Experiment
Through March 3, 2013
Walter Gibbs Learning Center in the Wayne and Joan Webber Education Wing
We are asking viewers to decide what stories to tell about the eight paintings in this exhibition. All eight were tucked away in storage for years, awaiting conservation or further study. Research can unearth fascinating new information, but only a small sliver of it can appear on a label.
The exhibition is designed so visitors can look at the paintings without explanatory labels hanging beside them. But a few feet away are two stories about each work. Viewers are asked to choose which of the stories is the most meaningful. When the votes are tallied, the exhibition will close February 4 and reopen the next day as a normal exhibition with labels featuring the winning stories.
This exhibition is organized by the Detroit Institute of Arts. Support has been provided by the National Endowment for the Arts and Walter Gibbs Endowment Fund. Additional support has been provided by the City of Detroit.

Back to top
Detroit Film Theatre
Celebrate the opening of this year's Windsor International Film Festival (WIFF) on Wednesday, November 7, at 7 p.m., with a special evening of inventive and often ridiculously entertaining short films--half by Canadian filmmakers and half by Americans. Viewers have the opportunity to vote for favorites, as will Windsor audiences seeing the same films.
The feature-length documentary Marina Abramović: The Artist Is Present (left) reveals the inner world of a seductive, fearless, and outrageous artist, who has been redefining what art is for nearly forty years. Using her own body as a vehicle, pushing herself beyond her physical and mental limits--and at times risking her life in the process--she creates performances that are challenging, shocking, and moving. The film plays Friday, November 9 at 7 p.m., and Sunday, November 11 at 6 p.m.
Also playing Sunday, November 11, is The Tempest, filmed at a 2010 Stratford Shakespeare Festival production. This magical film stars Christopher Plummer as Prospero, the banished Duke of Milan, marooned on a distant island with his daughter, Miranda, played by Trish Lindstrom. The screening begins at 2 p.m.
Some of the most entertaining, witty, and creative examples of British filmmaking can be found in their incomparable and often startling television advertising. The British Television Ad Awards celebrating the best of this year's top productions is touring a limited number of major museums in the United States, among them the Walker Art Center in Minneapolis, the Museum of Modern Art in New York and, of course, the DIA, the weekend of Friday, November 16.
For more information on these films and the rest of the fall schedule, click here.
The DFT is presented by Buddy's Pizza.

Back to top
Fabergé Fun
There are Fabergé-related activities going on everywhere you look: in the museum, online, and in the community.
The Twilight of the Tsars film series continues on Thursday evenings at the DFT with feature-length and short films that form a living portrait of Russia at the end of the tsarist era up until the revolution, the same time period explored in the Fabergé exhibition.
Keeping to a Russian theme, there are two versions--one for kids, the other for adults--of Sergei Prokofiev's Peter and the Wolf, the fanciful musical tale of young Peter and his animal friends, scheduled in November. For the younger set, there's the National Marionette Theatre's production combining Prokofiev's music with stunning scenery and hand-crafted marionettes (left), running for the Thanksgiving weekend, November 23 to 25. The popular Brunch with Bach features a more traditional version of the story, performed by the Detroit Chamber Winds, with narration by Alex Trajano, on Sunday, November 18.
Look for Fabergé-themed holiday decorations gracing interior spaces throughout the museum beginning just before Thanksgiving. The Friends of Art and Flowers, who provide floral arrangements year round, have chosen aqua and gold brocade for the rounded decorations to match the colors of Fabergé's Miniature Easter Egg Pendant.
It's not too late to join the DIA's online book club discussion on the museum's Facebook page, Sunday, November 18 at 11 a.m. The book is Sashenka, a sweeping epic of Russia from the last days of the tsars to today's age of oligarchs. Click "like" on the Facebook page to participate.
Finally, when you're out and about in the community, keep an eye out for five large-scale chalk drawings of imperial-style eggs, designed by local chalk artist Greg Oberle, inside the windows of metro Detroit businesses. The eggs are drawn to appear three-dimensional on a two-dimensional surface. Each illustrated egg represents a different facet of Michigan's economy during the time when the House of Fabergé was at the height of its success. The eggs will be on view through the end of the Fabergé exhibition. Click here for the various locations.
Back to top
New DIA Bulletin
The latest issue of the Bulletin of the Detroit Institute of Arts, a journal for new research on the museum's collection, is devoted to African American art and is available in the Museum Shop. With an introduction by Valerie J. Mercer, curator and head of the GM Center for African American Art, the volume contains more than fifty entries on works dating from the nineteenth century to the twenty-first. The Bulletin is priced at $15, $13.50 for members.
Back to top
Double Discount
The Museum Shop's semiannual members' Double Discount Days run from Friday, November 2, through Sunday, November 11, doubling the member discount to 20 percent at the Museum shop, the recently opened Fabergé venue at the end of the exhibition, and online.
In the Fabergé exhibition shop, find everything from an assortment of decorative eggs in wood, etched glass and crystal, and enameled metals, as well as hand-decorated real goose and pigeon eggs, to luxurious frames, jewelry boxes, lacquered boxes, Matryoshka (nesting dolls), icons, and Santas. Fabergé-inspired pendants, earrings, and cufflinks are also available, as is the exhibition catalogue.
Stop at the Farnsworth Lobby Museum Shop for a wide range of gifts and personal items, including jewelry, handbags, wallets, scarves, stationery, children's toys, educational items, and craft kits. Or "shop local" and select products made by Detroit and Michigan artists.
Back to top
Save The Date
Join the Revolution on Saturday, November 10, and be a part of the Fabergé Gala Celebration at the Detroit Institute of Arts. The evening festivities get under way at 9 p.m., featuring an exclusive viewing of the exhibition Fabergé: The Rise and Fall and a private cocktail reception with hors d'oeuvres by Forte Belanger. At 9:30, guests will join the Revolution on the dance floor, enjoying dessert, late night fare, dancing, cocktails, and a vodka bar. Tickets are $125 per person. Complimentary valet parking available at the Farnsworth entrance. To purchase tickets, call 313.833.4005 or order them online.
Thank you to Kenwal Steel Corp, our Revolution sponsor.
Back to top
New Hours
As Director Graham Beal mentioned above, beginning Tuesday, November 13, the DIA will be open six days a week. Tuesdays through Thursdays, the museum is open at 9 a.m. until 4 p.m. and on Fridays 9 a.m. until 10 p.m. In conjunction with the new operating hours, the Kresge Court Coffee Stop will open an hour earlier, Tuesdays through Fridays, at 9 a.m. Hours for CaféDIA remain the same, as do the hours of operation and food service for Saturdays and Sundays.
Back to top
Detroit Institute of Arts
5200 Woodward Avenue
Detroit, Michigan 48202
www.dia.org
313.833.7900

Comments or questions about the newsletter? Please contact us: comments@dia.org

ADMISSION
$8 adults, $6 seniors, $4 children
The museum is free for members and residents of Wayne, Oakland, and Macomb Counties
Contact the Membership HelpLine at
313.833.7971 or membership@dia.org

For group sales (15 or more) contact 313.833.1292 or dia.org/grouptours

CATERING & RENTALS
Call 313.833.1925 or
catering@dia.org

HOURS
Museum
Mon, Tue CLOSED
Wed, Thur 10 a.m.-4 p.m.
Fri 10 a.m.-10 p.m.
Sat, Sun 10 a.m.-5 p.m.

PARKING
Valet parking is available at the Farnsworth entrance on Fridays, Saturdays, and Sundays, during regular museum hours. The price per car is $10.

Lighted, secure self-parking is available in the Cultural Center parking lot, between John R and Brush, behind the museum.

Ford Second Sundays are generously supported by the Ford Motor Company Fund. Next Ford Free Sunday, November 10.

CaféDIA
313.833.7966
Wed, Thur 11:30 a.m.-2:30 p.m.
Fri 11:30 a.m.-2:30 p.m., 5-9 p.m.
Sat, Sun 11:30 a.m.-3 p.m.

Kresge Court Coffee Stop
Wed, Thur 10 a.m.-3 p.m.
Fri-Sun 10 a.m.-4 p.m.

Museum Shop
313.833.7944 or museumshop@dia.org
Open during museum hours or online at dia.shop.org
Connect with us!

Keep up-to-date with text messages about upcoming DIA events! Sign-up here.