Greetings!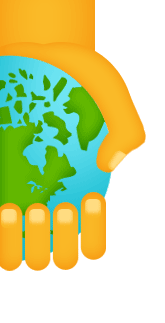 Earth Day is April 22 and a great opportunity to take a moment and think about the impact of your business on our environment, how you can be more "green", and capitalize on the opportunities a more aware customer can bring to your business.

WBS has an entire section on Going Green for business - we've highlighted some quick tips, and resources for you in this newsletter to get you going.

Visit WBS online now >
Earth Day

Earth Day is the perfect jumping off point for small businesses to start going green

As Earth Day approaches, many business owners are looking for ways to help out Mother Earth, and what better way than having their business go green?
Greening Your Small Business

The idea of making a business green is not without controversy. Some argue that the concerns over global warming are exaggerated and that efforts to change behavior to reduce human impact on the Earth's environment are unnecessary. Debate rages in the scientific community, as well, over the idea that humans are causing environmental degradation and that something needs to be done to reduce the damage.
Whether it is belief in these warnings or just recognition of a business opportunity, companies in the U.S. and elsewhere have begun to embrace the green movement with increasing fervor.
Book Recommendation:
Green to Gold: How Smart Companies Use Environmental Strategy to Innovate, Create Value, and Build Competitive Advantage
by Daniel C. Esty
Marketing Your Business

The Web provides a "earth-friendly" way to market to your customers
Hundreds of millions of people have already created accounts with Twitter, Facebook and LinkedIn, and thousands more are signing up every day. Chances are good that your target market is using those sites as a way to connect with people and brands. It's a great time to create a profile for your business and use these sites to your advantage.
Social media profiles may not cost you any cash, but there is a time commitment. Since using the sites effectively is all about building relationships, you need to narrow your ambitions to fit your available time.
Human Resources

Survey looks at healthcare bills affecting small businesses
The Patient Protection and Affordable Care Act is closer to becoming a reality, as the Supreme Court will hear opening arguments this week. However, most small business owners have not made any changes in their plans because of the case, according to a survey from eHealth, Fox Business reports.

The Small Employer Health Insurance Survey questioned 236 small business customers to see where the companies stood on the proposed new bill and if they believed small business challenges would arise because of it. This bill will require businesses with more than 50 employees to provide health insurance for their employees.
Learn More >
Business Speak

Small opportunities are often the beginning of great enterprises.
Dennis Conner
WBS Mission

The mission of Winmark Business Solutions is to support businesses by providing:
Innovative solutions to everyday problems
Financing for entrepreneurs
Education on starting, managing and selling your business
FREE resources for business critical needs all in one place
Forward this email to friends and colleagues!
Small Business Poll
Which "green" actions do you think will be most impactful?

WBS Marketplace
Check out the top-sellers in the
WBS Marketplace
$15.56
$13.93
Tip of the Month
5 Easy Steps to 'Green' Your Business
Turn off lights, computers & other electronics when not in use
Use compact fluorescent light bulbs
Lower thermostat by a few degrees for winter & raise it by a few degrees for summer
Use electronic-only documents whenever possible
Refill printer ink cartridges rather than buy new ones