BNP Paribas Open


All local residents are eligible

to receive a

30% discount
on Loge tickets (3/9/11 - 3/18/11).
BNPPO Senior Cup
March 21 - 24, 2011
Spread the word...the 18th annual Senior Cup event will now be the BNP Paribas Open Senior Cup,
click here for more information and to sign up a team!
January Event
SCTA/USA Team Tennis Championships
January 22-23, 2011
Raquet Donation
Donate your used racquets to the Indian Wells Tennis Garden Pro Shop to benefit the National Junior Tennis Learning network of the Coachella Valley.
Contact Information

Indian Wells Tennis Garden
78-200 Miles Avenue
Indian Wells, Ca. 92210
Pro Shop: (760) 200-8200
Click here to email us!

Member Newsletter
Friday, January 21, 2011



Special Announcement

Congratulations to Nancy Hobaugh as the new Pro Shop Manager. Since 2004, Nancy has been a key member of our staff. We are pleased her position will allow her to continue growing and promoting the club membership while providing quality service to all members. Join us in giving Nancy a "Shout Out"!


2010 SCTA Section Championships
Congratulations to Chuck Collins, Bill Cook, Donna Ringer, Lonnie Wong and their teammates for their outstanding performance on the tennis courts last weekend. Lonnie Wong (Women's 7.0) and Bill Cook (Men's 8.0) will advance with their teams to the

2010 Super Senior National Championships in Surprise, Arizona during the months of April/May 2011.



Women's 7.0 Super Senior Team:


Captain Lonnie Wong, Barb Builfant, Beverly Maguire, Jean Schwartz,

Judy Hobbs,

Paulette Meany,

Sonnja Kennedy and

Vickie Lord.



Men's 8.0 Super Senior Team:


Captain Bill Cook, Dick Frankel, Dick Hesselink, George Balch, Jesus Pacheco, Jim Legarra, Joe Schluchter, Pete Smith and Ron Toussaint.
Super Bowl Mixer
Sunday, February 6, 2011
Time: 10am - 12pm
Attention sports fans! Sign up for the Super Bowl Mixer at the Pro Shop. Helmets and pads optional!
Coachella Valley Grand Prix Tournament
February 11-13, 2011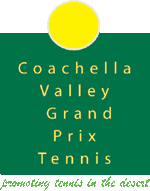 Entry deadline: February 1, 2011
The Coachella Valley Grand Prix is a series of adult doubles tennis tournaments. Players individually accumulate points at each event they play, which establishes a computer ranking amongst other participating local players in all NTRP divisions from 3.0 to 6.0 (Open) for Men's, Women's, and Mixed Doubles. For more information on how you can participate click here.



4th Annual Share The Love Charity Event
Monday, February 21, 2011

Entry deadline: February 10, 2011
Mark your calendars now for the 4th Annual Share the Love Charity Event which will be held at the Indian Wells Tennis Garden. Proceeds will benefit the The Coachella Valley's 'wish kids' of the Make-A-Wish Foundation
®
. For more detailed information regarding this event and how you can participate, please click here.
Indian Wells Tennis Garden Club Championships
February 25-27, 2011 and March 17, 2011
Attention members: The Indian Wells Tennis Garden encourages you to participate in the 2011 Club Championships. Enter to win for a chance to play during the BNP Paribas Open. Events include Men's and Women's 3.5, 4.0 and Open singles. This event is included in your membership...sign up today!

Rally, Round Up & Recycle
Now - Monday, February 28, 2011
Bring your old tennis balls to the tennis shop and help the BNP Paribas Open and reBounces in the "green" initiative to keep tennis balls on court and out of landfills. The goal is to collect 100,000 or more. Mother Earth will thank you!