New Member Welcome

Welcome the newest members of the IWTG Club family:
Scott & Kathleen Heidbrink


Brian O'Neil

Shelley Bergman

John & Megan Shapiro

Linda & Charles Stricker

Ashley Jolin

Tom Stone

Returning Member:
Janet Pollish


January Events
SCTA/USA Team Tennis Championships
January 8-9, 2011


SCTA Doubles Section Championships
January 14-16, 2011


SCTA Super Seniors Sectional Championships
January 16-17, 2011


SCTA/USA Team Tennis Championships
January 22-23, 2011
IWTG Site-map
Contact Information

Indian Wells Tennis Garden
78-200 Miles Avenue
Indian Wells, Ca. 92210
Pro Shop: (760) 200-8200
Click here to email us!

Member Newsletter
Friday, January 7, 2011



Special Thanks
To all of you who sent gifts to the Pro Shop staff this holiday season, we were extremely touched by your generosity, thank you.

Most importantly, we would like to extend our sincere thank you to all our members who have been patient with the renovations that are being made to the facility. Watkins Landmark Contruction is working hard so that you may enjoy the newest practice courts, lighting, and built-in seating scheduled to be completed by February 2011.

Please visit the Indian Wells Tennis Garden website for all of the latest updates. Click on the image above for new updates
and click here for the new site-map.
Super Bowl Mixer
Sunday, February 6, 2011

Attention sports fans! The time has come for the football extravaganza of the year...the 2011 Super Bowl game! Sign up for the Super Bowl Mixer at the Pro Shop.

Coachella Valley Grand Prix Tournament
February 11-13, 2011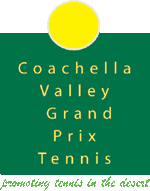 The Coachella Valley Grand Prix is a series of adult doubles tennis tournaments. Players individually accumulate points at each event they play, which establishes a computer ranking amongst other participating local players in all NTRP divisions from 3.0 to 6.0 (Open) for Men's, Women's, and Mixed Doubles. For more information on how you can participate click here.



Share the Love
Monday, February 21, 2011
Mark your calendars now for the 4th Annual Share the Love Charity Event which will be held at the Indian Wells Tennis Garden. Proceeds will benefit the The Coachella Valley's 'wish kids' of the Make-A-Wish Foundation
®
. For more detailed information regarding this event and how you can participate, please click here.
BNP Paribas Open Senior Cup
March 21 - 24, 2011
We are proud to announce our newest addition to the BNP Paribas Open family - the Palm Desert Senior Cup. Yes, that's right! The 18th annual event will now be the BNP Paribas Open Senior Cup, with George Anich, founder and Tournament Director still at the helm! Click here for more information and to sign up a team!

Friendly Reminder: Ball Machine


Now that the busy season has arrived, ball machine usage is in high demand. Please do not add your personal tennis balls to the machine. If you should encounter any problems while practicing, please contact a Pro Shop staff member.
Please help preserve the equipment so that we may better serve you and help you get the most out of your membership.