May 2009

Welcome to InSight
!
Greetings!

Welcome to Insight! Each month, we will report on issues that effect your bottom line and will help you become a more effective trade marketing manager. In each issue, you will learn you how to see your data better. There's a way to get more information from the data at your finger tips. We will be covering topics such as Trade Promotion Effectiveness, Data Visualization, Consumer Segmentation, and Location Intelligence. We'll even throw in some cool analytic tips and tricks. You are on your way to getting the most from your trade spending.
Trade Marketing in an Economic Downturn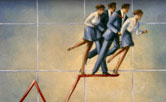 In the Fast Moving Consumer Goods/ Consumer Packaged Goods (FMCG/CPG) industry, one of the last bastions of efficiency is the trade promotion budget.
Over the years, trade marketers have been spending more and getting less return on that spending investment. In an economic downturn, every penny counts. You have got to improve the bang for the buck on your marketing spending. The easiest way to get more efficient, is to improve your trade promotion effectiveness. You can drive better ROI on your trade promotions, but it will require a paradigm shift to a consumer centric and fact based process.

In tough economic times, companies that hone their consumer segmentation and targeting skills, will come out of the economic slowdown with an increased consumer base. The trick is to break down who your best consumers are, find out what motivates them to purchase, and measure the key purchase dynamics (penetration, frequency, and buying rate).

Read more about...
Trade vs. Shopper Marketing...

What's Driving Your Brand?

The buzz word of the day is Shopper Marketing and today's discussion is whether Shopper Marketing is replacing Trade Marketing. Do you know how to optimize both disciplines to drive your brand's strength?
A.G. Lafely's (CEO of Proctor & Gamble) latest philosophy was to move away from trade spending in favor of shopper marketing to improve ROI. P&G has taken the approach to reduce or do away with trade spending over the past 30 years. Several years ago, P&G made a bold industry announcement that they would suspend or greatly reduce trade spending in favor of a lower FOB price, only to come back with trade spending against their lower delivered price - within the same year.
The Doctor Is In

Years in the trade marketing trenches have taught
Rick
to understand the consumer. He knows who they are and how to reach them.
His is able to target consumer segments and reach them with specific marketing messages.
Rick utilizes spatial analysis to define opportunities and trends. He has developed tools to identify sales opportunities and measure spending effectiveness.
The trade marketing "doctor" has worked across a number of consumer goods industries including Beverages, Tobacco, DIY, Consumer Electronics, Sporting Goods, Snacks and Frozen Foods.
If you are seeking a resource to help drive a more consumer centric and fact based approach to your sales and marketing efforts, please contact him.
FYI:
Covey's Habit #7
"Sharpen the Saw"
Dr. Stephen Covey, best-selling author of the Seven Habits of Highly Effective People, tells us that the seventh habit is to "sharpen the saw." It is a habit of constantly renewing yourself with self-directed learning. Sharpen your Trade Marketing and Data Visualization saw with Insight.

.