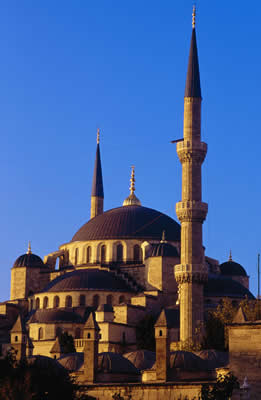 Most Bibles include maps. You simply cannot understand either the stories of the Hebrew Scriptures or of the New Testament without maps. For the stories are always about journeys. Abraham and Sarah left Haran and went to Canaan. Moses led the people out of Egypt and into the wilderness. Joshua led the people across the Jordan into the Promised Land. King Cyrus forced the people to leave Jerusalem and go into exile in Babylon. Mary and Joseph had to travel to Bethlehem, before fleeing to Egypt. Jesus and his followers travelled to countless towns and cities. Even the resurrected Jesus took a walk down the road to Emmaus and told his disciples to keep moving - to go and spread the word. And so began a whole new series of journeys as the gospel spread to all the corners of this earth .
However, it is not just our spiritual ancestors who journeyed. We often need maps to tell the stories of our own families. For instance, my mother was born in Kenya and my father was born in England. I moved as a young child from England to Canada and eventually married a man who was born right here in Calgary but whose father was born in Hong Kong. Our first child was born in Toronto and our second here in Calgary.
However, as telling as the physical journeys we take in life are, what we are going to focus on during the next eight weeks are the inner journeys each of us take. Most of us at St. Laurence are 'settled' and only set out on great journeys as vacations - not as great life changing events. But time after time - even when we don't set out to go anywhere at all - Christ still comes and calls us to follow. More often than not we are called to follow him to places we would rather avoid. We are called to journey through illness, loss, career changes and family changes. We are called to see things about ourselves and our world that we didn't want to see. We are called to grow in our relationship with God and with one another. We are called to build relationships with people we thought we had nothing in common with.
Over and over again in all four gospels we hear Jesus calling people to follow him. There are at least seventeen passages where he invites people to follow him. Conversely, there are only two instances where Jesus invites people to believe in him Both of them come in John's gospel - widely regarded to be the latest and least historically accurate of the gospels. It is no accident that the earliest Christians were not called Christians at all but followers of the way.
Over the next eight weeks I look forward to exploring with you what it means to be a follower of the way in our time, in our place - with all the various joys and struggles that we face right here, right now. I am so pleased that on January 23 Carolyn Foard and Elizabeth McLennan are going to share a bit of what it is like to journey with depression. January 30 Richard Odland is going to talk about journeying with disease (in his case MS). In February Jim Dolph will speak about his journey of grief since losing his son. I hope that more of you will come forward and offer to share and reflect upon your own journeys.
All of our journeys are filled with joy and struggle. None of them go as planned. All of them are holy. None of us journey alone. God is always with us and the saints of God are our constant companions.