Join Our List

Our Offices
Atkins-Kent Building, Suite 101
W. Orange, NJ 07052
973-736-1100
33 Overlook Rd.
MAC Building
Suite 108
Summit, NJ 07901
908-522-4558

731 Broadway
Bayonne, NJ 07002
Clark, NJ 07066

Physicians
Robert J. Rubino,
Audrey A. Romero, M.D., F.A.C.O.G.
Lisa Abeshaus,
M.D., F.A.C.O.G.
Jacqueline Saitta, M.D., F.A.C.O.G.
Allan D. Kessel,
M.D., F.A.C.O.G.
Howard D. Fox,
D.O., F.A.C.O.G.
Sabina Cherian,
M.D., F.A.C.O.G.
Heavy, Painful Periods?
Dr. Rubino is nationally recognized for his expertise on Her OptionŽ
Cryoablation,
15-minute,
in-office procedure.
Click here to find out more.
EssureŽ is a simple, non-invasive,
10-minute office procedure for permanent birth control (tubal ligation).
Click here
to see if Essure is

right for you.
Sign up for your PHR (Personal Health Records) - right on our website:
Click here
Medical Fact
"I didn't know that!"
The average human bladder can hold 13 ounces of liquid.
We are into the final month of summer, which is often the most popular month to travel. In this issue of our newsletter, we offer some safety travel tips and reminders in our "Healthy Living" section.

We also discuss an often misdiagnosed condition called Interstitial Cystitis and provide detailed information on menstrual cycles. Our "Meet the Staff" this month features Dr. Howard Fox. And you'll find a new interesting "Medical Fact".
We wish you and your family a great rest of the summer!
As always, we will continue to provide topics that are current, informative and important to your good health.

Sincerely,

Robert J. Rubino, MD and Staff
Interstitial Cystitis - What is it?
Interstitial Cystitis, also referred to as "bladder pain syndrome" is a long term, chronic inflammation of the bladder wall.
IC includes recurring pelvic pain, pressure or discomfort in the bladder
and pelvic region often associated with the urge to urinate often and quickly. It is frequently misdiagnosed as a urinary tract infection.
IC can have a severe and debilitating impact on quality of life. The cause is unknown.
IC can effect women and men of any age and background. Previously associated with menopausal women, a growing number of women and men are being diagnosed in their twenties and younger. It is commonly diagnosed around age 30-40. Women are 10 times more likely to have IC then men.
Symptoms include: urinary discomfort, frequency and urgency, pelvic pain and pain during intercourse.
Diagnosis of IC is made by ruling out other causes. The following tests might be performed: bladder biopsy, endoscopy of the bladder, urine analysis, culture and cytology and video urodynamics to see how much urine your bladder can hold before you feel the need to urinate.
Treatment - there is no known cure for IC. Treatment is typically based on trial and error until a solution is found. Treatment options include:
Elmiron - the only oral medication used for IC
Opioid painkillers for severe pain
Anti-depressants to relieve pain and urinary frequency
Vistaril - an antihistamine that causes sedation and helps reduce urinary frequency
Bladder training and/or hydrodistention
Medications placed directly into the bladder
Physical therapy
Surgery
It is often found that diet modifications can help control symptoms by avoiding foods that cause irritation. Foods to avoid could include: aged cheeses, alcohol, artificial sweeteners, chocolate, citrus juices, coffee, cranberry juice, beans, meats processed with nitrites, most fruits, onions, rye bread, foods with MSG, sour cream, sourdough bread, soy, tea, tofu, tomatoes and yogurt. It is suggested to eliminate these foods one at a time to gauge the level of improvement.
If you think you might be suffering from IC, or have additional questions, please make an appointment for an exam.
Menstrual Periods - When, How and Why
A menstrual period is vaginal bleeding that occurs in adolescent girls and women due to hormonal changes. The main purpose of a
menstrual cycle is for reproduction. The bleeding that occurs is when an egg is not fertilized, the uterus sheds its lining. Menstrual cycles typically happen monthly and it is the first sign a girl is becoming a young woman.
When do they begin?
A menstrual cycle can begin as early as age 8 and as late as 15-16 years old. On average, it begins around age 11-12. Signs your menstrual cycle may be coming is breast development and pubic hair growth - which are both signs of puberty. A cycle will usually begin approximately 2 years after these symptoms.
What is a normal menstrual cycle?
One that occurs typically every 28 days, but often vary between 21 and 35 days (on average, once per month around the same time every month)
Lasts from 4-7 days
Periods that become regular after 2 years - typically, periods are irregular in the beginning
Regular cycles over 3 months (bleeding that is in the same pattern each month)
What is an abnormal menstrual period?
If you have not yet experienced your first period by age 15-16
No menstrual period and no breast development by age 13
Periods that occur less than every 21 days or are 45 days or more apart
Periods that last for more than 7 days
Bleeding that requires changing a pad or tampon every 30-60 minutes for 3-4 hours in a row
Bleeding between periods
Missing a period after several regular periods
Severe pain during your menstrual cycle or is accompanied by nausea, vomiting or diarrhea
An abnormal menstrual period can be a sign of pregnancy if you are sexually active. The most common reason for abnormality is the failure of an ovary to releases an egg regularly due to stress, weight changes or illness or hormone problems.
How do you fix an abnormal period?
During an appointment in our office, your doctor will review your medical history and ask questions about your menstrual period and frequency. If you are sexually active, you may be given a pregnancy test or blood tests. If you have heavy and/or painful menstrual cycles, your doctor will discuss several non-invasive solutions to resolve the issue.
If you have any questions or concerns regarding your menstrual cycle, please make an appointment with our office.
August is the most popular month for a vacation. There are some important health and safety tips to remember whether you are traveling locally,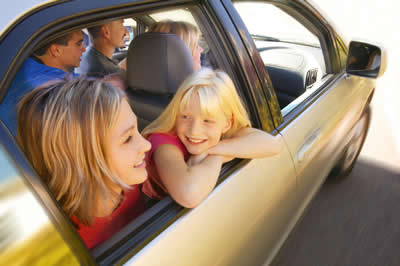 across country or abroad.
If you are traveling somewhere that is unfamiliar it is a good idea to understand how to navigate around, do preliminary research on where you are traveling and know where to go in case of an emergency. Know where the local hospitals are and have access to your digital health records (i.e.. Personal Health Records available on www.RubinoOBGYN.com) or bring a copy of your records with you. You should also travel with a well equip safety and/or first aid kit.
Other tips for traveling:
Ensure someone knows where you are going to be at any given time in event of an emergency
Leave your contact information with a family member or close friend
Have a charged cell phone ready and handy at all times in case of an emergency
If traveling internationally, ensure you are up to date on all your vaccinations and immunizations if needed, including a tetanus shot
Refill and bring all required medications with you
Travel with your medical cards
Bring a list of important serial numbers and IDs so you can access your information while away
If you are traveling on long drives or flights, get up and move around to avoid blood clots
Ensure you have sun protection and insect repellent
Drink bottled or carbonated water in locations that are known for dysentery and related traveler diseases and drink water often to avoid dehydration
If you are traveling with young children, be sure you know where they are at all times and have them travel with identification on them in case of an emergency
You can also check the Center for Disease Control and Prevention website for travelers' health topics and to learn of any endemic infections at your destination.
And most of all, enjoy your time away!
Meet the Staff
This month we highlight, Dr. Howard Fox.
Dr. Fox completed his Ob/Gyn residency training at Nassau County Medical Center on Long Island. Since then, he has been in private practice in Clark, NJ for 36 years, including the past 1 1/2 years with The Rubino OB/GYN Group.
Dr. Fox was the past chairman of the Department of Ob-Gyn at Union Hospital and held the same position for many years at Robert Wood Johnson Hospital at Rahway. Presently, he is on the medical advisory panel for the RWJ Rahway Fitness and Wellness Center.
Dr. Fox has published multiple articles in Ob-Gyn specialty journals.
With his many years in practice, he still continues to enjoy the doctor-patient relationship and interaction.
Dr. Fox resides with his wife in Scotch Plains, NJ and has three grandchildren. He is an avid sports fan and enjoys hiking, bicycling and skiing. Go Yankees!
Office Announcements
Coming Soon to Bayonne
The Bayonne office is moving to a new, state-of-the-art location on Broadway. Stay turned for the formal announcement.
vitaMedMD Vitamins
The Rubino OB/GYN Group is now offering vitaMedMD™ in all 4 office locations. VitaMedMD offers patients high quality physician recommended products at an affordable price. Available products include Women's Multivitamin, Prenatal Plus, Prenatal One, Menopause Relief and Iron 150.
Emmi Video Tutorials
Emmi is a free, online video tutorial that makes complex medical information simple and easy to understand. Emmi provides clear and concise step-by-step information on common health topics and procedures right on our website. Click here to find out more.
Save Time with Online Appointments, Consultations &Personal Health Records
To schedule online appointments, consultations or view your personal health records at your convenience

, just visit the home page of
www.rubinoobgyn.com
. You can also call 973-736-1100 now to schedule an appointment at any of our four locations.

"Important Announcements" on Our Website
You can find important new developments and time-sensitive announcements (such as office closings) right on the upper right hand portion of our
home page
.
Enterprising Patients
If you would like to add your business or service to the website,
please e-mail us at network@rubinoobgyn.com.
Products Available on Our Website
For more information visit the products page on our website.