Learning opportunities are everywhere, and you'll find plenty of ideas for fun, summer learning in the July issue
of The Old Schoolhouse® Magazine.
Read it online or on the go by downloading the free mobile apps.


Come Do Your Homework with TOS . . .
Click here to learn more!


-------------
"I love the new TOS app! So convenient. So quick. All the encouragement I need at my fingertips . . . any place at any time."
--SpunkyHomeschool
-------------
I've enjoyed the magazine, the emails that come out on Wednesdays, the website that has some great stuff on it, and now Schoolhouseteachers.com. Not only are they good resources and very encouraging, but the writers and the customer service people I've contacted for various things have been extra nice.
--Carla Earley, Tallahassee, Florida
-------------
Thanks ever so much. I love the encouraging articles! I really loved the list of 25 all in one place. Nice to have this little bit of "free" encouragement in my mail. I don't have funds to subscribe or purchase frills and with also working more than half time I don't have time to search it out. May God bless you exceedingly.
--Teresa, rural Kansas
-------------
The Old Schoolhouse® has MORE for you!
Check out these resources:
Who We Are:
The Old Schoolhouse

®

Magazine


July 11, 2012





Let's Homeschool OUTSIDE!



Greetings!
Deborah Wuehler and family
What some call summer fun outdoors, homeschool moms call homeschooling outside. Why? Because we watch the children learn and grow through what they experience on a daily basis -- whether that is in the house in front of a book or outside digging for worms. Our kids live a full life when they are given the time to investigate their world and engage in creative play.
Work is also good for kids, and summertime is a great time to get out and work. Some days our kids are seen digging a trench from the front yard around to the backyard in order to put water pipes in the ground for a sprinkler system. They are learning to fix bikes themselves, learning how to marinade and barbecue meats, learning to fix a tree swing, how to set up a tent, and how to feed a baby bird.
Sometimes the working is just as satisfying as the playing. When they are outdoors, there are so many possibilities for both. Many times, the kids will play outside, and then we will look things up when we get inside. The learning never stops. From birth to death, we have been given the gift of life to live, learn, and explore just who God is and why He made what He made. I found a children's hymn that I love that sums up why we were made--here is a bit of the lyrics:
Why was a cup made?
To have a drink inside it.
Why was a shoe made?
To have a foot inside it.
Why was an envelope made?
To have a letter inside it.
Why were you and I made?
To have God's life in us.
Our purpose is to hold the life of God within us, just like a hand in a glove. We are useless without Him. Maybe if we teach our kids this truth this summer--through all their work and play--they won't need to learn much else.
And what is Mom doing this summer? I would guess that you are doing like me and probably planning the academics for this next school year. At least that is the plan, but this mom has been living too much life this year to plan the next yet. Maybe next week. I have the greatest ideas of how and what I am going to do next year, if I could just break away from the work and play to get it all down on paper. I know though, that as I wait to make my plan, I am bathing it all in prayer. Since we are nothing without Him, we need His guidance in what to put in our kids that will draw them ever closer to their Savior next year. When you think about next year's academics, think about this question: "Why were you and I made?" and then let the answer be evident in your plans for the coming school year.
God bless you and your families as you continue to keep your children Home Where They Belong.
~Deborah
TOS Senior Editor
World Atlas is an educational resource for home school students and teachers as it provides in-depth geography information, as well as free up-to-date maps of capital cities, continents, countries, landforms, provinces, states and much, much more . . .

Jim Hodges Audio Books has sold over 55,000 unabridged recordings of the G. A. Henty historical novels. But you can get one free!
http://jimhodgesaudiobooks.com/henty_under_drakes_flag_download.php
Not sure how to use apps in your homeschool? Wondering what role online learning should play in your kids' education? Trying to figure out how to use technology to teach your children?

Join our Free Online Schoolhouse Expo
on July 31st at 7 p.m. EDT!
Hear from Terri Johnson, from Apps-School.com, and Andy Harris, The Old Schoolhouse® Magazine's columnist from "The Tech Homeschooler," talking about implementing technology in your homeschool.

Also join us for a vendor workshop from Homeschool Buyer's Co-op, the nation's largest purchasing cooperative for homeschooling families. Find them at www.HomeschoolbuyersCo-op.org
For more information visit the Schoolhouse Expo page.
Don't miss this Expo!
There are only 1,000 seats available FREE!
Reserve your space today right here.
Create your own personalized History Curriculum. Coordinate any History textbook with extracurricular reading, maps, crafts, timelines, & more. Find out how to transform your jumbled mixture of good intentions into a workable plan. Use Coupon Code TS458 for 15% discount!
http://www.abookintime.com/planyourcurric
The Familyman
Todd Wilson
Todd Wilson, Familyman Ministries
Hope you had a great 4th of July and in spite of the heat are enjoying every hour of summer break. As far as this homeschooler is concerned, that's what summers were made for--a break! That's why I'm loudly protesting this week's topic of "homeschooling outside."
Sure, you ought to homeschool outside during the regular school year. After all, there's something wonderful about tromping through leaves in the fall, gathering pumpkins at a pumpkin patch, or visiting a living museum where they stir beans in a pot over an open fire. Nothing better.
But don't do it during the summer. Now don't get me wrong; I think summer is when some of the best learning takes place . . . just don't call it school.
So, take the next three minutes to think about learning outside this fall and then get back to enjoying summer with your kids . . . or without them.

Have a fun day and be real,
Todd
P.S. The Familyman Mobile has landed. Thank you, thank you, thank you to all who prayed for safe travels while we were on the road. God was gracious, and I didn't make my family hate me. I call that a win win!!!
Homeschool dad, Ty Bollinger, has written an amazing cancer book that is saving lives. Find 400 reviews on Amazon where this book has 4.8 out of 5 stars. Now in its fifth edition (updated in 2011) it has over 100,000 copies sold since 2006, check it out!

Learn more: www.AmazingCancerCures.com
Get Your Homeschool Questions Answered!
Did you know you can ask your homeschooling questions on the TOS Facebook page? We have more than 22,000+ fans who interact and answer one another's questions. The TOS Facebook page is your resource for homeschool support and information.
This week's free resource is a baseball crossword puzzle--just a little summer fun. You'll find a wide variety of lessons, activities, and printable pages at SchoolhouseTeachers.com.
Relational Homeschooling
Diana Waring
Oh, yes! Let's homeschool outside!!
But, wait, let me clarify what I just said. If you are living in the Northern Hemisphere, it is summer right now . . . so, you are probably taking a break, right? Whew, good!! For a moment, I thought you were going to say, "Oh, no, we didn't finish everything we were supposed to do in school this year so we're going to keep going until it's all done!!"
You and I both know that's not a good idea. Think about it for a minute. Do you remember how delightful, how refreshing, how reinvigorating it was as a kid to take a break from the normal routine of school to enjoy the activities of summer? The fishing and swimming, the bike riding and pleasure reading, the adventure of mountains and beaches, the fun of grandparents and cookouts . . . Makes you want to go back to being a kid again, right?
Well, your kids are kids. And they need a break. And, dear friend, so do you. If Momma ain't happy . . . you know the drill.
And, if you require a scientific, research-centered, academic reason for taking a break, here's a great one: breaks are good for the brain. Let me say it again. These wholesome and relational activities are fabulous for building a better, more connected brain! It will put a new zest for life, as well as an increased hunger for learning, in you and your children. It will provide fantastic fodder for creative writing, for science experiments, for art lessons, you name it, during the next school year.
So, back to this week's topic: homeschool outside? Absolutely, if it is the summer version that looks somewhat like this:
Watching butterflies flit from flower to flower
Making homemade ice cream and eating it outside
Sitting in or under a tree and reading a fun new book from the library
Drawing doodles with giant colored chalk on the sidewalk
Anything else that your kids think sounds wonderful
The way to do this summer version of homeschool outdoors is to simply provide a number of different fun options that you recognize they will probably enjoy, and then say, "How would you like to spend your morning?"
Stay relational!
Diana
Announcement
Creation Revolution
Compared to animals, humans aren't really all that special physically. Most animals are faster, stronger, and have more fully-developed senses. So what makes man different from the animals? Find out in the article "What Makes Man so Different?"
Contest Corner
For the month of July, 2012
Levi and I cuddled up on the couch a few days ago to read a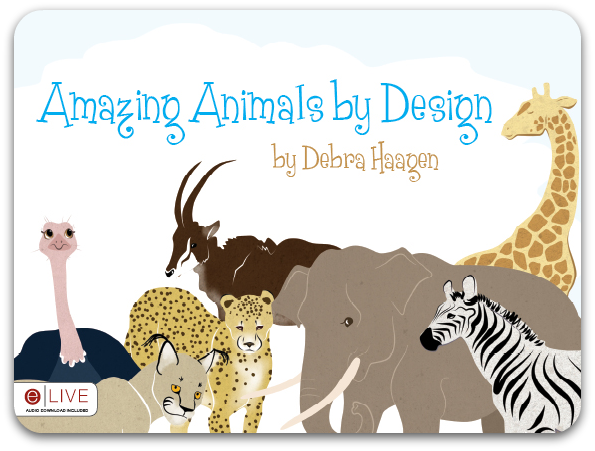 new book written by one of my Old Schoolhouse Crewbies: Debra Haagen. I'll take any excuse to cuddle up with one of my boys, and this new book, Amazing Animals by Design, was worth it!

The book was written to fill a vacancy in creation literature of the pre-K to 3rd grade range. There are many books for older students which explain the basics of Intelligent Design/Creation, but few that take the chance to explain it at an early elementary level. I think Debra has done a great job!

The premise of this book is a family outing to a local zoo. The children learn about many of the unique characteristics of the animals from the zookeepers and their parents in the context of a Creator.

At the end of the story, John and Sarah ask their parents why everyone has been using the word "designed" to describe the animals. In this way, the reader learns the basics about intelligent design/creation. (Read the rest of the review here.)

You can win one of these books!

TO ENTER:

Email Deb (SeniorEditor@TheHomeschoolMagazine.com)with your name, mailing address, and phone number for contact purposes, with the subject line, "Amazing Animals" for a chance to win* the book signed by the author!
*

Disclaimer and Legal Notice:


The Old Schoolhouse

®

Magazine, LLC ("Company") is sponsoring the June Contest Corner contest running from July 1, 2012, to July 31, 2012. You must be 18 years of age or older and follow all rules to participate. Entering the contest constitutes full and complete acceptance of, and a warranty that the entrant has read, understands and agrees to, all contest terms and conditions, including without limitation all of The Old Schoolhouse

®

Magazine, LLC Contest Rules ("Official Rules") and The Old Schoolhouse

®

Magazin

e

Writer Guidelines and Terms and Conditions for Submitting Queries. All Official Rules apply. Entry also constitutes full consent and unlimited permission for Company to print, publish, broadcast and use all intellectual property and personal information submitted as part of the Contest entry on the Internet and in any and all Company publications in accordance with the Rules. Entries become the sole property of Company and will not be returned. Employees and independent contractors of The Old Schoolhouse

®

Magazine, LLC, Contest sponsors, individuals or entities furnishing Contest prizes and their family members may not participate in this contest. Company reserves the sole, discretionary right to determine contest winners and to cancel, terminate, modify, or suspend the contest or the Rules at any time with or without notice or cause, subject to applicable law. See Official Rules for details.

No purchase necessary. Void where prohibited by law.

For a full copy of the Official Rules, please send a self-addressed, stamped envelope to The Old Schoolhouse

®

Magazine: Official Rules Request, PO Box 8426, Gray, TN 37615