Learning opportunities are everywhere, and you'll find plenty of ideas for fun, summer learning in the July issue
of The Old Schoolhouse® Magazine.
Read it online or on the go by downloading the free mobile apps.


Come Do Your Homework with TOS . . .
Click here to learn more!


-------------
"I love the new TOS app! So convenient. So quick. All the encouragement I need at my fingertips . . . any place at any time."
--SpunkyHomeschool
-------------
I've enjoyed the magazine, the emails that come out on Wednesdays, the website that has some great stuff on it, and now Schoolhouseteachers.com. Not only are they good resources and very encouraging, but the writers and the customer service people I've contacted for various things have been extra nice.
--Carla Earley, Tallahassee, Florida
-------------
Thanks ever so much. I love the encouraging articles! I really loved the list of 25 all in one place. Nice to have this little bit of "free" encouragement in my mail. I don't have funds to subscribe or purchase frills and with also working more than half time I don't have time to search it out. May God bless you exceedingly.
--Teresa, rural Kansas
-------------
The Old Schoolhouse® has MORE for you!
Check out these resources:
Who We Are:
The Old Schoolhouse

®

Magazine


July 3, 2012





Foreign Language - Should we Teach It?



Greetings!
Deborah Wuehler and family
The beginnings of this nation brought people from foreign lands to this great land of the free. As people from many cultures continue to flow into our home of the brave, their influence continues to shape our nation. My own family has a variety of roots: Bohemian, Russian Jew, and Scotch-Irish (thus the red hair). We all, from all of our historical walks of life, have much to be thankful for as we celebrate this country.
All of these peoples and languages coming together have opened up a plethora of opportunities to learn and practice hospitality as well as foreign languages. History chimes in as we interview our grandfathers and grandmothers and learn of their incredible contributions to our country, our families, and our freedoms.
I'm going to give you a free short lesson today on Freedom. This might be something you want to focus on teaching your children this week. I will be doing the same with mine.
Freedom
Webster's 1828 Dictionary definition of the word, "freedom":
1. A state of exemption from the power or control of another; liberty; exemption from slavery, servitude or confinement. Freedom is personal, civil, political, and religious.
Foreign Language: Use this translator to find the word for "freedom" in many different languages. http://translate.reference.com/
Copy Work:
All we have of freedom, all we use or know, this our fathers bought for us long and long ago. ~Rudyard Kipling, The Old Issue, 1899
For what avail the plough or sail, or land or life, if freedom fail? ~Ralph Waldo Emerson, The Works of Ralph Waldo Emerson, vol. 9 (Poems) [1909]
From every mountain side, let Freedom ring. ~Samuel
F. Smith, "America" 1832
Coloring Pages:
http://biblekidsfunzone.com/onlinestore/adUSAfunpack.html
http://www.patrioticcoloringpages.com/4th-of-july/index.html
http://www.friendsacrossamerica.com/colorpagesamerica.html
Scriptures on Freedom:
"For, brethren, ye have been called unto liberty; only use not liberty for an occasion to the flesh, but by love serve one another. For all the law is fulfilled in one word, even in this; Thou shalt love thy neighbour as thyself" (Galatians 5:13,14).
"For so is the will of God, that with well doing ye may put to silence the ignorance of foolish men: As free, and not using your liberty for a cloke of maliciousness, but as the servants of God. Honour all men. Love the brotherhood. Fear God. Honour the king" (1 Peter 2:15-17).
Bible Memory:
"But whoso looketh into the perfect law of liberty, and continueth therein, he being not a forgetful hearer, but a doer of the work, this man shall be blessed in his deed" (James 1:25).
Scripture Fulfilled Regarding Freedom/Liberty:
Read Isaiah 61:1 and then read it's fulfillment in Luke
4:16-21
"Free because He paid the price for me!"
~ Deborah Wuehler
TOS Senior Editor
SeniorEditor@TheHomeschoolMagazine.com
Spanish for You!--$65 a year--Simple, Effective, Affordable--a Spanish curriculum for grades 3-8. Written and used by a homeschool coop. teacher. User-friendly and so flexible you use the same package with all your children the same year! Follow the lessons and go at your pace. Visit
www.spanish-for-you.net
.
Affordable Christian based Spanish curriculum that is fun to teach and learn for Pre-K through High school students! TOS Reviewer says- "This program has many components that many homeschool parents are looking for when searching for a foreign language program . . . ." All you need to start for less than $60.
http://www.casafunclub.com/CASA_Club_Website/index.html
Do you have downloadable products in your account at the Schoolhouse Store?
Download all your products from the Schoolhouse Store before July 8. Go
here
and sign in to download and save your products. All the TOS products are transferring to SchoolhouseTeachers.com and becoming a membership perk.
After July 8, you will no longer be able to access products through the
Schoolhouse Store
.
Want all the exciting TOS E-products free? Join
SchoolhouseTeachers.com
and receive them free during your first year of membership.
Not sure how to use apps in your homeschool? Wondering what role online learning should play in your kids' education? Trying to figure out how to use technology to teach your children?

Join our Free Online Schoolhouse Expo
on July 31st at 7 p.m. EDT!
Hear from Terri Johnson, from Apps-School.com, and Andy Harris, The Old Schoolhouse® Magazine's columnist from "The Tech Homeschooler," talking about implementing technology in your homeschool.

Also join us for a vendor workshop from Homeschool Buyer's Co-op, the nation's largest purchasing cooperative for homeschooling families. Find them at www.HomeschoolbuyersCo-op.org
For more information visit the Schoolhouse Expo page.
Don't miss this Expo!
There are only 1,000 seats available FREE!
Reserve your space today right here.
Please pray for the Lorangs, a fellow homeschooling family. On June 27, they lost their oldest daughter, Hosanna, age 7, in a fall from a tree. The family needs your prayers of peace, strength, and hope to support parents Jake and Tara as well as Hosanna's younger siblings Mandy (6) and Ben (5). This already struggling family is now faced with overwhelming medical bills, emergency transportation costs, and funeral expenses. Please help lighten their burden with your financial support. Every little bit helps. May the Lord multiply our "loaves and fishes" to be sufficient for their needs. For more information or to donate, visit this link.
The Familyman
Todd Wilson
Todd Wilson, Familyman Ministries
Foreign languages . . . OK, I know I just wrote my thoughts on foreign languages a couple of weeks ago. I'm not sure I could pontificate any more on learning languages even if I knew something about the subject . . . and I don't.
So let me just ask how you're doing in the heat? I know we've been baking in the oven called the Familyman Mobile. If we hadn't landed at Sandy Cove (MD) where there's A/C, I'm sure my family would have called it quits and abandoned me by now. After this week, we have a straight shot toward home and then we're done for a few months until . . .
. . . October when we hit the road for the big East Speaking Loop. That's right, we're heading East in the Familyman Mobile and will be passing through (or near) Indianapolis, Columbus, Pittsburgh, Harrisburg, Philadelphia, Washington DC, Richmond, Raleigh, Columbia, Charleston, St. Augustine, and Orlando. If you're along that path and would like me to speak to your homeschool group or church contact me.
Adios,
Todd
Get Your Homeschool Questions Answered!
Did you know you can ask your homeschooling questions on the TOS Facebook page? We have more than 22,000+ fans who interact and answer one another's questions. The TOS Facebook page is your resource for homeschool support and information.
This week's free resource is a grammar exercise on making words plural. You'll find a wide variety of lessons, activities, and printable pages at SchoolhouseTeachers.com. Join today!
Relational Homeschooling
Diana Waring
Dear Friends,
Happy Independence Day!
Or, as they would say in Dutch, "Gelukkig Dag van de Onafhankelijkheid!". . .
Or, in French, "Bonne fête de l'Indépendance!". . .
Or, in German, "Alles Gute zum Unabhängigkeitstag!". . .
Or, in Russian, "СДнемНезависимости!". . .
Or, in Spanish, "Feliz Día de la Independencia!"
And those are just the languages spoken by the early European immigrants to North America!
Pretty amazing, isn't it?
If we were to add the 150 Native American languages spoken in the U.S. and Canada, plus the languages spoken by immigrants from the 1800s to the present, we would begin to see the richness of our cultural heritage on this continent.
So, how can we partake in some of this richness? Here's my own story to illustrate. Back in 1988, my family learned that there was a need for host families to help Russian refugees fleeing religious persecution. All that was required was to house the refugees for a few weeks until a more permanent housing situation could be found, and then help them reorient to a new culture (which included taking them to buy groceries--a shocking experience for those not used to such abundance!). We had an extra room, so we signed up. Little did we know the blessing in store for us.
Ludmila and her son moved into our home and into our hearts. Her expressions of deep thankfulness, and the awe in which she experienced what was to us everyday life were profoundly moving. The depth of her long-suffering and the joy of her new life changed the way we viewed living in America, and it shaped my children's understanding of the world, of people from other cultures, and of God's faithfulness to His children.
And, of course, we had the opportunity to learn some fabulous Russian words. Things like, "Оченьвкусно", which means "very tasty." And, most dear to Ludmila's heart, "СлаваБогу", which means "God be praised!"
One of the best ways to taste another language is to engage someone from that culture. And with the world coming to our doorstep (historically as well as currently), it is actually possible! So, again, how can we share in this richness? In all probability the answer is sitting somewhere in your neighborhood--in the homes of immigrants and refugees--just waiting for us to open our hearts.
And, when you consider the big picture, it is incredibly relational to give your children the opportunity to interact with people of another language!
Remember, stay relational!
Diana
P.S. As we unpack the multitudes of boxes in our new home, we are getting excited about the possibilities of serving the homeschooling community on the East coast and Midwest! If you are part of a support group and would like to have me as a speaker, please let us know at http://www.dianawaring.com/about-us/book-diana-to-speak
Announcement
Creation Revolution
I

f
you've
b

een watching the news lately, you've seen photos of landscapes in the western United States blackened and desolated by fire with all the plants destroyed. However, did you know that some plants and trees can't survive without fire? Learn more in the article "
Plants That Need Fire to Survive
."
Contest Corner
For the month of July, 2012
Dive Into Your Imagination DVDs
Levi and I cuddled up on the couch a few days ago to read a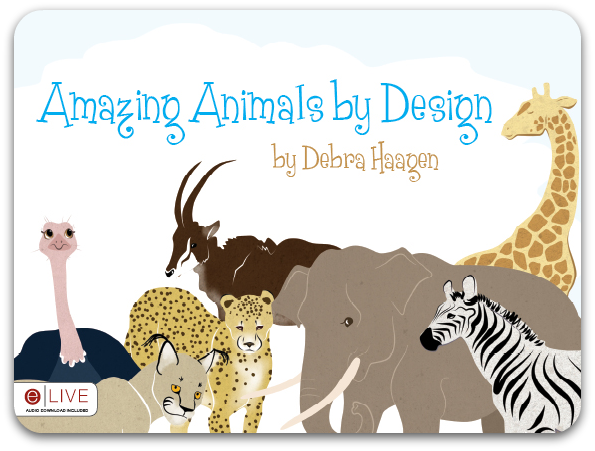 new book written by one of my Old Schoolhouse Crewbies: Debra Haagen. I'll take any excuse to cuddle up with one of my boys, and this new book, Amazing Animals by Design, was worth it!

The book was written to fill a vacancy in creation literature of the pre-K to 3rd grade range. There are many books for older students which explain the basics of Intelligent Design/Creation, but few that take the chance to explain it at an early elementary level. I think Debra has done a great job!

The premise of this book is a family outing to a local zoo. The children learn about many of the unique characteristics of the animals from the zookeepers and their parents in the context of a Creator.

At the end of the story, John and Sarah ask their parents why everyone has been using the word "designed" to describe the animals. In this way, the reader learns the basics about intelligent design/creation. (Read the rest of the review here.)

You can win one of these books!

TO ENTER:

Email Deb (SeniorEditor@TheHomeschoolMagazine.com)with your name, mailing address, and phone number for contact purposes, with the subject line, "Amazing Animals" for a chance to win* the book signed by the author!
*

Disclaimer and Legal Notice:


The Old Schoolhouse

®

Magazine, LLC ("Company") is sponsoring the June Contest Corner contest running from July 1, 2012, to July 31, 2012. You must be 18 years of age or older and follow all rules to participate. Entering the contest constitutes full and complete acceptance of, and a warranty that the entrant has read, understands and agrees to, all contest terms and conditions, including without limitation all of The Old Schoolhouse

®

Magazine, LLC Contest Rules ("Official Rules") and The Old Schoolhouse

®

Magazin

e

Writer Guidelines and Terms and Conditions for Submitting Queries. All Official Rules apply. Entry also constitutes full consent and unlimited permission for Company to print, publish, broadcast and use all intellectual property and personal information submitted as part of the Contest entry on the Internet and in any and all Company publications in accordance with the Rules. Entries become the sole property of Company and will not be returned. Employees and independent contractors of The Old Schoolhouse

®

Magazine, LLC, Contest sponsors, individuals or entities furnishing Contest prizes and their family members may not participate in this contest. Company reserves the sole, discretionary right to determine contest winners and to cancel, terminate, modify, or suspend the contest or the Rules at any time with or without notice or cause, subject to applicable law. See Official Rules for details.

No purchase necessary. Void where prohibited by law.

For a full copy of the Official Rules, please send a self-addressed, stamped envelope to The Old Schoolhouse

®

Magazine: Official Rules Request, PO Box 8426, Gray, TN 37615