About Us
22 West 19th Street
New York, NY 10011
Latest Press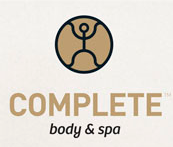 Join us at the Grand Opening Party of the new 19th Street branch of the Complete Body Spa & Gym at 3pm on April 1, 2010!
Formerly 19th Street Gym and Better Bodies, you now get the best of both worlds, a serious and world class gym and full spa services!
Billed as one of the best gyms in New York City for people serious about getting into shape, Complete Body is our choice for our Naturally Intense Personal Training clients and you owe it to yourself to check it out!
22 West 19th Street
New York, NY 10011
212-777-7719



The Biggest Loser- A Bad Example For Health & Fitness.

NBC's reality show, 'The Biggest Loser' might be a major hit with audiences across the country, but does it promote a healthy lifestyle? Unfortunately given the extreme exercise routines and calorie restricitve dietary regimes it creates a dangerous precedent for anyone trying to get into shape and many contestants have in fact been hospitalized as a result.
Community Services: Public Speaking
We will be at P.S. 10 in Park Slope Brooklyn for their annual PTA Health Expo to give a seminar healthy eating on Tuesday March 16th at 3 pm. My team and I are always happy to come to any venue to speak about diet, weight loss and how you can incorporate exercise into a healthy lifestyle so if you would like us to come to your event, office or organization please don't hesitate to give me a call at 1-800-798-8420!
Community Services: Fund Raising Donations
Having worked in the social services field for 14 years, I have a very strong commitment to doing as much as I can to help non-for-profit organizations and schools with their fund raising endeavours. A good business is one based on helping the community and to that end Naturally Intense NYC Personal Training Services will donate personal sessions and a free month of gym membership at the Complete Body Spa in Manhattan to any community organization in need of assistance with their fund raising. I am always happy to help in any way that I can!
For more information call Kevin at 1-800-798-8420.



Better Results In Less Time!

No Aerobics!
No Hours In The Gym!
Full Dietary & Nutritional Support!
Free Trial Session!
Free Gym Membership!
Flexible Payment Options!
Results in Two Weeks Or Less Or Your Money Back!*


Show Your Colors With Our Naturally Intense Clothing Line!

See what everyone is talking about with our Naturally Intense Clothing Line- with everything from our funny T-shirts, to trendy short and long sleeve wear from top brands.

Get yours today!
Upcoming Events
3/16/10, P.S.10 Health Expo, 3pm at 511 7th Avenue, Brooklyn, NY 11215
3/16/10, Naturally Intense High Intensity Training Meetup at 6:30 pm.
Sign up here!
3/27/10, FitChicNYC 10 Minute Workout Meetup at 11 am,
Sign up here!
4/1/10, Complete Body Spa & Gym Grand Opening Party-
Complete Body