Grace Institute News

May 9, 2012
do we help people graduate or stay depende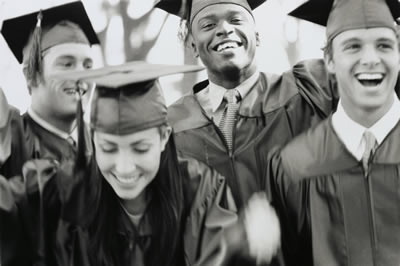 nt?
It's graduation time all over the country. Young women and men are getting fitted for gowns, learning how to attach caps on their heads, thinking about what
t
h
e future holds. Some are leaving their homes to attend college, enlist in the services, or fin
d jobs. Others are frantically packing up their salvageable belongings and moving back home, frenetically sending out resumes as they anticipate embarking on their own path after spending years (and money) on college educations.

One thing is consistent: they have been preparing for this day for years. They have studied, failed, learned, experienced, and are now ready for the next step.

Do we have the same expectation of people in their faith walk? Do we expect them to learn, fail, experience, and study toward a goal of discipleship maturit
y? The writer of Hebrews tells us that we need to be very clear of 2 things: we have to make sure that people get the basics. But we can't leave them there. (See Hebrews 5:11-6:1)


It seems to me that to do this well, we need to have a plan. A specific, intentional process for people to engage in and follow, with the goal of moving them toward maturity. So often we just open the door, offer a sermon and a few Bible studies for people to participate in (if they choose), and then expect them to mature on their own. This just isn't enough. To use the metaphor from Hebrews, we need to progress people from milk to solid food through an intentional process.

Here are some questions we might want to ask:
1. Have we identified the basics?
2. Do we have a plan to offer the basics in a step by step process?
3. Do we have a plan to move people into deeper maturity in their faith?
4. Have we given people an expectation that they will mature?
5. Have we shared the benefits of growth with our people so they desire it?
6. Have we identified for people what they can expect as they mature?
7. Do we rejoice when we see people taking steps forward?

Colossians 1:28 says that we tell others about Christ, warning them and teaching them, so that we might present them mature in Christ. This is intentional. This is worth our time to do. This is a big responsibility. Let's do it with intention!
MONDAY, JUNE 25, 2012

9am-4pm


at EUREKA COLLEGE



let's talk about a new old evangelism!

There are 712,000 links for evangelism kits available on line.

Some of these will give temporary success.

Almost all of them will dwindle in effectiveness over time.

The answer to church growth is not found in a kit.

The first church had none of the tools we have and yet the Bible says that it grew phenomenally. What did they do that we can learn?

This workshop will be a roll up your sleeves, hands on time with others who want to share the good news with their world. BRING A TEAM! Let's get excited!






> How do you plan wor
ship?
> How do you combine old and new?
> What can you do to engage everyone?
Planning worship is much more than choosing a few songs. How do you give different avenues for people to connect with God? Listen in on a
n interview with Michelle Jenks, who is the pastor of worship at her church and currently taking graduate classes in worship, as she discusses some helpful ideas to use as you plan worship.