EDITORIAL STAFF OF THE NEWSLETTER:
Chiara Marsoner
Antonio Talarico

IL CONSOLATO INFORMA:
Passaporti:
Si avvisano tutti i connazionali che, in base ad una nuova regola europea (http://europa.eu/travel/doc/index_it.htm), dal 26 giugno 2012 tutti i bambini che viaggiano dovranno essere muniti del proprio passaporto.
Si invitano pertanto tutti i genitori che hanno i minori iscritti sul proprio passaporto di contattare il Consolato
(
passaporti.boston@esteri.it; 617 7229223).
Cittadinanza:
Si informa che sul sito del Consolato e' disponibile il manuale pratico sulla doppia cittadinanza "To be or not to be an Italian citizen? That is the questionnaire!". Nel manuale sono disponibili tutte le informazioni utili per comprendere le modalita' di acquisto, riacquisto e la documentazione necessaria per ottenere la doppia cittadinanza.
Contatti utili:
AIRE/ELETTORALE:
617 722 9225
NOTARILE:
617 722 9220
PENSIONI/BUONI POSTALI
617 722 9205
CIVILE/CITTADINANZA
617 722 9303
ATTI DI STATO CIVILE
617 722 9225
PASSAPORTI:
617 722 9223
TITOLI DI STUDIO:
617 722 9201 ex 12
PER QUESTIONI DI CARATTERE
GENERALE: consgen.boston@esteri.it
---
BE A LIGHT ON THE PIAZZA
on the next Newsletter!
The newsletter aims to be a container of ideas which relies on your inputs and suggestion. We are open to publish and
communicate all events related to Italian artist, productions or themes.
If you are interested please contact consolatogenerale.boston@esteri.it; consgen.boston@esteri.it with details of the event by the 20th of each month.
La newsletter Ŕ un contenitore aperto al contributo di ognuno nel segnalarci eventi che includano artisti, opere o contenuti Italiani. Inviateci le informazioni relative all'evento entro il 20 di ogni mese a consolatogenerale.boston@esteri.it;
---
Useful information and news
---
Cari Amici dell'Italia,
con settembre riprende la nostra Newsletter mensile. Musica, cinema e arte saranno in primo piano questo mese e vi suggerisco di non perdere i concerti de Il Volo e Franco Corso.
Il 24 settembre vi sara' poi una interessantissima presentazione dell'ultimo studio sul petrolio di Leonardo Maugeri, organizzata insieme ai Professionisti Italiani a Boston (PIB) e all'Amercian Jewish Committee: i posti sono limitati e la prenotazione obbligatoria.
Dal 27 settembre una nuova mostra sara' in visione al Consolato. Il fotogrado Daniel Tedeschi esporra' gli scatti legati al suo ritorno nella terra dei nonni, vicino Avellino.
Una anticipazione per ottobre. Il primo ottobre, alle 10.30, presso la State House vi sara' la cerimonia di apertura dell'Italian Heritage Month. Mi rendo conto che e' una mattina di lavoro per molti ma anche un momento in cui tutta la comunita' si deve raccogliere attorno alle proprie origini e celebrare il legame indissolubile che ci unisce all'Italia. Venite! Venite! Venite!
Se volete rimanere aggiornati sulle curiosita' che legano l'Italia al New England continuate a seguire la mini-rassegna quotidiana "Italy - New England" a cura di Alessandra Granelli.
Buona lettura a Tutti!
Giuseppe Pastorelli
* * * *
Dear Friends of Italy,
The monthly Newsletter has begun again for September. Music, film, and art will be in the spotlight this month and I recommend two concerts that you won't want to miss: Il Volo and Franco Corso.
On September 24th, the Consulate, Professional Italians in Boston (PIB) and the American Jewish Committee have organized a presentation of the latest study of petroleum by Leonardo Maugeri. Space is limited and reservations are required.
Starting on September 27th, there will be a new art exhibition on display at the Consulate: Photographer Daniel Tedeschi's work featuring his return to the land of his grandparents, near Avellino.
A "save-the-date" for October: the opening ceremony for Italian Heritage Month will take place on October 1st at 10:30 a.m. at the State House. Although it is a weekday morning when many of you have to work, it is also a great opportunity for the Italian community to come together and celebrate our heritage and the remarkable bond that unites us all. Please come, come, come!
If you would like updates on curiosity between Italy and New England please follow the mini-daily publication "Italy-New England" edited by Alessandra Granelli.
Happy reading to All!
Giuseppe Pastorelli
Open until September 30, at the Museum of Fine Arts (MFA)
Exhibition: The Invention of Fantasy
Eighteenth-Century Venice

Venice in the eighteenth century, the age of Casanova, was one of the pleasure centers of Europe, famed for its theater and opera and its carnival maskers. Even today, the city, when compared with ordinary cities, appears to be a fantasy, a dream, a hallucination. Giovanni Battista Tiepolo's voluptuous painted cloudscapes with figures opened illusionistic light-filled vistas in ceilings; his drawings and prints have a comparable aerial lightness and luminosity. He was assisted by his son Domenico, who, when he retired from painting about 1785, concentrated on making finished drawings on biblical and mythological themes, as well as remarkably playful and whimsical scenes of Venetian daily life. The Museum's The Milliner's Shop is one of the finest of these drawings. Other artists in the exhibition include Canaletto and the early Piranesi.
Saturday, September 8, at 7.30pm at the Bank of America Pavillion, 290 Northern Avenue, Boston
Il Volo
Italian singing sensations Il Volo soar in their first PBS Special "Il Volo Takes Flight" as well as on their latest CD and DVD, Il Volo Takes Flight - Live From The Detroit Opera House, which was released Feb. 28th on Geffen Records. Il Volo will head out on a North American headline tour this summer. The Live Nation promoted tour kicks off August 12th in Minneapolis, MN at the Orpheum Theatre.
Saturday, September 15, at 8.30pm at the Berklee Performance Center, Boston
Franco Corso in concert
With a voice that melts hearts and instills passion, Franco Corso is the newest Italian singing sensation in America. His distinctive and powerful baritone voice has been called elegant and provocative.
Born and raised in San Remo, Italy, Corso grew up filling his lungs with sea-kissed Mediterranean air. Inspired by Andrea Bocelli, Dean Martin, and Jimmy Rosselli, Franco has built a music career channeling the charisma and passion of Italian and American singers, effectively transforming past masterpieces into modern treasures. His voice recalls the era when crooners ruled the music industry and avid listeners went weak in the knees at love songs laden with raw emotion.
After a successful TV campaign on NBC and CBS last Christmas, Corso performs for the first time in Boston, to take his audience on a musical journey through Italy in his acclaimed show A Tribute to Andrea Bocelli and Friends. Under the music direction of international pianist and seven-time Emmy Award-winner Mike Renzi, Franco performs the perfect blend of classic Italian-American songs and the most popular songs from Bocelli. As an aerial tour of his beautiful Italy flashes in a montage, Corso conveys the nostalgia of love lost, lived, and lasting. Corso's star continues to rise as he brings his show to to the international performing arena, where he wows new audiences of all ages with his timeless music and style.
Click here for more information.
Harvard Film Archive
Sunday, September 23, at 4pm
Film screening: The Last Days of Pompeii
Directed by Carmine Gallone and Amleto Palermi. With Victor Varconi, Rina De Liguoro, MarÝa Corda Italy 1926, 35 mm, tinted b/w, silent, 144 min.


The spectacular end of the ancient Roman city of Pompeii, buried under the ashes of erupting Mount Vesuvius, was a favorite subject of early historical films. These movies drove cinematic innovation and were among the first major box-office hits in the annals of film history. The 1926 movie Gli ultimi giorni di Pompei ("The Last Days of Pompeii"), directed by Carmine Gallone and Amleto Palermi, is based on the storyline of Edward Bulwer-Lytton's The Last Days of Pompeii (1834), arguably the most popular historical novel written in the nineteenth century. Bulwer-Lytton's tale of the young dandy Glaucus in love with beautiful Ione was the canonical narrative of Pompeii's destruction. Glaucus' jealous rival, the Egyptian priest Arbaces, slays Ione's brother Apaecides, whom he has failed to convert to his mystery religion. Exploiting the love of the blind slave girl Nydia for Glaucus, her master, Arbaces proceeds to blame Glaucus for the murder. Then Mount Vesuvius strikes: the eruption kills the villain, and blind Nydia guides Ione and Glaucus through the rain of ashes to safety outside of the collapsing city. With a runtime of over three hours, Gli ultimi giorni was one of the longest, most sumptuous, and most expensive Italian movies realized up to that point. It exemplifies the efforts of Italian film companies to reclaim their former leading position in film-making. Building on the tradition of the Gilded Age of Italian cinema, they created lavish and costly movies set in Roman antiquity. Ultimately, these anachronistic productions could not compete with the lively acting and dynamic film cutting of contemporary American cinema. The rare print of Gli ultimi giorni di Pompei is shown in conjunction with the lecture Images of the Doomed City: The Last Days of Pompeii in the Visual Imagination, by Adrian Staehli, Professor of Classical Archaeology, Department of the Classics on September 20 at 6pm at the Arthur M. Sackler Museum. Staehli will give a short introduction to the movie. Print courtesy of the British Film Institute. This screening is funded in part by the M. Victor Leventritt Fund, which was established through the generosity of the wife, children, and friends of the late M. Victor Leventritt, Harvard Class of 1935. The purpose of the fund is to present outstanding scholars of the history and theory of art to the Harvard and Greater Boston communities.

Monday, September 24, at 7pm
The Kingdom of Naples (Nel regno di Napoli)
Directed by Werner Schroeter. With Liana Trouche, Antonio Orlando, Renata Zamengo. I
taly/West Germany 1978, 35mm, 130 min. Italian with English subtitles.
In this intimate epic that stretches from 1943 to 1978, Schroeter tells the story of postwar Italy by watching two neighboring Neapolitan families struggle against poverty and the despair it entails. Centered on two children born at the end of the war - one who grows up attracted by the Church, the other loyal to the Communist Party - the film seems to spring in part from a love of Italian cinema: Visconti's realist approach to history, Fellini's picaresque feel for the vibrant life of a community, Pasolini's experiments with fusing sprawling narrative and discursive political content. But Schroeter avowed a more surprising inspiration: Bu˝uel's Los Olvidados.
Click here for more information.
Monday, September 24, at 6pm
Oil: the next revolution - Maugeri
PIB in collaboration with the Consulate General of Italy and AJC is pleased to invite you to meet Leonardo Maugeri. He will deliver a talk on a revolutionary oil production method, which is expected to have a great impact on the energy economics: "Oil, the Next Revolution. The Unprecedented Upsurge of Oil Production Capacity and What It Means for the World".
For security reasons, only pre-registered attendees will be admitted to the
event.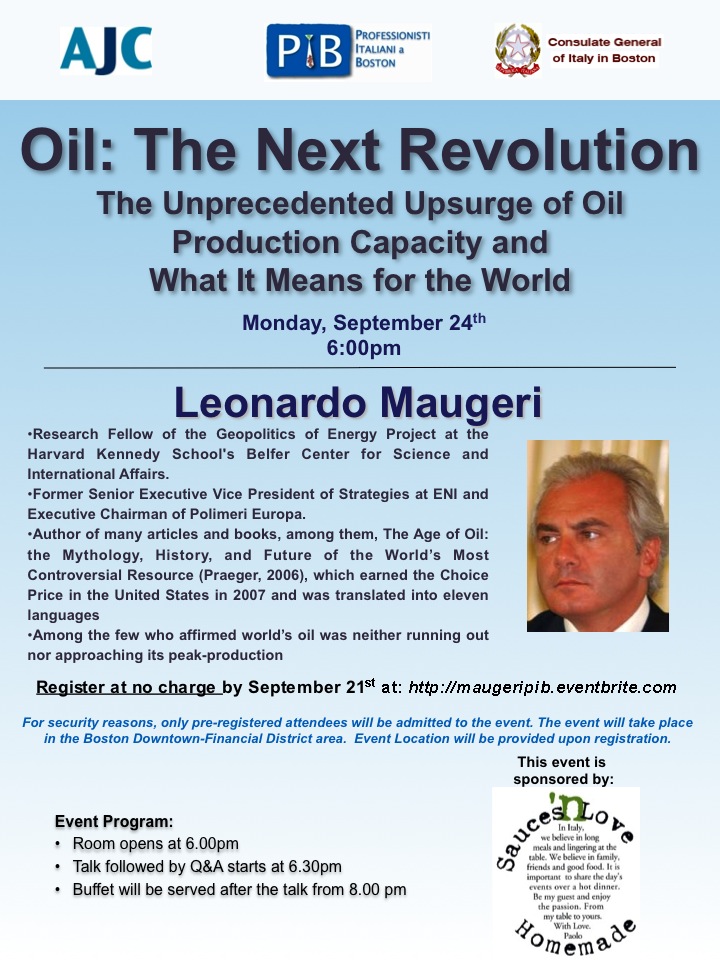 Click here for more information.
Monday, September 24, at 5pm at Devil Hall 101, Boston College
The Annual Josephine von Henneberg Lecture in Italian Art: "The Sistine Chapel: 500 Years"
William E. Wallace, Barbara Murphy Bryant Distinguished Professor of Art History
Washington University, St. Louis
Reception immediately following.
Please rsvp by September 12, 2012
617-552-4295, or elliotj@bc.edu
Click here for more information.
Starting Thursday, September 27, at the Consulate General of Italy in Boston
"Ritornare" - Photographs by Daniel Tedeschi
Thursday - Saturday, September 27-29, at 305 Pembroke Hall
Brown University
Music Between Nation and Form: Mario Castelnuovo-Tedesco and the Boundaries of ItalianitÓ
Keynote Speaker: Leon Botstein,
President of Bard College
Panelists:
Deborah Amberson, Alessandra Campana, Diana Castelnuovo-Tedesco, John Champagne, Salvatore Champagne, Mila DeSantis, Giuseppe Ficara, Matthew Franke, Axel K÷rner, Dorothy Lamb Crawford, Assaf Shelleg, Antonella Sisto, James Westby
Concerts:
Thursday September 27 - 8pm - Grant Recital Hall
Friday September 28 - 8pm - Sayles Hall
For more information contact: Suzanne_Stewart-Steinberg@brown.edu or Mona_Delgado@brown.edu
SAVE THE DATE, Monday, October 1, at 10.30am at the Massachusetts State House
KICK OFF OF THE ITALIAN HERITAGE MONTH
SAVE THE DATE, Friday, October 5th at Royale, Boston (279 Tremont St)
Jovanotti on Tour!
Memory Traces: A Collection of Italian Memories of Boston
To commemorate the 150th anniversary of the Unification of Italy, the Consulate General of Italy in Boston and the MIT Mobile Experience Lab, in partnership with COMITES (Committee of Italians Abroad) of Boston, has developed Memory Traces: A Collection of Italian Memories of Boston. Boston's Italian community dates back to 1860, when the first immigrants came to the United States seeking better conditions than those of their homeland. For the past 150 years, Italian-Americans have played a prominent role in the city of Boston, having distinguished themselves in various disciplines including business, government, medicine, technology, humanities, and academia. Through geo-located video interviews, the Memory Traces project explores the Italian experience in Boston. These recollections from selected representatives of fi rst generation and American born Italians help preserve their heritage for future generations. The use of new media has enabled this interactive documentary. The Memory Traces project website features the stories overlaid on a map of the city. Stories can be fi ltered by person, time period, and a selection of themes that capture the
http://locast.mit.edu/memorytraces/ messages of the stories. A mobile application provides the opportunity for others to follow these memory trails through the city of Boston.
Consulate General of Italy in Boston
Tel. 617-722-9201
Fax 617-722-9407