---
Ralphie

Border Terrier/Cairn Terrier mix

Neutered male, 20 lbs, well behaved

Plays well with other dogs Available for adoption at
Evergreen Animal Protective League

www.EAPL.com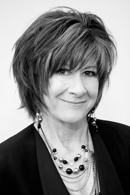 It's Sunday afternoon and I'm watching the clouds gather over the mountains. It is monsoon season and a summer afternoon thunderstorm is probably on the way. How lovely! The thunder, rain on our metal roof, the smell of moisture in the air make these summer afternoons just perfect.
My friend, Shelly, and I went to Shrine Pass yesterday for our annual jaw-dropping wildflower/mountain vista hike. Then, we dropped in on Vail to gawk at the spectacular container flowers dripping from every balcony and the extravagant gardens. What is it about mountain air that makes the flowers so magnificent?
Chuck and I had planned to go away for a week on a vacation in the middle of August. But last week, we looked at each other and agreed that there isn't a better place on earth than right here, right now. We are so blessed to have such a life. I hope you are enjoying our Colorado summer as much as we are!

Rebeca Hernandez was totally taken aback when TallGrass owner, Gail Ridings, introduced her as the Spa Babe and she heard herself described as "the epitome of the ideal TallGrass team member...positive, hardworking, proud of TallGrass and committed to awe inspiring service." The best part was that Rebeca's daughter, Bayne, was there to see and hear it because the announcement was made at the annual TallGrass picnic where family members - and even pets - are always invited.


A massage therapist, Rebeca came to TallGrass 2 ½ years ago and discovered how much she enjoys bringing deeper awareness of healthy touch into people's lives. When asked about TallGrass, she says the list of what she loves most is pretty long. "Oh my goodness, I love the feeling there and the focus on a holistic business approach that encourages us to grow in our personal lives and bring that to the workplace."


As for the picnic, apparently it was a blast. "There was a sack race, water balloon toss, watermelon eating contest." She says: "It was such a good time!"

Is there a treatment you'd like to see at TallGrass? Something we don't currently offer?


We are always looking for new ideas for treatments and services that will make your day perfect at TallGrass. If there is something you'd like to suggest and if we adopt your idea and include it in our menu of services, which is updated in September, we'll give you the service with our compliments.


Everyone is welcome to submit an idea and the first 10 people who suggest a new service on our Facebook page and the first 10 people who comment about a new service on our blog will receive a $10 gift certificate. So, let's hear from you!



Visit the TallGrass Spa website at www.tallgrassspa.com