The 2009 SEMA Show is coming soon! Come see Wiseco and K1 Technologies in booth # 22816 at the Las Vegas Convention Center November 3-6, 2009. We wanted to give you a sneak peek of Wiseco and K1 Technologies at the show!
AMC Engines Can Get an Affordable Upgrade!
Wiseco Performance Products and K1 Technologies have teamed up to release a new Sportsman series type piston and rod combination for the 360 and 401 AMC engine. Wiseco and K1 have designed pistons and rods that are well suited for anything from rock crawling to race to restoration.

Wiseco has added this exciting new lineup to the Pro Tru series of Sportsman pistons, maintaining a pocket friendly price with high end durability and design. Using input from today's leading AMC engine builders, Wiseco has released both a flat top and reverse dome piston for both the 360 and 401 engines in popular oversizes. With thicker decks and optimized ring lands, these pistons will easily handle a 250 HP nitrous system with proper tuning. These piston kits come complete with Hastings plasma-moly rings and anti-friction skirt coatings, as well as HD pins and clips. Symmetrical valve pockets can accommodate today's larger valve sizes and specialized cams. With dish and flat top offerings available, enthusiasts can tweak compression rations from 9.5:1 up to 13.5:1 with selected components.

AMC engines have always been potent performers. With today's cylinder head and camshaft offerings, it has become obvious there is a need for stronger bottom end components. K1 Technologies has taken a long look at the AM OE rods and worked together with AMC racers to design a dedicated rod that corrects OE geometry issues, while dramatically improving the bottom end strength of today's AMC engine builds. Using 4340 H-beam forgings paired with K1's own proprietary asymmetrical thread design, ARP 2000 bolts, K1 has designed an extremely durable and lightweight rod able to handle horsepower levels these engines are capable of today.
Wiseco's AMC piston kits come complete with rings, pins, and circlips needed for your engine. The piston kits retail at $767.85. K1 Technologies connecting rod kits retail at $538.63. Contact Wiseco and K1 Technologies for more details! Or stop by our booth at the SEMA Show.
Wiseco's GM 2.0 Piston Kits-- Perfect for the Soltice, GXP, and other GM Applications

Highly boosted, direct injection engines, such as GM's LNF 2.0 require strict adher­ence to the original dome and bowl design to maintain proper combustion character­istics. Wiseco's new K635 series piston is the only forged piston utilizing special form tooling for the correctly shaped dome and bowl design. Coupled with Wiseco's brush dome deburring, Nitride steel XX rings, skirt coatings, and extra stout 5mm wall thickness pins (offset like the OE for noise reduction), this is the only forged piston with the technology needed to properly compliment D.I.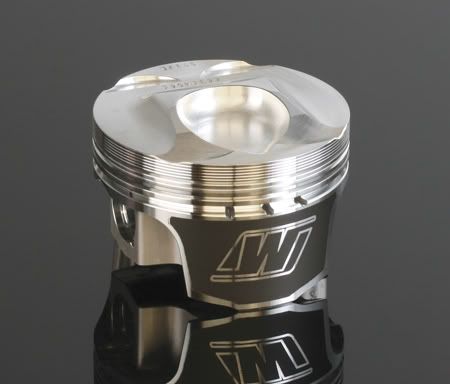 Features
· Dedicated forging. ...........................· Light weight, superior strength
· Generous valve beliefs. ....................· Allows more options for cams and valve choices
· Pressure Seal Groove. .......· Maximum ring seal
· Dedicated rings. ..............................· Maximum compression and oil control
· Brush de-burring. .............................· Domes and valve beliefs have sharp edges removed to help prevent detonation
· Performance. ..................................· Pistons have wear and friction reducing ArmorGlide™ skirt coating
· Experience. .....................................· 67 years as the industry leader in Forged piston technology

All Wiseco Sport Compact kits come with 1mm x 1.2mm x 2.8mm XX ring sets. These rings have a stainless steel gas nitride top ring, cast iron Napier hook second ring, and flex-vent oil ring with gas nitride scraper rails. The piston pins and corresponding clips are also included. All pistons have ArmorGlide™ skirt coating for improved wear and friction reduction.

Prices (US) retail: Kit $721.56 Repl. Piston $197.90
Check us out on the web at Wiseco.com or give our sales team a call at 800-321-1364.
Powersports Featured at the 2009 SEMA Show!


For the first time ever, the SEMA Show will be featuring powersports. Now in addition to all the great automotive applications we offer, you will be able to see some of our newest additions to the Wiseco powersports family in the New Product Showcase!
In the showcase you'll find our brand new Fuel Management Controllers for dirt bike applications. These controllers allow you to add and subtract fuel to get the best performance from your bike! We also offer a full line of controllers for V-Twin, street bike, and ATV models.
Wiseco is featuring the 2009 Kawasaki KX450Fin the showcase as well. We have complete top end rebuild kit for the bike. Everything you need to rebuild your top end in one box -- it's that easy!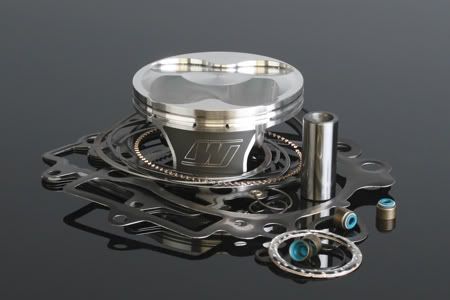 Don't forget to rebuild your KX450F clutch too! Wiseco's forged clutch basket, inner hub, and pressure plate have been combined into one extreme kit. Our extreme clutch kit for the KX450F includes our forged clutch basket, inner hub, and pressure plate, along with fiber plates, steel plates, springs, and cushions! Your clutch rebuild is in one box -- so easy! During 2009, each forged clutch component you purchase from Wiseco has a lifetime warranty against breakage and notching. Only Wiseco can offer you this deal!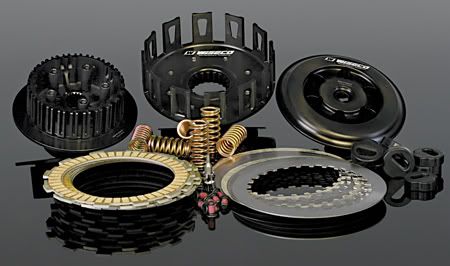 Wiseco's complete bottom end rebuild kits have been a hit! We are now proud to offer a kit for the 2004-07 Honda CRF250R. This kit comes complete with crankshaft assembly, main bearings, seals, and complete bottom end gasket kit -- All in one box! The kit will be on the shelf just in time for SEMA, so call to reserve yours soon.
Check out our
website
to find out what else Wiseco can offer you!
See all of Wiseco's new products at Wiseco.com!