Fine Tune Your Fuel Injected Bike with Wiseco!
The time to be outdoors is now and the race season is well on its way. A Wiseco fuel management controller will allow you to fine tune your EFI fuel delivery to maximize the performance of other modifications to your bike or ATV, such as high compression pistons, exhaust, intake, or camshafts. Wiseco is now introducing its new line of fuel controllers, available and ready to ship for select Honda, Kawasaki, Polaris, Suzuki, and Yamaha models. These controllers are simple to use, with no dyno or computer needed! With the touch of a button, you can easily adjust three basic zones of operation, similar to a carburetor- a "pilot jet" zone to set your idle and cruise; a "needle jet" zone for acceleration; and a "main jet" zone for heavy loading and wide open throttle. We have a wide offering for many ATV/ UTV, street bike, and V-Twin applications available today. More models will be one the way soon as well!
To find exact model information, go to Wiseco.com. Wiseco fuel controllers retail at $249.95. Wiseco also offers CARB legal versions for the state of California for a wide range of its street bike/ V-Twin models. See the links below for details. Go to
Wiseco.com
to see all our products!
Get your Forged KTM Pistons and Clutch Baskets Here!

Wiseco offers many products for your KTM dirt bike and ATV. The newest additions for KTM dirt bikes are pistons for the 125SX, 144SX, 150SX, and clutch baskets for the 250SX, 250XC, 250XCW, 300EXC, 300MXC, and 300XCW. Coming from Wiseco, you know these will last.
Each of Wiseco's pistons is made from a dedicated forging made in our Ohio manufacturing facility. By making our pistons on a dedicated forging, we can offer you a light weight, superior strength, and optimized design so you get the most performance out of it. Our pistons for the KTM 125SX, 144SX, and 150SX are skirt coated with our ArmorGlide™ coating to reduce friction, provide quieter operation, and improved scuff resistance. Elecra-coating provides superior wear resistance in the pin bore and ring grooves. Wiseco is dedicated to giving you high performance for your 2-stroke.
Wiseco has been forging its own line of clutch baskets for 8 years. Each is built on dedicated forging in our Ohio manufacturing facility. Our precision forged clutch baskets and clutch components have greater strength due to ' feature aligned grain flow.' When compared to cast or billet products, Wiseco forged clutch components are lighter and have increased mechanical properties resulting in higher strength, ductility, and resistance to impact and fatigue. Each basket is hard anodized and Teflon coated for a long life of smooth clutch operation through elimination of wear on contact surfaces. Our forged clutch components now have a
Lifetime Warranty
against notching and breakage. Wiseco has a clutch basket to fit the KTM 250SX, 250XC, 250XCW, 300EXC, 300MXC, and 300 XCW. Check out what we offer on the links below and then check out our year, make, and model search on
Wiseco.com
to find the perfect Wiseco solution for you.
KTM 250/ 300 Clutch Basket
Meet the Wiseco Sales Team!
We will be introducing our sales team at Wiseco in our upcoming newsletters. You can now learn more about the guy or gal you talk with on the phone.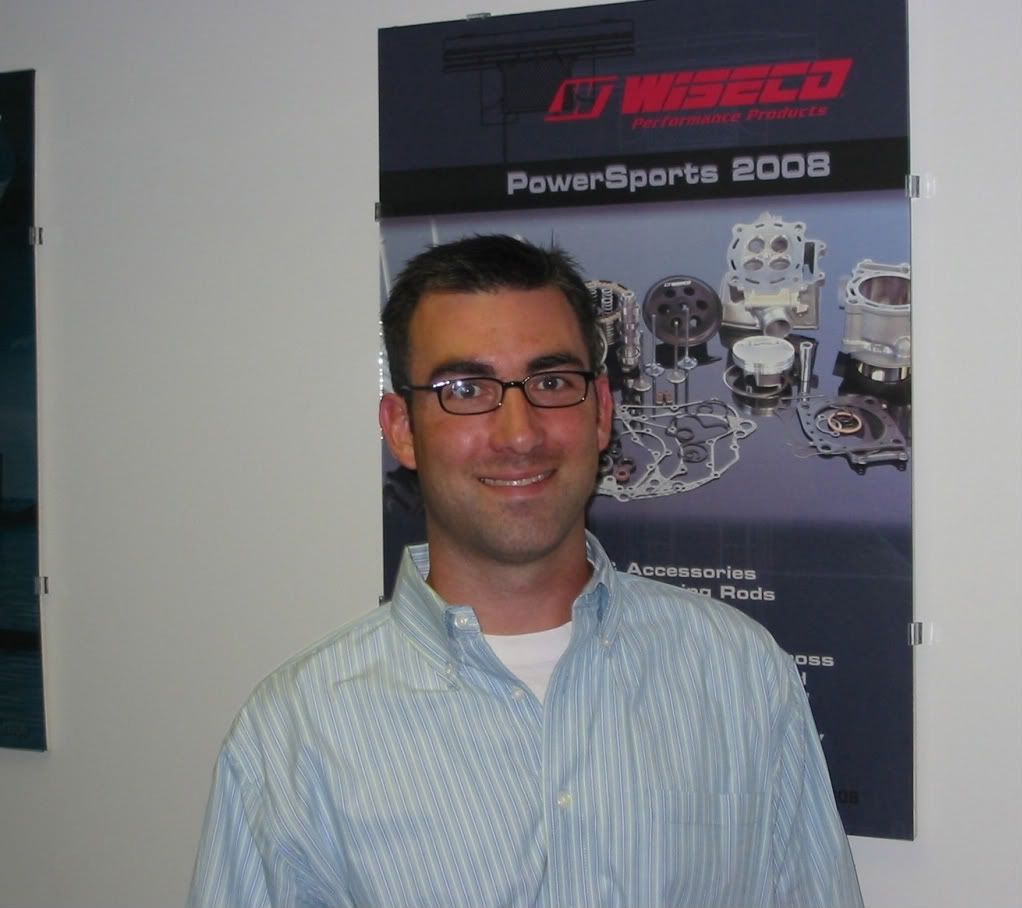 Chris Bollinger is our Market Segment Manager for off-road and ATV and has been with Wiseco for 9 years. Prior to coming up to our sales department, he was our Lead Engineer for our custom forging department, a product engineer for components/ accesories, and completed a co-op at Wiseco during college. Chris' main duties include evaluating new model/ product offerings, visiting our larger customers, and training many of our distributors reps on all Wiseco products. He also supports the sales team and our customers with technical issues related to off-road/ ATV product lines.
Chris is an avid off-road motorcycle rider, finding him trail riding or riding motocross on his Wiseco YZ290F big bore whenever possible. He really enjoys the comradery of riding with many of the guys at Wiseco and the excitement of working in the same industry as his hobby. Chris has a lovely wife and two young kids, ages 3 and 4. He is a family man first, but tries to enjoy his passion for riding as much as possible.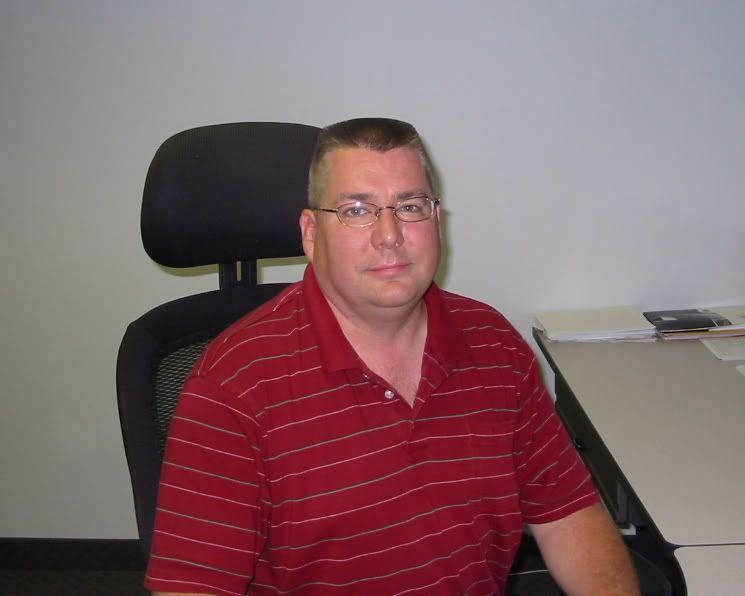 Ron Spear is our Sales Manager here at Wiseco. With 18 years of Wiseco experience, he has been involved in almost every department, including shipping, warehouse, manufacturing, and sales. In his current position, Sales Manager, Ron is involved in any and all aspects of sales and customer service. He also concentrates on our top accounts. Though these duties keep him busy, Ron still finds time to get on the sales lines to help out our customers.
Ron enjoys vintage motorcycles, especially dirt bikes. His favorite event Wiseco attends is the AMA Vintage Motorcycle Days at the Mid-Ohio Sports Car Course in Lexington, Ohio. He has a KTM 250 EXC to ride with the guys from Wiseco and also a 1977 CB550-4 to enjoy in his spare time. When not at Wiseco, Ron enjoys spending time with his wife and 2 children- ages 8 and 12. He coaches baseball and basketball and is very involved with activities in his kids schools.


Automotive Updates
Wiseco's automotive department is busy updating everything for 2010. They have a lot in store for you next year! We've decided to take a little time out of the day to show you what some of our auto customers are donig duing the racing season. You can see a lot of this on our blog, but here are a few highlights.
************************************
This past weekend, John Kyle owner of APD, accompanied his customer Robert Rahaim to the ADRL race in Richmond. They took Rahaim's brand new 68 Camaro, built by Bickel racecars, down to compete in the extremely popular Pro Nitrous Class. Equipped with a 763 cubic inch engine and a unique powerglide, 2 speed automatic transmission, they set a new world record for an automatic equipped Pro Nitrous Car. They ran 4.009 at 182.11mph in the standing eighth mile. No one has gone into the 3.90's yet, but John is determined to be the first into the 3's with the Wiseco powered silver bullet.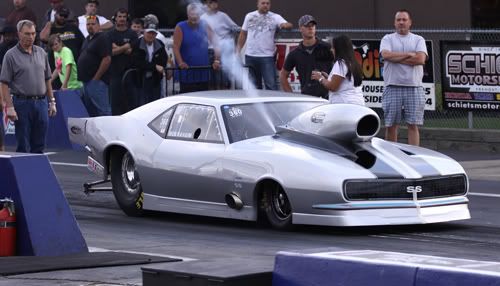 Wiseco has recently been working closely with leading engine builders of these gigantic engines with up to 4 stages of 1000hp nitrous. These engines are commonly in the 750+ cubic range and topping out into the 930 cubic inch ranges. 5.000" pistons are quickly becoming the norm. Wiseco is rapidly developing designs that are outliving our competitor's best efforts. Wiseco has it's sights on becoming the leader in this increasingly popular market.
************************************
On July 11th at Brainerd International Speedway several Sport Compact racing records were reset. Kevin Kwiatkowski, driving Kiggly Racing's 1991 Plymouth Laser, clicked the gasoline-burning FWD record up a couple notches from 8.558 to 8.424 at 166.52mph. This also upps the ante on the quickest FWD Mitsubishi, quickest DSM running gas, and is only 0.002sec behind the quickest Mitsubishi running gas (for standard driveline configuration cars). An 8.45 second qualifying run garnered the top position; then the 8.424 in first-round eliminations led Kevin to victory in the Quick-16 class. The Laser was clicking off mid-8's the entire day.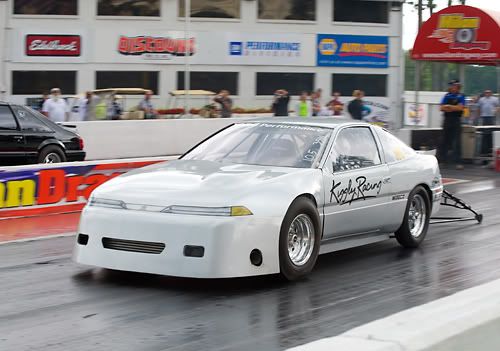 "At about 1100hp from only 2.3l (141ci), everything in the engine is very highly stressed" said Kevin. "Wiseco's 1400HD pistons proved they are up to the task of doing this without breaking a sweat. At 45psi boost and spinning to 9200rpm on a 3.937" stroke we aren't exactly being gentle to them." The following weekend Kiggly Racing won another race, this time in the True 10.5" tire class at Milan Dragway. Qualifying in the 3rd position, the win was on a holeshot with an 8.61 vs an 8.44 in the finals.
************************************
To see more about Wiseco customer achievements, check out our blog! You can find out what new products are coming out as well.
Customer Feedback
Wiseco has some of the best customers in the industry! Each of you is dedicated to racing or just getting out to ride/ drive your bike, ATV, car, snowmobile, boat, or PWC. We love to hear feedback on what our products have done for you! It could be as simple as ' My piston has lasted for 3 years!' or as big as ' Your products helped me win an AMA Supercross race!' We love to hear what you have to say. Take a look at our blog to see what some of our customers are saying and experiencing.
Where to See Wiseco!
Do you want to be able to talk to a Wiseco technical sales person and actually see our products in person? Here is your chance! Wiseco attends many events during the year. We hope to see you soon!
August-
- Loretta Lynn's 8/1, Hurricane Mills, TN
- Outdoor MX Unadilla 8/15, New Berlin, NY
September
- Steel City Outdoor MX 9/5, Delmont PA
- Hay Days 9/12-13, Lino Lakes, MN
- GNCC Unadilla 9/12-13, New Berlin, NY
October
- GNCC Power Line Park 10-3-4, St. Clairesville, OH
- GNCC The Ironman 10/24-25, Crawfordsville, IN
November
- SEMA 11/3-6, Las Vegas, NV
- Snowmobile USA 11/6-8, Novi, MI
Technical Corner
In each newsletter, we will be answering commonly asked technical questions that come up during a rebuild.
Q
: I am having problems with my EFI controller, can you help?
A
: A full FAQ page for our EFI Controllers can be found in PDF form on our installation manual page or by clicking the links below.
See all of Wiseco's new products at Wiseco.com!