The Last Clutch You'll Ever Buy
Finally! The last clutch you'll ever buy! The latest in Wiseco forged innovation now has a
lifetime guarantee
against breakage and notching! Our lifetime guarantee coversour forged clutch baskets, inner hubs, and pressure plates for purchases starting in 2009. Offer valid with proof of purchase.
· Wiseco precision forged clutch components have greater strength due to "feature aligned grain flow." Compared to castings or products machined from billet, Wiseco forged clutch components can be lighter and still have increased mechanical properties resulting in higher strength, ductility, and resistance to impact and fatigue.
· Specifically designed to capitalize on detailed features that can only be produced by the precision forging process.
· Hard anodized and Teflon coated for a long life of smooth clutch operation through the elimination of wear on contact surfaces.
· Rotational mass is minimized for reduced assembly weight and maximum engine acceleration.
· Forged from lightweight, high-strength, certified, aerospace grade, aluminum alloy.
· Wiseco's CNC machining process produces each clutch component dimensionally the same as the next.
Wiseco's Pro Tru line will keep you competitive this season!
Do you know about Wiseco's Pro Tru line of pistons? Our combinations fit your engine and your budget! The same amount of detail is put into Wiseco's Pro Tru line as all other lines. Each piston is made from dedicated forgings for superior strength and lighter weight. The line is also made from the same high quality materials- 2618 or 4032 aluminum alloy. With hundreds of kits available, Wiseco has the solution for you to keep you competitive through the race season. Kits and single pistons come complete with rings, pins, and clips. Check us out online at www.wiseco.com. Or you can give us a call to place an order or request a catalog at 800-321-1364.

Performance Options for the 2008 Suzuki GSXR1340 Hayabusa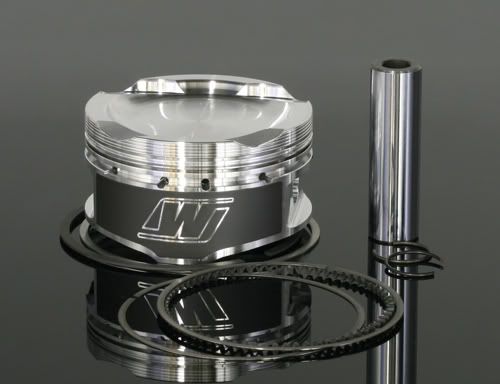 Wiseco has a wide product offering for the 2008 Suzuki Hayabusa. All are made from dedicated forgings for light weight and superior strength. Dedicated rings and pressure seal groove provide you with maximum compression, oil control, and ring seal. Available for 81mm, 83mm, and 84mm bore sizes, the pistons give you 13.5:1 compression. This hi-compression provides maximum torque and throttle response. The pistons are skirt coated for reduced friction and quieter operation. Kits come complete with 4 pistons, rings, piston pins, and clips and retail from $667.06 to $767.80. Head gaskets are available as an option.

Wiseco also offers 81mm and 82mm 9.5:1 compression Turbo pistons and a flat top version of the piston for the 84mm bore size. Check out Wiseco.com for more details.
Meet the Wiseco Sales Team!
We will be introducing our sales team at Wiseco in our upcoming newsletters. You can now learn more about the guy or gal you talk with on the phone.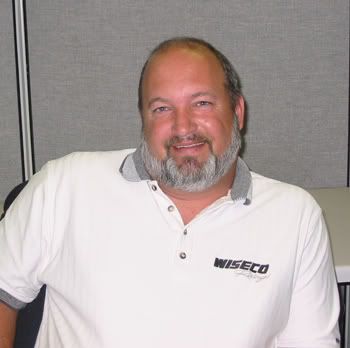 Dwayne Snyder is currently in our Tier 1 sales group part-time. Prior to this, he was with us for 9 years in our automotive sales department. We are all glad to have Dwayne back with our sales group, bringing his auto knowledge to the Tier 1 group. Dwayne can also help you with creating your online account, assisting with a return, and answer a tech questions.
Dwayne is the Wiseco sales team chef. He enjoys barequing and cooking and sometimes shares his creations with his fellow sales team. You can also find him fishing for steelhead in the area rivers and spending time with his family. Prior to his time at Wiseco, Dwayne was an automotive technician for Dodge and Subaru for 15 years. With his past experience, we are glad to have Dwayne as a member of our sales group.
Sean McLaughlin is currently our On-Road/ Snowmobile Market Segment Leader. Prior to his time at Wiseco, Sean worked as a technician for a local dealer and a technical manager for an OEM motorcycle manufacturer. With 18 years experience, we are glad to have his knowledge here at Wiseco. Sean can help you with a technical question or assist you with placing an order when he is answering our technical sales lines, but as our Market Segment Leader he has addtiional duties. He initiates new products, evaluates our current on-road and snow offerings, and manages key customer accounts.
Sean started riding and racing motorcycles in 1986. He has participated in pretty much all forms of racing, including 1/4 drags, road racing, motocross, enduros, and hare scrambles. When Sean is not at work, he enjoys working out, landscaping, and doing projects around his house. We are happy to have Sean's experience at Wiseco to assist our customers.
Wiseco's Sponsored Racers
Each year, Wiseco sponsors hundreds of racers throughout the US and beyond from the pros to the amateurs. Wiseco powered racers are everywhere. You may have seen this guy, Ed Stewart, at the races. Ed is part of our customer support/ sales team, but also handles promotion through our racer support programs. He attends many events for us during the year, including Supecross and Outdoor MX races, GNCC races, and various other outdoor races.
When Ed is not travelling for the company, you can find him in the tropics on scuba diving trips. He loves adventure and challenge. With the great weather in Texas, he also enjoys cooking and spending time outside. You can find Ed around anything that goes fast- cars, trucks, bikes, street fighters.
Ed is celebrating his 20th year with Wiseco this year. He has been with our technical sales team, helping with auto, cycle, snow, ATV, and marine sales and questions. He also ran our Texas warehouse. Ed has some experience racing as well. He raced karts and was the 1987 C.K.R.A. "C" Mod. Champion and 1989 Kingdom of Outlaws "C" Mod. Champion. He also had a brief stint in motorcycle drag racing. With Ed's experience, Wiseco is glad to have him talking to our racers and helping them out.
For more information on Wiseco's racer support program, visit
Wiseco.com
!
Where to See Wiseco!
Do you want to be able to talk to a Wiseco technical sales person and actually see our products in person? Here is your chance! Wiseco attends many events during the year. We hope to see you soon!
June
- Outdoor MX Freestone 6/6, Wortham, TX
- GNCC Wiseco John Penton 6/6-6/7, Millfield, OH
- Outdoor MX High Point 6/20, Mt. Morris, PA
July
-
Mid-Ohio SuperCycle Weekend 7/17-7/19, Lexington, Ohio
- LX & Beyond Nationals 7/17-7/18, Boardman, Ohio
- Loretta Lynn's Amateur National
August-
- Outdoor MX Unadilla 8/15, New Berlin, NY
Technical Corner
In each newsletter, we will be answering commonly asked technical questions that come up during a rebuild.
Q: Once the piston physically fits in my engine, what factors determine the piston I choose?
A
: The most important issue is to have a piston that is built for the right application. Material and thickness are the major factors. Street and drag race applications are fairly easy on pistons if ignition and fuel curves are correct. Circle track and road-race pistons see much on-off throttle usage and see more laps as well. Blower and Marine usage are equally as tough as marine engines can be under extreme load for extended periods. Finally nitrous applications are about the toughest environment a piston will ever see.
Wiseco makes super-light pistons for those people that are out to set records and are willing to check and replace pistons on a regular basis if needed. Wiseco's standard weight pistons are intended for use in endurance and other more abusive environments. If a blower or 300 horsepower of nitrous is to be used, please call Wiseco technical for specific recommendations. Always-Always use a timing control computer and have an adequate fuel supply when using Nitrous systems.
See all of Wiseco's new products at Wiseco.com!