Build A Wiseco Honda CRF450R You know Wiseco builds some outrageous project bikes that are featured in magazines like Dirt Bike and Motocross Action. Past project bikes include the Wiseco Honda CR139, Honda CRF250R, Yamaha YZ285, and Yamaha YZ450F vet bike, just to name a few. The first project bike of 2009 is a 2009 Honda CRF450R. This bike is full of high performance features and the latest technology. Find out more about the bike on the new and improved Wiseco.com. We will be posting more information on our project bikes!
New 2009 Kawasaki KX450F Ready to Ship!
Looking for a strong, forged piston to put in your 2009 Kawasaki KX450F? Are you looking for a stock replacement but want long life and power? One of Wiseco's newest pistons is available and ready to ship! The 2009 Kawasaki KX450F stock compression piston is ready to be installed for the racing season. This piston features our new ArmorGlideŽ skirt coating to minimize friction, maximize horsepower, and maximize the life of your piston. Wiseco's pistons are made on a dedicated forging to provide you with a light weight piston that has superior strength to hold up to the rigors of riding each weekend. For all the details use the links below.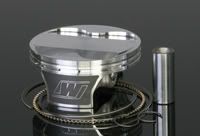 1340 EVO Big Twin Kits with Skirt Coating for Optimized Performance
It's finally time to get the bike out and prepped for some long rides. Wiseco will be with you all the way with your choice of performance pistons to make sure you make it through the season. In our offerings of V-Twin pistons, take a look at the 1340 EVO Big Twin. These pistons are available in 5 different compression ratios and fit your Screamin' Eagle cylinder heads. These pistons now have our ArmorGlideŽ skirt coating to minimize friction, maximize horsepower, and maximze the life of your piston. See the link below for all the info.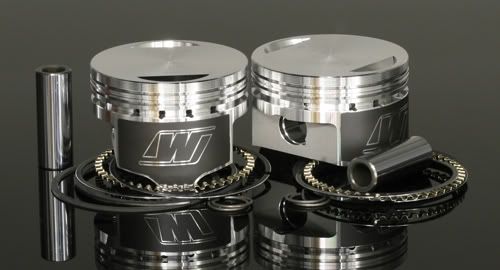 Meet the Wiseco Sales Team!
We will be introducing our sales team at Wiseco in our upcoming newsletters. You can now learn more about the guy or gal you talk with on the phone.
John Levis is our Automotive Segment Leader. John can help you with many things including placing a custom automotive order, answer technical questions, and can help you pick the right Wiseco piston for you. He has been at Wiseco for 18 years in our automotive department and was trained by the legendary Top Fuel racer Jim Walther. He started his career as an automotive tech and worked for Kwik Way Manufacturing as a regional manager. He also worked for Irontite Products selling and servicing diesel tool and crack repair products in 11 states. John also taught part time at Tri-C College for 10 years in the Automotive Technology department. John has been a great leader for our auto department and enjoys working with everyone in his department.
You can find John spending time with his wife, 2 children, and 3 grandchildren when not at Wiseco. He also enjoys fishing on his boat or in the many rivers of Northeast Ohio. John has always been close to race cars or drag bikes during his life, having several street rods in the past. Though he has no current projects in the works, he has been fortunate enough to have an understanding wife who has put up with noisy cars and a garage full of tools and parts. "I have been involved in the automotive aftermarket industry in some capacity for many years. A lot of things have changed as far as engines and technology over the years. What has been constant is Wiseco's dedication to continually improve our products and processes. I enjoy working wth the variety of racers that we have come in contact with on a daily basis. I am very appreciative of the many racers that have supported us at Wiseco over the years. Whether they bought pistons for their dirt bikes, snowbiles, or race cars. I want to thank you all!"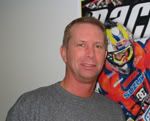 Tom Davis has worked in the Wiseco sales department for the last 5 years. He is currently in our special products division, assisting our customers with building custom powersports pistons. Tom can also help answer a technical question, provide customer service on our products, and assist you with placing an order. He is a graduate of the Motorcycle Mechanics Institute with Yamaha endorsements and worked for 10 years as a service technician for multi-line dealerships. He competed in local hare scrambles, trying to catch fellow sales member Adam Thornton. Tom's knowledge is a great asset to our sales team.
When not at Wiseco, you can find Tom spends most of his time with his son and family. He also has a yellow lab that keeps him busy. Though he has no current motorcycle projects, Tom likes to take on 'resurecting the dead' motorcycle projects- the ones no one else wants. He has learned from years of racing on a shoe string budget that it builds character and there are many of us out there.
New Wiseco.com
Did you notice our newletter has changed? So has Wiseco.com! Just launched, our new website has some great features to make it more convenient for you. A few new features include:
Improved product search and product detail
Add multiple items to your shopping cart
New 'Contact Us' page for quicker response to email inquiries
New 'Customer Service' page to easily find useful information
Dealers/ Distributors can easily view their pricing alongside stock status
More information on all our product lines
Much more!
Check us out!
Where to See Wiseco!
Do you want to be able to talk to a Wiseco technical sales person and actually see our products in person? Here is your chance! Wiseco attends many events during the year. We hope to see you soon!
April
- GNCC Loretta Lynn's 4/18-4/19, Hurricane Mills, TN
May
-
GNCC Warrior Titan 5/2-5/3, Lafayette TN
- GNCC Mountain Ridge 5/16-17, Somerset, PA
June - GNCC Wiseco John Penton 6/6-6/7, Millfield, OH
Technical Corner
In each newsletter, we will be answering commonly asked technical questions that come up during a rebuild.
Q: I received a new set of 4-stroke piston rings and the 2nd ring gap is quite a bit larger than the top ring gap. In the past, the top and second ring had similar end gaps. Has there been an improvement to piston rings I receive from Wiseco that I need to be aware of?
A: Yes. Wiseco is constantly installing performance enhancements to our product lines. The second ring gap being larger then the top gap was an upgrade and improvement to a select number of our 4-Stroke ring packages. As the piston moves down on the power stroke, combustion pressure accumulates in the land area of the piston between the top ring and the second ring. This accumulation of pressure can sometimes cause the top ring to unseat, or lift, from its sealing area at the bottom of the ring groove. This is addressed by increasing the gap area of the second ring, allowing any pressure build up to vent into the area between the 2nd ring and the oil control ring. This affords a controlled release of the inter-land pressure, and keeps the top ring seated on its lower sealing surface for improved performance. Please remember this gap difference is not present on all of our ring packages, but just a select number of 4-Stroke applications.

Continued Improvement at Wiseco
Investment in our business is still happening and will continue to be pursued to help strengthen and maintain Wiseco's expertise in the market. Wiseco has recently received a new Coordinate Measuring Machine (CMM) to help us in the inspection and quality areas of our business. Wiseco currently uses dial and height gages, or calipers, to inspect tooling and parts. This antiquated technology does not permit the level of quality our customer 's demand and expectation in today's environment.
The CMM machine will eliminate the cost of outsourcing proper quality inspection and the delays associated with outsourcing the process. This will allow Wiseco to become a "Qualified Supplier" to our customers. This will improve delivery and reduce lead times for new applications or re-made tooling and help expedite tooling required for forgings in 2009. In addition, the CMM machine will enhance the robustness of the process to ensure we are sending quality parts to the next operation. This is critical to our replenishment system, inventory reduction, and Continuous Improvement initiatives.
The payback is not all associated with a direct dollar amount over a short period of time. It is more in taking the next step in increasing our capabilities and services to ourselves and to our customers, in addition to providing us with the confidence in the quality of our products prior to leaving our dock. This will ensure that Wiseco continues to be a quality leader in the industry.
See all of Wiseco's new products at Wiseco.com!