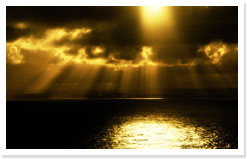 Some thoughts on weathering the storm
2009 has to have been one of the worst years I've ever experienced. In my conversations with other business people from a wide range of industries, it seems the feeling is widespread.
2010 is looking like things are improving. We're getting more research requests, and more orders. Businesses are going to trade shows, hosting events, launching new products/services and recognizing their employees.
Since promotional items are among the first things to be cut and one of the last to be restored to budgets, the fact that our business is seeing an upturn has to be positive in the larger sense. I think it indicates that businesses are feeling more confident and are now willing to spend on marketing and advertising.
Do I think we're out of the woods? No, I think things will bump along at a subdued level for awhile.
Here are a couple of thoughts on how to get through.
Don't disappear. Stay in front of your clients and your prospects. Let them know what you're up to: any new products or services. Are you going to any events or exhibiting at any trade shows? Where do your key clients and prospects network, be there to network with them.
Don't change your strategy. If your company is known for its expertise, customers service, innovation, etc. don't try to become the low cost provider in your industry. It won't work, and you'll get creamed by the low cost providers who are much more familiar with that model than you.
Likewise, now is not the time to try to penetrate new industries or sectors. Stick close to your existing customers and have them refer you to similar businesses. Everyone is still hunkered down and much more likely to stick with the known than to take on a new vendor relationship.
That's it...smooth sailing to all.