Do you own a Haunt on Long Island?
Make sure to contact us about becoming listed on Long Island's Best Haunted House Website!
Find Out More
Check Facebook Daily for Updates on all the Best Haunted Attractions!


Make sure to "like" the page for updates and articles throughout the week! Become a part of Long Island's Spooktakular online community today!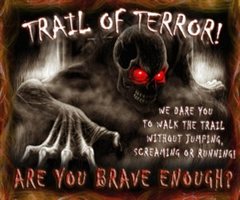 The tropical paradise of Tiki Action Park has been turned into a world of Horrors!
Walk along Tiki's Trail of Terror, if you dare - but you better be prepared to scream.
With two different levels of "scare", the Trail is sure to be a ghoulish good time for everyone.
For more info, please visit:
Since 1989, the Spooky Walk at Camp Paquatuck has been filling the hearts of Long Islanders with fear.

If you're a brave soul, than maybe you'll dare to find out where those screams from the woods are coming from.

Terrorizing Long Island for over 20 years, you won't be disappointed if you're looking for real terror this Halloween.

For more info, please visit:

Looking to laugh as much as you scream this Halloween ? Then make sure to check out the Candelabra Theatre hosted at Mills Pond House in St. James.
With three different shows every weekend, you'll never have the same experience twice!
This hilarious production is sure to get a rise out of the living - and the dead!
For more info, please visit:
Dear Long Island Haunt Hunter,
We've finally made it - it's the big Halloween Weekend of 2011! With all sorts of Haunted Happenings going on, ranging from Trick-or-Treating to Pumpkin Picking to Terrifying Haunted Houses, we're here to make sure you know where all the best events are going on, and bring you the best deals straight to your inbox. As you go out this last weekend in October, and enjoy all of the Halloween Haunts that Long Island has to offer, make sure to stay safe as you venture out.
Have a Safe & Happy Halloween from all of us at LIHauntedHouses.com.
If you've found our site or newsletter helpful in your Hunt for the best Haunt on Long Island, make sure to share it with a friend so they can get in on all the Spooktakular Savings & Haunted Houses this season!
As the end of October is quickly approaching, everyone has at least one thing to look forward to: Halloween. A month's worth of anticipation culminates on the 31st

for one of the most beloved, and fun holidays of the year - it is important at this time that we remember that will all of the festivities, and goblins & ghouls running around that we remember to be safe, and keep out of harm's way. We've put together a few sets of tips for you to ensure you have a safe and fun Halloween this year:
Click Here for all the Halloween Tips on LongIsland.com
Haunted Attractions Discounts Around Long Island

Tiki Action Park's Trail of Terror
Offering: $2 of Arcade Tokens w/ Trail Ticket w/ LIHauntedHouses Coupon
Do you love the feeling of fear? Then make sure to check out the Trail of Terror at Tiki Action Park, and get your thrills & chills all in one place! Enjoy $2 worth of complimentary arcade tokens

with Trail Ticket Purchase with this coupon.



Mill Pond's Candelabra Theatre

Offering: $2 off admission to Candelabra Theatre w/ LIHauntedHouses Coupon

If you love laughing as much as screaming, then Candelabra Theatre has a real treat for you this Halloween Season. With three different hilariously funny productions running, you're sure to be in stitches all night!
Schmitt's Farms Nighttime Combo Ticket
Offering: $3 off purchase Nighttime Combo Ticket w/ LIHauntedHouses coupon
Looking for a whole night of spooky fun this weekend? Then make sure to check out the horrifying happenings at Schmitt's Farms! With lots of eerie attractions, you're sure to have a terrifyingly good time.
All Long Island Halloween Happenings: www.lihauntedhouses.com

Eek! Halloween is just around the corner. If you are anything like me, I have only just begun the process of shopping for that perfect costume, and assortment of decorations with which to embellish my home- of course with the enthusiastic help of my seven year old. Retailers have been quite busy preparing for this 'special holiday' by stockpiling their shelves full of a variety of traditional Halloween fare displaying macabre images of witches, goblins and vampires with which to accent our homes both inside and out. Speaking of which, has anyone even thought about how a Witch got her name? Or thought much about the associations that are made with the word witch? I have, and here is the scoop on what I have uncovered!
Family Friendly Haunts Around Long Island
Girl Scouts of Suffolk Trick-or-Treat Trail at Camp Edey
Good for: All ages - Scare Level: Not Scary at All
A family event that truly has it all! Come out to Camp Edey in Bayport and join the GSSC in celebrating Halloween this year. Festivities include hourly costume pageants, games, costumed characters, a fun maze, and of course - Storybook Village full of Tricks & Treats!
Deepwell's Farm Haunted House & Parade
Good for: All Ages - Scare Level: Not-Too-Scary
This Saturday & Sunday from 1-5pm, make sure to bring the little ones out to Deepwell's Farm, for their Not-Too-Scary Haunted House, and join them in their Halloween Parade on Sunday! Lineup for the Parade starts at 12:30pm on Sunday at the Capitol 1 Bank on Woodland&Lake. Make sure to come out in your Halloween Best!
East Wind's Halloween Brunch Buffet
Good for: All Ages - Scare Level: Not Scary At All
Looking for a unique Halloween experience this weekend? Then bring the family down to East Wind's in Wading River for their Halloween Brunch this Sunday at 9:30am. Costumes are welcomed & encouraged, and in addition to traditional Brunch fare, there's a ghoulishly festive Trick-or-Treat Menu to enjoy, as well as magic tricks being performed throughout the morning!
All Long Island Halloween Happenings: www.lihauntedhouses.com
Thank you for reading -
If your friends & family love Haunted Happenings, make sure to forward them this email for the best coupons and information about Haunted Events all over Long Island!
Sincerely,
the LIHauntedHouses.com Team

© LIHauntedHouses.com, all rights reserved.