Cascade Title Barometer

Click here to view the most recent copy of the Cascade Title real estate barometer.
Go 4th Schedule

For the complete schedule, visit the Go 4th site, but here are a few highlights:

Monday, 7 p.m.: USAF Band

Tuesday, 5:30: Cardboard Boat Regatta

Tuesday, 5:30 (Expo Center): Lion's Beer Garden

Wednesday, 9 a.m.: Timber Carnival Prelims

Wednesday, 10 a.m.: Parade!

Wednesday, 10 p.m.: Fireworks!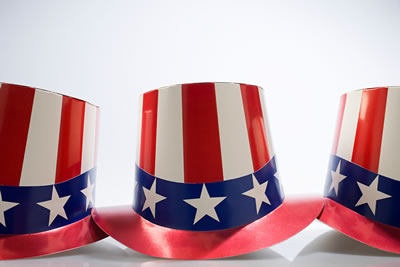 Dear ,
We love Independence Day!
With July 4th falling on a Wednesday, it might be tricky to break from work and do all the fun things in town, so take a look at the schedule (below, left) for Go 4th. Cardboard boat races! Timber Carnival! Great food and sunshine! What could be better?
Maybe we'll even see Cascade Manager Joel Lengyel in his Uncle Sam costume!
Happy 4th!
Sincerely,
Your Friends at Cascade Title Company
Dennis Bird Earns New Belt!
Cascade's Own "Crouching Tiger": Dennis Bird!
Cascade Title's own Dennis Bird has recently earned a Green/Brown belt in Kung Fu. He passed both a written and physical test to earn his new rank with Professor Steve Larson at the Academy of Kung Fu. Dennis has been training for 2 and one half years and is 3 tests away from achieving his black belt. Dennis is scheduled to get his black belt in October of next year which is his goal by the time he is 50. Dennis will be studying and taking extra classes in order to conduct "Bully Proof" classes in the local area. These classes teach kids how to deal with bullies. Dennis feels that these classes are important and that no child should be constantly bullied and victimized. Cascade Title supports Dennis in this endeavor and wishes him luck in his future tests.
Cascade Title's Manager Message
Joel Lengyel
Manager

July! What event in July takes place and should come to everyone's mind first? That's easy! The 4th of July! But, it is much more than fireworks, barbeques in the park and hot dog eating contest. Here are 10 trivia questions that I bet most of you will have to look up the answer on the internet! Good luck and no cheating!
What year was the 4th of July officially declared a national holiday?
Not all members of the Continental Congress were in favor of making the Declaration of Independence official and it was a dead tie. Who had to ride a horse in a terrible thunderstorm 80 miles to Philadelphia to break this tie?
How much money is estimated to have been spent to import fireworks from China to the U.S. for the 4th of July?
What are the odds of you eating either a hot dog or sausage on the 4th?
How many people were living in the United States on July 4th, 1776?
What year was the very first July the 4th party at the White House?
What actual date should Independence Day be celebrated?
How many cases of beer are sold on Independence Day?
The 4th of July also is known for another unfortunate occurrence and ranks first. Any guesses?
How many cities in the United States have the word "Independence" in their name and which city is the largest?
Answers:
1941
Caesar Rodney
211 million dollars
1 in 4 are the odds
2.5 million People (Now there are about 310 million!)
1801
Technically, the majority of the signors of the Declaration of Independence was not signed until August 2nd, 1776
68.3 million cases of beer
The 4th of July regrettably has the distinction of being the deadliest holiday of the year
11 cities have the word "Independence" in their name and Independence Missouri is the largest with 116,000 people.
Take care,
Joel Lengyel
1425 Maple Street, Longview, WA 98632
Phone: (360) 425-2950
Fax: (360) 425-8010
Toll Free: (877) 425-2950