LWVKKC Board of Directors


Officers
1st Vice-president:
Rynn Dupes
2nd Vice-president: Barbara Nicodemus
Secretary:
Lisa Bogaty

Treasurer:
Stephanie Matheny

Directors

Laura Cole
Mary English


Rikki Hall

Mary Headrick
Kimberly Lauth
Kelly Pemberton
Casey Self
Tammy Sommers
CALENDAR of Meetings and Events
2012
January 7:
Senate Breakfast
January 18:
PlanET League Meeting
February 6:
Last Day to Register to Vote
February 14:
League Birthday Party and Priority Setting Meeting
February 15-28:
Early Voting
March 6:
Presidential/County Primary
March 8:
International Women's Day
March 13-19:
Sunshine Week
April 10-16:
National Volunteer Week
April 22:
Earth Day
May 15:
Annual Meeting
June 4:
Happy Hour
Join a League Committee!
Voter Services
Contact Kelly Pemberton at kellypem@gmail.com.
Communications Committee
Contact Casey Self at kirsten.self@gmail.com.
State Action
Contact Mary Headrick at headrickmm@yahoo.com.
Observer Corps
Contact Barbara Nicodemus at barbaranicodemus@gmail.com.
Citizen's Academy
Contact Rynn Dupes at cadupes@gmail.com.
Naturalization
Contact Lisa Mixon at lhopemixon@yahoo.com.
Land Use and Environment
Contact Rikki Hall at sourpersimmon@gmail.com.
Education
Contact Tammy Sommers at tsommers@naiknoxville.com.
Voter Participation Study
Contact Kelly Pemberton at kellypem@gmail.com.
Childcare Study
Contact Jamey Dobbs at jameydobbs@yahoo.com.
What's Your League Story?
The League is building the
LWV Storybank. Go to the online form (
www.lwv.org/Storybank
) and share why you joined or what you've learned or why you love the League.
They will send your story to us at the Knoxville/Knox County League.
Donate to the Ed Fund
!
Want to make a donation to the League that is totally tax-deductible?
We use the Ed Fund to help inform and educate our members and the public.
Make your checks out to LWVTN Ed Fund.
Did You Know?
Each Voter mailed to a member costs $1.34 + labor.

You can stretch your membership dollar by receiving the Voter by email.



If you agree to receive the Voter by email, contact any board member.

But if that would stop your Voter perusal, don't do it!
Comments or suggestions?

Contact the editor at cadupes@gmail.com

From the President
One of the best parts of my job is representing the League in partnerships that make Knoxville a better place to live.
I'm witnessing an astonishing number of shared successes because of community collaboration
--
made even more important in this economic downturn.
Here are a few stories of people doing good work together that you can share with your friends and family.
Together! Healthy Knox,
launched by the Knox County Health Department, recruited a small army of people to take up the challenge of a healthy community.

Coordinated by Stephanie Welch of the Health Department (and League member!), three teams of community members across the county are in motion this year, taking on everything from fresh food access in the center city to infant mortality to active living. I work with the Policy Team, whose goal is to embed health thinking into every policy and planning decision of government.

Anyone can join in. Check out their website.
The East Tennessee Commission on Children and Youth
has had a remarkable revival under the leadership of director (and League member) Lindsey Cody.

In the past few years it's grown into one of the most active and diverse organizations dedicated to young people.

The group helps everyone stay up to date on the latest trends in risks to children and keeps the focus on prevention and needed legislation.

Everyone is welcome to trainings and quarterly meetings. Check out one of their future events here.
Last year, the United Way
launched a
School-Community Collaborative
to explore opportunities for partnership with Knox County Schools.

With 30-40 organizations and KCS senior staff meeting regularly for the first time, shared understanding is growing.

I serve as recorder and joined the spinoff Task Force in exploring how to expand the Community Schools strategy throughout the district.
I'm grateful for the commitment of our community to the well-being of all, and I wish you a happy new year.
Jamey Dobbs, President
jameydobbs@yahoo.com
548-0818
Join Us for Our Senate
Breakfast!
Saturday, January 7
10:00-11:30 am
Blount Mansion


Please join us on Saturday, January 7 at Blount Mansion for an opportunity to meet Senator Becky Duncan Massey and Senator Stacey Campfield. Following an informal breakfast, each of the Senators will present their perspectives on the issues that are likely to be confronted in the upcoming legislative session. After their presentations, you will have the chance to ask questions of the Senators. FREE parking
will be
available on site and across the street in the Dwight Kessel parking garage.

We hope to see you there!
Help with PlanET!
Please join the Knoxville/Knox County League of Women Voters as
we participate in shaping the future of East Tennessee. The PlanET Consortium is developing a plan that will create a "blueprint" for our region's future. The plan will lay out a menu of ways to ad­dress the region's needs
--
now and in the future
--
that will be based on what the Consortium hears from East Tennessee residents about what they love about the region, what needs improvement, and their ideas for the future.
We need you to be part of this process. Please join us to share your stories, thoughts, and ideas with other attendees and enjoy good company!
When: Wednesday January 18, 2012 (6-8pm)


Where: Barley's Taproom (upstairs banquet room)
200 East Jackson Avenue, Knoxville (in the Old City)


Important Land Use Updates
County Commission approved the Hillside and Ridgetop Protection plan after adding three sentences offered by Commissioner Briggs. He claimed this additional language brought clarity, but a meeting among League board members, other citizen advocates and attorneys with the city, county and MPC suggested that no one was sure what the Briggs amendment might mean. Only a judge can decide how the amendment's contradictory assertions can be resolved, the attorneys said.
In November, City Council passed the version of the plan that emerged from five facilitated sessions with Commission.
MPC sent both the city's compromise version of the plan and the county's amended version back to each body with no recommendation. City Council then formally adopted the plan by a 7-2 vote, a big milestone for plan supporters. Outgoing councilors Roddy and Bailey dissented.
In January, County Commission will take up the plan, and they are free to adopt their version, clean up the wording of the Briggs amendment or adopt the city's version. Passage will take two readings. These meetings will be the culmination of years of work, so presence in the audience, letters and calls urging commissioners to pass the same version as City Council, and recruiting and reminding friends of their last chance to support hillside protection are all needed. The Commission's work session will take place on January 17th, with the Commission meeting to follow on the 23rd. To contact your representative, visit the Commission's website here.
-Rikki Hall
Read the Results: LWVKKC Public Education Consensus Summary
On November 30, 2011, LWVKKC had the pleasure of submitting a consensus regarding the level of involvement of the US federal government in public education. The LWV consensus process is a great opportunity to become better educated on policies in place through resource materials provided by the LWVUS. It's also an opportunity to express your viewpoint and hear the viewpoints of other League members.
Through this discussion, the LWVKKC worked toward coming to agreement before submission. All viewpoints will be considered as the LWVUS establishes its position statement. This process is a true value of LWV membership. Check out the results for yourself on our website.
--

Tammy Sommers
Annual League Holiday Party: Fun for All
This year, Nancy
Stewart once again opened her home to host the League's
annual holiday party. New and not-so-new members we
re given the chance to come together for a chance to fellowship and celebrate a very productive year. Past presidents like Ma
rge Reynolds, Elizabeth Brister-Franks, Judy Poulson, and of course Nancy Stewart herself, were in attendance.

It was a valuable chance to spend time
with League friends, not to
mention an opportunity to get a taste of all the yummy treats everyone brought. We thank those who came and hope to see those who didn't next
year.

-Rynn Dupes
Welcome Rynn Dupes as 1st Vice President
Board member Rynn Dupes is moving into a new role as interim 1st Vice President, to replace her mother Susanne Dupes who is resigning to focus on her new public relations business. Rynn has been serving on the board the past two years as our Newsletter editor, and will serve in her new interim role until June 1. The board will appoint a new Vice President at the May Annual Meeting.
-- Jamey Dobbs, President
Progress on Community Schools and Shared Community Use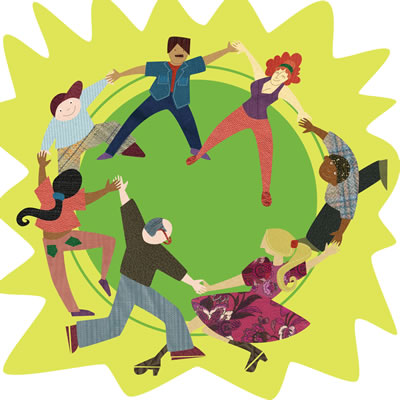 After a trip to Cincinnati, Ohio, to observe their successful Community Learning Centers, Knox County Schools is moving forward on a strategy of school-community partnerships that will work in Tennessee. The League studied the Community Schools concept and approved a formal position in 2004.
We are now actively working with the Knox County collaboration team and on a new facility use policy that we hope will mesh with the concept.
The League sponsored an earlier visit by the Cincinnati director Darlene Kamine at the United Way and East Tennessee Quality Growth conference this spring.
President Jamey Dobbs encouraged and attended the Cincinnati site visit this fall.
In Cincinnati, schools across the district are open after hours and serve as the anchor for many neighborhoods.
Each school has a local school-community governance team that contracts with a partner and identifies its local needs.
Later, a resource coordinator, funded or provided by the partnering agency, works with the principal to organize an array of activities for students and community members that fit students' needs and those in the neighborhood or community.
Results in academic performance and behavior are rising dramatically in low performing schools, and the entire community benefits from the investment in the neighborhoods.
Investments in facilities and grounds make them attractive and keep home values steady.
--
Jamey Dobbs, President

New School Facility Use Policy Affects Many, Including the League
Newly proposed KCS School Facility Use policies and fees, while important for consistency, could present unintended consequences
-- such as
eroding taxpayer support for schools and the future development of Community Schools.
The School Board's role is to approve all policy recommendations, and they also have reservations about the policy's impact.
President Jamey Dobbs joined with several School Board members at their December work session to ask for a delay in considering the effects of the policy on community groups and activities.
Rental fees are proposed for all groups, although regular users like the League are allowed to negotiate with KCS.
Insurance would be required of all, putting a burden on small groups.
This affects the League too.
In the past, high school principals have waived League rental fees for forums and trainings, although we do pay for custodial and security services for forums.
The administration is recovering energy use costs, but also says the $200,000 savings is to help meet a $7 million budget deficit.
Superintendent McIntyre invited League president Jamey Dobbs to a meeting on Tuesday, December 20 to discuss League and community concerns.
The School Board takes up the issue again at their Wednesday, January 11 meeting.
If you would to participate, let Jamey know.
Look for an update in January.
-- Jamey Dobbs, President
Advocacy for Walkable Neighborhoods
The League is helping the Knox County Safe Routes to School Task Force this year by working for passage of a bill sponsored by Rep. Ryan Haynes to increase fines for speeding in school zones, putting funds raised into school walking and biking projects. This will benefit all ages. Last year, the League helped recruit former Sen. Jamie Woodson as the Senate sponsor with Haynes sponsoring in the House. A template letter to the Transportation Subcommittee will go out to League members soon.
-- Jamey Dobbs, President
Wedekind Accepts National Design Award in Philadelphia
League member and art teacher Suzanne Wedekind accepted an award for her
Go to 2033
teacher manual and the community partnership supporting good planning and design education. The Association of Architectural Organizations made the award to her and the Knox County League at its conference in Philadelphia on October 10, 2011.

Go to 2033 was awarded two other prizes, one from the Tennessee chapter of the American Planning Association and another from the local MPC Excellence Award jury. Interested teachers and parents can read about it here (www.aaonetwork.org/go-to-2033).
-- Jamey Dobbs, President