IN THIS ISSUE

Homeschooled Teen Profile: Tim Tebow

Modesty Series: Part 2 of 5

Homeschool Friendly College: Messiah College

College Bound Reading List: "A Midsummer Night's Dream"

Short Story: "Beyond the Curtain," by Carly Anspaugh, 15

E-Mail Etiquette: Tip-of-the-Month

HST Column: Webcomix

Homeschooling High School: College Testing

Parents Column

Plus a whole lot more!!!



Contest Information From:
In the December issue of Homeschooling Teen we announced a SAT Vocabulary contest put on by a group of MIT alums. The purpose was to make a video about a SAT vocabulary word for posting online to help others learn some tough words. They received a total of 793 video entries! The grand prize winner of the BrainyFlix video contest is Aaron and his "Deluge" video. Congratulations Aaron! The vocabulary videos are now part of a free resource that anyone can use. This makes for a fun and effective way to prepare for the SAT by watching videos made by students like you! Visit their website:
http://www.BrainyFlix.com
BrainyPics Double-Up Contest

The BrainyFlix people are at it again! This time they're offering prize $$$ and iTunes as an incentive for you to make fun Brainypics flashcards. Here's how it works: you submit your Brainypics by May 22, they'll pick the top 10, and then the public votes to pick the grand prize winner. This time they're going to double-up the prizes if everyone (all of you together) create 4 unique Brainypics for every word on the words list. So the more entries, the better! There's no excuse, either, because this contest is even easier than the video one. Simply choose a word, upload a picture to illustrate that word, and make a sample sentence to go with it. It's all done online using their fill-in form. See
http://www.brainyflix.com/flashcards
for details and examples.
Do you like to write? Well, why don't you send us something! Become a part of Homeschooling Teen magazine and submit a letter, article, poem, short story, or review to:

mail@homeschoolingteen.com


SAT WORD OF THE MONTH

insolence - (n.) an attitude or behavior that is bold and disrespectful.

"Some feel that news reporters who shout their questions are behaving with insolence."



Be Somebody...
Be Yourself


MAY IS...
· National Bike Month
· Physical Fitness & Sports Month
· National Scrapbooking Month
· Military Appreciation Month
· Teacher Appreciation Week
5 Cinco de Mayo (Mexico)
5 Children's Day (Japan)
7 National Day of Prayer
10 Mother's Day
12 Limerick Day
16 Biographers Day
19 Circus Day
20 Weights & Measures Day
23 World Turtle Day
25 Memorial Day




MOVIE QUOTE- Can you guess what movie this quote came from?

"Now listen to me, all of you. You are all condemned men. We keep you alive to serve this ship. So row well, and live."

(Answer: Ben-Hur, 1959)


E-mail Etiquette:
Tip of the Month

When formatting your day to day e-mail, less is better. Did you know that depending on the e-mail settings of the person you are sending to, your formatting may not look as intended?

Everyone's software settings are unique and out of your control to control. If you use fonts that the other person does not have on their system, their default font will kick in and your e-mail will not look as you had hoped.

And, many times formatting carries over to their reply making it more difficult for them to reply without your formatting. That can be a real pain!

It is better to put your efforts into how to communicate with the written word so that formatting is not necessary to relay your tone or intent.

This E-mail Etiquette Tip is provided as a courtesy by:
www.NetManners.com


FAST FACT

On May 9, 1934, a strong two-day dust storm removed massive amounts of Great Plains topsoil in one of the worst such storms of the Dust Bowl. The dust clouds blew all the way to Chicago where dirt fell like snow. Two days later, the same storm reached cities in the east, such as Buffalo, Boston, New York City, and Washington, D.C. That winter, the snow that fell on New England was a reddish color from all of the dust particles that were still in the air.
Bloggers Needed for HST Blogroll
Are you a homeschooling teen? Do you have your own blog? You know you excel in your field of thought, right? ;) Would you like to get more visitors to your blog? Let us add your blog to our Homeschooling Teen Blogroll at
http://homeschoolingteen.wordpress.com
! You can write about anything you want in your blog, as long as it adheres to the standards set forth in Philippians 4:8. ("Whatsoever things are true, whatsoever things are honest, whatsoever things are just, whatsoever things are pure, whatsoever things are lovely, whatsoever things are of good report; if there be any virtue, and if there be any praise, think on these things.") In other words, keep it nice and keep it clean! Take a look at a few of the blogs that are already there, and be sure to contact us at mail@homeschoolingteen.com to add yours to the list!
Limericks
A limerick is a five-line poem in a specific meter, usually with a funny punch line or a humorous twist. The rhyme scheme is traditionally a-a-b-b-a. The first, second, and fifth lines have three stresses; the third and fourth lines have two stresses. Limericks often contain internal rhyme and alliteration.
1. A tutor who tooted the flute (a)
2. Tried to tutor two tooters to toot; (a)
3. Said the two to the tutor, (b)
4. "Is it easier to toot, Sir, (b)
5. Or to tutor two tooters to toot?" (a)
Edward Lear's "A Book of Nonsense," first published in 1846, popularized the limerick. You can read his limericks here:
Send your limericks and other poems to mail@homeschoolingteen.com so we can publish them in this e-zine!



M
other's Day is May 10 - Don't forget to do something special for your mom! Rather than buying a stereotypical Mother's Day gift, think about what your mother would really like. A gift from the heart means the most, because Mom will appreciate the thought behind it more than how much you spent. One of the best things you can do for your mother is to share your time and interests with her.
"My mother had a great deal of trouble with me, but I think she enjoyed it." ~Mark Twain
THIS MONTH IN HISTORY

The King James Bible was published on May 2, 1611.
The Hindenburg exploded on May 6, 1937.

Germany surrendered to Allied Forces on May 7, 1945.

The Central and Union Pacific Railroads met in Promontory, Utah on May 10, 1869.

The California Gold Rush began on May 12, 1848.

The Lewis & Clark Expedition departed from St Louis, Missouri, on May 14, 1804.

The New York Stock Exchange was founded on May 17, 1792.

Mount Saint Helens erupted on May 18, 1980.

The first Ringling Bros. circus performance took place on May 19, 1884.

Mount Everest summit was first reached by Edmund Hillary on May 29, 1953.


Distance Learning at Patrick Henry College
Patrick Henry College is offering a full slate of distance learning courses this summer for the first time. These classes are open to advanced high school students, college-age students, and adults. In fact, anyone looking for rigorous, interactive, and biblically-based college courses! HSLDA members receive a 5% tuition discount. Learn more at http://www.phc.edu/distance.php


Did You Know...? William Shakespeare was born on April 23, 1564 and he died on April 23, 1616.



CARTOONIST WANTED!
Are you a cartoonist and would you like to see your work published in this magazine? Please write and tell us about the type of cartoon you create, (single pane, strip, etc.) the topics you cover (current events, humor, homeschool life, etc.) and send us a sample along with your name and age. Contact: mail@homeschoolingteen.com



Product Reviews
Lights, Camera, Action!
Highlights from the 2009 Christian Filmmakers Academy
The Christian film movement is currently booming as evidenced by the success of movies like Expelled and Fireproof. The Christian Filmmakers Academy aims to equip and encourage students to produce high quality films that glorify God while having sufficient box-office appeal to rival Hollywood. More than 500 students gathered for the 2009 Christian Filmmakers Academy in San Antonio, Texas, to seriously explore how to build a Christ-honoring replacement industry outside Hollywood. If you couldn't attend but wish you had, Lights, Camera, Action! is the next best thing to being there. It's a hefty CD album with over 22 hours of live conference audio recorded on location. The speakers include Doug Phillips, Geoffrey and Isaac Botkin, Stephen Kendrick, Dean Jones, and others who offer plenty of practical advice as well as theological teaching. It was refreshing to hear a group of movie makers coming together to focus on God's Word as their guideline. Lights, Camera, Action! features highlights from the academy, including a two-part lecture on cinematography; an analysis of how Christians should depict violence in film; a blueprint for how Christian filmmakers can rightly employ the Science Fiction genre; a look at the twelve most common mistakes of beginning directors, practical tips on how you can improve a film in ten minutes; an overview of "How to Win the $101,000 Best of Festival Award"; a panel discussion with feature filmmakers such as Stephen Kendrick of Fireproof; a special address by actor Dean Jones outlining why Christians should build an independent film movement outside Hollywood; and much more! There are 19 CDs plus a bonus DVD of lecture slides in PDF format from the event. The CDs were very interesting and enjoyable to listen to, in spite of the fact that these are audio-only so the visuals are missing, which is kind of ironic coming from a film academy. Nevertheless, this is an excellent resource for student filmmakers.
Lights, Camera, Action! is available at Vision Forum
.
-----------------------------
From Script to Cinema
: Christian Filmmaking Essentials
If you would like a DVD series on the subject of Christian filmmaking, you're in luck. Vision Forum has produced a 10-DVD set entitled From Script to Cinema, taken from a previous year at the Christian Filmmakers Academy in San Antonio. This DVD series is designed to assist in the education of aspiring filmmakers who enjoy filmmaking, screenwriting, and directing for the glory of God. From Script to Cinema is packed with 12 hours of formal classroom instruction from seasoned industry professionals, as well as interaction and discussion with Academy faculty and guest lecturers. Topics include: Biblical Worldview & Theology for Christian Filmmakers; Deformation and Reformation of the Arts; How to Write a Winning Treatment; Making a Short Film; Copyright and Trademark Issues for Filmmakers; How to Win an ENN and Jubilee Award; Behind the Scenes with Facing the Giants; and practical instruction on such diverse film techniques as lighting, camera-work, editing basics, animation, compositing, and production logistics. From Script to Cinema focuses on giving viewers an understanding of how to have a God-honoring worldview in the medium of film, and how that worldview will affect their filmmaking success or failure. It also includes a worldview assessment to evaluate your own current outlook regarding the topics of Culture, Government, History, Family, Law, Religion, Economics, and Education. From Script to Cinema would make a great unit study for a family of amateur filmmakers. Anyone who's interested in any other aspect of the entertainment industry, such as computer game designers, can learn something here too. Purchase this set and plan on making a summer project out of it!
From Script to Cinema is available at Vision Forum
.
-------------------------------------------------------------------
New Movie about Patrick Henry College
W
ith its reputation as a legal debate powerhouse, Patrick Henry College (PHC) is an appropriate setting for Come What May, an independent Christian film by Advent Film Group produced in partnership with PHC. The movie features an unapologetic pro-life, pro-family message and reveals a legal framework for overturning Roe v. Wade. We have the special preview edition of Come What May on DVD. It's not quite as good as the Flywheel/Facing the Giants/Fireproof movies, but it's definitely worth getting and supporting. In addition to the abortion issue on which the movie focuses, the girl in the movie makes a strong stand for courtship vs. dating. Mike Farris, co-founder of HSLDA and founder of PHC, is in the movie, and we know Kenny Jezek from when he used to run a Christian marital arts program in Arizona.
Come What May was directed by homeschool dad Manny Edwards who also wrote, produced, and directed Mysterious Ways, a movie about a homeschooling family's run-in with a hostile social worker. Manny Edwards is a lawyer licensed in both Tennessee and Michigan, who worked with his father in a successful federal trial and appellate practice until he decided to start making movies. In his first film, Edwards also played the main role as Jim Harper, a dad who lost his job due to downsizing, while at the same time having to deal with his son's suspension from public school for posting religious "propaganda." Mysterious Ways is one of my favorite movies, and I had been eagerly waiting to see what he would do next, so I was glad to see him directing this one.
George Escobar, the producer of Come What May and also a Christian homeschool dad, has more than 20 years of experience in film, television, and interactive media. Before founding the Advent Film Group (AFG), Escobar was a video executive at Discovery and AOL/Time Warner. Since leaving corporate America, his goal has been to train homeschool students who will one day direct big-budget films with moral integrity. AFG's first movie, Come What May, was made by a team of 30 homeschoolers and a handful of professional filmmakers. Advent's goal of rebuilding the culture for Christ using an army of homeschoolers has energized the Christian community. Families dismayed by Hollywood's usurping "faith-based" movies to make audiences "feel good" while rejecting Biblical foundations, have responded wholeheartedly to the opportunity of joining AFG's productions as donors and volunteers.
"Advent is gaining a reputation for producing movies that protects a student's Christian walk, promotes a Biblical worldview, and provides a professional path for students (especially homeschoolers) to rebuild culture for Christ through cinema," Escobar explains. At AFG, students learn that filmmakers are held accountable for their movies. "It's akin to the warning in Scripture for those who would teach or preach," clarifies Escobar, "that they should not lead others astray from Christ in the stories they tell." Escobar plans to film and produce five such movies over the next three years in collaboration with Patrick Henry College, following the model of Sherwood Baptist church in Georgia.
Escobar offers some advice for would-be filmmakers: "Regarding film school, we strongly recommend that students do NOT go to film school. Instead they should go to a Christian Liberal Arts college and master Art, History, Literature, and English. That way the student has something to write about for their film screenplays, will know how to write it, and understand the how and why of the story they are telling."
For a donation of $25 or more to PHCs scholarship fund, PHC will send you your own DVD of Come What May. Request your copy at
https://www.phc.edu/secure/DonationForm.php?adventfilmgroup=1
Check Out Your Professors
!
O
nline since 1999,
RateMyProfessors.com
is the Internet's largest listing of collegiate professor ratings, with more than 8 million student-generated ratings of over 1 million professors from over 6,000 colleges and universities across the United States, Canada, England, Scotland and Wales. Thousands of new ratings are added each day, and even my local community college is included. College students can go to the site and rate current and past professors on attributes such as easiness, helpfulness and clarity. Students can also use the site to help plan their class schedules, by looking at how other students have rated a certain professor. Each professor gets a name, subject, overall smiley symbol (good, average, poor), quality rating (1-5), ease (1-5) and whether they're "hot" or not. Some ratings may be good, some may be bad, and some might be so-so, but keep in mind they are all just opinions. Nevertheless, the detailed comments can be a useful resource when considering whether or not to take a particular class, by providing clues as to how strict the professor is, how much homework he or she gives, what his or her personality is like, etc. You know you've got a winner when you see more than one comment saying "amazing teacher" and "this class changed my life."
There is another site,
www.Pickaprof.com
, that is dedicated to giving students a chance to review their professor's grade history. They can see how many A's, B's, C's, D's and F's a professor gave to each class that he or she has taught. Pickaprof.com receives official transcripts from universities across the nation and makes this information available to students. The site has a clickable map of the U.S. on its homepage that allows users to click on the state they are interested in and choose the school they attend. But to obtain any information, you have to first log into the site with an e-mail address, password, and user name. Once registered, students can look up a class they are taking or plan to take. A graph will show you how many students the professor had in their class and the percentage of grades that professor gave to their students. It also shows the average GPA the students earned in that class. However, the number of participating colleges is much fewer than the previous site above, and it only tracks grades rather than offering a variety of ratings.
Webcomix
A column by Peter in AZ (age 18)
Last month's webomic was from Alaska, but this week's is a little closer to home. Well, my home anyway.
Sandusky
takes place in Arizona, not a long way from my place. It's about a mountain lion, who mysteriously shows up at the door of somebody's apartment, in a basket. As you might be able to imagine, he can cause a lot of trouble for his owner, Scott, especially when he gets into the catnip.
Sandusky
also likes to eat Whoppers. (No, not the burger; those malted milk balls.)
I like the strip because it's funny, and I can also recognize some of the places in the comic.
http://sandusky.comicgenesis.com
Memorial Day Activities
· Attend a parade.
· Listen to a patriotic speech.
· Visit a cemetery or memorial.
· Decorate the graves of loved ones with flags or flowers.
· Fly the American flag at half-staff until noon.
· Fly the POW/MIA Flag if you have one.
· Participate in the "National Moment of Remembrance" at 3:00 PM.
· Pledge to aid disabled veterans as well as the widows, widowers, and orphans of deceased veterans.
· Research the Civil War, Arlington National Cemetery, the Tomb of the Unknown Soldier, or the Vietnam War Memorial.
· Make cards, placemats, bookmarks, or other appropriate gifts for distribution at a veterans hospital.
· Look in poetry anthologies for poems about flags, national service, and wars.
· Compose your own poem about one of these topics.
· Play, hum, or sing "Taps."
· Sing patriotic songs.
For more information about Memorial Day and its history, visit
www.HomeschoolPatriot.com
Scott MacIntyre Update:
Thank You from Scott and His Family

[Submitted by Doug MacIntyre]



Thank you for your tremendous outpouring of support for Scott throughout his "American Idol" journey. We are truly saddened to see him go and feel his departure from the show is several weeks too early. However, Scott is doing great, and immediately started press interviews after the show and was up again this morning at 3am continuing media appearances. He will be on Access Hollywood, Idol Extra, Entertainment Tonight, Extra, E!, TV Guide, CNN, CTV, Fox affiliates across the nation, Good Day LA, Entertainment Weekly, LA Times, People, US Weekly, Newsweek, Idol Tonight. Next he flies to New York to appear on Regis and Kelly and the Today Show. Thanks to you who voted for him so faithfully, he truly feels blessed to have these opportunities.

Many of you have asked where you can get Scott's original music. He released a CD last year called "Somewhere Else" which you can only get as noted below. The CD includes 12 original tracks and is 52+ minutes in length. Scott's web site at www.scottmacintyre.com and MySpace www.myspace.com/scottmacintyre are coming back up with the latest news and photos. You can also join Scott's mailing list and send fan mail. Scott is eagerly looking forward to meeting many of you while on the American Idol summer tour. Additionally he plans to continue writing and recording music, and he will be releasing a brand new CD immediately following the tour.
COST: For a "Somewhere Else" CD - send $15 per CD + $3 shipping & handling (check or money order) to Scott MacIntyre, P.O. Box 26803, Scottsdale, AZ 85255


WEBSITES: You can hear a track from the CD at: http://www.youtube.com/watch?v=MWeDPjjr-BY

Scott's iTunes recordings from American Idol can be found at www.americanidol.com/itunes

Parent's Column


Dear Parents,

Thank you for taking the time to view Homeschooling Teen Magazine. We hope that you and your homeschooler enjoyed reading with us. That is our goal, after all! It is also our goal to provide homeschooled teens a place of their own, to highlight their accomplishments, talents and thoughts. Here at Homeschooling Teen Magazine, our articles and information are written exclusively by homeschoolers, for homeschoolers. We strive to make this a safe place for your teens to join in and express themselves in accordance with Philippians 4:8. We will never share or sell your information with any third party. Content is a top priority for us and articles will always be age appropriate. Our magazine will only allow sponsorship logos and links that are family friendly. However, the opinions expressed in our magazine are not necessarily those of Homeschooling Teen Magazine and we cannot be held responsible for any information listed or actions from our sponsors. Please let us know if you have any questions or concerns.

Our magazine is free to all homeschoolers. If you know someone who would like to view a sample copy, please have them send us an e-mail to request one. If you would like to forward this issue, please feel free to do so; however do advise the person you are sending it to that all the links may not work when forwarding. If this copy has been forwarded to you and you would like to have Homeschooling Teen Magazine sent directly to your inbox each month, just click on the link below:


Homeschooling Teen Magazine - Subscribe for FREE!
http://homeschoolingteen.wordpress.com/subscribe-its-free
Produced online monthly by Homeschooling Teens

If you have a business and would like to be included as a sponsor for Homeschooling Teen Magazine, let us know of your interest by contacting mail@homeschoolingteen.com . You can become a Parent Helper in your area and have an opportunity to earn some extra income, too. Please contact us for more information.

Copyright 2009 Homeschooling Teen Magazine


Welcome... Homeschooling Teen is an exciting new e-zine for homeschooled high schoolers and young adult alumni. Published once a month, each issue is full of fellowship and fun, human interest and humor. Much of the content is written by other subscribers, and there are many opportunities for readers to participate - whether it's writing book or movie reviews, sending in original short stories and poems, or submitting favorite websites for the links section. Additionally, in each issue we feature a profile of a different Homeschooling Teen subscriber and/or a famous homeschooled teen. Write to us at

Museum Fun for Everyone
May 18 is International Museum Day. The word museum comes from the Greek word "mouseion," meaning "Place of the Muses." The first museum in the world was established around 330 B.C. in Alexandria, a Greek city in Egypt. This museum was built to honor the Muses, nine daughters of Zeus who were believed to be protectors of the arts and sciences. The museum included temples, gardens, a zoo, and a library.
Museums have something for everyone - history, art, science, religion, anthropology, and more. All are storehouses of interesting things. Art museums feature paintings and sculptures. Natural history museums contain things like dinosaur skeletons and examples of animal and plant life. Museums of science and technology have many do-it-yourself exhibits. Creation science museums explain the origins of all things based on the Biblical account. Historical museums may cover the history of a region, city or town. Children's museums specialize in exhibits created for and sometimes even by children. Libraries are a special type of museum for books and writings. Many real museums have virtual exhibits... and there are also virtual museums that exist only in cyberspace. Here are some of our favorite virtual museums and exhibits, featuring a little bit of everything:
America Online (AOL) Virtual Museum
American Museum of Photography
American Red Cross Museum
Colonial Williamsburg
Creation and Earth History Museum
Cyber Telephone Museum
DeCordova Sculpture Park
Field Museum of Natural History
Greeting Card Museum

If you have a computer and a digital camera or scanner, why not start putting your own collection online and then send us the link so we can see it!


Beyond the Curtain
In the semi-darkness, you can hear the shallow thud of Pointe shoes and swish of elegant costumes belonging to the performers exiting the stage. Your heart seems to stop altogether, yet is also obnoxiously pounding so that you can hear the blood rushing in your ears. Your feet are stinging and asleep. But once past the curtain, you no longer feel any if this pre-performance giddiness. You are now the Dream Fairy who has been playing in the forest with all the other lively sprites.

The stage lights mercifully shine in your eyes so that you are unable to see out into the anxious and stirring audience. You hear your music strike up and suddenly inhale enough air to last you through your performance, it seems. You are staring into the sound booth, not thinking about your steps lest you think to hard. A smile is plastered on your face. Watching your co-dancers out of the corner of your eye, you make sure that you are in perfect synchronization, a gentle wave, heaving and undulating as one.

You smile radiantly as you exit the stage with the audience in a wild burst of applause. Gasping for breath backstage you let your eyes adjust to the abrupt blackness. You quickly dodge the Fairy-God-Mother and her Escort as they prepare for a magnificent lift. Towering above the rest of the chaotic, back stage pandemonium, they anxiously await their cue.

When they return from their triumphant duet, accompanied by a thunderous roar from the audience, the stage immediately goes black. Mysterious music falls over the house as you make a silent dash out to lug the heavy, wooden chair off stage for the set change. Collapsing into it, you await the bow call.

As light floods through the auditorium you and the rest of the ensemble sweep onto the stage one last time and take a deep, glorious bow to the audience who is on their feet now, clapping and whistling. You feel radiant, electricity coursing through your body. You glance at your fellow company and see that they too, are on that performance high. As the dazzling stage lights gradually fade into the standard house lights, you and your troop loudly promenade your way out into the lobby, where you meet your ecstatic onlookers. You smile, nod and laugh at something, you're not sure what. "Good show!" "Great job!" "Well done!" and other praises bombard you.

In the dressing room, finally breathing easily now, the pain in your feet and the coarse, roughness of your costume and the stiff, crackle feeling of your stage make-up all creep their way back into your body. You exhale deeply and gradually become yourself again. It is good to be back, though you do miss the exhilaration and adrenaline of the performance. But then you realize, as a wave of potent emotion that you can't identify pours over you, that there are three more performances yet to go!


By Carly A., 15
Homeschooled Teen Profile : Tim Tebow

If you're a sports fan, you've probably heard of football quarterback Tim Tebow. Besides being an outspoken Christian athlete, Tebow is a homeschool graduate. Although he did not attend public school classes, he played on the Nease High School football team which won the 2005 State Championship. In his freshman year at college, Tim joined the Florida Gators, the team that won the National Championship in 2006. As the starting quarterback, Tim has been leading the Gators to victories ever since. On January 11, 2009, Tebow announced that he would return for his senior season at the University of Florida rather than making himself eligible for the NFL draft.
Tim grew up in a close but competitive family and athletics have always been a big part of his life. At five years old, he was begging to play organized sports. Like his other siblings, he was homeschooled until college. Fortunately for him, in 1996 legislation was passed in Florida allowing homeschooled students to compete in local high school sporting events. This Florida law allowed Tim to play baseball, basketball, and football, and he received numerous county and state awards for each sport.
Tim's parents, Pam and Bob Tebow, have been called "homeschool pioneers" because they began homeschooling in 1982 before this form of education became popular. Teaching their children to honor God was the main reason for their decision to homeschool. "If I could get my kids to the age of 25 and they know God and serve God and had character qualities that pleased God, then I knew God would be happy and I would be happy," explained Bob Tebow. "The only way I could do that was to do it myself, commit to God that this is my job," the senior Tebow continued. "Traditional academics had to take a back seat to God's Word and character building."
In addition to family values and character training, the Tebows focused on each child's individual learning styles, interests, and goals. All five of the Tebow children went on to receive college scholarships. Tim was the first underclassman ever to be awarded the Heisman Trophy for most outstanding player in collegiate football. He earned the Maxwell Award as the nation's top football player twice. He also won the Davey O'Brien Award as the nation's best quarterback, and the James E. Sullivan Award as the nation's most outstanding amateur athlete in any sport.
Tim remains humble in spite of all the national attention he has received for his accomplishments. Tim credits the Lord, his family, his coaches, and his teammates for his success. Although football is important to him, his first priorities are faith, family, and academics. A favorite verse from the Bible that he often quotes is Philippians 4:13, which credits the true source of his strength, "I can do all things through Christ who strengthens me." Just like in the movie, "Facing the Giants," Tim's main goal is to give glory to God.

The Tim Tebow Bill
Football season may be over for now, but Tebow is still in the news with an Alabama Senate bill named after him. Senate Bill 305, a.k.a. the "Tim Tebow Bill," would allow homeschooled students to participate in public and non-public school athletics. Kentucky and Arkansas also have Tim Tebow bills in the works. Similar legislation is currently being proposed in the states of Georgia, Hawaii, Louisiana, Maryland, Mississippi, New Jersey, New York, North Carolina, Oklahoma, South Carolina, Tennessee, and Texas.

At least 24 states already have laws allowing homeschoolers equal access to athletic activities. These include: Arizona, Colorado, Florida, Idaho, Illinois, Iowa, Maine, Massachusetts, Michigan, Minnesota, Nebraska, Nevada, New Hampshire, New Mexico, North Dakota, Ohio, Oregon, Pennsylvania, Rhode Island, South Dakota, Utah, Vermont, Washington, and Wyoming.

Despite the fact that the Alabama Education Association and many high school principals are opposed to the idea of homeschooled students playing sports without being enrolled full time in public school, the Tim Tebow bill seems to be gaining acceptance in the Alabama legislature. State Senator Hank Erwin, the bill's main sponsor, said "We're moving the ball forward. It's slow, but ... we're moving it down the field one yard at a time." On April 22, 2009, the Senate Education Committee will vote on this bill, in what will be their third attempt.
Tim has spoken in favor of homeschool students being able to play on public school teams. Tebow's father said that if Florida law had not allowed homeschoolers to participate, he would not have enrolled Tim in public school just so that he could play football. Tebow's mother stated, "It has been my experience that the families who home school are a positive addition to an athletic team, school band, or interest club." Tim regularly was the spokesman for his football coach's team goals of "character, strength, and honor," and he continues in a similar role at the University of Florida.


Tim's Family and Faith
Timothy Tebow was born on August 14, 1987 in Manila, Philippines, where his parents were Christian missionaries. While pregnant with him, his mother suffered a life-threatening infection compounded by a severe placental abruption. Expecting a stillbirth, doctors recommended that she have an abortion to save her own life. She refused, and through the miracle of prayer, both mother and baby survived. "It was ... a really a great beginning because you know when something is hard to come by, you value it so much," said Pam Tebow, adding, "all of our children value Timmy because they'd all had a part in praying for him." Tim has two older brothers and two older sisters.
When Tim was three, the Tebow family moved back to Florida, the home base for his father's his twenty-five year ministry. All of the Tebow children regularly go to the Philippines on mission trips. Tebow has worked at the orphanage there since he was 15. Each summer, Tim returns to lead evangelistic crusades and minister to the children. On one of Tim's mission trips, the highlight for him was preaching to 10,000 high school students in Digos, Mindanao. At home in Florida, he regularly visits schools, hospitals, and even spoke at a prison.
Tim's faith is the driving force in his life, and he is acutely aware that "To whom much is given, much is required." Tebow keeps a poem on his bulletin board that reminds him of an athlete's accountability to be a role model for the boys who want to be just like him. He is a tough but tenderhearted guy who likes to greet young fans at his games. Tim also leads fellow college students in Bible studies each week and has a desire to remain involved in ministry.
In a one-hour documentary about Tebow that aired on ESPN, Tim is seen studying the Bible as part of his homeschool curriculum and devotional reading. The football team is shown praying before and after practice. After almost a year filming Tim's senior season in different settings, ESPN producer Ken Murrah said, "I made the decision that it must be heavily based on their faith and beliefs." Murrah explained, "I knew he was a good football player in his strength, size and unique skills, but I was amazed at his natural ability and maturity to speak publicly, go into schools, be comfortable in being a role model and talk so openly about his faith." Timothy is a name that means "honoring God," and Tim Tebow is doing just that.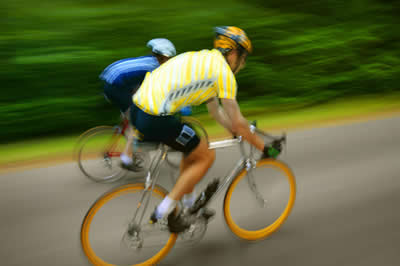 In celebration of May being National Bike Month, we thought you might enjoy this article on the history of bikes.
BIKES & BICYCLING
Bicycling is a popular pastime for all ages, from preschoolers to seniors. Bikes are fun to ride, whether traveling around town, touring the countryside, participating in races, performing bike motocross stunts, or simply using them for exercise. Bicycling is a sport the whole family can do together. For youth, biking is the way to adventure; for older folks, it keeps them young in heart.
The world's first bicycle was made in France around the 1700's. It was made of two wheels joined by a wooden bar. The rider sat on a wooden rail and pushed the vehicle along the ground with his feet. This primitive vehicle had no pedals and could not be steered.
In Germany, Baron Karl von Drais built a similar vehicle in 1816. The big improvement of this bicycle over the first was that the front wheel could be turned for steering. A number of versions appeared, called walkalongs, hobby horses, or Draisines. Some had iron tires over the wooden wheels, padded chest supports, cushioned leather saddles or spring-mounted seats.
Over the years, the comfort and efficiency of these early bicycles continued to improve. A Scotsman used treadles to transmit power to the rear wheel to drive the vehicle. An English inventor attached a ratchet device to the front wheel, which was pumped with the arms. Others arrived at the idea of pedals that were attached directly to the front wheel.
However, it wasn't until after the American Civil War that the idea of a pedaled bicycle caught the public's fancy. In 1866, a French carriage maker named Pierre Lallement began manufacturing bicycles in Connecticut. His bicycle's front wheel was slightly larger than the rear wheel. Pedals were attached directly to the front wheel axle. It was called a "boneshaker" because it jolted the rider so much, especially on the cobblestone roads of the day.
New versions of Lallement's bicycle began to appear rapidly. In each, the front wheel became slightly larger and the rear wheel slightly smaller, since a higher front wheel achieved greater distance for each turn of the pedals. Other improvements included adjustable seats and the addition of rubber tires over the rims to reduce noise and prevent the wheels from slipping. By the 1870's, most wheels were fitted with wire spokes rather than heavy wooden spokes.
The high-wheeled bicycle, consisting of a small rear wheel and a huge front wheel with a seat mounted directly over it, came into vogue around 1875. In the most common models, the front wheel was from four to five feet tall, but a few were as high as eight feet. The high front wheel gave a rider the full advantage of his thrust in pedaling, as one turn of the pedals sent the big wheel on a complete revolution. This allowed bicyclists to achieve faster speeds, up to 25 mph.
Wheelmen, as these cyclists were called, were proud of their skill in handling the high-wheeled bicycles. Bicycle parades, exhibitions, and cross-country tours gave them an opportunity to sport their vehicles. However, a big disadvantage of high-wheelers was the difficulty in mounting them, and the danger of falling off from that height. Because the rider sat so high above the center of gravity, if the front wheel was stopped by a stone or rut in the road, the entire apparatus rotated forward on its front axle, and the rider hit the ground head-first. Thus, the term "taking a header."
A high-wheeled tricycle was first made in the 1880's for ladies who were afraid of the high bicycles, and for gentlemen such as doctors and clergymen who preferred to ride with more dignity. Then safety bicycles, much like today's bicycles, were invented. While the "highboys" remained in use for more than a decade, eventually the safety bicycle won out.
The safety bicycle returned to two wheels of the same size, but it could go as fast as the high-wheeled ones due to a major improvement. Pedals drove the rear wheel by a chain and sprocket, as they do today. The chain was arranged so that turning the pedals once made the back wheel turn more than once around. The rider sat lower and more comfortably, between the wheels. Rubber tires were filled with air, making for a softer ride. Coaster brakes were also added.
In the 1890's, bicycling became so popular that people went without other luxuries and even necessities so they could afford the best possible bicycle. At that time, bicycles were the fastest wheels on the road. Bicycles were used for recreation as well as transportation. Sunday afternoon rides became popular, with women participating as actively as the men. The tandem "bicycle built for two" became a fad. There were even some bicycles for four riders.
It has been said that the wheel was the single greatest invention in the history of mankind - and the most useful application of the wheel may well be the bicycle. Most people don't realize how bicycles influenced our present way of life. Bicycling was the first athletic activity to bring women out of the parlor. They stopped wearing hoopskirts, bustles, and cumbersome clothes and changed to shorter skirts, bloomers, culottes, and apparel more practical for bicycling.
In addition, the bicycle literally paved the way for the automobile. Many early automobile engineers and manufacturers started out as bicycle builders. The first automobiles had slim tires and spoked wheels just like bicycles. They were given their test runs on the smooth roads that had been demanded by bicyclists. The first motorcycle was a gasoline-powered bicycle. Even Wilbur and Orville Wright's historic flying machine was designed in their bicycle shop.
After the introduction of automobiles, bicycles slipped out of favor for more than half a century. Bicycle manufacturers resorted to selling two-wheelers and tricycles as toys for children. Then in the 1960's, biking enjoyed a revival as it once again gained popularity with adults. Circumstances that brought the bicycle back included the need for exercise, an increase in leisure time, interest in the outdoors, concern for the environment, and a desire to return to a simpler way of life.
Today's bicycles represent over two centuries of development. Gear shifts were added to modern bicycles for changing speeds and making pedaling easier. Space-age materials and engineering provide maximum performance and relatively low maintenance. Types of bikes include the English 3-speed of the 1960's, 10-speed derailleur bikes from the 1970's, and the mountain bike which has been around since the late 1980's. Among the many other variations are hybrid street bikes, BMX bikes, unicycles, folding bikes, exercise bikes, recumbent bikes, and even pedal cars.
For additional information about the history of bicycles, online exhibits, pictures and more, visit the Pedaling History Bicycle Museum at www.pedalinghistory.com. To catch the cycling spirit, watch Breaking Away (1979 - PG), about a high school graduate and skilled cyclist named Dave. His heroes are the Cinzano racing team from Italy, but everything changes after he meets the Italians - and he and his friends challenge the college fraternities in their town's annual bike race.
Courtesy of www.KnowledgeHouse.info
Modesty Part 2 of 5 What is modesty?

Last month we said that modesty is an expression of purity, consideration and wisdom. It's dressing (and acting!) in a way that protects ourselves and others from sinful thoughts and desires related to the body. And we need modesty because the good force of physical attraction, which God created, can be twisted by us sinners into something that destroys instead of doing good.

Purity-it's all about pollution

What's purity? Think of the difference between clean and unclean water. Which would you rather drink? Spring water or water with something disgusting in it? Well, the Lord looks at our thoughts and actions, and he desires purity in us. He wants to see our thoughts and actions free of the pollution which is sin. And that's true in all areas of our lives, including our clothing choices.

Consideration-it's not all about you

We don't live on a mountaintop alone, so the concern for purity flows naturally into consideration. If purity matters, then not just your purity matters, but other people's purity-and your effect on their purity-matters, too. "Love is not selfish." "Love does no evil to its neighbor."

What is love, anyway?

It's funny-clothing that lays a trap, that puts sinful thoughts into someone else's mind, promotes something called "love," according to the world. But the world does not understand what love is! Love is not getting the guy or girl and getting some pleasure for yourself for a while. Love between two people is each doing good to the other according to God's will. So if you want to love someone right now, dress modestly! You will be doing good to everyone who sees you. You'll be protecting your friends of the opposite sex from sin, and you won't be acting as a rival to your friends of your own sex.

Wisdom-staying out of grief and trouble

Modesty also expresses wisdom. Why? It will help keep you out of the wrong kind of relationship. Do you want to be married to someone who cares more about what you look like than about what you think, feel, or need? Who wants to take from you and not give to you? Dress immodestly. Do you want your heart broken by someone who wants to use you up and leave you behind? Then dress immodestly. If you want love for a lifetime, then clothe your body wisely. You won't regret it.

So purity, consideration, and wisdom all point to the value of modesty. Next time we'll talk about what modesty actually looks like. Between now and then, think about the kind of marriage you want to have some day. Think about how the Lord wants you to consider others, and not just yourself. And think of how much better purity is than filthiness.

By Katharine Birkett
Author, The Great Latin Adventure
www.ClassicalLegacyPress.com
Bible Literacy Reports
A couple of interesting studies have been done on the importance of Bible literacy to a quality education. The first report summarizes results from two separate research projects: 1) a qualitative research project on what high school English teachers believe their students need to know about the Bible; and 2) an analysis of a nationally representative survey by The Gallup Organization on what American teens currently know about the Bible and other religious literature of the world. The next report surveyed 39 English professors at 34 top U.S. colleges and universities to learn their assessment of how important Bible literacy is to college-level study of English and American literature.

Bible Literacy Report: What American Teens Know and Need to Know
http://www.cu-portland.edu/blp/pdfs/bible_literacy_report2005.pdf
Bible Literacy Report: What University Professors Say Incoming Students Need to Know
http://www.bibleliteracy.org/bibcdocs/BibleLiteracyReport2006.pdf

Some significant quotes from these reports:

"Forty of the 41 teachers interviewed agreed that Bible literacy is a significant educational advantage. The majority of high school English teachers estimated that fewer than a fourth of their current students were biblically literate."

"Perhaps surprisingly, born-again and Evangelical teens were often only slightly more likely than other teens to display Bible literacy. In the whole sample surveyed, just 44 percent of born-again teens could correctly identify a quote from the Sermon on the Mount, compared to 37 percent of all American teens."

"Almost without exception, English professors we surveyed at major American colleges and universities see knowledge of the Bible as a deeply important part of a good education. The virtual unanimity and depth of their responses on this question are striking. The Bible is not only a sacred scripture to millions of Americans, it is also arguably (as one Northwestern professor stated) the "most influential text in all of Western culture.""
"All Scripture is given by inspiration of God, and is profitable for doctrine, for reproof, for correction, for instruction in righteousness, that the man of God may be complete, thoroughly equipped for every good work." ~2 Timothy 3:16-17




College Bound:
Homeschool Friendly Colleges

Messiah College
is a Christian College of the liberal and applied arts and sciences located in Grantham, Pennsylvania, which is 12 miles southwest of the state capital at Harrisburg. It was founded in 1909 by the Brethren in Christ Church as the Messiah Bible School and Missionary Training Home. Messiah's mission is to "educate men and women toward maturity of intellect, character, and Christian faith in preparation for lives of service, leadership, and reconciliation in church and society."
Rigorous academics, opportunities for spiritual growth, lifelong friendships... all of these can be found at Messiah College, both on the scenic 471-acre campus and at destinations around the globe. Messiah College offers opportunities for students to study abroad in places like China, Australia, and Oxford, and to become immersed in service and missions experiences in the U.S., Guatemala, Russia, and beyond.
Messiah College offers over 55 majors and pre-professional programs in five schools: Arts; Education and Social Sciences; Health and Natural Sciences; Humanities; and Mathematics, Engineering, and Business. In addition to major requirements, there is a general education curriculum required for all students. General education requirements include but are not limited to: Bible courses, philosophy, literature, social science, art, a worldview class, physical education, first year and senior seminars, and a program named "Created and Called for Community." Students are required to attend 24 chapel services each semester. Students can also participate in theatre or musical productions; play sports; enroll in a competitive honors program; land an internship; watch movies and attend concerts on campus; and join any of Messiah's 60 clubs and organizations.
Students at Messiah College are required to sign a Community Covenant affirming belief in God and the Bible. The document states that every person is created in the image of God, and that there are certain responsibilities of living in community that must also be assumed in relation to God, others, and His creation. The Community Covenant requires commitment to academic integrity, responsible decision making in light of Christian values, and balancing personal freedom with concern for others. The Covenant bans the use of drugs, alcohol, and tobacco both on and off-campus. It also prescribes the avoidance of drunkenness, stealing, dishonesty, profanity, and immorality.
In 1963, Messiah College was accredited by the Middle States Association of Colleges and Secondary Schools. Messiah College has been named by the U.S. News and World Report as one of the top ten best colleges for comprehensive bachelor's degrees in the North. Peterson's Competitive Colleges lists Messiah as one of the nation's "Top Colleges for Top Students." Current enrollment is recorded at 2,802 students. The student/faculty ratio is 13:1. Over 97% of students receive financial aid, and scholarships are available.
Messiah College uses the 4-1-3 academic calendar system in which the academic year is divided into Fall, January, and Spring Terms. The January Term, or J-Term, is a three-and-a-half-week period where students can choose to take one or two courses intensively, participate in a cross cultural study program, sign up for the popular Skiing and Snowboarding class, or simply stay home for an extended vacation. A semester abroad costs about the same as a regular semester at Messiah College and, in most cases, the college will even pay for your international flight. That's how strongly they value the experiences you'll have and the education you'll receive while living and learning in other cultures.
Messiah College welcomes homeschooled students who have distinguished themselves as scholars, athletes, artists, and leaders. Outstanding study abroad, internship, summer school opportunities, and career placement programs appeal to homeschooled students who have studied in a non-traditional setting. Currently Messiah College has nearly 150 students who were homeschooled at some point in their education. Messiah has a dedicated admissions counselor for homeschooled students, to help them navigate the admissions process and answer any questions they may have.
At Messiah College, homeschooled students are asked to follow the same admission application procedures as other students. However, homeschooled students are also asked to submit a comprehensive transcript of a senior year academic program as well as a courses and course evaluations of the ninth through eleventh grades. If students do not receive grades, you will need to explain the evaluation method used. If students have an independent evaluation of academic progress by a qualified educator, it should be included with the transcript. Find more information at
http://www.messiah.edu/admissions/homeschool_students
.
Tell us about your favorite homeschool-friendly college, and we will feature it in an upcoming issue! mail@homeschoolingteen.com
College Bound Reading List

A Midsummer Night's Dream
, by William Shakespeare, is one of my favorite Shakespearean dramas. It's a romantic comedy that features three interlocking plots connected by a wedding celebration, a woodland rendezvous under the light of the moon, and a nighttime realm inhabited by fairies. To get the most enjoyment out of this play, you will have to suspend your disbelief with the understanding that magic and superstition were an important part of the Elizabethan view of life. Many people in Shakespeare's day believed that mischievous fairies and evil creatures came out at night. An old Scottish prayer expresses a common fear of the time: "From ghoulies and ghosties and long-leggedy beasties, and things that go bump in the night, Good Lord deliver us."
In this enchanting tale, Shakespeare was the first writer to portray the faerie folk as small, cute, and mischievous, but free from demonic qualities. Written around 1595, "A Midsummer Night's Dream" also contains some of Shakespeare's most beautiful early poetry. "How now, spirit! whither wander you?" (Puck to Fairy) "Over hill, over dale, through bush, through brier, over park, over pale, through flood, through fire: I do wander everywhere, swifter than the moon's sphere; and I serve the fairy queen, to dew her orbs upon the green." (Fairy to Puck) As typical of Shakespeare's works, "A Midsummer Night's Dream" includes its share of mix-ups and misunderstandings, but everything turns out well in the end and it even includes a hilarious play-within-a-play. "A Midsummer Night's Dream" is fun to read and it's even more fun to watch if you ever have a chance to see it performed live on stage.
In 1826 Felix Mendelssohn composed an overture for concert performance that was inspired by "A Midsummer Night's Dream." In 1842, King Frederick William IV of Prussia commissioned Mendelssohn to write incidental music for a stage production of "A Midsummer Night's Dream." Among the pieces in the incidental music is the popular "Wedding March," which is often used today as a wedding recessional.
Recommended Resources:

http://nfs.sparknotes.com/msnd/
("A Midsummer Night's Dream" made easy with "No Fear Shakespeare" which puts Shakespeare's language side-by-side with a modern English translation. It's online and it's FREE.)
http://www.sparknotes.com/shakespeare/msnd/quotes.html
(FREE online SparkNotes Study Guide for "A Midsummer Night's Dream.")
Writing from the Home
By Cherise Ryan
At 18, Cati Gerwitz from Rochester, New York, just published her first novel.
Home With You
is a story about the friendship of two girls, their experiences, and the lessons they learn together.
Homeschoolers are moving into the publishing world one step at a time. Cati is one of those, but she is not alone. Homeschool mother Melanie M. Jeschke has published a series called The Oxford Chronicles, a fiction series set at Oxford University in the 1960s, complete with references to C.S. Lewis and appearances from Professor J.R.R. Tolkien.
Many beginning writers start out self-publishing their work, using that as a stepping stone to catching a publisher's eye. That's how homeschooled Christopher Paolini started at 15 with his now famous Eragon, the first of his Inheritance cycle. His book was picked up by Alfred A. Knopf Books for Young Readers, and Christopher is now writing his fourth in the series.
Homeschooled her whole life, Cati says writing has always been her favorite subject. "While my siblings groaned over the creative writing assignments, I thrived on and loved every minute of it," she said. "And then, I just decided to go for it and write. I honestly never in a million years intended to write a novel or be an author or have my work published."
Cati used to write stories for friends when she was little. Home with You began the same way. When her best friend, Chelsea, moved 1,000 miles away to Missouri, Cati decided to write her a story as a Christmas present.
"The book is based on the real-life experience of the work the Lord did in uniting Chelsea and I as friends," she said. "It weaves a testimony of the girls' friendship, giving all the glory to the Lord, because it is He who unites their hearts.... He can sustain relationships even over a thousand miles!"
Cati began the story in September 2006 and finished it as a Christmas gift for Chelsea.
It was Cati's mother, however, who suggested that she submit her manuscript to a publisher. They found Tate Publishing, who agreed to a contract, and Home with You was released September 2, 2008.
"I think the hardest part was actually going for it and taking that step of faith," Cati said. "It's been a good learning experience, and it has really opened up a lot of doors. Whenever I start to doubt, I just remind myself that the Lord is in control."
On top of writing, Cati keeps busy with nannying, teaching piano, serving on her church's worship team, leading in the youth group, and figure skating and coaching.
Now added to this list is the new adventure of book signings. "Before I would have said I would never do [something like a book signing] because I was so terrified. But lo and behold, I survived the first signing!" she said.
Cati said that her parents' encouragement and hard-core discipline in homeschooling have helped bring her where she is now: "I have loved being homeschooled and wouldn't trade it for the world. It allowed me the time and opportunities to explore the areas I really loved."
Home With You
Book Description: "Both Bridget and Madison experienced the same feelings of fear when it came to building close relationships with other people. During their years of growing up, the girls became accustomed to ended friendships, abandonment by certain people, and unwelcome goodbyes. As they grow into young women, their philosophies become much the same: 'If I don't love anyone, I'll never have to be hurt again.' Neither girl knew how they would ever find their place in this world, but God did. Would they be open to his plan as he worked his love in their lives?"