JOIN OUR LIST

Become a fan on Facebook
Join us on Facebook for the latest news, promotions, classes, workshops and Wavelengths trivia.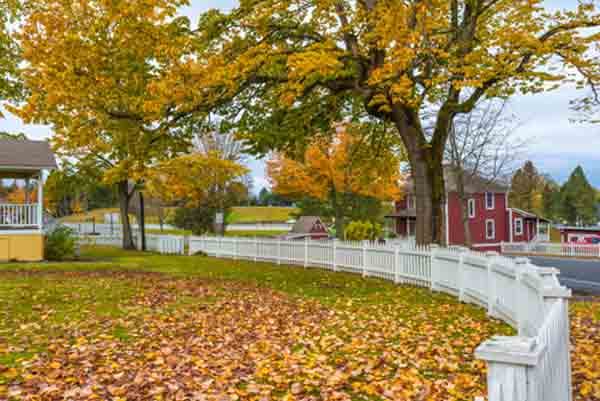 Dear
As the leaves begin to change colour and fall to the ground, it's a great time to reflect on the cycle of life.
Like the trees around us, we are born (sprouted!) and we go through many transformations and changes as we grow and age. Through each transformation, we let go of what we no longer need (old habits that no longer serve us, in yoga called "samskaras" and in nature, the leaves that have done their job of nourishing the tree for the season). This letting go makes way for new growth.
Some years, trees bear abundant fruit, like the apple tree at the front of the studio that produced over 70 pounds of apples this year. They have since been transformed into pies, juice, apple sauce and canned apples that will sustain us over the winter months.
Occasionally a full grown tree will be struck down in its prime, as we've seen through various windstorms this year, like the one that severed a large limb from a tree by the studio earlier in the year.
Other trees live incredibly long lives, like the ones I visited on Vancouver Island last year.
At this time of year, we delight in the beauty of the colours around us. As we transition from sandals to shoes, we also celebrate and give thanks for the bounty of the harvest. At the same time, we are reminded of life's inherent impermanence, making it all the more precious, each and every moment.

We remember and celebrate the life of Joan Donaldson
On Monday, September, 26, 2011, with her family gathered by her bedside at the Peterborough Regional Health Centre, Joan Donaldson exhaled her final breath.
Joan attended the Restorative Yoga classes at Wavelengths, where she was outgoing and positive, even when admitting that she was struggling with the effects of cancer and the chemotherapy treatments. She always asked how others were doing and cared very much about getting a truthful answer.
Joan's kindness and faith were an inspiration to many around her and she will be deeply missed by her husband, Ralph, her two children, Kevin and Leanne, and their spouses, her five grandchildren (with a sixth due next month), other members of her family, and all who were fortunate enough to have known Joan.
Here are a few words from Joan's friend, Glenda Chapell.
"Joan and I walked together for 12 years every Saturday morning. We shared our love for nature and the outdoors. Four years ago, shortly after Caroline began teaching yoga in Norwood, Joan and I joined the classes. Caroline's teaching helped both Joan and I to realize a new calmness and peace in our lives. Joan was a true friend to have and I am forever thankful that she brushed my life the past 12 years."
Here, Joan enjoys her favourite pastime, most often accompanied by her friend, Glenda.
Visitation will be at the Hendren Funeral Home in Norwood:
Sunday, October 2, 2-4 and 7-9
The funeral service will take place on Monday, October 3 at 1 p.m. at the funeral home in Norwood. A lunch will follow the service, at the United Church in Hastings.
Early Morning Yoga

Join Kathy Herrold on Friday mornings from 6:30 - 7:30 for a gentle yoga class to start your day off right. Sunrise is the traditional time for practicing yoga, before your mind gets engaged in the busy-ness of the day. Kathy creates a warm and welcoming environment for students at all levels. She will safely take you through an energizing routine with lots of options for more or less challenge, depending on your individual needs.
DROP IN STUDENTS are welcome to come and try this class. Special for October: $10 including HST (this class only). Try a new class. Bring your friends!
Rise and Shine Yoga
6:30 - 7:30 a.m.
September 23 - October 28 (6 weeks)
$66 plus HST
David Makepeace - Partnering with the Universe
Please join us to take in the wonders of the universe through the words and camera lens of David Makepeace.
For 20 years, Makepeace has travelled the world to witness solar eclipses - a natural phenomenon that has been called the most spectacular event you can witness from earth. "When the shadow of the Moon sweeps over us, we are brought into direct contact with a tangible presence that is awe-inspiring. That there is a powerful relationship between us, and the immense forces of the universe becomes undeniable." What possible relationship could you have to the universe? How could it make a difference in your life?
With breathtaking film and video captured around the world at eclipse events, Makepeace takes us on a tour of our world and our solar system - widening the perspective on our lives as only an eclipse chaser can. Discover how the simple beauty and mystery of our world can open the door to a greater awareness of what we are and our place in the universe.
Makepeace, aka. "the pitchman for the universe," recently presented "Understanding Ourselves in an Epic Universe" at the TEDx conference in Toronto.
For more information about David, visit: www.eclipseguy.com
About this event: www.wavelengthsyoga.com/workshops.html
Date: Friday, October 14
Time: 7pm - 8pm
Location: Wavelengths Yoga, Norwood
Cost: $10 or Pay What You Can
Yoga Dance Series
The next class in our Yoga Dance series takes place on Friday, October, 21 from 7:00 - 8:30 p.m. Please call or email to hold your spot in this class. You may take your chances and show up on the evening of the class, however, you may find the class full, or cancelled due to insufficient registrants.
Tiina Kivinen offers an exhilarating class of Kripalu YogaDance, a unique fusion of yoga and ecstatic dance. When we dance our yoga, we allow for a free flow of energy; freeing blockages, cleansing and purifying, letting go of tension, and returning to our natural state of freedom and joy. No experience in Yoga or Dance is necessary, just a willingness to play and explore. All are welcome!
Dates: Fridays, Oct. 21, Nov. 25, Dec. 8
Time: 7:00 - 8:30 p.m.
Cost: $15 +HST each class or $50 +HST for the series (4 classes)
For more information and to register online, visit www.wavelengthsyoga.com/workshop.html
Yoga Anatomy Workshop
Yoga Anatomy with JJ Gormley
We welcome JJ Gormley to Wavelengths Yoga, October 28-30.
In this workshop, JJ will present (from the yogi-s perspective) the anatomy of our muscular and skeletal systems, as well as major organs.
When
JJ
presents these systems through the yogi-s eyes, she overlaps the anatomy of the chakra system with the anatomy of the above systems.
This allows participants to categorize the body in a different way by looking at what each chakra area of the body has working in and for that particular chakra.
In this way participants get a more in-depth and wholistic picture of the inner and outer workings of the body/mind...
About JJ:
JJ Gormley, Registered Yoga Teacher (E-RYT 500), Yoga Educator and Yoga Therapist,
began
practicing yoga in 1979.
In 1994, JJ began teaching teachers and now teaches several yoga teacher trainings in various location in the U.S. and as a guest teacher internationally.
JJ has produced many yoga training manuals and handouts, yoga videos/DVDs, and a chanting CD.
Read more about JJ on her website at:
For more information about this workshop see www.wavelengthsyoga.com/workshop.html
Save the Dates
It's hard to believe that plans are being laid for next summer already, but it's true. Here's a glimpse at two exciting programs that I'm leading. Both are for women only, so sorry guys!
June 25 - July 4
Nahanni River Whitewater Adventure: Spend 10 days exploring one of Canada's most beautiful and remote rivers in the heart of the Northwest Territories. We'll paddle through stunning canyons, relax in a riverside hot spring, prepare and eat incredible food, and enjoy the wonderful company of other adventurous women! Some experience (i.e. a weekend whitewater canoe course prior to the trip) is recommended.
August 11 - 19
Yoga Retreat in Bella Coola, BC: We will practice yoga in a remote and picturesque setting, staying in cabins built by the hands of one woman who trekked into the wilderness with a chainsaw and a few tools! There will also be optional guided hikes and canoe outings. All women, regardless of age and ability, are welcome to attend this spectacular retreat, nestled in the mountains of interior British Columbia. Here's a peek at the setting for this retreat!
I hope you'll consider joining me on one (or both!) of these trips of a lifetime.
Take time to count your blessings as you revel in the beauty and abundance of autumn this October,
Caroline