President's Message
by Vern Rogers, Redwood Region President
It has been said that the only thing that is certain in life is change....
Many of you have heard by this time that our current VP, Chris Harrell, will not be running to maintain his Board position for next year. Chris's business has required multiple trips per week to Southern California for quite some time now. As one might imagine, this has gotten to be a bit challenging and tiresome. His attitude, however, continues to be amazingly positive. Nonetheless, Chris and his wife, Veronica, have decided to take temporary leave of the Redwood Region and move to closer to his company's office in Chino. Not only will he have less of a commute, but the move will allow him to take advantage of additional opportunities with his company. We all wish Chris and Veronica the best of luck and will send them off with our deepest thanks!
No organization lasts for long without effective succession planning. I have continued my predecessor's emphasis on this concept for our Region. While we continue to solicit nominations for all for elected positions (President, VP, Secretary, and Treasurer), the reality of filling positions in volunteer organizations is that only a dedicated few actually step up. Redwood Region does have those dedicated few, and we are always searching for a few more.
Mike Hinton, our current Secretary, has agreed to run for next year's VP.
Craig Steele, who has helped the Region in several non-official capacities so far, has agreed to run for Secretary.
Grady Carter has agreed to be next year's primary Autocross Director, with Bob Schoenherr (our current Membership Director) as his Co-Director.
2013 Newsletter Editor duties will be handled by one or more current Directors, and hopefully taken over at mid-year by a pair of yet to be announced enthusiastic members.
Bob (Schoenherr) will continue in his current job as Membership Director with the goal of mentoring a successor. Please let me or Bob know if you have an interest.
Nothing, of course, is set in stone until you - the members - have voted, and until next year's Board approves the 2013 President's recommendations (yes, I am running again). I would like to give special thanks to Grady and Craig for stepping up.
On a related note, Sunday, October 21 is the date of our Annual Members Meeting, and I encourage all of you to attend. This year's meeting will once again be at the Union Hotel in Occidental. I promise to do my very best to follow the entire route of our run this year....
The Annual Members Meeting is the last opportunity to throw your hat in the ring for the four elected Board positions. Please do that if you are so motivated. The meeting is also a forum for conversations about what you like to see in the Club, and what you would like to see improved. Our Event Director, Don Magdanz, will be presenting ideas for some new events and he sincerely wants your feedback. We definitely want to hear of any new ideas you may have. The Region Swap Meet, Dinner Runs, and Sunday events were all born of last year's meeting.
I highly encourage each and every one of you to come out and participate. You get out of the Club what you put into it. Big thanks to all who make our vast array of eclectic event offerings possible!
That's all for now. Down the road,
Vern
From the Editor
by Chris Harrell, der Riesenbaum Editor
It's amazing how quickly time flies. As I began working on this month's issue of der Riesenbaum, I realized that it has been nearly two full years since I accepted the editorship of this newsletter. In those same two years, I have experienced my first autocross (and several more), I have driven miles upon miles of our beautiful local backroads, and I have served nearly one full year as Vice President of this great Club. But above and beyond all of that, I have met and made many new friends within the Redwood Region. For this, I am extremely grateful.
As Vern mentioned in his President's Message, and as we all know, our world is an ever-changing place. Change is part of life, and I have certainly experienced my share of it, for better and for worse. For me, change is in the air once again, this time (also once again) in the form of new job opportunity at my current company that will require Veronica and me to return to Southern California. This means that I will not be running for Vice President again next year, and I will hand-off my newsletter responsibilities at the end of this year. I can assure you all that der Riesenbaum will be in good hands.
This particular change, for both me and Veronica, is bittersweet. We are going to miss our friends in the Club, and we will miss the SF Bay Area. We are humbled every day by the beauty around us here in Marin; it just doesn't get any better than this. At the same time, my new opportunity is exciting, and I am re-energized by it. Most of our family lives in Southern California, as do most of our longtime friends. To top it off, we will be returning to the same PCA Region (San Gabriel Valley) we were members of prior to moving to NorCal in 2008. We are looking forward to reuniting with our San Gabriel Valley Region friends and catching up after nearly 5 years away.
We don't have a firm move date yet, although it looks like we found a house in Claremont that has room for me and Veronica, our cats, and all of our cars. In the meantime, I am still commuting back and forth between Terra Linda and my office in Chino. This means lots of Southwest "cattle calls", hopping between Oakland and Ontario Airports. I will likely be at a couple more events before the end of the year, and I hope to have a chance to say goodbye to many of you in person.
For now, instead of saying goodbye, I just want to say thank you all for making this Club so special.
CH
Sacramento Valley Region Tour to Mendocino
Sacramento Valley Region's Annual Mendocino Tour is coming up: November 2-4, 2012.
If you are interested in attending with a small group of Redwood Region members, please contact Ray Fiore at rafiore@sonic.net or 707.857.4111. There will be very private winery lunch and wine tasting on Hwy 128 in Cloverdale, and the group will stay at hotels in Mendocino, Little River, and Ft. Bragg, with Saturday night dinner at Silver's Wharf. There will also be special rates at the Hill House Inn (Kathy Allen) for PCA Members.
Announcements
Redwood Region Member Survey
The Redwood Region Board of Directors is always looking for member input. We have created a survey to learn more about member interests and events in which members would like to participate. If you haven't completed the survey yet, please take a few minutes to give it a look at the link below. Thank you for sharing your feedback and ideas.
Pictures from the Annual Zone 7 Redwood Region Concours at Ledson Winery
Pictures courtesy of Rich Tsai, singlelens.net
More images available
here
.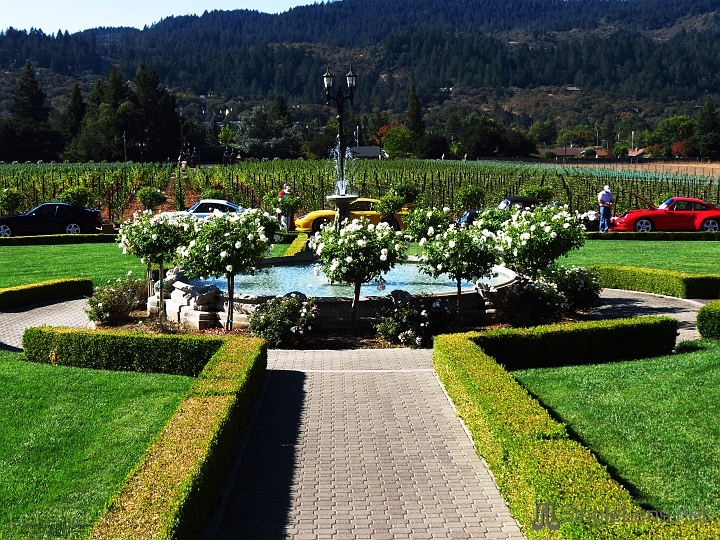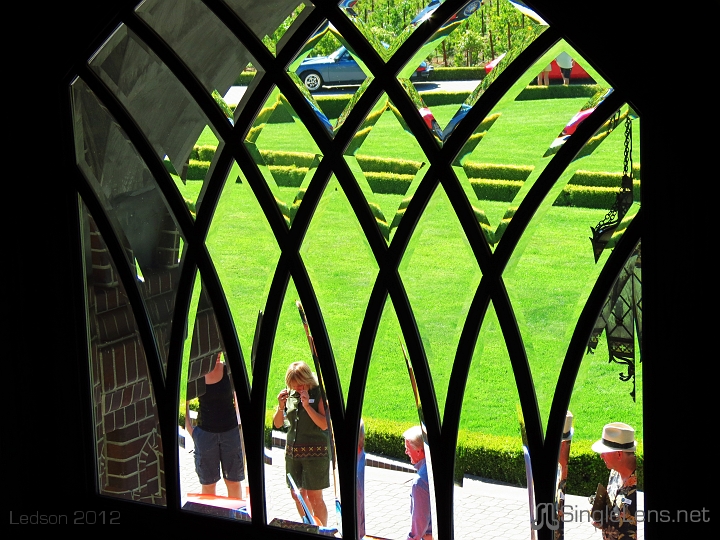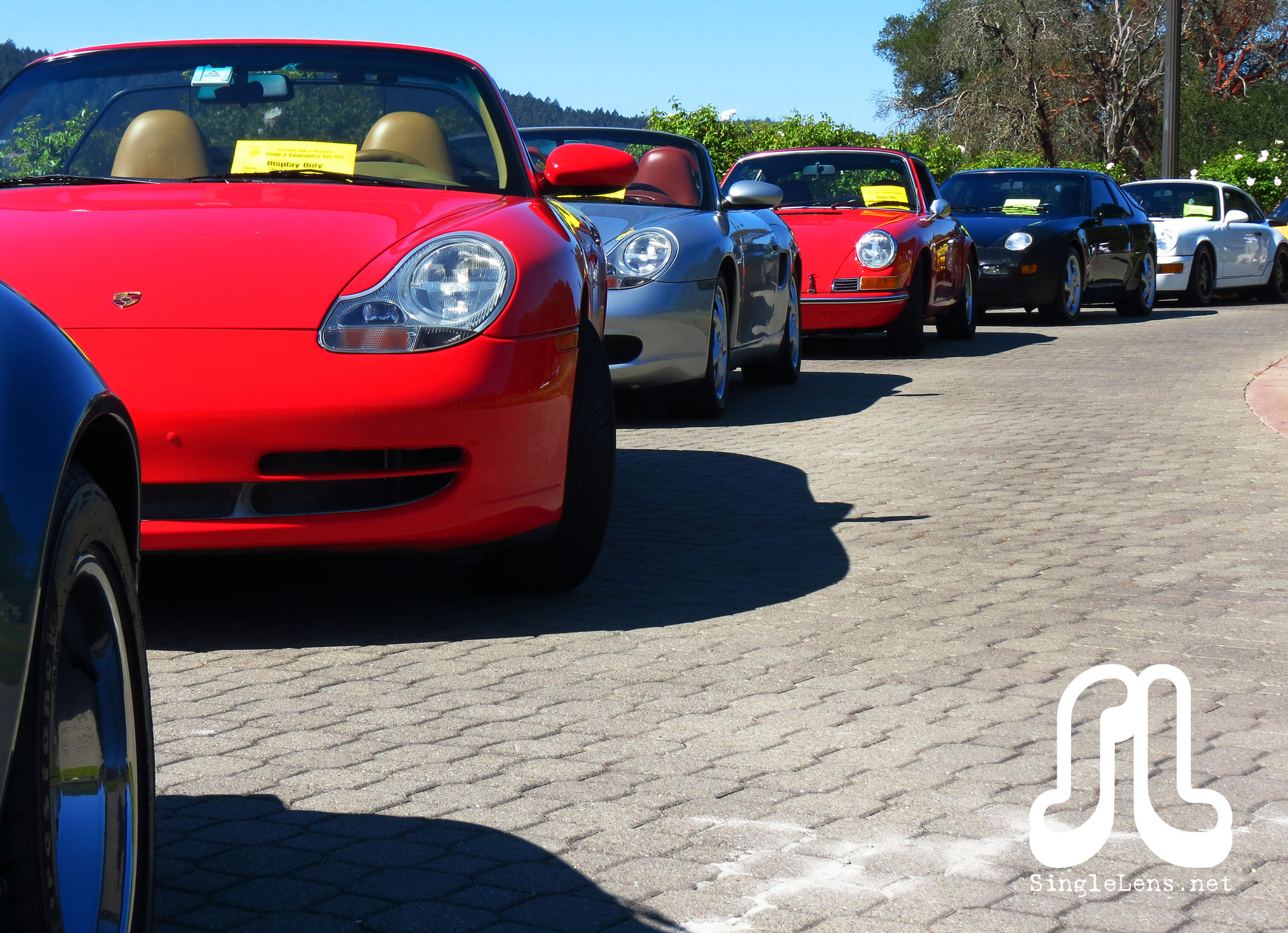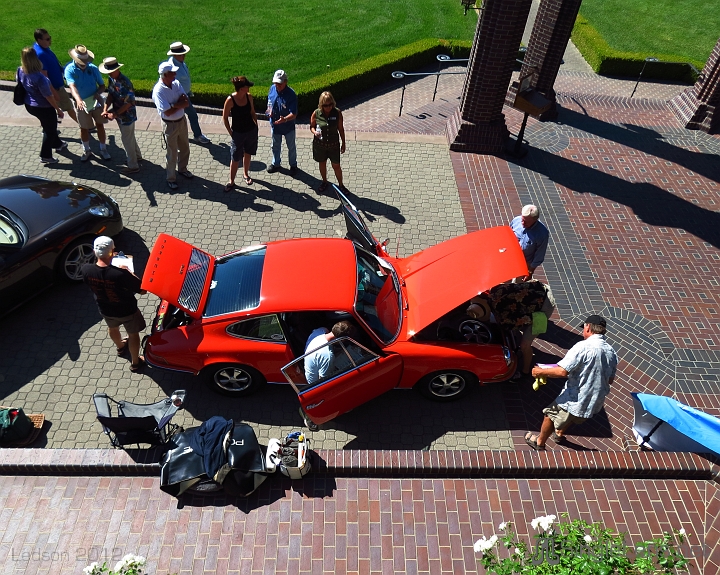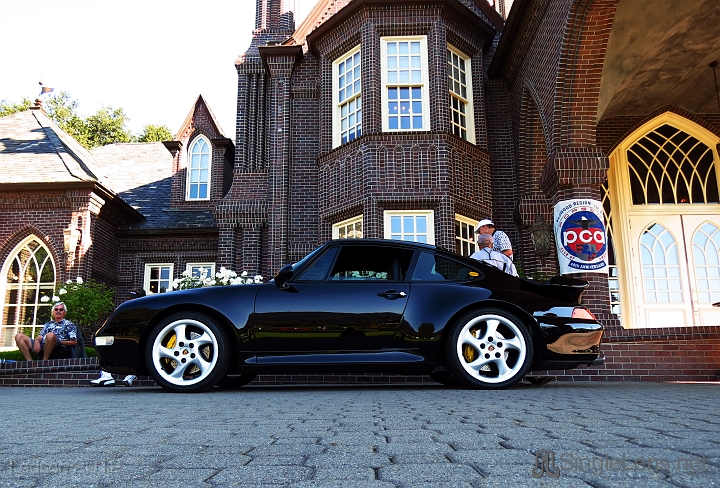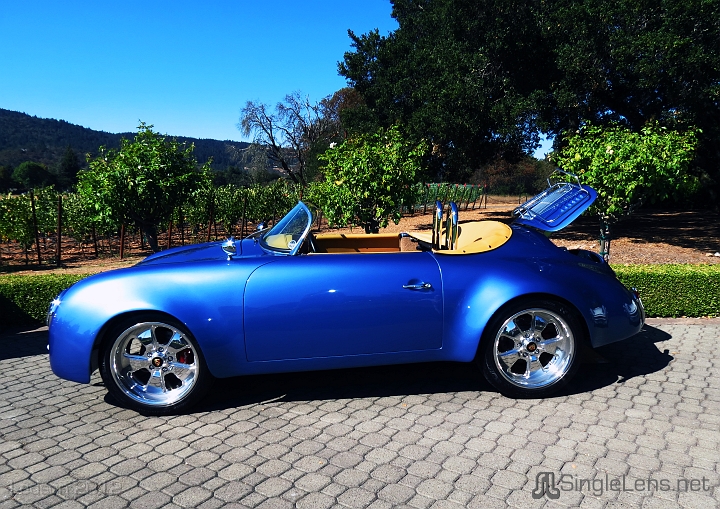 Kurt's Korner
by Kurt Fischer, Redwood Region Past President
The morning starts out a bit chilly, with temperatures in the 50's as we line up in the Kaffe Mocha parking lot in Santa Rosa...but are we worried about the weather? High temps for the day are expected to be in the mid-90's and right now the cool air is feeling good!
We depart with 22 cars in the group, with me in the lead; we head east, following our favorite Porsche roads into Calistoga, where we regroup on Silverado Trail for our next stop at the famous Moskovitz Corner! As we pull into the parking lot, Bob Schoenherr and Anita Benzing, along with Paul Smith and Nanci Bishop, who will be joining us for the rest of the trip into Vacaville, meet us.
Now, the big news is that the restaurant/store that has been open for at least 50 years on the corner of Highway 128 and Highway 121 is closed and "For Sale or Lease". This will make for an interesting "bio break"! Luckily, there are plenty of bushes. The men find a comfortable bush, and the women are holding their morning coffee until Vacaville! Never let it be said that Redwood Region members are not resourceful!
Porsches fill the parking lot in Vacaville (photo by Essy Fariab)
After the bio break is complete, off we go to Vacaville. Highway 128 has been freshly repaved and is quite empty, save for one pickup towing a boat. As soon as he sees the lights of 24 Porsches behind him, he pulls off the road, where we all give him a toot-toot with our horns, showing how thoughtful we can be to drivers that give us the right and the fast way!
We pull into the special Porsche parking that has been reserved for us by Redwood member Holger Seibert exactly at 11:30 am...just as I told him! We fill up the arranged parking and head for our reserved long table (in the shade to boot!). Holger and Martina Seibert outdid our expectations today! By this time, it is about 90 degrees F; our throats are dry and stomachs growling, so the line forms for Spaten beer and great German food as prepared by the Pure Grain Bakery and Cafe.
Redwood members enjoying the shade and some great German beer (photo courtesy of Pure Grain Bakery)
Bratwurst, schnitzel, and curry wurst with sides of German potato salad and sauerkraut are the order of the day and extra tasty! The music and dancing start at about 1:00 p.m., with many toasts of "Ein Prosit" echoing with clinking of tall beer steins. Conversations are flying across and up and down our table!
Many thanks to Holger and Marina Seibert and their partner Michael Miethe for their outstanding venue for our 3rd visit to Oktoberfest. We look forward to year 4 in 2013. We all had a great time!
Kurt
The Midfield Report: Observations from an Autocross Apprentice
by Mike Hinton, Redwood Region Secretary
All of the regular autocross attendees had a relatively extended layoff after the August 11 event, as the following event wasn't scheduled until September 22. Since I missed the August event, my layoff would be just over two months. I was hoping that I hadn't forgotten all of the lessons learned over this year's events, but there was only one way to find out....
One thing I hadn't forgotten was to leave early, allowing time to replenish fuel supplies on the way. I arrived shortly after 8:00 a.m., and was encouraged to see that a good crowd had already gathered. The weather was looking promising, if a bit warm, and as an added attraction, there was a dirigible parked on the runway out beyond our course. That made for a unique photo backdrop!
This event's course was designed by a first-time course designer, our Vice-President (and my "fierce" rival), Chris Harrell. Chris had shown me the proposed layout a couple of days in advance, and asked for my thoughts. I felt that the course would be interesting, as it incorporated several interesting elements: there was a "Chicago box," which rewards very precise driving, a "skidpad" section that would definitely heat up the left-side tires, the infamous 180-degree right-hand exit out of the go-kart section (very slow), and two or three sections where wide-open throttle could be used. I liked the design, but knew that the go-kart exit would be challenging. On paper, the course looked like it might favor the lower-powered cars, but the true test would be in the driving.
Much like the July 21 event, the weather started off relatively cool, but promised to warm considerably as the afternoon approached. I've mentioned before that the course surface seems to lose grip as temperatures climb, and the drivers would certainly get to test that theory later in the day. The skidpad section would be especially challenging, as that particular section of the course always seems to have little, if any, grip, regardless of conditions. The track walk seemed to confirm that the go-kart exit would be very slow (and difficult) because the following gate was placed far to the driver's right - directly opposite to where the car would want to go. A compromise between speed and car placement would be necessary to minimize lost time....
At the drivers' meeting, it was encouraging to see the crowd - we had 37 drivers for the event, many of whom were first-timers or novices. The instructors would be a busy group today. In addition, there was a good complement of experienced drivers, which is a valuable asset for drivers who want to improve. I've always found that experienced drivers are more than happy to help the less-experienced participants to improve their times and fun quotient. The combination of a challenging course and big group of drivers meant that a fun day was on tap.
Again, due to work commitments, my archrival Chris wasn't able to attend the event, which meant that he wouldn't get to drive on the course he designed! I promised to give him a full report after the event. Our group was first on the course, and to no one's surprise, the course seemed very slippery at first. I know that in my case, it's just a matter of heating the tires up a bit (which takes two runs maximum). However, even after the tires were up to temperature, grip seemed to be elusive. As expected, the exit out of the go-kart was punishing - I felt like I could get out and push my car faster, and I experienced massive understeer trying to negotiate the following gate. Five runs in the morning proved to be insufficient for me to solve this problem. Fortunately, I seemed to have a reasonably good handle on the rest of the course, so my times weren't horrible. Definitely, there was work to be done!
Fortunately, I was working out on the course very close to the offending section. Doing so allowed me to observe the line that other (faster) drivers were using, and I vowed to incorporate those techniques in the afternoon. Working out on the course also allowed me to admire the various cornering and acceleration attitudes of a broad range of cars. For example, the 356 driven by the Powers family seemed to spend more time on three wheels than four! I've experienced that a bit with Barney, and it's fun (but I don't know if it's fast!). It was interesting to watch how the turbocharged cars reacted when the boost kicked in. The car would become unstable as the tires attempted to cope with the extra horsepower. That HAS to be a little scary! Finally, watching the way that Henry Watts skillfully used the throttle of his car to vary its cornering attitude was a thing of beauty. Definitely something to aspire to!
In the afternoon, I tried my new approach to the go-kart exit, and discovered that it improved that section of the course. Unfortunately, the small amount of grip we had in the morning seemed to diminish in the afternoon sun, making it difficult to improve on morning times. Out of the seven runs we had in the afternoon, I had perhaps two that I was happy with, and indeed, one of those runs was my best of the day! The lesson seems to be to never give up. The Oakland A's never did, and look what happened to them!
Our final event of the 2012 season is approaching - it's on October 20. You don't want to miss it, as it is our annual "Enduro" event. Instead of completing one lap of the course at a time, the Enduro consists of a four-lap run. It's sure to get your heart rate up, and always is my favorite event. See you out on the course!
Membership Information
Please contact Bob Schoenherr, Membership Director for general information about Club membership, including changes of address and/or contact information, dual-membership inquiries, inter-region transfers, membership referrals, and name badges.



Redwood Region Members are welcome and encouraged to attend monthly Board Meetings, held on the last Tuesday of each month (except December) at 7:00 p.m. at Ghiringhelli Pizzeria Grill & Bar, 1535 South Novato Blvd., Novato.



Membership Report
by Bob Schoenherr, Redwood Region Membership Director
Forty-three years of PCA membership for Allen Barbieri, and eight more Redwood members that have been with the Region over 25 years! There is a reason: great events, drives, area, and people.
Wow - Concours season is almost over! It's hard to believe that it is already October. Redwood Region's Annual Concours at Ledson Winery was a great way to end September and welcome October. This year's Ledson event was one of the best yet. I was amazed by the number of Redwood Region members that came to help and compete too. Concour Directors James Heisey, Kurt Fischer, Ron Breeze, Greg Matsumoto, Vern Rogers, David Bunch, Jerry Gladstone, Michael Hinton, and Sharon Neidel worked the event. In the background were Greg Maissen and Deven Wailes, getting the trophies and the wine. It really was motivating for Anita and I to see all the wonderful help that was there from the Region. We wanted to do our best for you guys!
We had a fun start to our morning, accidentally meeting Deven at Starbucks and seeing "Queenie", our 912E, next to the Turbo that Deven brought to show at Ledson. What was really impressive to me was our members' passion and interest for our favorite marque. I was answering questions about "Queenie" all day. Deven said something that really hit a note with me too: " It was great to see old faces and new, and what an honor it was for Hi Tec to be the sponsor." Thank you, Deven. Best sponsor we've had!
Another high note was seeing the passion that went into new member Brian Chinnock's creation, the 356 "luxury race car". Two years of building and made of many different systems made a beautiful special interest outlaw 356. The engineer in me really appreciated it. Brian's comment was on target: "I think this is what Dr. Porsche would have built today if he were still alive." I've got to agree....
As always, please feel free to email me at b_schoenherr@yahoo.com or call me at 707.995.5082 with any questions.
Bob
September 2012 Membership Summary
New Members 4
Transfers In 1
Transfers Out 0
Renewals 30
Non-Renewals 13
Dual Members 16
Primary Members 479
Affiliate Members 353
Total Members 832
September 2012 New Members
Jeff Allen, Santa Rosa - 2002 996 C4S Silver
Steven Beck, Fairfax - 1987 911 Carrera Red
Dennis Chizma, Napa - 1994 964 C4, 1989 964 C4, 2006 Cayenne (transfer from Las Vegas Region)
Casey Cooper, The Sea Ranch - 1999 996 Black
John Sullivan, San Anselmo - 1995 993 Silver
Welcome to the Redwood Region! We hope to see you at an upcoming event....
October 2012 Membership Anniversaries
Allen Barbieri, Santa Rosa - 43 years
Steve Hunter, Healdsburg - 38 years
Lawrence Harrison, Mill Valley - 37 years
Tom Everhart, San Rafael - 35 years
Stan Michelman, Novato - 31 years
L Stephens, Mill Valley - 29 years
John Rice, Vallejo - 28 years
Steve Davis, Santa Rosa - 27 years
Dave Neukom, San Rafael - 25 years
Geoff Halaburt, Greenbrae - 14 years
Brent Morgan, Napa - 14 years
Michael Cole, Sebastopol - 13 years
John Tuteur, Napa - 13 years
Victor Brito, Fairfax - 12 years
Dean Lyon, Windsor - 12 years
Robert Pringle, Tiburon - 12 years
Thomas Dixon, Sonoma - 10 years
Stephen Glenn, Santa Rosa - 10 years
Elizabeth Schutz, Napa - 10 years
Gordon Reynolds, Greenbrae - 9 years
Greg Maissen, Tam Valley - 8 years
Joseph Valls, Novato - 8 years
Tim Bringman, Yountville - 7 years
Gene Kunde, Novato - 7 years
Thomas Lowe, Novato - 7 years
Michael Rosi, Lower Lake - 7 years
Maria Duarte, Napa - 6 years
Christopher Wettstein, Windsor - 6 years
Jim Davis, Penngrove - 5 years
Tom Edwards, Rohnert Park - 5 years
Duncan Thomson, Fort Bragg - 5 years
William Conneely, Mill Valley - 4 years
Jayson Pahlmeyer, Napa - 4 years
David Wetmore, San Rafael - 4 years
Peter Brooks, Tiburon - 3 years
Sam Hinckley, Corte Madera - 3 years
John Shoffa, Redwood City - 3 years
Bob Weber, San Rafael - 3 years
Sascha Bosio, Sausalito - 2 years
Don Kruger, Calistoga - 1 year
Donald Lewis, San Rafael - 1 year
Thanks and Happy Anniversary to all of you!
Membership information is based on the Porsche Club of America National database. If you feel that any of the information included in this Membership Report is inaccurate, please contact the Editor or Membership Director.
Board Meeting Minutes
by Mike Hinton, Redwood Region Secretary
Redwood Region Board Meeting Minutes - September 25, 2012
In attendance: President Vern Rogers, Secretary Mike Hinton, Event Director Don Magdanz, Autocross Goodie Store Director David Bunch, Webmaster Barbara McCrory, Past President Greg Maissen, Concours Director James Heisey, Sponsorship Director Simone Kopitzki, Safety Director Mac Cranford, and member Thorsten Kopitzki.
Meeting called to order at 6:58 p.m. by President Vern Rogers at Ghiringhelli Pizzeria Grill & Bar, Novato.
President's Report:
Submitted at Board Meeting:
Current Vice-President Chris Harrell will be relocating to Southern California
Mike Hinton will be the nominee for Vice-President, and Craig Steele will be the nominee for Secretary
Grady Carter will be the primary Autocross chair, and will be assisted by Bob Schoenherr
Both Barbara McCrory and Jerry Gladstone have offered to produce the newsletter on an interim basis until a new Newsletter Editor is named
Please remember to read last month's minutes so that we can approve them
Items discussed at meeting:
Motion to approve August meeting minutes was approved
Vice President's Report:
Submitted prior to Board Meeting:
Treasurer's Report: stands as submitted.
Submitted prior to Board Meeting:
This report covers the period from August 24, 2012 through September 21, 2012:
Certificate of Deposit (CD) total investment stands at $10,162.58.
Money Market Account stands at $7,571.89.
Checking account stands at $15,792.94 in total.

$11,426.13 in unrestricted funds.
$4,366.81 in funds restricted as the autocross reserve.

The major income items for the period were:

Major expense items for the period were:

$972.55 for parties.

$569.15 for Autocross #8 (track rental) and other expenses (copies, water, ice).

$254.37 for meeting dinners.

$120.00 for annual post office box rental.

Net income (loss) for the "period" was ($375.39).

Net income for 2012 is $7,473.16.

Redwood Region's total assets are valued at $36,231.09 (includes Goodie Store inventory).

Goodie Store sales for 2012 to date were $1,116.65.

Total funds collected and earmarked for CASA currently stand at $1,956.65 (funds included in all numbers).

Notes:

My apologies for not being able to attend the September 25, 2012 Board Meeting.

The completed draft of the 2012 Redwood Region Bylaws was distributed to the entire Board for comment and approval. A second document illustrating the changes was also distributed

The previously reported loss of $13.35 for the Pool Party was incorrect. When I deposited the cash/checks received from Kurt, I counted $20 more than originally thought. Thus $6.65 was earned on the event and credited to our CASA fund.

MotorsportReg worked acceptably well for the Pool Party -- our first event administered with MSR.

The October 13th Dinner Run to Napa is set up in MSR and it is live. There are seven online signups with payments already recorded and deposited in the Redwood account by MSR. One payment for two people, outside of MSR, came to me by check (undeposited at this time).

The spreadsheet of Sponsors/Advertisers is absent from this report as there was no change for two months. The sponsorship money from Dawydiak has not yet arrived.

A $250 check from Kachina Winery for Redwood to donate to CASA was received and deposited.

Worked with Don on Holiday Party planning. Met with Ray (and Don) at Nourish over lunch to discuss event requirements and what he can provide. We have selected Nourish for our event. Complete information in Don's report.

Attachments:

Balance Sheet as of September 21, 2012

Profit & Loss Statement for the period August 24, 2012 through September 21, 2012

Profit & Loss Statement for 2012 through September 21, 2012

CASA Funds Log 2012 through September 21, 2012
Items discussed at meeting:
Event Director Don Magdanz

suggested a few changes to the by-laws, which will be incorporated.
Secretary's Report: stands as submitted.
Submitted prior to Board Meeting:
Past President's Report:
Ordered the awards from Normar for the Zone 7 Redwood Region Ledson Concours

Greg Matsumoto and Craig Steele have agreed to be on the Nominating Committee for the Redwood Region Election of 2012.

There have been no other nominations for these positions on the Executive Council, nor have there been any members in the Region that have offered their candidacy for these positions.
Item discussed at meeting:
David Bunch will pick up the awards for the Ledson Concours.
der Riesenbaum Editor's report: no report this month.
Membership Director's Report: stands as submitted.
(full report included in Membership section of September der Riesenbaum)
Autocross Director's Report:
Submitted prior to Board Meeting:
Topics for discussion:
Do we want any year end awards for AX?
Items discussed at meeting:
One ESCA member has a contact at Ghilotti Brothers (contractor). Jim Winston will follow up.
David will investigate year-end awards for autocross.
Webmaster's Report: stands as submitted.

Submitted prior to Board Meeting:
During the month of September 2012 it is estimated that the visitor count will be 4600 (35% more than last year). There were 1524 unique IP's that accessed the site.

Activity on the site was spread evenly during the month with the busiest day being September 11, 208 visitors. Tuesdays followed by Mondays are the days with the most activity which is in the morning hours.

Autocross and Classifieds were the most popular pages. The most popular flyer was the Ledson Concours.

Daily country activity was led by the United States, China, Canada, Japan, Ukraine and Russian Federation accounting for 93% of the visitors. Canada is a new entry in this list with 174 visitors.

iPads, iPhones and Androids continue to access the site, 204 this month. Top browsers are IE and Firefox.
Goodie Store Director's Report:
Submitted prior to Board Meeting:
Sent to Jerry $105 from "Pool Party" Goodie Store Sales.
Awaiting order for approx. $500.
Goodie Store will be at Ledson, Oct. AX & Members Meeting
Event Director's Report:
Submitted prior to Board Meeting:
9-29-12 Oktoberfest

Kurt Fischer is leading the ride. Driving Tour Map and Itinerary are approved; got the Insurance Certificate.

10-6 & 7-12 Northern Tour

According to Chris' email, this has been canceled.

10-13-12 Dinner Run Napa

Greg Matsumoto is Event Leader and Tour Leader. Driving Tour Map and Itinerary are approved; got the Insurance Certificate.
RSVP is on MSR (MotorsportReg.com); this is our second Event using MSR. I visited Eagle Vines Golf Club, and it is VERY nice. The price is right, and I hope the food is as well.

10-21-12 Brunch Run & Annual Meeting

Chris Harrell is the Event Leader; no location as of now. I sent him an email to offer my assistance in finding an Event Leader or I'll do it. As Event Director, would like to have a discussion at the annual meeting:

Feedback on the 2012 Events and from 12-6-11 Holiday Party.
Describe 12-1-12 Holiday Party and get feedback.
Ideas for 2013:

Redwood Region Red Wine Event: Members show and tell (and taste/consume) the wines that they have made. Whites allowed to warm up the participants for the Reds. Does anybody know who makes their own besides Joe Burroughs and the 2 winery owners: Greg Chambers and Bruce & Cheryl Lawton?
Red Wine Hop: Members show and tell (and taste/consume) the beers that they have made. Do we have anyone making their own?
Bicycle ride: Porsches on the Square in Sonoma; place cars and ride bikes until around noon; return to Square for lunch and beer, and/or meet at a member's house in Sonoma. There would be several different routes and distances to accommodate seasoned cyclists as well as very casual ones. There are some bike paths in Sonoma.

12-1-12 Holiday Party

Don Magdanz is the Event Leader; Nourish proposal attached; Jerry Gladstone and I are negotiating the Contract. Some decisions that Event Committee needs to recommend:
Food choices and schedule
Wine furnished by Nourish or by Redwood Region; members can bring their own wine either way.
Participant Fee: I suggest $75.
Transportation from Hotels (Acqua and Tiburon Lodge) by Shuttle or Taxi.
Seghesio has been canceled.

Survey Members:

Comments about 2012 Events.
Suggestions for 2013 Events.
Ask if anyone wants to lead an Event.
RR members who make wine or brew beer.
Items discussed at meeting:
Chris has been in contact with Union Hotel with respect to Annual Meeting. It appears that the Annual Meeting will be held there.

A suggestion was made to provide surveys to "grade" events, along with solicitations from members for new event ideas.
Concours Director's Report:
Items discussed at meeting:
Deven Wailes will purchase two cases of wines at Ledson, which will be handed out to award winners.
We will have people at Ledson prior to gate opening at 8:00 A.M. to ensure that participants are parked in proper places.
Sponsorship Director's Report:
Nothing to report this month.
Item discussed at meeting:
Cars Dawydiak has expressed an interest in being secondary autocross sponsor for 2013. We are awaiting artwork in order to produce the banner.
Safety Director's Report:
Nothing to report this month.
Charity/CASA Report:
No report this month. Vern will contact CASA representatives concerning attendance at Ledson Concours.
Social Media Report:
We are at 357 friends on the RR Facebook page! Still trying to get the "sponsor's" page up and running! I had the app installed and it was working briefly...now I get a blank page! I've sent messages to the Iframe creators (this a 3rd party app that several other PCA Regions use to create their "sponsors page") with NO response from either them or Facebook! I will continue to follow-up with all concerned!
Meeting adjourned at 8:42 p.m.
Our next Board Meeting is scheduled for 7:00 p.m. on October 30, 2012, at Ghiringhelli Pizzeria Grill & Bar, 1535 South Novato Blvd., Novato.
Redwood Region Contacts
510.501.9278
707.525.8623
415.717.4117
415.577.0647
415.258.9619
707.478.7962
415.258.0242
415.299.7563
der Marktplatz
For Sale: Porsche Battery Charger, part #980-611-981-00. New and never used. $50.00. Larkspur, CA. jori@paramountcapitalcorp.com.
Past Panorama and der Riesenbaum issues. Early 90's. Contact Jerry Murphy at jjnkmurf@sonic.net.
Wanted: Interior linings for a 1985 911 Targa. Must be in brown leather and in very good condition. Looking for door panels, grab handles, door pocket lids, upper door panel molding, and rear seats. Contact Rod Moore at 415.459.2754 or
roderick_moore@sbcglobal.net
.
1986 944 Turbo (951) Sell or Trade - Guards Red over Black Leather. Excellent condition with 205,000 miles (about 7600 miles/yr). Exceptional example with great paint, great leather, clear title. Always garaged California car. All services done regularly with complete history and service records. Needs a few minor things (I'll tell you exactly in detail) but this is truly exotic car performance at economy car expense. Chip and a few minor performance mods but very civilized and happy to putter around town, but when you want it this car is seriously quick. Essentially the way it left Germany in 1986, even down to the original Phone Dial alloys. Needs nothing to drive it daily.
Will consider trades for later year Honda Element EX or other utility or van type vehicles in excellent condition. Asking price is the Agreed Value on my Hagerty policy, which is $11900 but MAKE AN OFFER! Let's talk.
I'm in Santa Rosa. Call for more details, more pics, any questions, test drive. Text or leave message with your contact info. Thanks for looking. Chris Carter, cpcca@pacbell.net or 707.322.5514.
1983 911SC Targa. Quartz Grey Metallic, burgundy interior. Factory leather Recaro sport seats. 95% Michelin PS, new top, new brakes w/steel lines, Bilsteins,tensioners, test pipe. Porsche COA. 145K miles. $12,900. 707.725.6110;
sdownie@dfg.ca.gov
.
Original black leather steering wheel (two horizontal bars) from my early 1989 911 Targa. Was exchanged for Momo wheel shortly after purchase. As new,
$200. New (never used) Blaupunkt Denver stereo, also from an '89 Carrera, $100. Contact Martin at
martinrosen@comcast.net
.
Parts from 1976 Porsche 911S: OEM 19mm black anodized alloy wheel lug nuts - $120.00 the complete set + shipping, steel open-end 19mm lug nuts - $30.00 the complete set+ shipping, steering wheel for 1974-1989 911, excellent condition - $400.00 + shipping, used Mahle 2.7L pistons and cylinders - make offer. Call Bud Behrens at 209.477.6496 or email bud.behrens@gmail.com.
Classified ads for Porsches and Porsche-related parts or accessories are available at no charge to PCA members and may be submitted to the editor via email by the 15th of each month to be included in the next month's issue of der Riesenbaum. Ads will run for three months, space permitting, unless canceled by the seller. Classified ads are also included in the der Marktplatz section on our Club website. Editor may modify ad copy as needed based on space constraints, and is not responsible for content, errors or omissions. Commercial ads are not accepted. Please contact Sponsorship Director Simone Kopitzki at 415.299.7563 for sponsorship information and rates.
Der Riesenbaum is the official newsletter of the Porsche Club of America, Redwood Region, encompassing Del Norte, Humboldt, Lake, Marin, Mendocino, Napa, and Sonoma Counties. This publication is intended to inform Club members about Club activities and other related matters of interest. The opinions expressed in der Riesenbaum are those of the authors and do not necessarily represent the official position of the Porsche Club of America, Redwood Region, its officers, or its members.
Letters to the editor, feedback, questions, and suggestions about der Riesenbaum and the Redwood Region in general are welcome. We also encourage members to submit photos and/or write-ups about Club events or related activities. Written contributions and photos are welcome and should be emailed to the editor. The submission deadline for publication in der Riesenbaum is the 15th day of the month preceding the month of publication. Material received after the deadline will be considered for publication the following month. The editorial staff reserves the right to edit all material submitted for publication.
All written content and images in this publication are protected by copyright. Permission is granted to reprint any original content herein provided credit is given to the author, to der Riesenbaum, and to the Porsche Club of America, Redwood Region.
Click here to visit us on the web or here to visit our Facebook page.
Thank you all for supporting your Club!
Chris Harrell, der Riesenbaum Editor
Porsche Club of America, Redwood Region