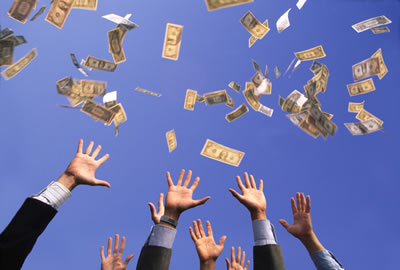 How to avoid being scammed
Protect yourself from con artists
If it sounds too good to be true, it probably is." That's the central message that most experts try to convey when talking about how to protect yourself from scams. Whether they are using an internet scam, investment scam, or the promise of easy money, many scam artists use the same script in an attempt to dupe their victims.
"Anyone can be scammed. The victims of scams range from college students to experienced investors," says Gail Oliver, Branch Manager of EVB® in Kings Charter. "Scam artists are usually very convincing, and very good at what they do. To protect yourself, you should always be fully informed before you make an investment or even a charitable donation."
Before you make any financial decision, it's a good idea to do some research. Know where your money is going before you send a check. Research charities, businesses, and even potential employers to make sure they are legitimate. If you give personal information like bank or credit card numbers to anyone, make sure you know who will see the information and what it will be used for. If you don't feel comfortable giving out personal information for any reason, don't do it.
The script is often the same
Usually, a scam will offer potential victims a sum of money, a prize, or a get-rich-quick investment option. Some scams come in the form of emails or phone calls from someone purporting to be with a bank or charity, and other scams may come from someone you know. So what telltale signs should you look for when you are faced with a potential scam?
"When you are evaluating an investment or opportunity, there are a few things you should look or listen for that may indicate a scam," says Oliver. "An offer from a scammer may guarantee a very high return on your investment, or the scammer may say you have won a large sum in a lottery prize. Winning something out of the blue sounds good, but have you entered that particular lottery? Another sign to look for is that the person or company with this proposition may be located in a foreign country. It's harder to catch criminals that operate outside of the U.S., so scammers will often work outside the country."
Ask yourself why the offer sounds so good. If an investment is offering abnormally high returns, especially if those returns are "guaranteed," be cautious. Many scams also ask that you wire money to them, or ask you to cash a check that seems legitimate. This is a very common type of scam. The con artist will try to gain a victim's trust by sending them a check to deposit, then will ask that you return some of it. The check will bounce, and you will have lost the money you sent back to them.
Pyramid and Ponzi schemes are other types of schemes that scammers use. These usually involve large numbers of victims and large amounts of money. These scams promise high returns to investors, but usually end with the scammer growing rich from the investors' money, and the investors losing all or part of their investments.
Discovering you're being scammed
Many people may not discover that they are being scammed until a check bounces or they suddenly are left with an empty wallet. Scammers may target certain geographical areas, so occasionally customers will be alerted when banks notice suspicious activities in their service areas and step in to help.
"When banks become aware of scams in the area, we can become involved with the local media and help to educate the public about what's happening," says Oliver.
What can you do?
There are many resources that can help you research scams masquerading as opportunities.
"First, try typing the name of the company into a search engine like Google," suggests Oliver. "You may find negative feedback, or you may find no information at all. Both of these things can be warning signs. If you get a call supposedly from a bank or credit card company, find the company's phone number and call them directly to see if they were the ones who actually contacted you."
If someone is offering a job opportunity or a business service, check with the Better Business Bureau (BBB) to see if the company is listed with them and/or has any complaints filed against it. You can also contact the Federal Trade Commission (FTC) to see if the FTC has taken any enforcement action against the company because of fraudulent activity.
If you believe you have been the victim of a scam, report it immediately. Contact your local law enforcement office, the BBB, your bank, and any and all organizations that may be relevant to the scam.
"At EVB, we're very conscious of our customers' privacy," says Oliver. "We will never call you and ask for your personal information. We remind people never to share sensitive information with anyone, and to always take steps to report fraud. You can avoid most scams if you verify the identity of those you share information with, and be cautious of any offer that sounds unclear. Financial institutions and federal financial agencies will never send an email or text that asks you to provide personal financial information in response. This type of fraud is all too common."
EVB is an independent, full-service community bank, providing a wide range of quality financial products and services for personal and business banking at more than 20 locations across Eastern Virginia. Member FDIC. Equal Housing Lender.