Three Key Tasks
Developing and promoting vision
Recruiting new members
Finding and training volunteer leaders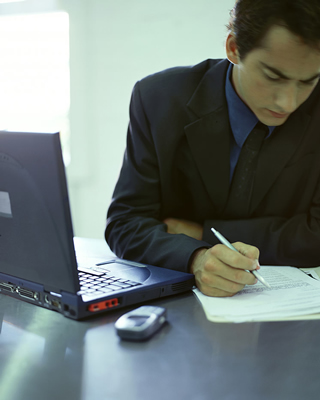 Three leadership tasks are essential to the growth and vitality of congregations. This is clearly visible in data about how the top clergy leader in a congregation uses his or her time. The most recent study in the Faith Communities Today (FACT) research series asked clergy leaders about 11 areas of their work. For each item the respondents indicated if they spent "a great deal" of their time, "quite a bit" of their time, "some" of their time or "very little" of their time. When correlated with congregations where a high level of vitality was reported, three of these items had the strongest statistical relationship.
Successful Clergy Leaders Focus on Three Key Tasks
Developing and promoting vision, evangelism and the recruiting and training of lay leaders are the tasks in which the clergy leaders of thriving congregations are most likely to invest a great deal of their time. This is true for congregations with attendance growth as well as those rated high on spiritual vitality.
Among growing, vital congregations across all faiths and denominational families, nearly two-thirds of clergy leaders (64 percent) report that they spend "a great deal" of their time in the recruitment and development of lay leaders. The majority spend "a great deal" of time in the recruitment of new congregations where attendance is declining or stable and spiritual vitality is seen as weaker are likely to report spending less time on these three tasks.
Two other tasks have a weaker relationship with congregational growth and vitality-leading small groups and contacting inactive members. Four other tasks have a considerably less pronounced correlation with vitality and growth, and only in some faith groups and denominational families while not in others: worship planning, pastoral care, teaching and dealing with conflict.
These data are reported in more detail on pages 34 through 37 of American Congregations 2008, the most recent report from the Cooperative Congregational Studies Partnership. David Roozen is author of the report and director of the Hartford Institute for Religion Research at Hartford Seminary as well as chairman of the coalition that publishes the FACT research series.
Resources on Developing & Promoting Vision
Gilbert Rendle at the Alban Institute has presented many seminars and written a number of practical books on this topic, including Leading Change in the Congregation.

Making Vision Stick is a concise, practical book directly on topic by Andy Stanley. (2007, Zondervan)
How to Build a Vision for the Church
by James Withers is published by
eHow
and includes a list of additional resources.
Vision: how leaders develop it, share it, and sustain it by Joseph Quigley is a secular article originally published in Business Horizons in Sept-Oct 1994 and available in FindArticles.com.
Aubrey Malphurs is a Christian pastor who has written a number of books on this topic. Developing a Vision for Ministry in the 21st Century is published by Baker Books.
Assemblies of God USA publishes Enrichment Journal including an article on Developing Vision in the Smaller Congregation by Steven Mills.

Resources on Evangelism & Recruiting Members
"Members and Motives: Who Joins American Jewish Congregations and Why" is a helpful
research paper
by Steven Cohen.
Incorporating New Members
is a classic by W. James Cowell. (1992, Discipleship Resources)
Building Strong Congregations
is a recent, large and detailed volume by Bruce Wrenn, Philip Kotler and Norman Shawchuck. (2010, Autumn House)
A widely popular book used to encourage members to help recruit new members for congregations is Just Walk Across the Room: Simple Steps Pointing People to Faith by Willow Creek Community Church pastor Bill Hybels. (2006, Zondervan)

Resources on Developing Lay Leaders

A classic book on recruiting and managing volunteers is Marlene Wilson's How to Mobilize Church Volunteers. (1983, Augsburg Press)

A more recent approach is
The Missional Church and Leadership Formation
edited by Craig Van Gelder with several authors. (2009, Eerdmans)
Building Church Leaders is a web site produced by a Christian parachurch resource organization. One relevant article is
How to Develop Leaders in Your Church
and there are many others.
Leadership Network Research Published in Outreach
A six-page spread in The 2010 Outreach 100 included data and two articles by Warren Bird, research director for Leadership Network and a Cooperative Congregation Studies Partnership (CCSP) member. Outreach is a magazine circulated to many Evangelical and other Protestant pastors which publishes an annual special issue listing of the 100 largest and 100 fastest-growing churches in the country.
Christian Century Notes Research by Krindatch
Alexei Krindatch's research on Orthodox parishes in the U.S. was briefly noted in the November 30 (2010) issue of Christian Century. He is research consultant for the Standing Conferences of the Canonical Orthodox Bishops in America and a CCSP steering committee member.
What Is the Impact of the Great Recession?
Rich Houseal, Dale Jones and Marjorie presented a paper at SSSR presenting data on this topic. A brief summary was published in the November-December (2010) issue of Religion Watch, one of the few journalistic enterprises to cover research meetings. The paper "compared financial statistics [from] the mainline United Church of Christ and the evangelical Church of the Nazarene." They found that "the magnitude of [the financial impact of the current recession] has been minor compared to the Great Depression. ... African-American churches were affected more in both bodies." Houseal is director of research for the Church of the Nazarene and a member of the CCSP steering committee.
FACT 2010 Update
David Roozen reports that data collection for the Faith Communities Today (FACT) 2010 survey is on schedule. The aggregated data set will be in hand by the end of February. The first two national reports will appear as scheduled in March (on the impact of the recession) and April (on congregational growth). The overall project includes 27 separate surveys of various faiths, clusters of faith communities and denominations, including a survey of independent Christian churches. This is the same number of surveys included in the base-line FACT 2000 survey, although there are groups included in this survey that were not participants in 2000. This marks the second decade of the largest study of local religious groups in the United States. Again the data will include Protestant denominations, the Catholic Church and a significant number of other religions. Roozen is chairman of the coalition conducting the study, the Cooperative Congregational Studies Partnership, and director of the Hartford Institute of Religion Research at Hartford Seminary.

For further information about FACT, or to learn how to join the Cooperative Congregations Studies Partnership (CCSP), contact David Roozen at
roozen@hartsem.edu
.